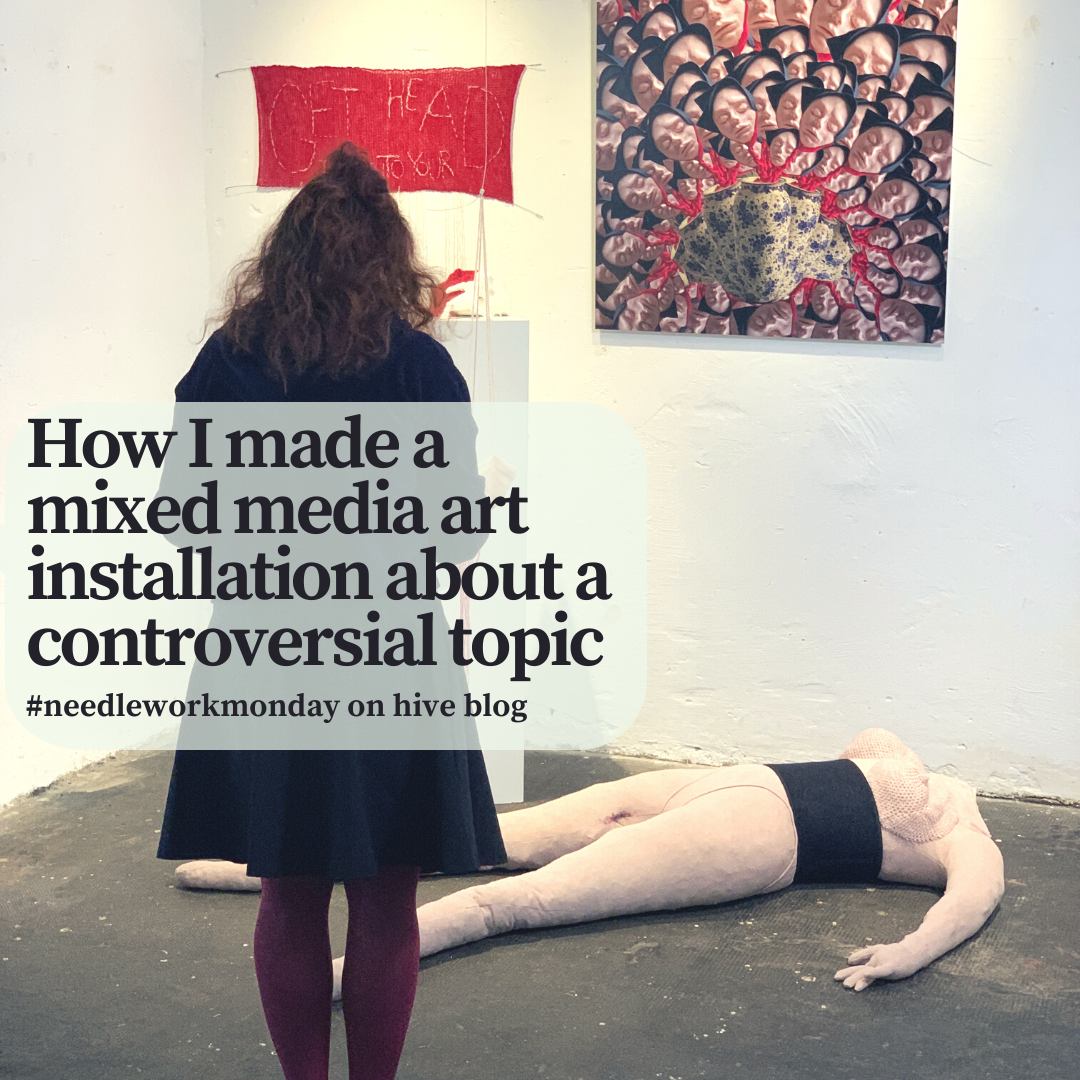 Trigger warning: I will speak about body shaming, domestic violence, sexism, and ageism in this post. If you are more interested in the knitting, crochet and embroidery techniques hop to the last paragraph.
Get this into your head
There are a lot of things you should get into your head when you are read as female, so many that sometimes the mass of them leeks out again, a bloody pool full of contradictions.
You should wear make-up to look professional and cultivated. But wearing make-up makes you cheap.
You should be sex-positive, but then you are a whore. If you dislike sex, you are frigid. Is there even a word for a male person who dislikes sex? Why is wanting/not-wanting sex pathologized in female persons?
Better speak up to not be categorized as a wall flower or little girl which cannot fight for itself. But if you speak up you are argumentative, angry, catty? Perhaps a man would be categorized as analytical and passionate. No way to win for you, my dear.
You want children, good for you, but never to forget to also have a career. And be reassured that there is no way to make it right. You always will be judged, and you always will fail.
When you are fat than you are sick when you are thin you are sick. You know real women have curves. But the right curves, at the correct places, in an exact right amount. What? No curves? Did fashion change again? Ok, then get your implants out and be small and ethereal. This is also not ok? No idea how you should change? No problem as long as you try, try, try, try, try…
You are always too loud, too fat, too barren, too plain, too sexy, too motherly, too old, too inexperienced, too cold, too hot, too dressed up, too aggressive, too thin, too timid, too frigid, too demanding, too wordy, too much but not enough.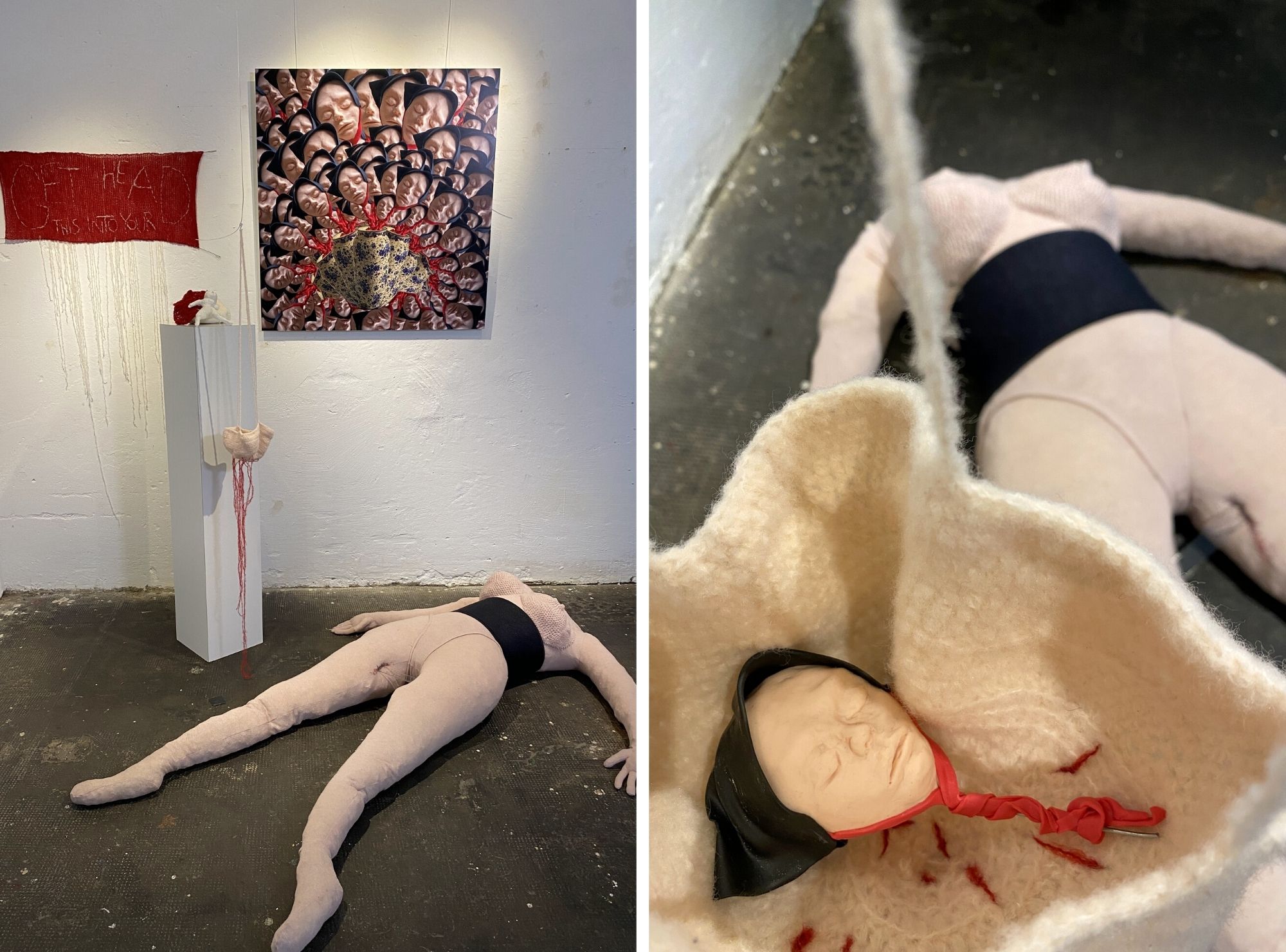 Want to escape the not-good-enough then do some sports and eat clean – only joking – needed are heavy surgical means and a life dedicated to force your body to perfection. Brazilian butt lift, taking out rips, pushing fat from one body part to another, to manage the contradictions of a lush hourglass with chiseled muscles, a perfectly rounded booty but a thigh-gap, nevertheless. And if you are willing to go through pain and danger of surgery, you also need a lot of money, not only for the procedures themselves, but also to rest from them. Beauty is status is money.
And when you are bled out your head is cut off. Metaphorical but horribly sometimes even for real. Deathly violence against women seldom happens out of the blue sky, no, most female homicides (femicides) are committed by relatives or the male partner and have a history of domestic violence. Men – which is also tragic in its own are much more often victim of random violence. The tragic about female homicides is that many could have been prevented if claims of abuse would be taken more seriously, if the status of women would be higher, if there were more shelters for women who want to escape their abusive environment. If female bodies would not be sexualized. There is a real possibility to make life safer for women.
But who cares, they will grow old and expire, stopping to be women at all, becoming invisible, becoming nothing.
Materials, techniques and what I have done
The avid reader of my blog may remember parts of the "get this into your head" installation. I have written about the small clay and crochet sculpture here, about the photo collage here and about the huge doll here. And finally you can see how this all goes together. But there are some new parts I added and I want to tell you about.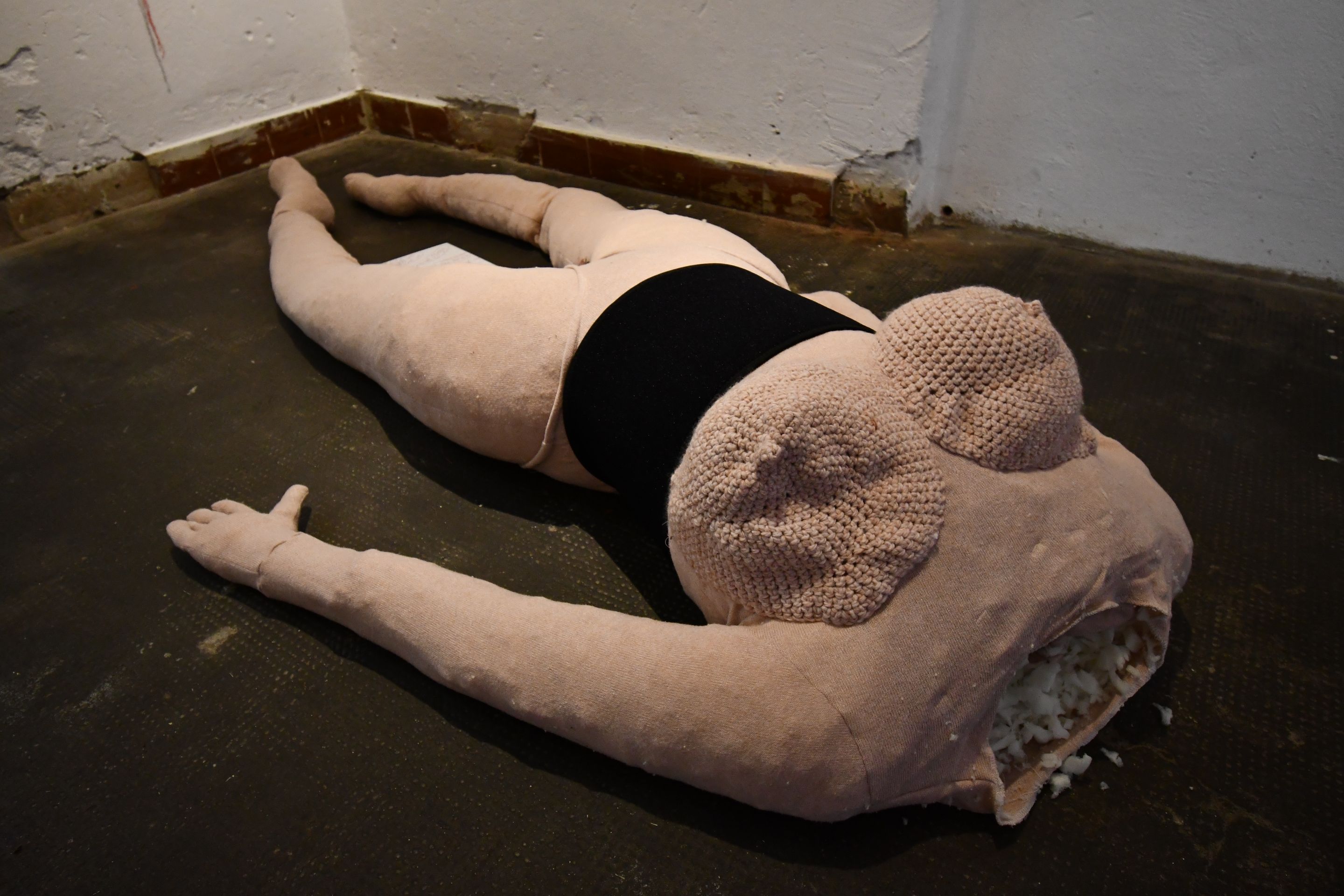 The huge doll which I wanted to represent the sexualized female body I completed with a tight corset-like belt, which is marketed as a "waist trainer" (an absurdity in itself, as if one would get smaller permanently because of wearing something tight) and with crocheted breasts. For the latter I used a free pattern for knockers which I stuffed and sewed onto the dolls body. I intentionally made the breast different, one more stuffed as the other and one a tad wider, as most women do not have perfectly symmetrical and identical breasts. I was inspired for this by a friend who told me, that she had a for her traumatic event at a gynecologist when she was very young. He told her that she looked funny with her uneven breast and she – still in puberty – felt extremely uncomfortable with a non-medical comment about her breasts. Besides she did not knew that this "asymmetry" was normal and so felt as if she was especially ugly. I felt honored that she shared her experiences with me, but on the other hand it shows that a careless and inattentive comment can have a huge negative impact on people.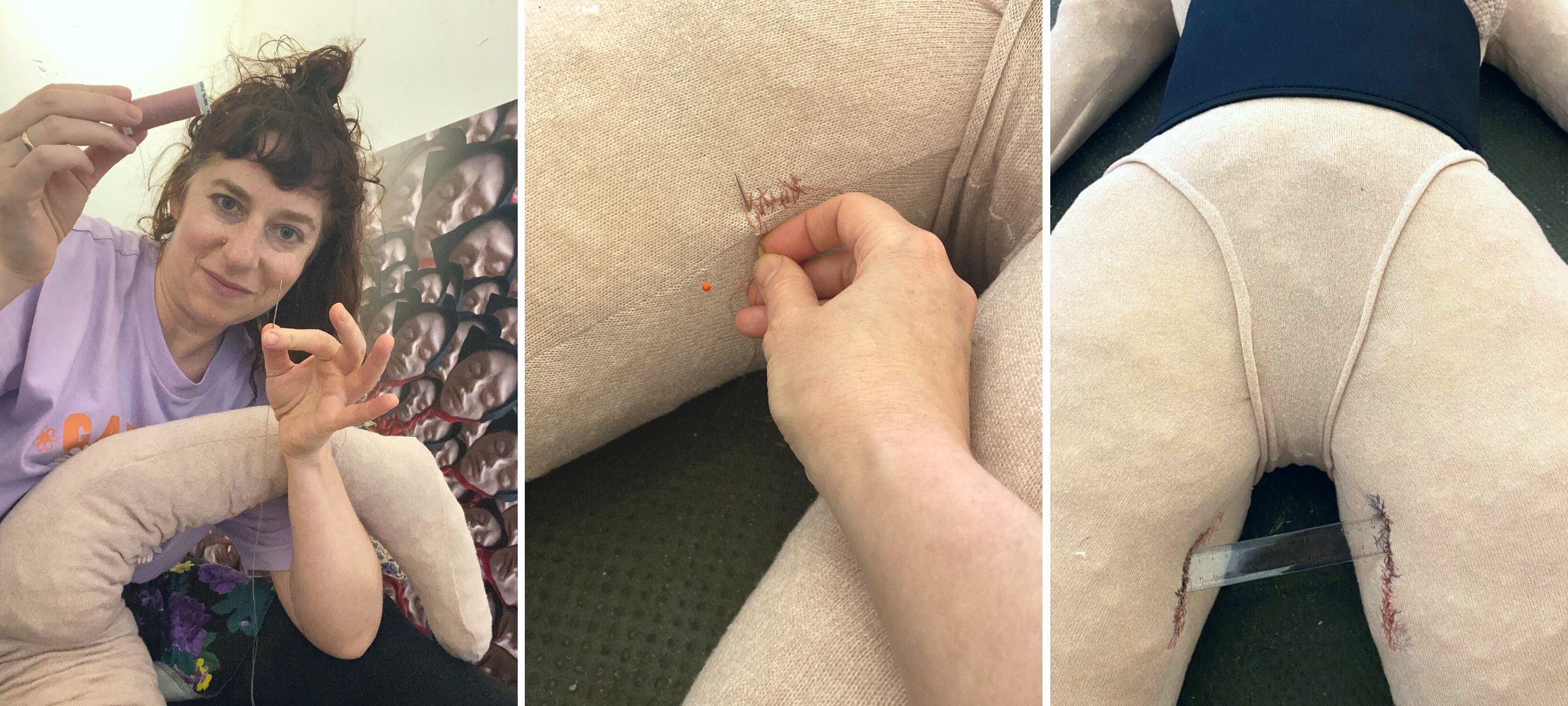 To accentuate the missing, but from fashion often as beauty standard propagated thigh gap, I inserted a ruler between the doll's tights. I embroidered the legs with different shades of brown, pink, and lilac to mimic chafed and bruised skin where the ruler is inserted.
(And friends you know how much embroidery and hand sewing hurt me… this was really suffering for art :-DDDD)
At least I opened the neckline to let the stuffing spill out and to achieve the dramatic impression of someone just killed.
The second new addition is the crochet basket in half double crochet, I made for the tiny doll head, the one I used as a model for the photo collage. I added long strings made from foundation single crochet to hang it up like a swing or a cradle.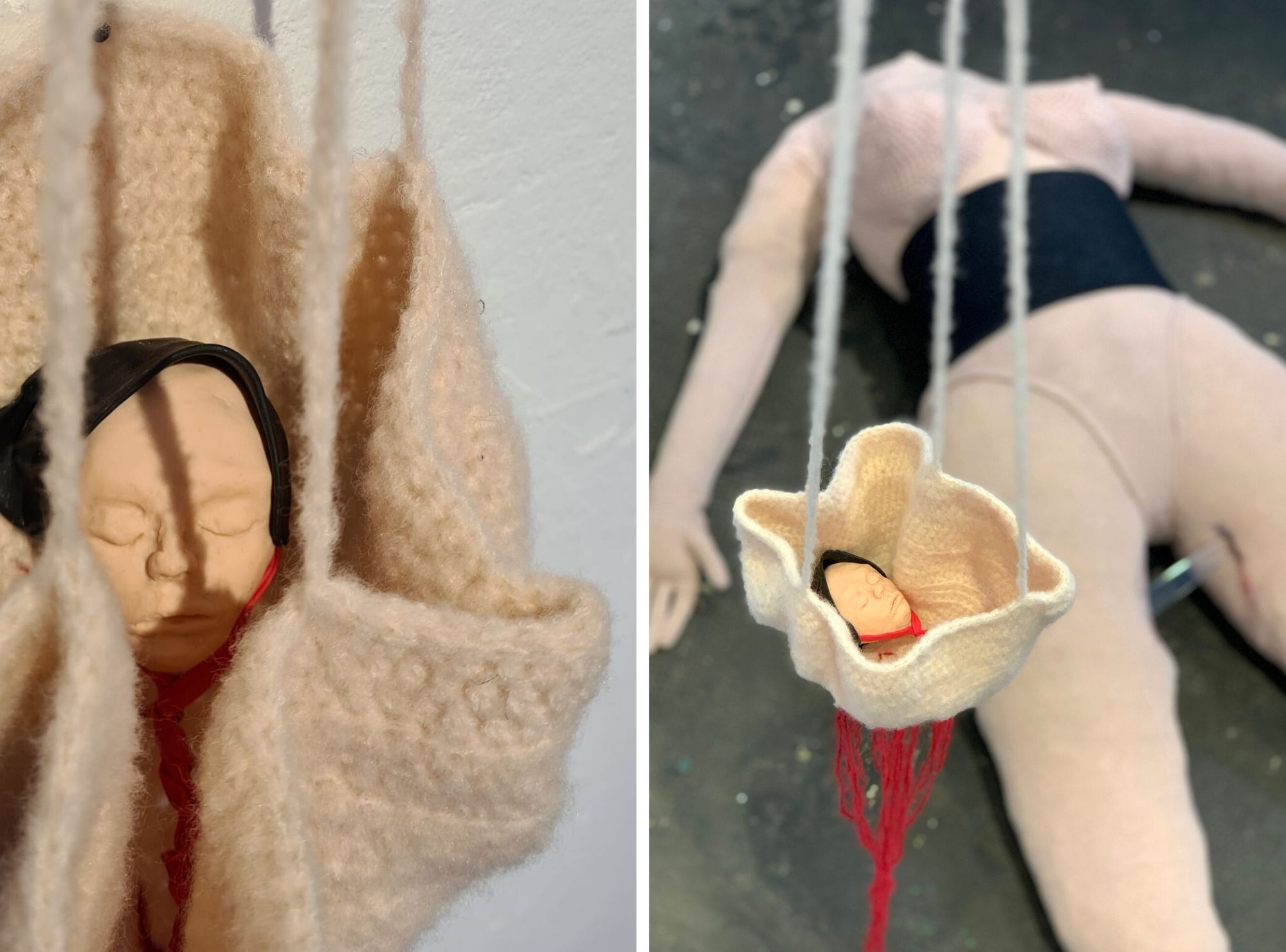 The last artwork is a knitted wall-hanging which I embroidered with the title of this installation "Get this into your head". The background is knitted in stockinette and to avoid curling I threaded stiff wire through the edges. Whereas the embroidery is not secured at all. The ends of the threads are hanging precariously out of the knitted panel and could unravel every moment.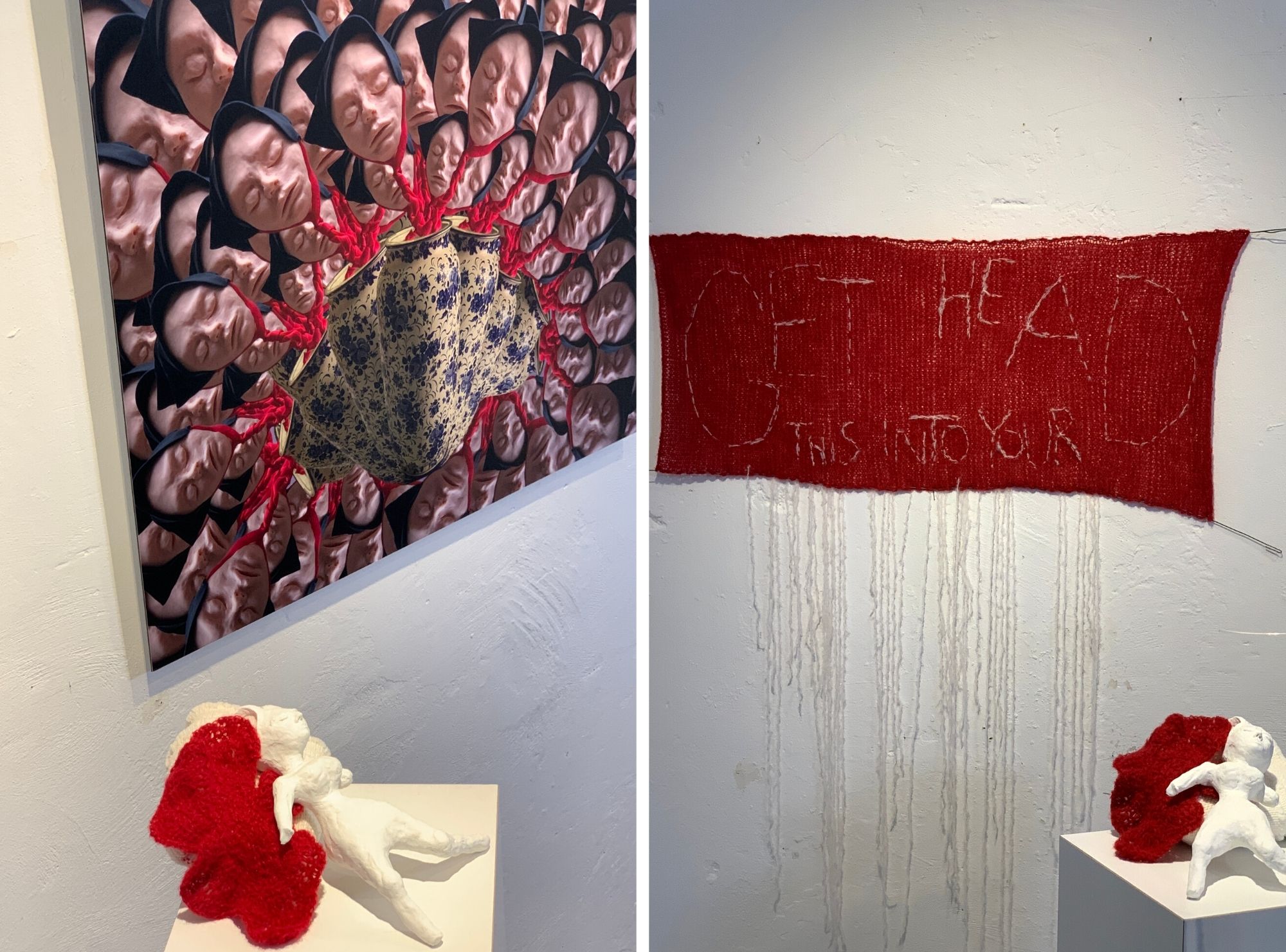 To connect all these different artworks stylistically I used two main colors, a blood red, and a very light pink which you can find either in the three dolls, the wall-hanging, and it's also repeated in the colors of the photo collage.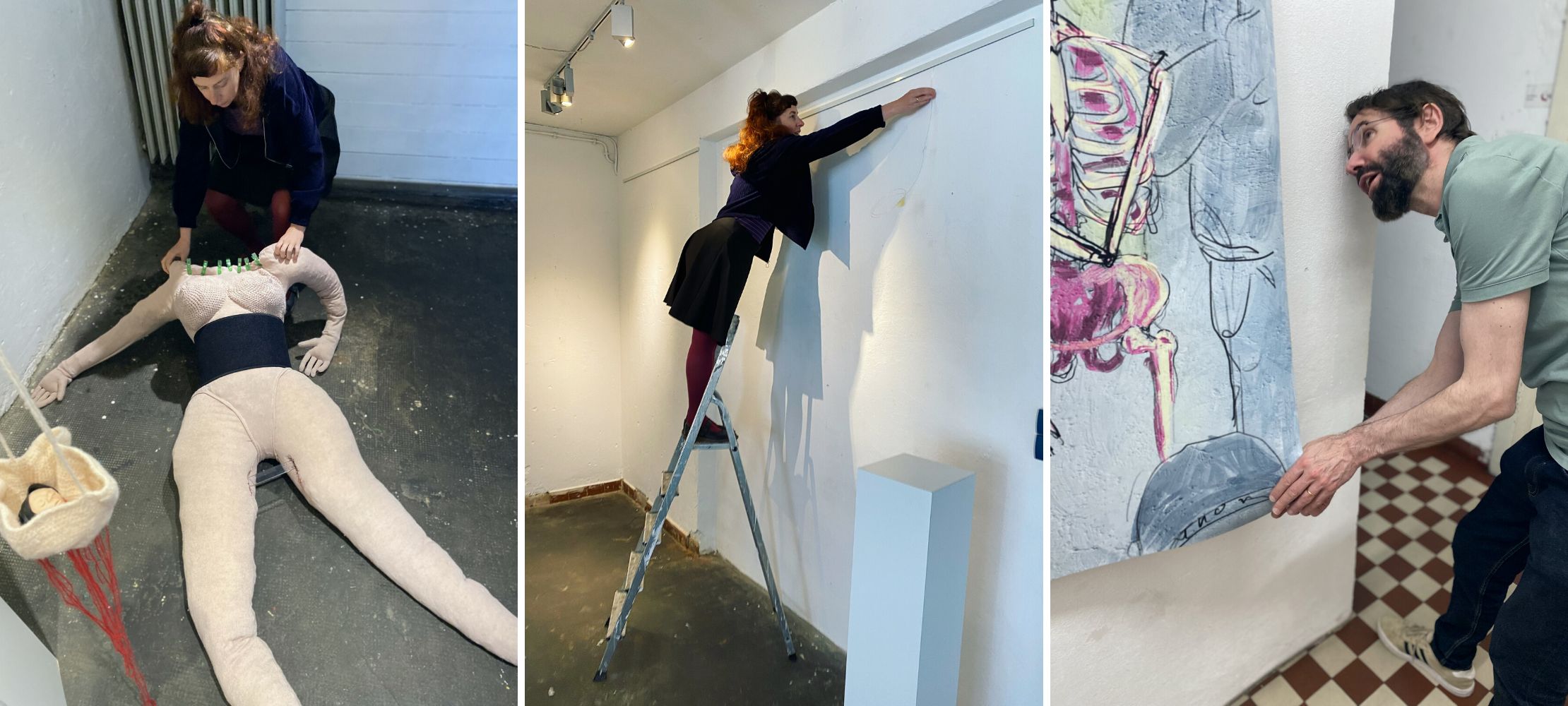 Right now, I am packing and unpacking this installation (and a bunch of paintings and sculptures) to move it from the last exhibition into my studio and next week into the new showroom. I am still unsure how we will set up all the works in the new room, as we could see it only from the outside so far. Hopefully this will work out 😊
---
Thank you @crosheille for initiating and @marblely for hosting the #needleworkmonday and the community builder team @lauramica, @romeskie and @kattycrochet I am so glad to be part of.
If you want to see more beautiful projects with yarn, fabric and most of all needles, follow @needleworkmonday on hive blog. Or even better grab your needles and keyboard and join the #needleworkmonday community. You can read more comments on this post on my hive blog.
Read more about my art und upcoming exhibitions on neumannsalva or buy some of my digital artworks on NFT showroom.
Last but not least: if my post coaxed a smile on your face you could support me on Ko-fi Share this… Share this… Share this…