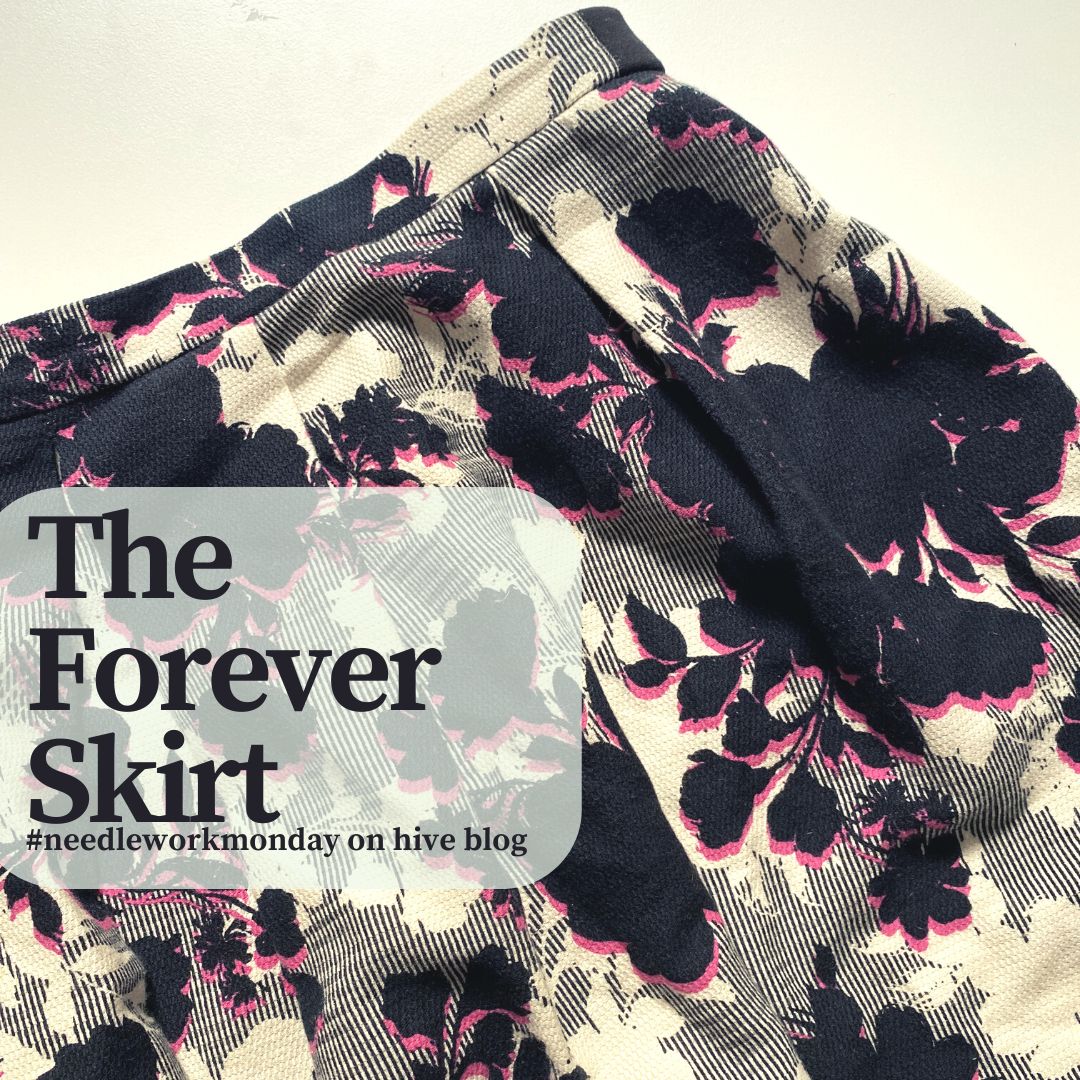 Today's post will be short and fast. But the topic has a loooooong history: a pleated skirt I own for more than 10 years. The skirt is a fast fashion item which was super cheap when I bought it but felt well made. It's made from a sturdy cotton fabric which has a bit of structure. The skirt was love at first site (till today) because of its usual print with dark black, magenta, and off-white flowers. Originally the skirt has a size 42… but as time goes, I somehow got wider, and the waist of this skirt was too small. As this reaches back several years, I neither had a sewing machine nor did I know how to alter clothes. Therefore, I brought the skirt to a seamstress, and she inserted two pieces of black fabric into the waistband and let out some of the folds. To even out the hemline – because the skirt was now sitting lower on my body – she also shortened the front hem. After the altering the skirt had a visible high-low hem which I like as it sits better on my body (read: bum 😀 ).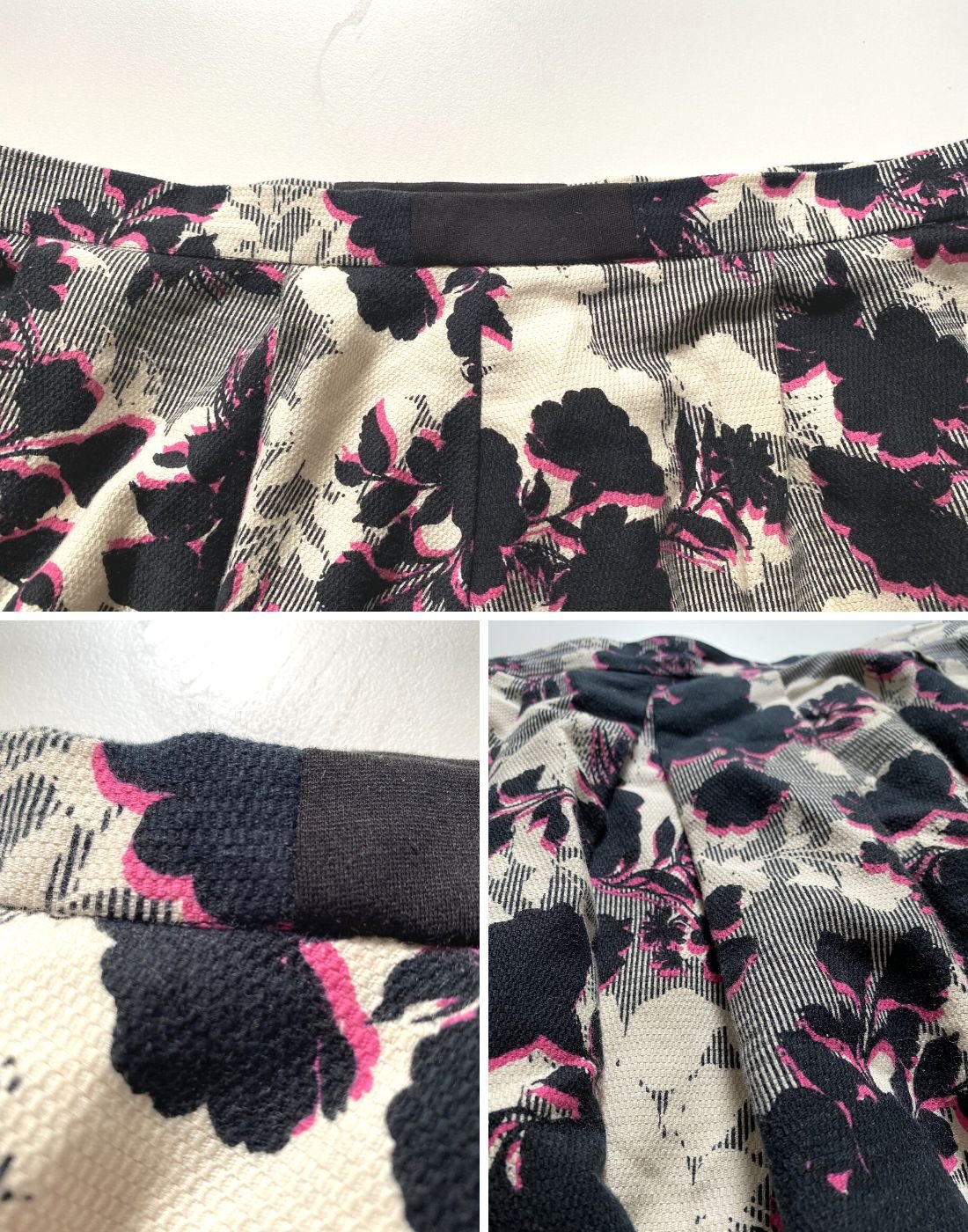 Fast forward to last weekend. I got a kind of cleaning frenzy and started to sort through my clothes and found this skirt. Again… Because the skirt is too wide for several years now and I never had the heart to give it away. I have worn it so often and I love the colors so much… but it really does not fit any longer.
You can't see it on the photo, but I can slip the skirt without opening over my backside…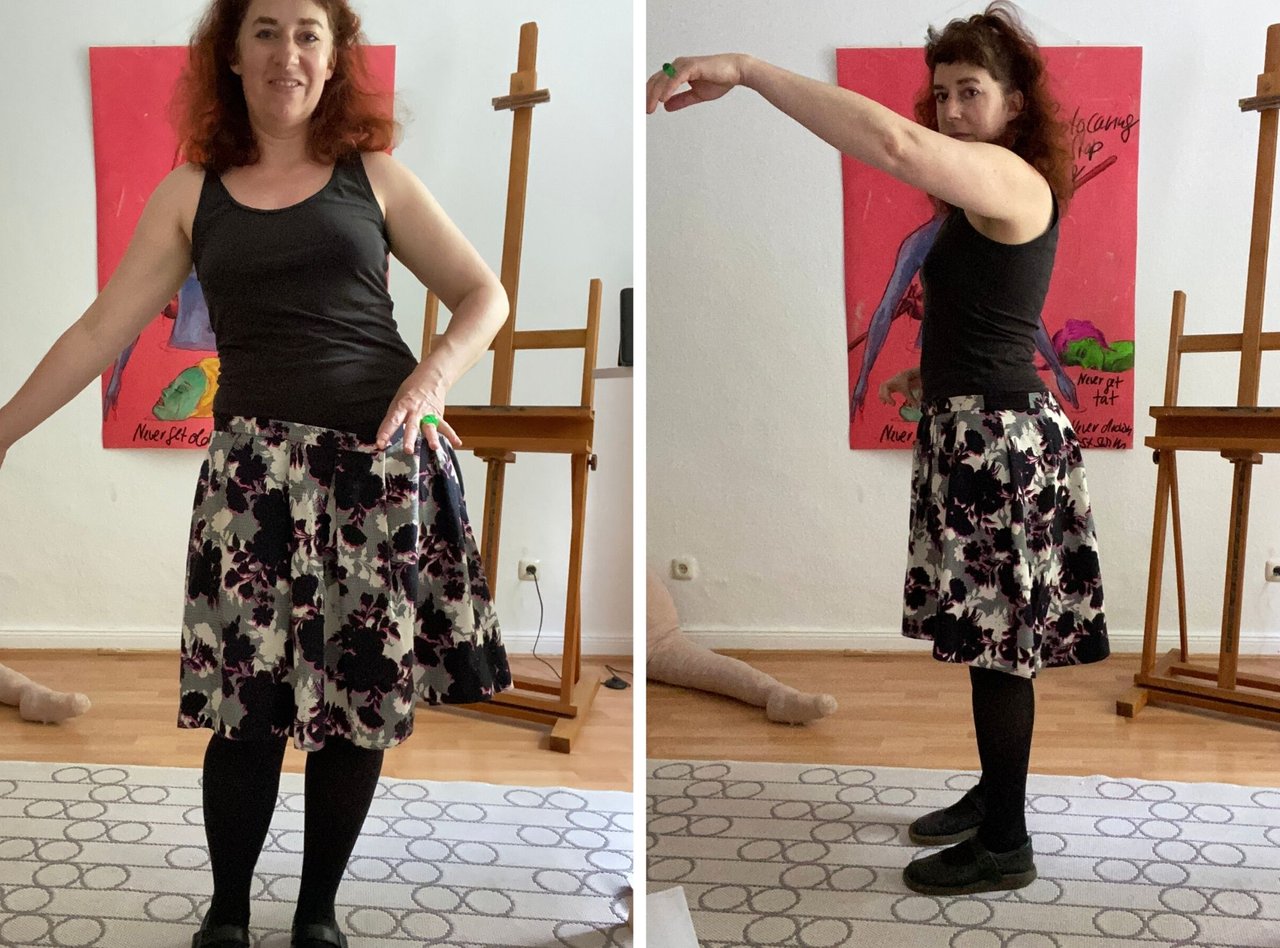 please try to ignore my strange facial expression and that I only wear an undershirt 😱

With a bit of headache and still not full hearing I thought to myself "come on, I won't do anything productive today, (besides the cleaning) why not try to reverse-alter the waistline of the skirt"
With this thought in mind, I took some big fabric clamps and tried to clip the waistline smaller. My first idea was to take out the complete pieces which the seamstress so many years ago inserted. You can see the result on this photo (and you may notice I don't like it :-D)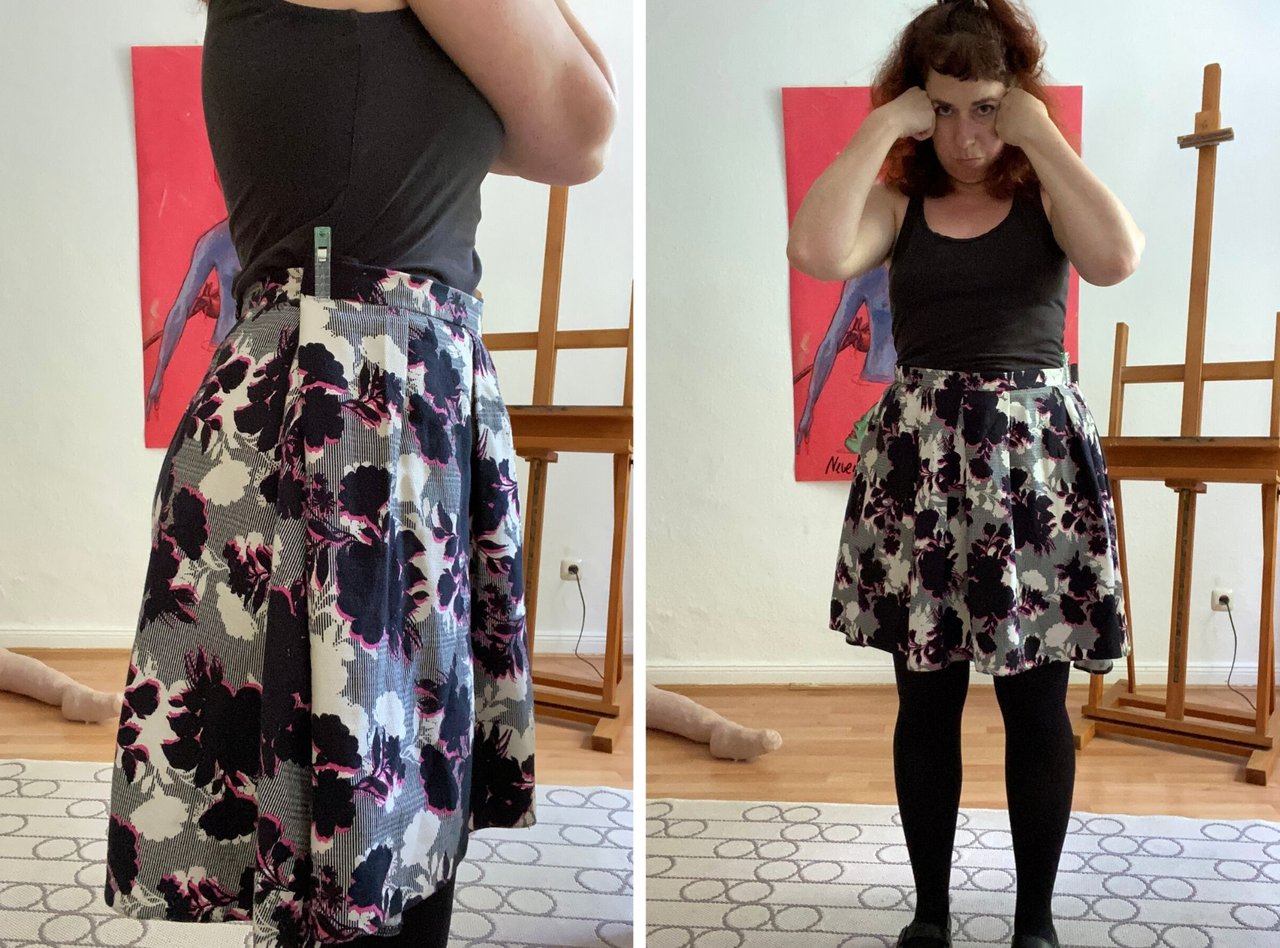 This was too narrow. The skirt now sat on my natural waist and in my view, I somehow look like a Kindergarten child in the skirt. It makes my short torso even shorter and my hips wider. No, this was too narrow.
Next try was to take out only half of these inserted pieces: Tada, this was the way to go.
In my lazy manner I simply basted the wedge together, tried it on and after finding the waist to my satisfaction, cut the excess fabric away.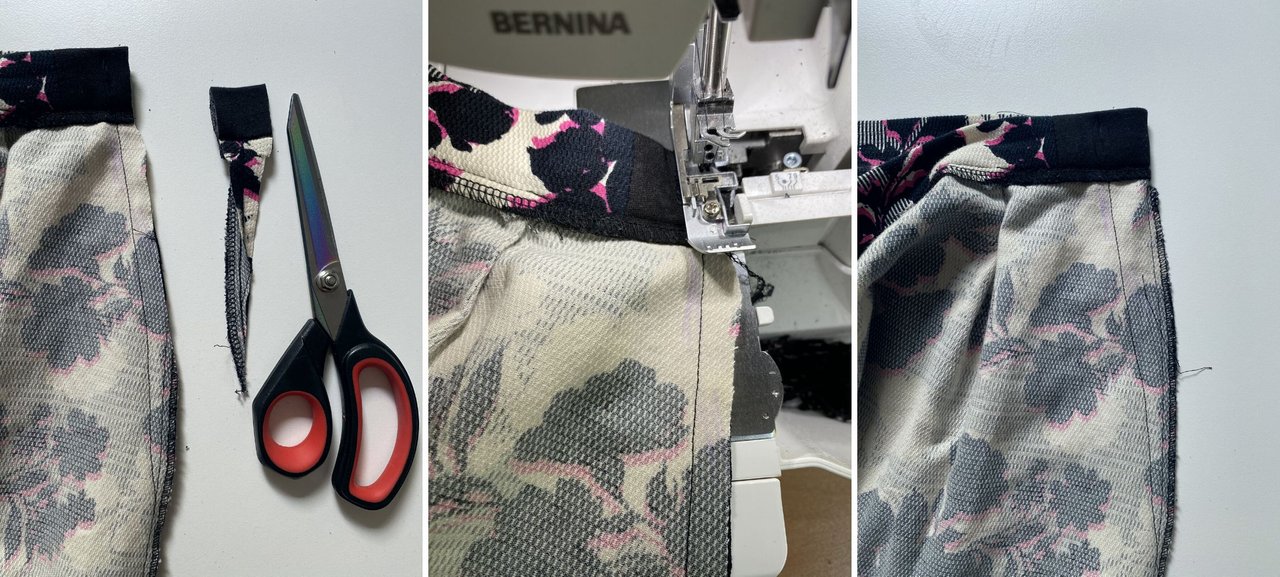 To secure the fabric and make the new seam sturdier I then sewed it another time on my overlocker. I did not open the seams or ironed them, but simply sewed them together. Did I mention I am lazy???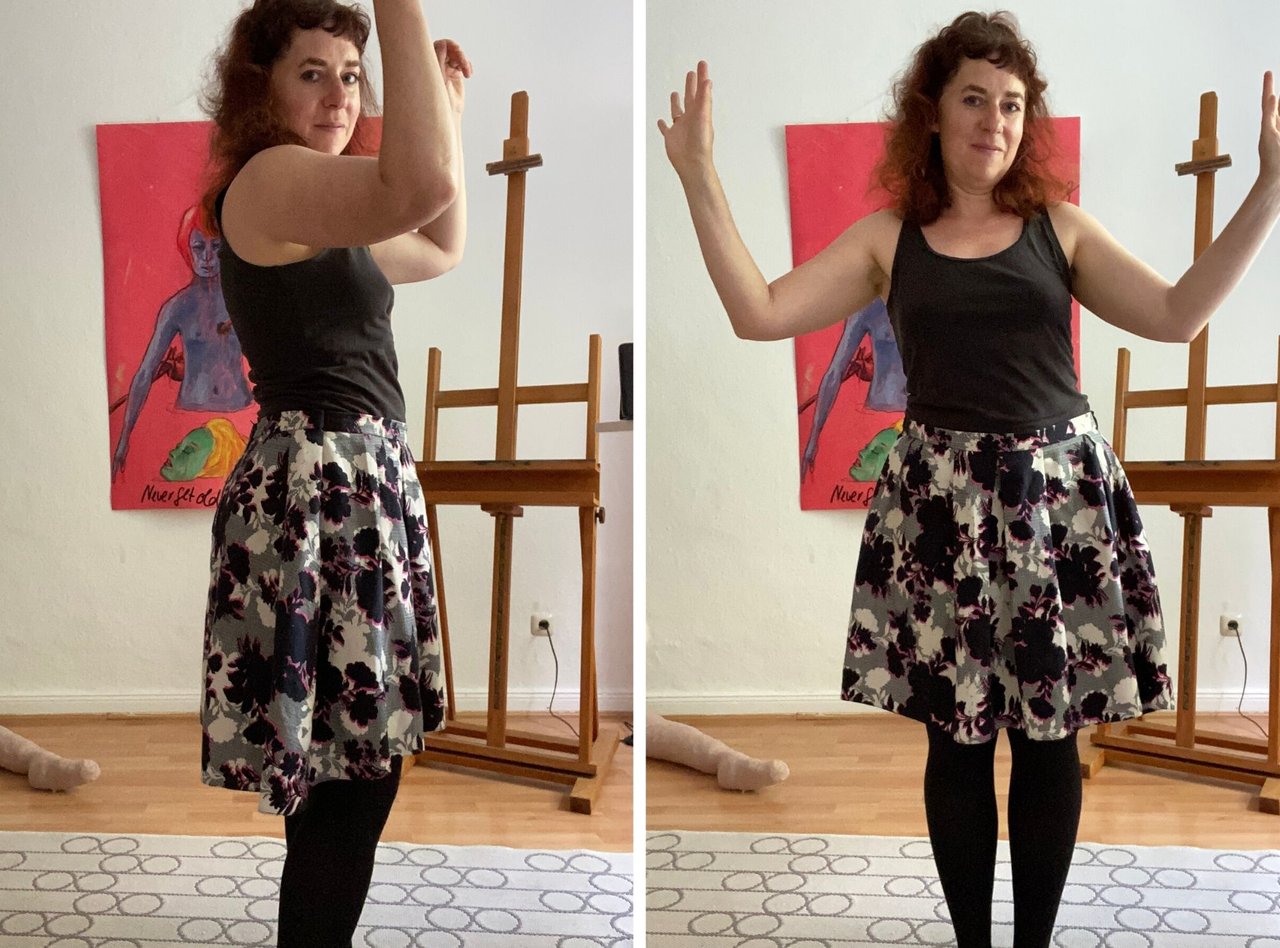 But it worked and I hope the skirt will get some wear in the future (to be honest… I am still a tiny bit insecure if I should make the waistline even smaller or if I am too old for this style of skirt, but I try to silence this critical voice).
Let's share: do you have garments which accompanied you for centuries, which you have altered, mended, re-sewed so that you can still wear them? Some garments you are sentimentality attached to, so you want to wear them forever?
Thank you @crosheille for initiating and @marblely for hosting the #needleworkmonday and the community builder team @lauramica, @romeskie and @kattycrochet I am so glad to be part of.
If you want to see more beautiful projects with yarn, fabric and most of all needles, follow @needleworkmonday on hive blog. Or even better grab your needles and keyboard and join the #needleworkmonday community. You can read more comments on this post on my hive blog.
Read more about my art und upcoming exhibitions on neumannsalva or buy some of my digital artworks on NFT showroom.
Last but not least: if my post coaxed a smile on your face you could support me on Ko-fi