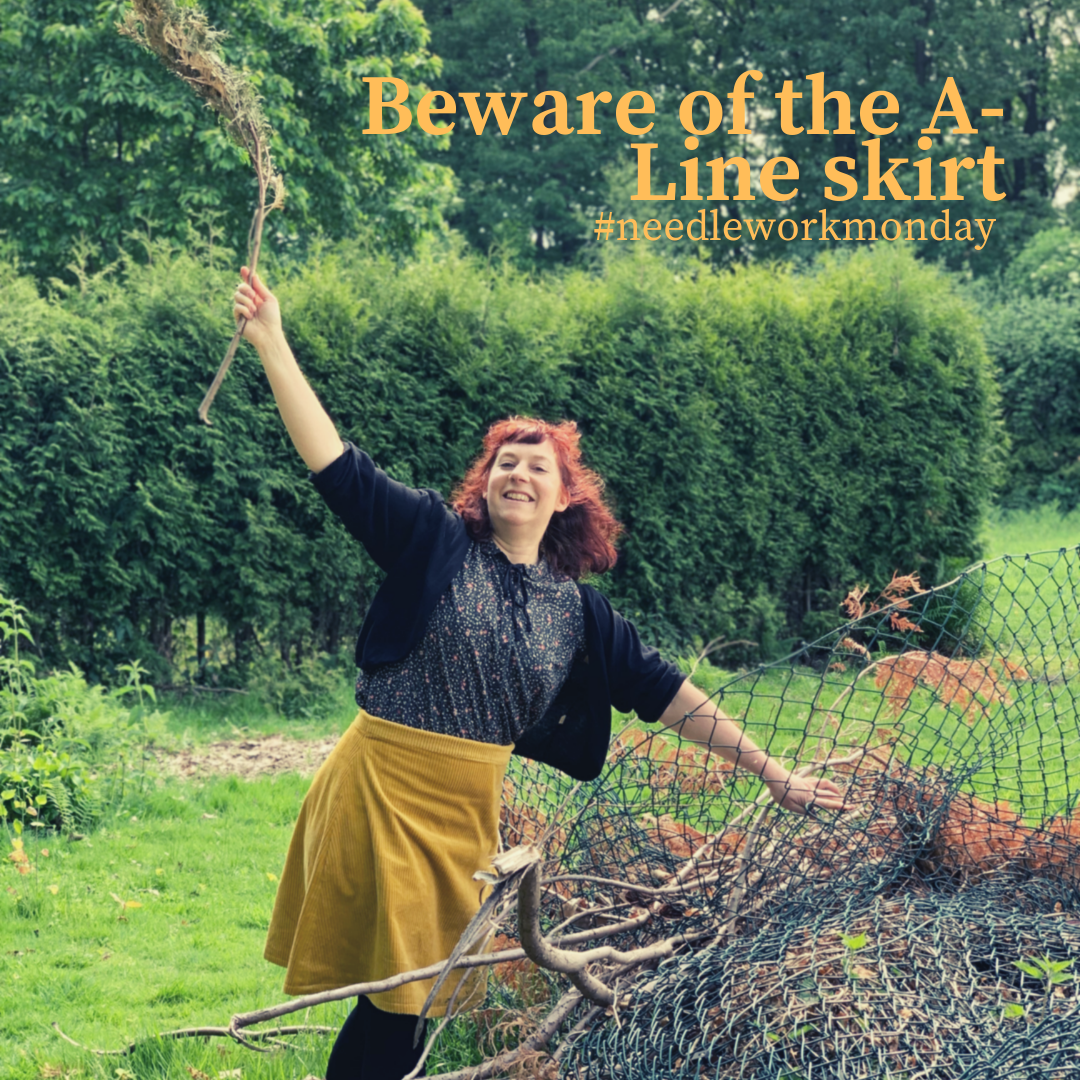 An A-Line skirt is perfect: Easy to make, will flatter every figure and is a great addition to a capsule wardrobe.
I have read these lines many times on blogs, magazines and recently in a sewing book I got for my birthday. And guess what: it's a lie. These A-line skirts are from hell, or another unpleasant dimension. Strangely I seem to forget this inside every time I look at another photo of a beautiful model wearing one of these torture-devices A-Line skirts. My latest deceiving photo was the cover of Tilly Walnes book "Love at first stitch". So beautiful!!!!! I wanted this skirt (read: I want to look like Tilly on the cover) I may have forgotten that my body looks a tiny bit different ???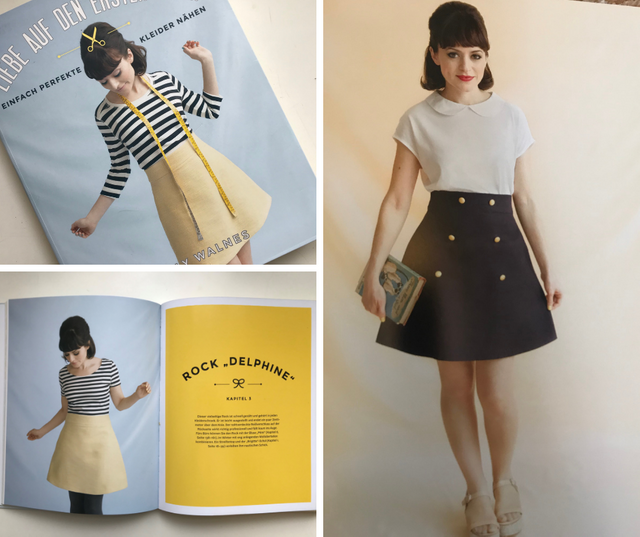 Some weeks ago, I found a wonderful mustard corduroy fabric in the bargain box of my favourite fabric store and I could not resist and bought it. The amount was much to little for my typical skirt pattern, the half circle skirt. So, I thought the before mentioned A-Line skirt the perfect alternative. It needed much less fabric and I would learn again how to insert a zipper into a waistband. Besides I would learn from scratch to work with woven fabric which I untill today seldom used.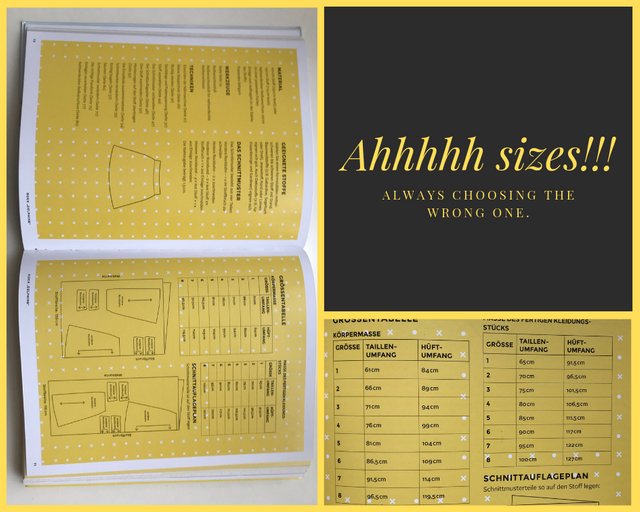 Tracing the pattern was easy but deciding on the size not. This may be one of the problems I had with this skirt. My natural waist measures 80 cm but sits so high up it is nearly beneath my bust. Not the perfect place for a skirt to sit, in my view. Normally I wear my (stretchy) skirts on my hips, which measure about 98 cm. But from my other experiments with skirts made from woven fabrics, I already knew the skirt will not stay on my hips, it will crawl upwards to the smallest point of my torso. So, which size to choose… There are some more parameters to consider: I do not like tight waistbands and my body gets even wider at my bottom and my thighs.
Finally, I decided to use size 6 as a middle course (when I am writing it like this, it should be clear, dear reader, it did not work out).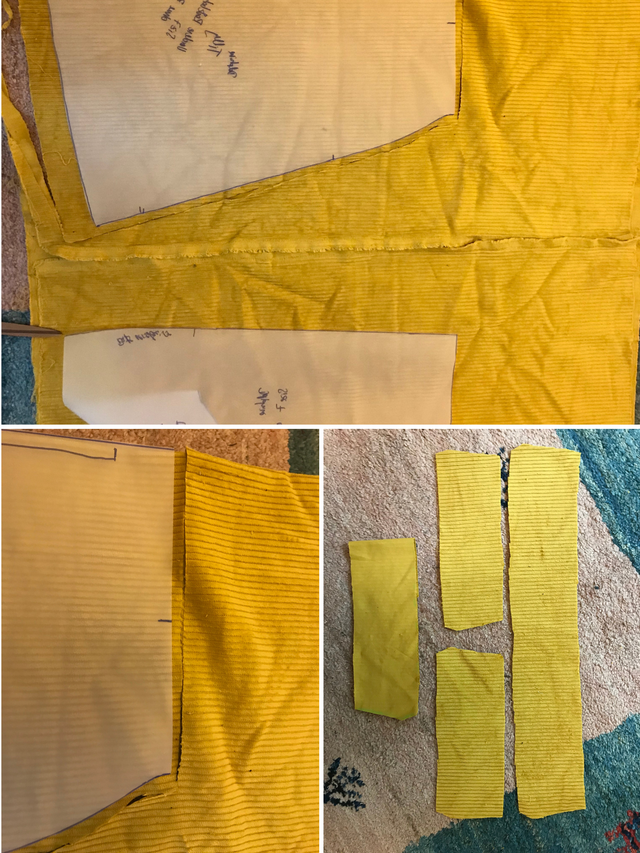 Getting size 6 to fit on the fabric was a bit like Tetris, but I managed. But while cutting I already sensed that the waistband was unusually high (ca. 10 cm). I went on and did everything as the instructions told me. By the way, the instructions are very clear and the photos and design of the book lovely. I started with closing the side seams and trying the skirt on. As expected after the problem with the size-choosing it didn't fit. Not only was the skirt too wide it also gaped above my behind. Not a new problem for me, so I decided to insert two back darts which are each 5 cm wide. This helped the fit immensely. The next step was ironing on the interfacing on the waistband. Then sewing the waistband together and pinning it right sides together on the skirt and sewing it. Tada… it still didn't fit. The waistband was so high it reached up to my smaller parts of the torso and gaped everywhere. My solution was to cut it down to a height of 6 cm (I did the same with the inner parts of the waistbands) and to make the waistband and the skirt smaller. This meant, I had to unpick the whole skirt… yeah… fun… This looked better, but not good.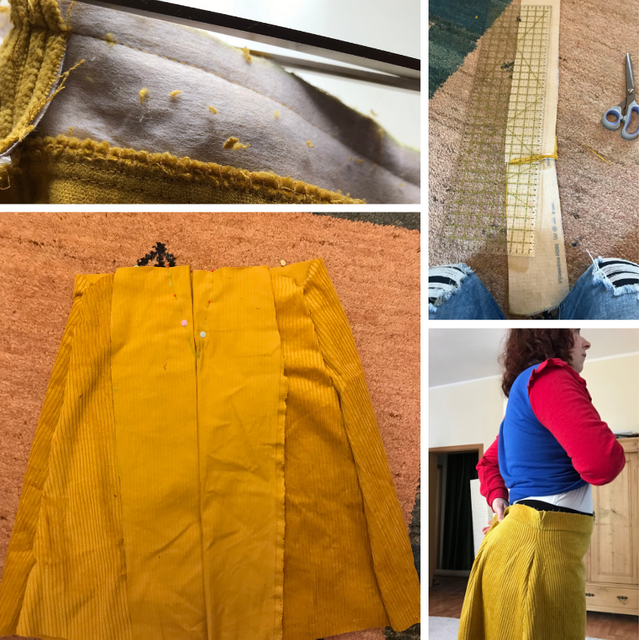 I accepted the okeyish fit and inserted the zipper while holding my breath. The instruction of the book requires a completely different sewing foot, so I had to look elsewhere for an explanation. I found it in my brain; remnants of zipper instruction floated around, and I just picked one. I basted the complete middle seam of the back parts and then put the zipper on this seam. I pinned the zipper with needles and sewed it in. Afterwards I cut the basted stitches, so that I could use the zipper and made a proper seam for the rest of the back parts.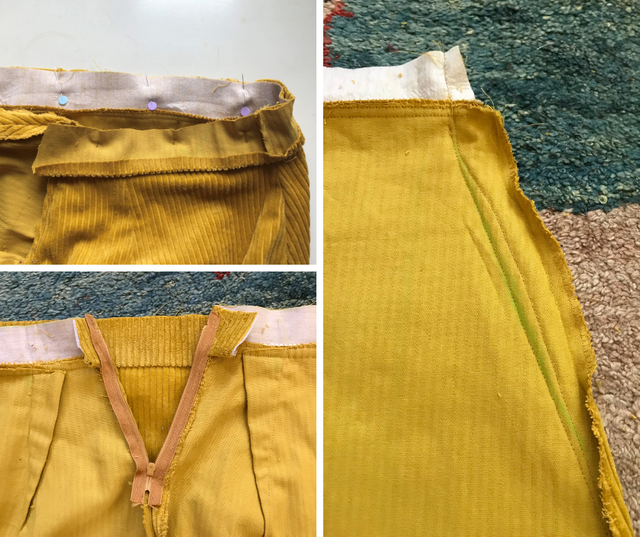 The zipper worked out ok, but the skirt 's fit got worse. It now was too wide at my thighs and had folds and creases everywhere. I decided to sew the sides anew without unpicking the whole skirt again. I guess I was devastated at this moment and only wanted to get it done. So, I pinned the inner parts of the waistband on the the right side of the actual waistband, folded the sides and sewed the damned beast facing in.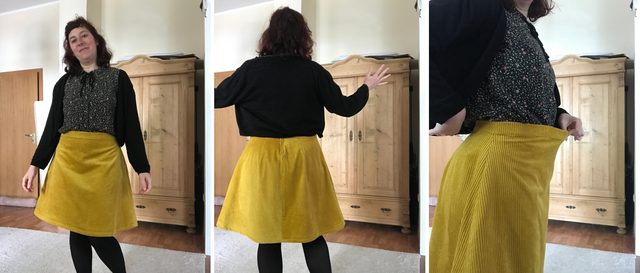 Last step was sewing the hem. I folded the hem two times, ironed it vigorously and again seeeewwwwing. This was no problem, but the skirt – sigh – what shall I say – I like the color.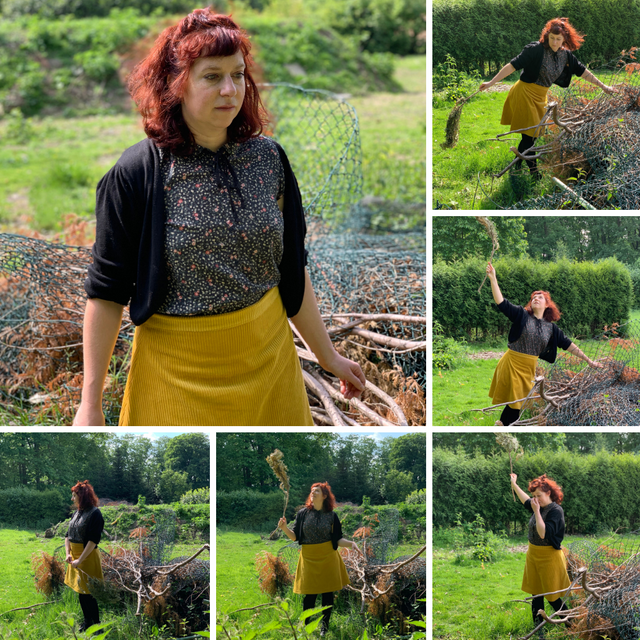 I guess a classic A-Line skirt is not for me – maybe because of my curves or because of my lacking skills regarding pattern adaption. I am still searching for a nice skirt pattern for woven fabrics, which will fit me in the waist area. Do you have any recommendations? I am thinking about this pleated skirt or this gathered skirt which could perhaps fit on my hips. But I am very unsure if these designs will add too much bulk… I also found this vintage style skirt, which is a free pattern and this buttoned and gathered skirt, also free. But after this A-Line experience I am super unsure what to try next.
Thank you @crosheille for iniciating and @muscara, @shanibeer, @marblely for hosting the #needleworkmonday. If you want to see more beautiful projects with yarn, fabric and most of all needles, follow @needleworkmonday on steemit. Or even better grab your needles and keyboard and join the #needleworkmonday community. You can read more comments on this post on my steemit blog.