Dear Needleworkers, envision this scene with your inner eye: its hot, the sun is blazing down on golden wheat fields. A soft warm wind is blowing over the landscape and birds are chirping joyfully. A small path is meandering besides a dark forest which lends a stark contrast to the wide and open fields. Amidst this peaceful setting a woman in a short black dress is dancing happily alongside her loving partner… and then… the sudden awakening. It's Sunday and there are only 15 hours left to complete a wip, to complete anything to not loose every credibility in the @needleworkmonday community.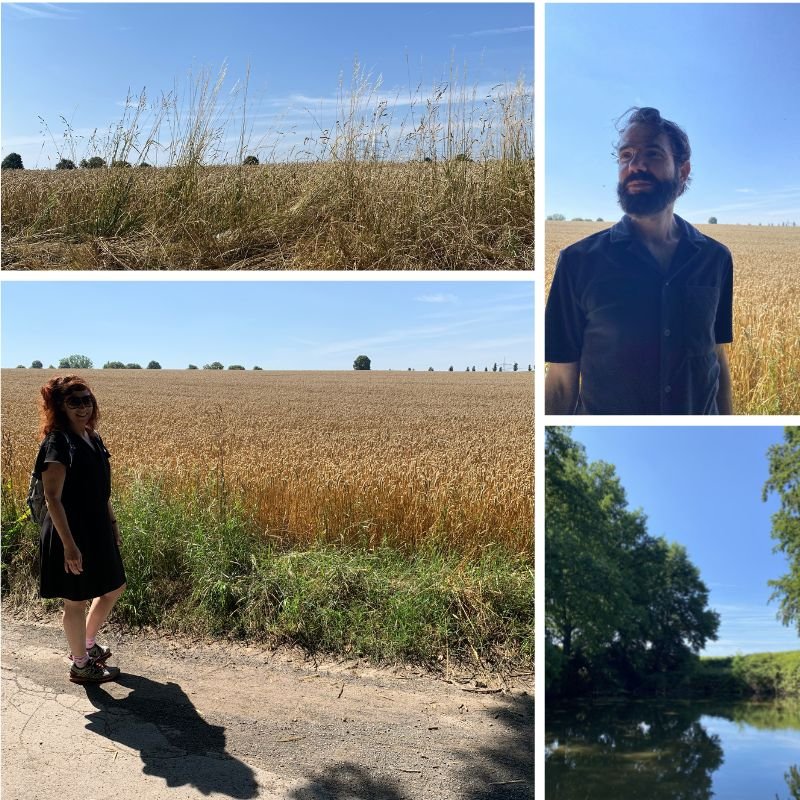 Yep, that's me :-DDD
The downside of last week was I had even worse headaches and another deadline for work. The upside I had no headaches on the weekend, my husband had also a bit of spare time and the weather was fantastic. Accordingly, we decided on Sunday morning to go for a walk through the fields. Honestly, I was so happy to have this free time without feeling completely ill. So happy that I completely forgot that I should have tackled a wip for the next day.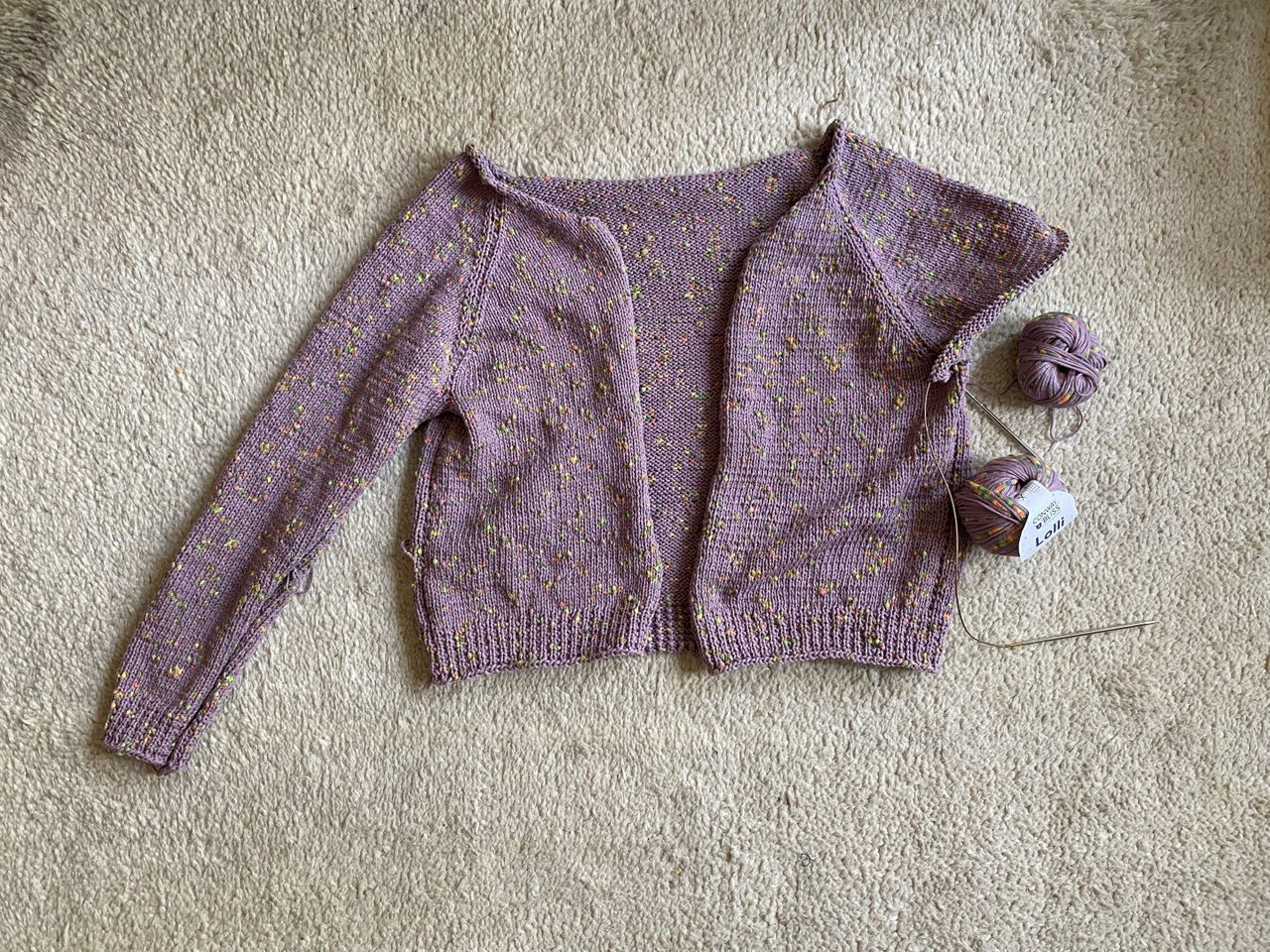 The only thing I had done besides lying in bed or working was knitting sporadically on my lilac cardigan (just as an update: I started on the second sleeve and still do not know if the yarn will be enough). This revelation hit me hard but supported by the lovely weather and my in general good mood I decided to try me on one of my level 2 wips in the evening: the striped sweater which is missing a collar.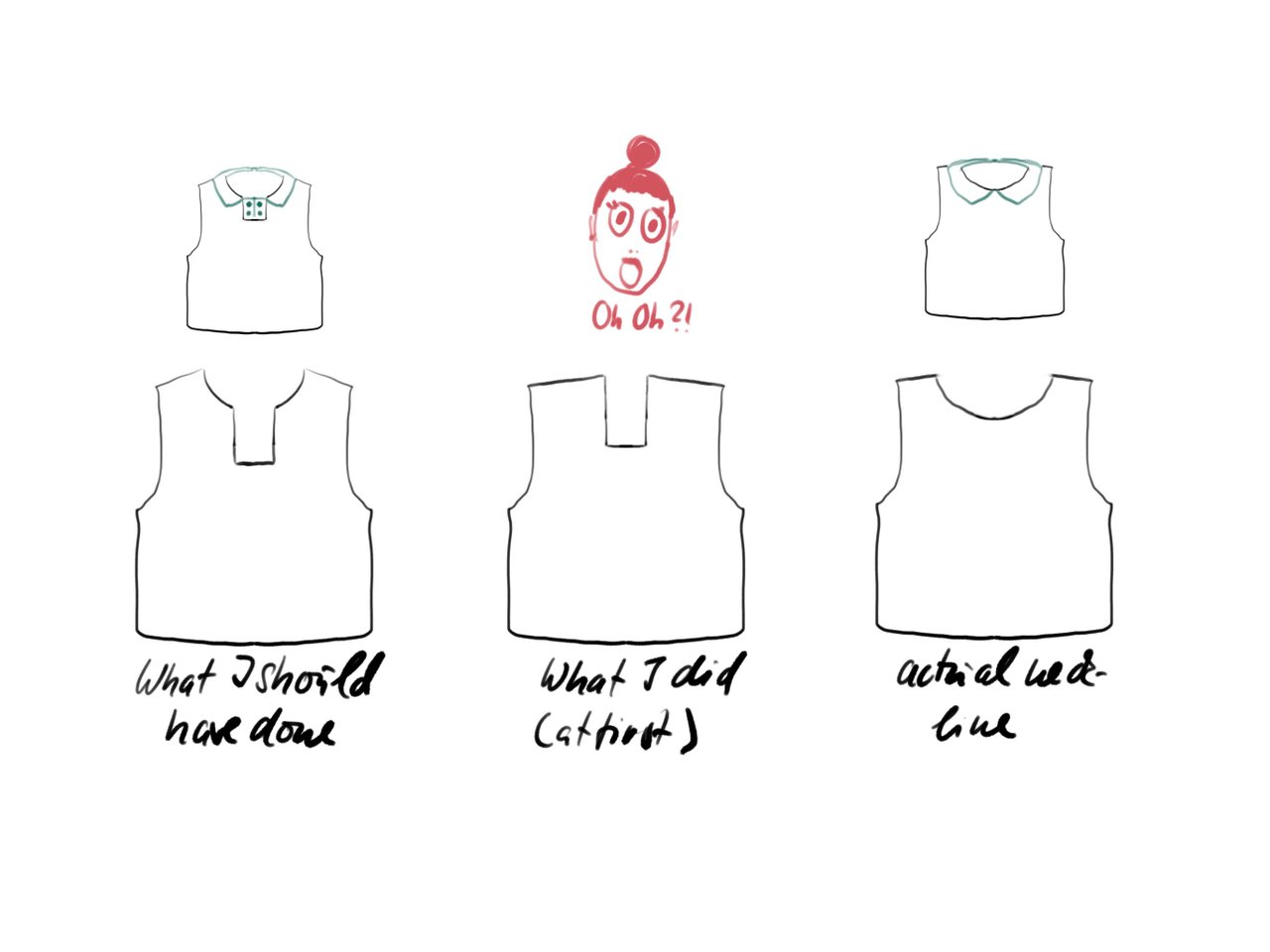 Remember? I made a huge mistake in the neckline

Some months ago, I started to knit a sweater with a combination of scrap yarn. I wanted to use up the tiny (or bigger) rests of lovely yarn which I had used for older projects and came up with a boxy sweater in hues of black, pink, lavender and blue. The pattern I used is a variation of my ruffle cardigan. I only wanted to change the neckline and transform it into a vintagey collar. Did not work. My reaction: "go sweater, go into the deepest corner of my wardrobe to never again remind me of my failure" – and there it went.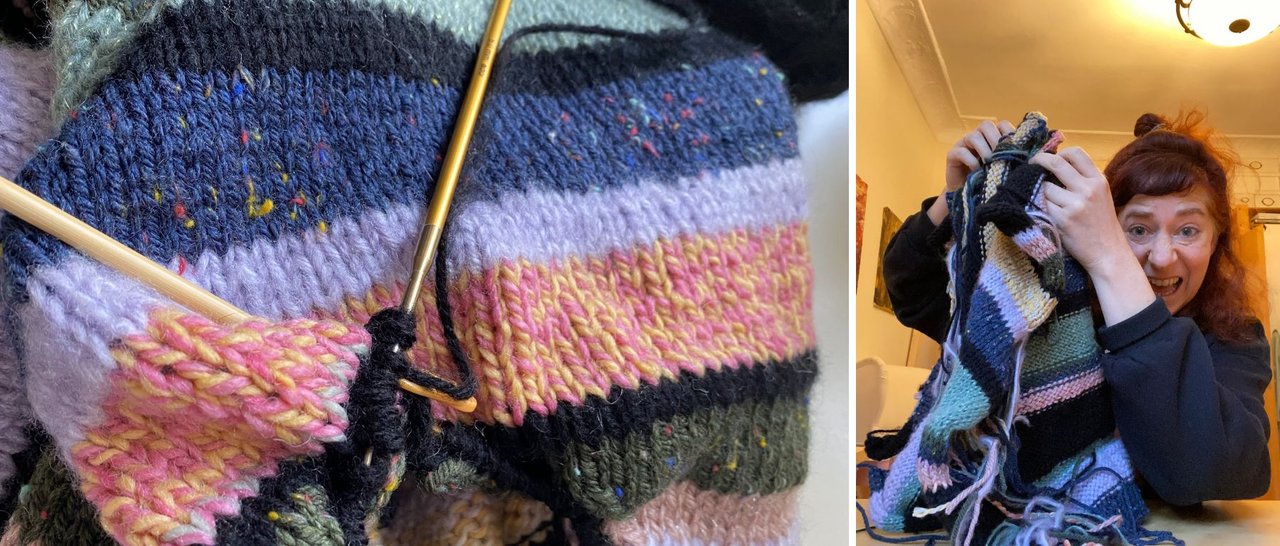 And this sweater I pulled out again. Instead of again trying to use a vintage pattern I went to a magazine I had bought exactly for this purpose, because it contained three designs with different kind of collars. I went for the first one in the magazine, a pointy collar in garter stitch. The measurements and stitch count are completely different to my sweater, but I used the explanation and modified it for my own pattern.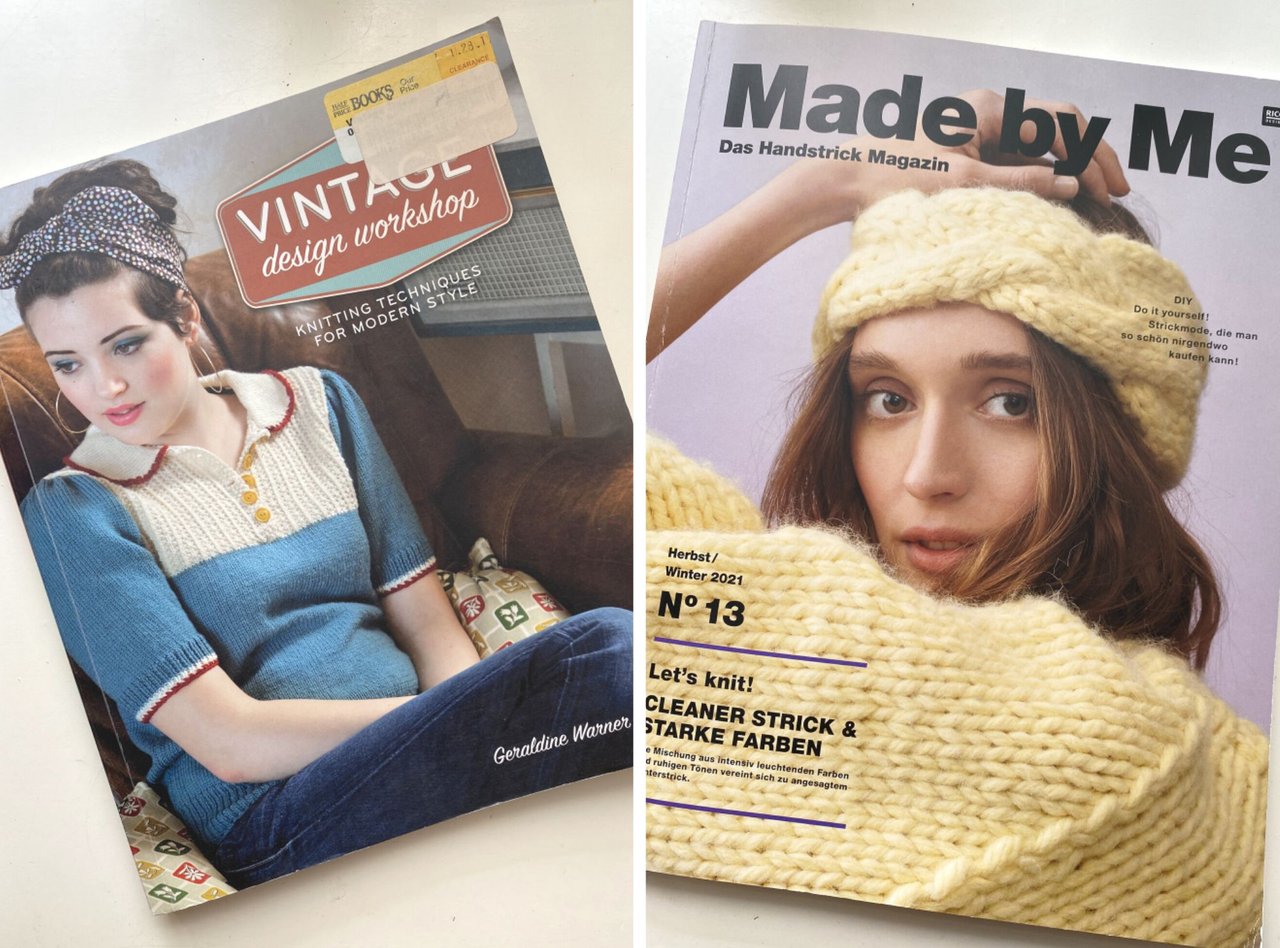 At first, I identified the middle of my neckline and put a stitch marker into it, then I picked up 91 stitches around the neckline, carefully observing to distribute them regularly. After knitting nine rows straight I started to increase: on the left and right site of the collar I placed a stitch marker after the sixth stitch and this stitch was doubled every row over the next eleven rows. At this point I tried the sweater on to decide how big I wanted the collar (big!!!!!). After another 10 rows (but without increases) I casted of, happy owner of a finished wip. Or wait… is it finished?!? Sigh, its not. Because of the stripes this sweater has a ginormous amount of yarn ends which need to be sewn in.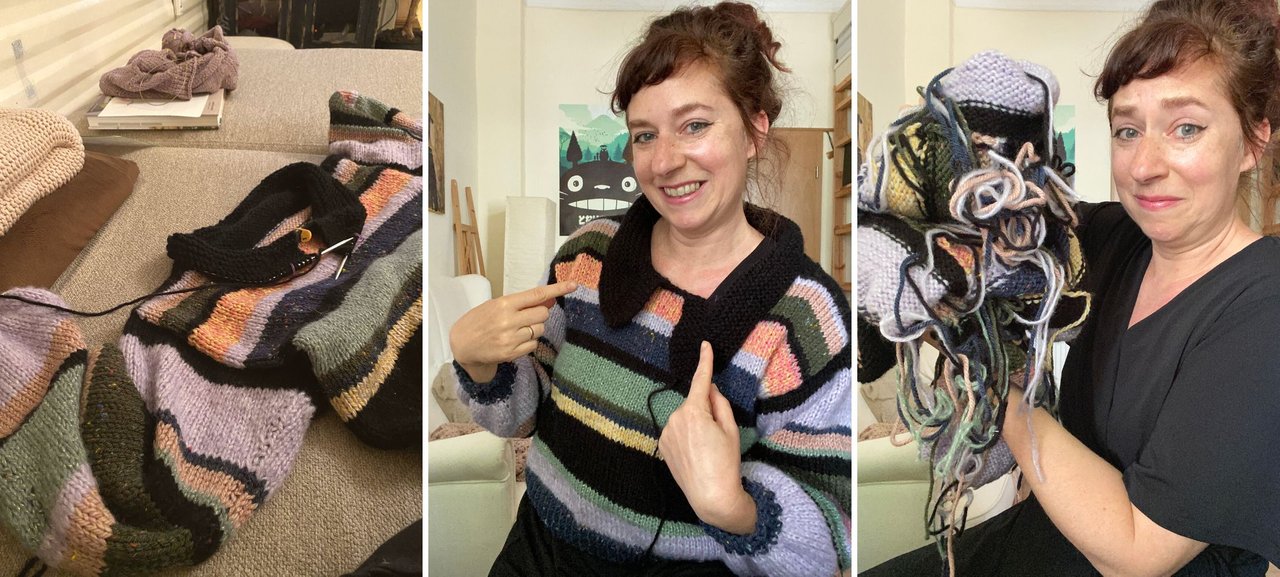 "So, dear sweater, what do you think of going back into the dark corner of my wardrobe?"
Back to being seriously, the collar construction was so easy to do, if I had known this before, I guess all my sweaters would have collars. Hopefully I will find some motivation (I guess I should read again on BJ Foggs behaviour model) to sew the yarn ends in…if not… I have another sweater which needs a collar :-DDD
---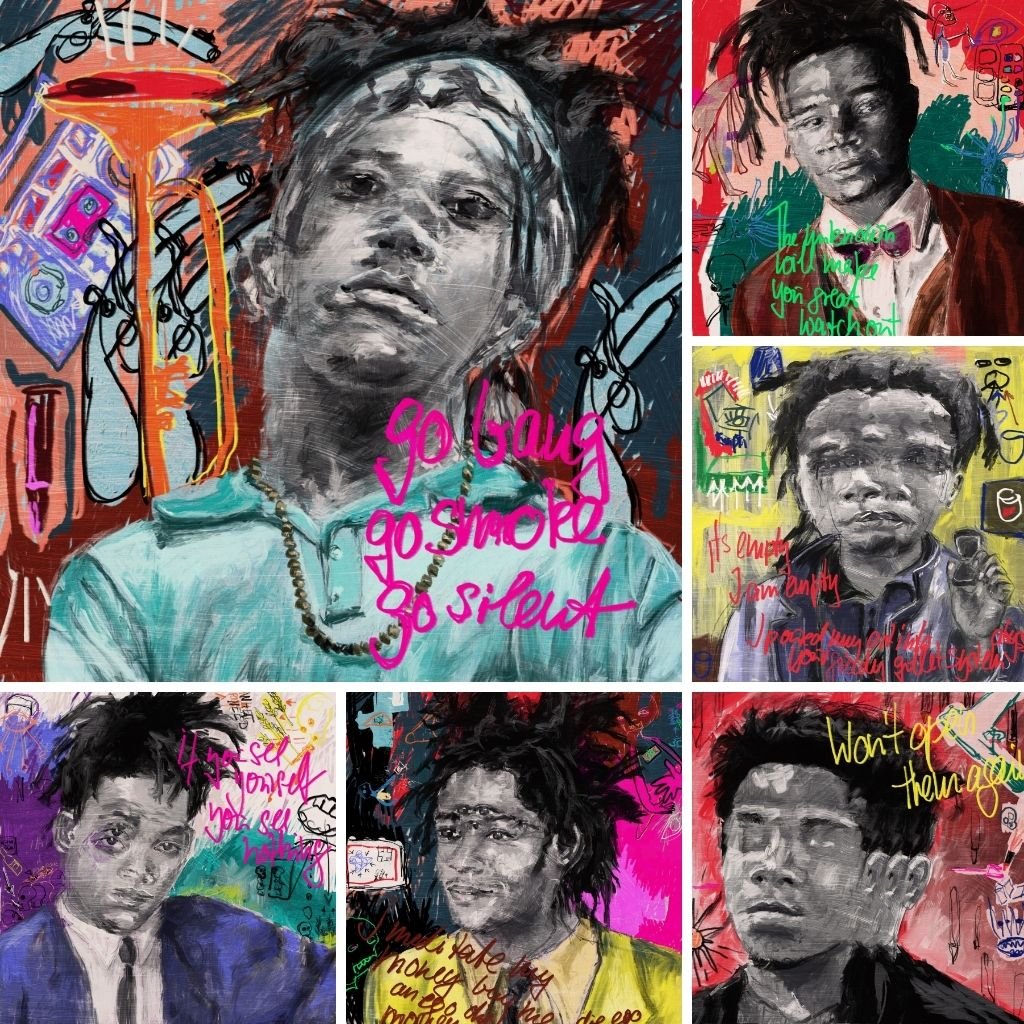 From 1.7.2022 to 31.7.2022 you can buy my Basquy NFT's on opensea (not expensive and unique – go for it ) The project is curated by Artespace gallery und you can find my ten artworks here. Buyers get free entry to Venice Biennale 2022.
---
Thank you @crosheille for initiating and @marblely for hosting the #needleworkmonday and the community builder team @lauramica, @romeskie and @kattycrochet I am so glad to be part of.
If you want to see more beautiful projects with yarn, fabric and most of all needles, follow @needleworkmonday on hive blog. Or even better grab your needles and keyboard and join the #needleworkmonday community. You can read more comments on this post on my hive blog.
Read more about my art und upcoming exhibitions on neumannsalva or buy some of my digital artworks on NFT showroom.
Last but not least: if my post coaxed a smile on your face you could support me on Ko-fi