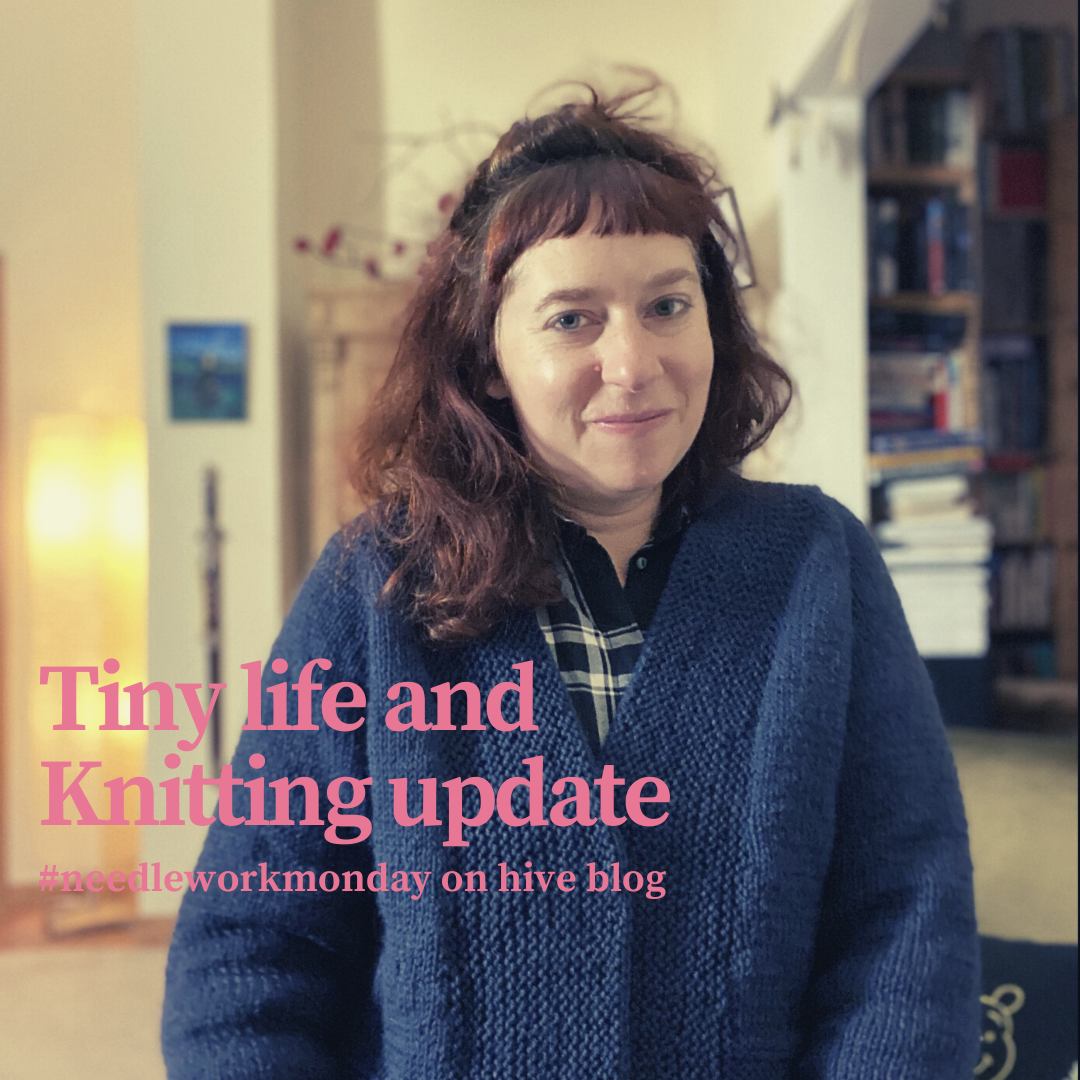 ---
I am back with a tiny life and knitting update.
In mid December I had the fantastic illusion that the winter holidays will be relaxing and full of joyful tea-drinking and knitting sessions. And in between I would finish easily the Christmas projects and even paint a bit and prepare our exhibition in January.
Ha
Haha
Muahahaaaaa (this should read as an evil laugh)
Let me start with the nicest thing: I finished my blue raglan sweater. As a surprise it fits, and I already wore it like planned over wide dresses.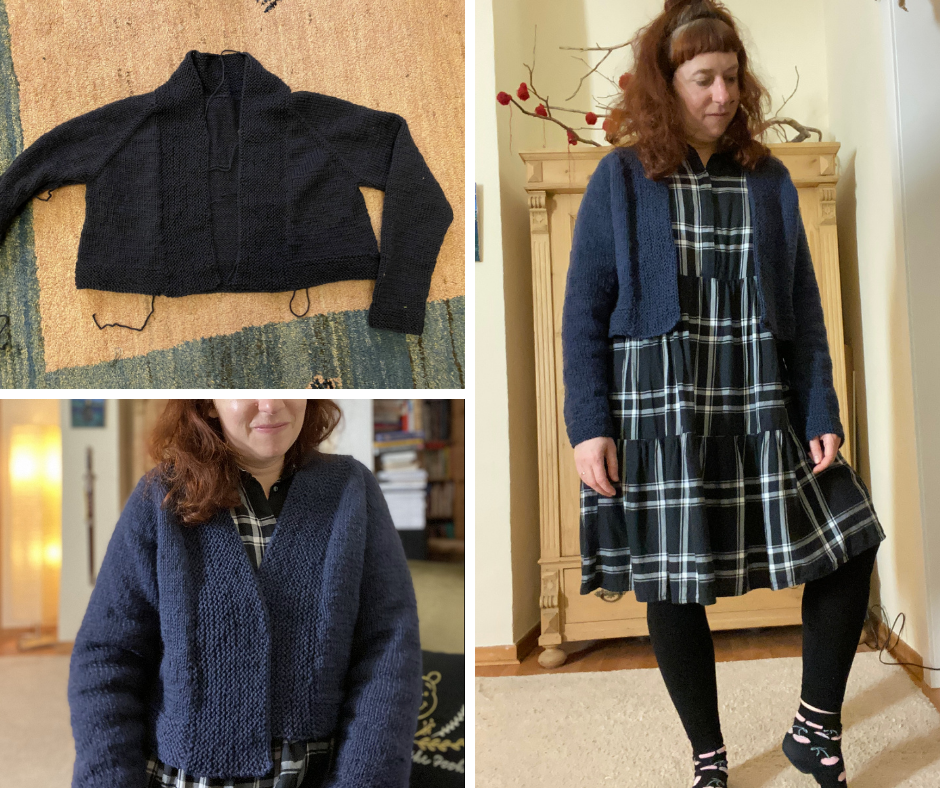 For all who are searching for an absolutely mindless and relaxing knitting project which is because of its slight A-line easy to fit on different bodies look at Hannah Fettig book Home and away. There I found my cute raglan jacket which fits so well. I must confess that I used a different yarn weight (and compensated by choosing a smaller size) and made the shawl neckline smaller as I did not have enough yarn. So, my jacket may look a bit different than the example in the book, by the way it is the pattern Hancock.
A big plus of the book is that all patterns are written as raglan designs and as a seamed design. So, you can choose which ever way of knitting suits you best.
Let's go on with the lesser fun things. Not sure I already wrote this, but we must move our exhibition into February (instead of January) because of the Corona Lockdown and it is still possible we must cancel it completely. This is a huge bummer… and my motivation is rock bottom. We are already contemplating filming the artworks, but as it is also unsure if we are allowed to enter the gallery at all, this plan b is not reliable. And to be honest a filmed exhibition will not get nearly as much visitors as a real one.
Nevertheless, I will give you a glimpse of the drawing installation and the rudiment of a fibre sculpture.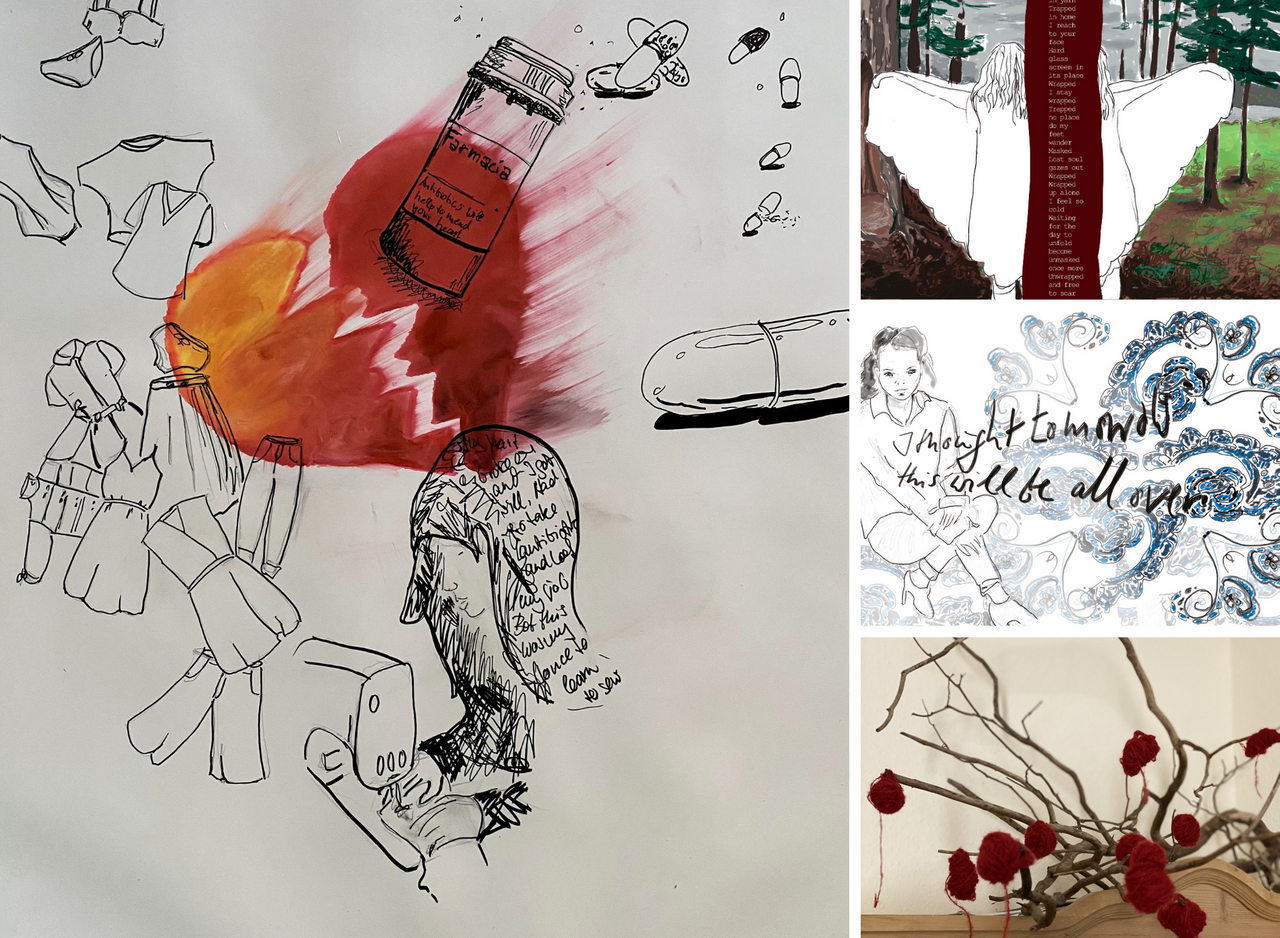 (perhaps some of you recognise yourself on the sketches)
Yeah and the rest…. Sigh…. Corona is still taxing, especially money-wise. I am a board-member of (and my husband works there) a non profit organisation which has a wide range of clients; they have living units for underage refugees, support people of old age who are poor, teach about anti-racism, they run courses to empower people without reading and writing skills, are a meeting point for women who fled to Germany and so on. The important thing is most activities require face to face contact and/or a lot of money to equip the clients with devices like cellphones or computer. Because of Corona this charity organisation is under a lot of duress and during December till now I work together with a team of people to raise money. In December we made a short image film (I wrote the script) and as it is made with nearly no budget, I am quite happy with the result.
You can watch it here, but it is in German….
Right now, we are running an auction for unloved Christmas presents which will end in February and hopefully bring some more money (and attention).
This is my tiny update so far… I just wanted to let you know why I was absent from my blog (and may be a bit slow in the next weeks)
I hope you are all as well as possible <3
Thank you @crosheille for iniciating and @muscara and @marblely for hosting the #needleworkmonday. If you want to see more beautiful projects with yarn, fabric and most of all needles, follow @needleworkmonday on hive blog. Or even better grab your needles and keyboard and join the #needleworkmonday community. You can read more comments on this post on my hive blog.