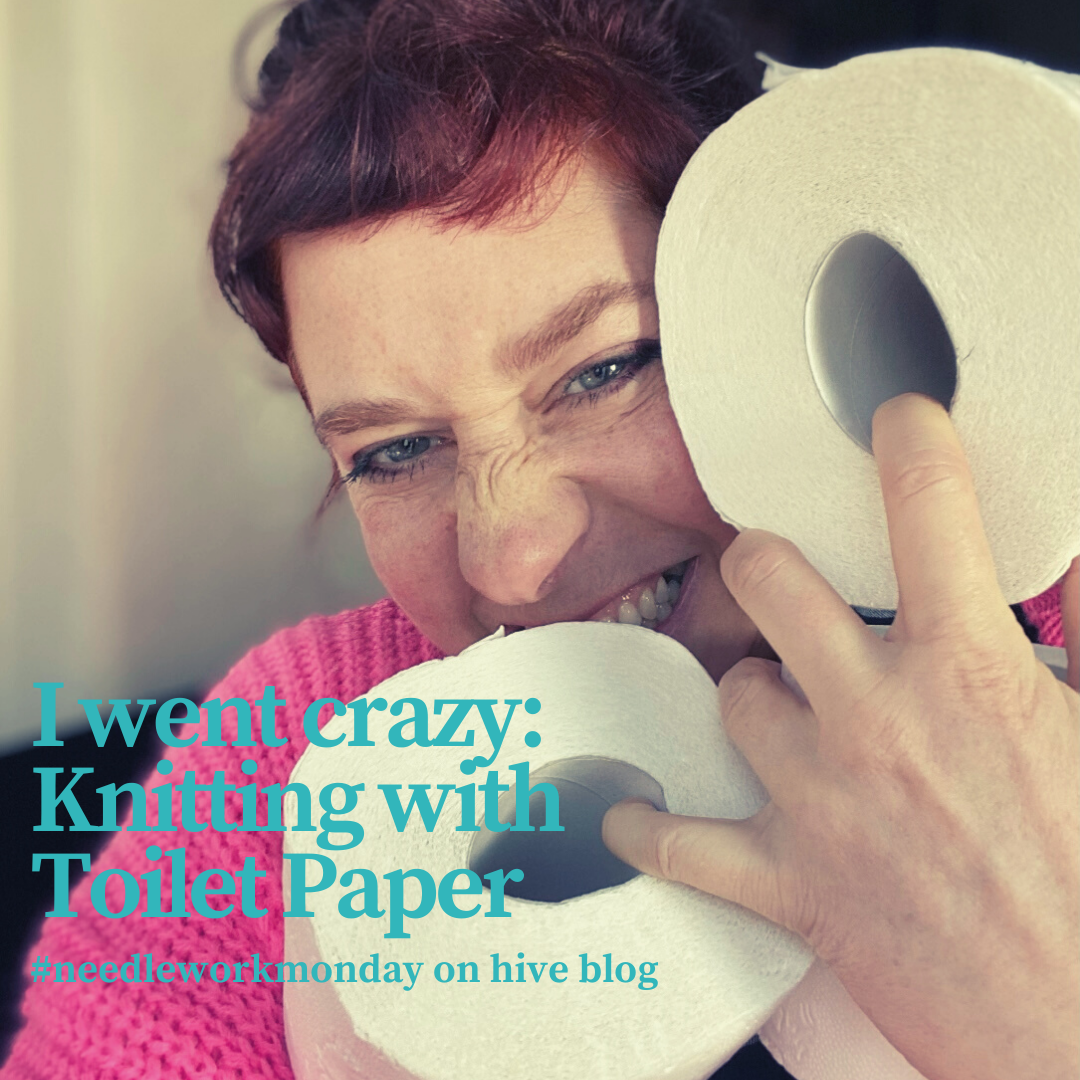 The virus is flying around, zombies walk the earth and I have time to kill, so what better to do than knit with: TOILET PAPER
Yes, dear reader, last week I lost my mind and exchanged the yarn with toilet paper. Not only is it still in high demand in our local supermarket, no I also found that the fantasy novel I currently read (and which is some years old) also mentioned toilet paper as the one thing you need to hoard if the apocalypse is coming. Perhaps everybody around me read this novel and so the toilet paper rose in value…. But back to my knitting project.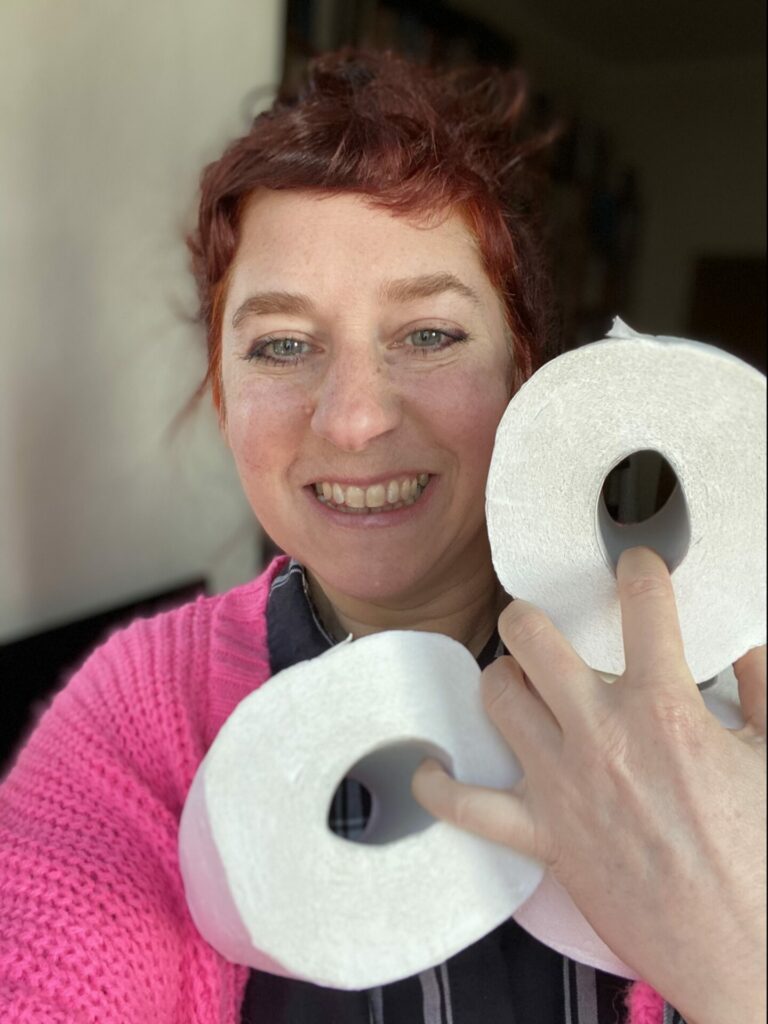 Joking aside I neither lost my mind nor my yarn stash and zombies are also near to unknown in my city, but I wanted to work on another artwork for our upcoming far away exhibition (I will tell you more later). I thought about a huge blanket made of knitted toilet paper which will cover all the garments I made during the pandemic. A blanket which should symbolize the stillness / loneliness I encountered during the lockdowns which is filled by working on my knitted, crocheted or sewed clothes. These handmade garments will later be worn, and nobody will ever guess that they were made in such a trying time – therefore the blanket which hides everything under its soft white fabric.
Having this idea, I at first wanted to crochet the toilet paper, but every attempt failed miserably. The paper is much too stiff on the one hand and tears too much on the other hand: working with a big hook was not possible.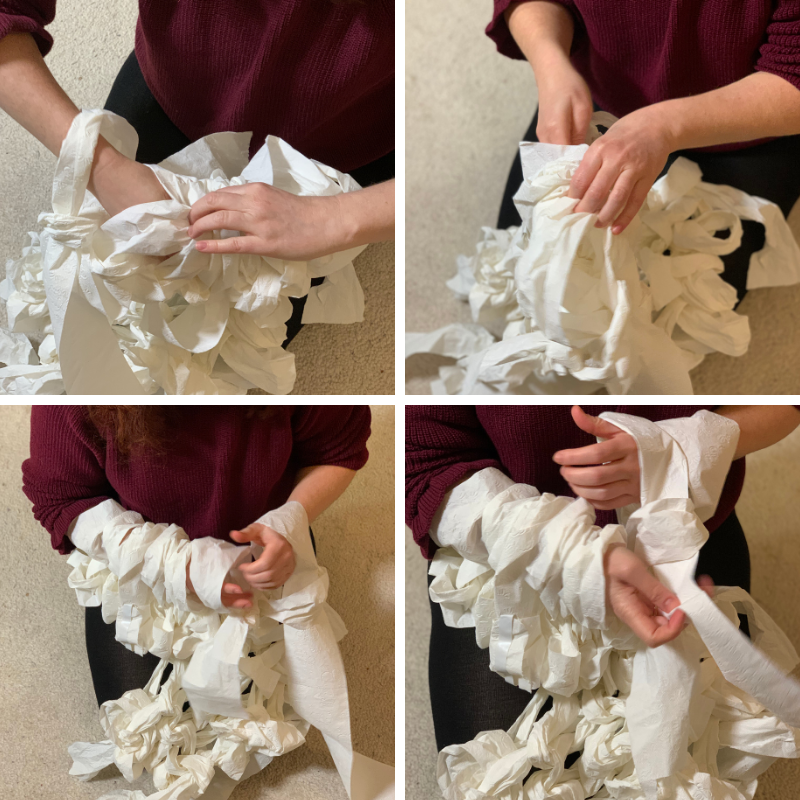 After this I researched arm knitting and was amazed how easy this technique seemed…. Sadly, the stiffness of the paper again prevented me from creating the huge blanket I envisioned in my mind's eye. I was not able to get a lot of paper chains on my forearm… But I was able to get some chains knitted.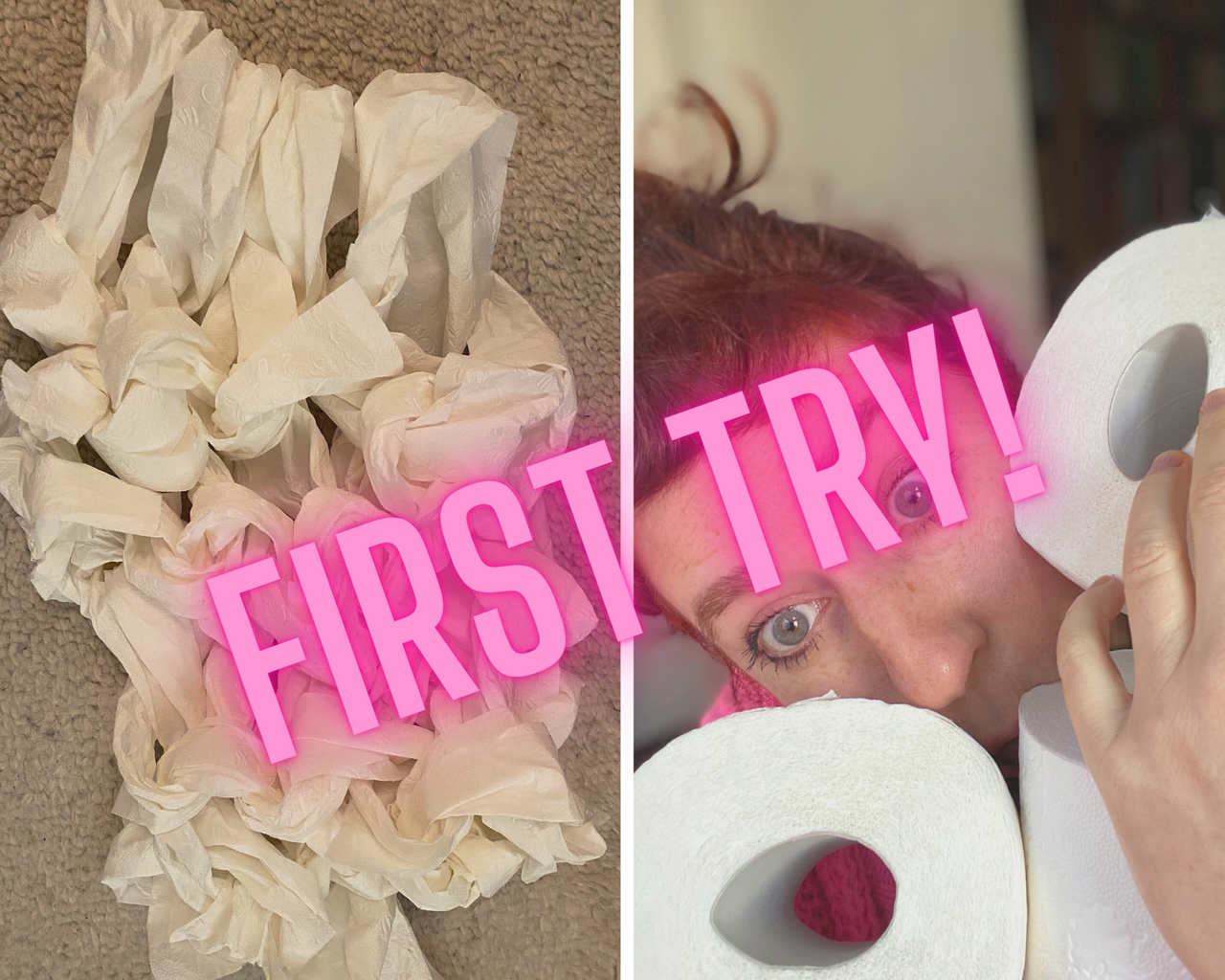 My first attempt looked like a pile of discarded tissues – not very attractive. But the second attempt went really well… until I ripped the paper: AHHHHHHH (please dear needleworkers tell me why toilet paper needs a predetermined breaking point???) Thankfully my husband was at home and came running to my rescue. He taped the ripped toilet paper back on. We repeated this roughly every fifth row (perhaps I need to mention my husband as a co-artist?) and I was able to knit a blanket of 56 cm width and 135 cm length. After this I needed a shower because I was stress sweating because I was in constant fear of ripped paper 😀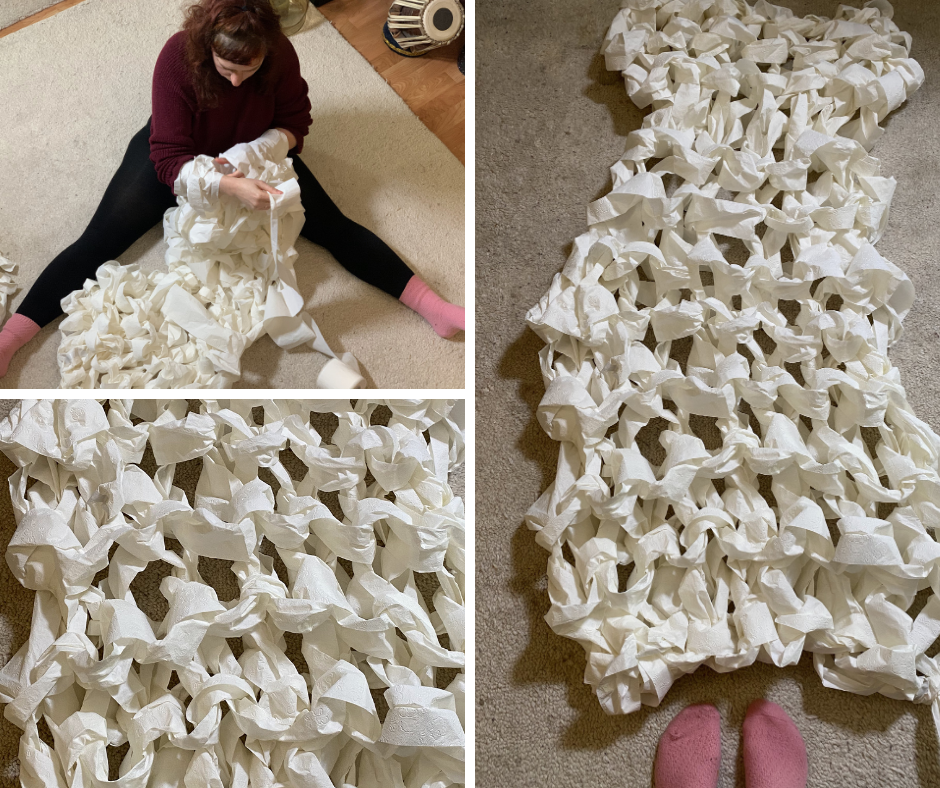 I will make more of these blankets and then try to either sew or tape them into one huge blanket to cover my handmade garments…. But for this I have a lot of time because our exhibition is cancelled. No do not cry, because we already have a rescue plan. Another artist who occupied four weeks in August in this gallery is super lovely and let us have two weeks from her time. Hurray… Although I am a bit disappointed that we cannot start with the project now and that we will have less time to prepare and to build the artworks at the gallery, I am hugely grateful, that we are still able to have an exhibition.
So dear needleworkers, I try again: if you are interested you can still send me your thoughts and experiences about the pandemic. How your life went, and which role crafting played during this time. Read more here.
Sending love and hope to you all
Thank you @crosheille for iniciating and @muscara and @marblely for hosting the #needleworkmonday. If you want to see more beautiful projects with yarn, fabric and most of all needles, follow @needleworkmonday on hive blog. Or even better grab your needles and keyboard and join the #needleworkmonday community. You can read more comments on this post on my hive blog.