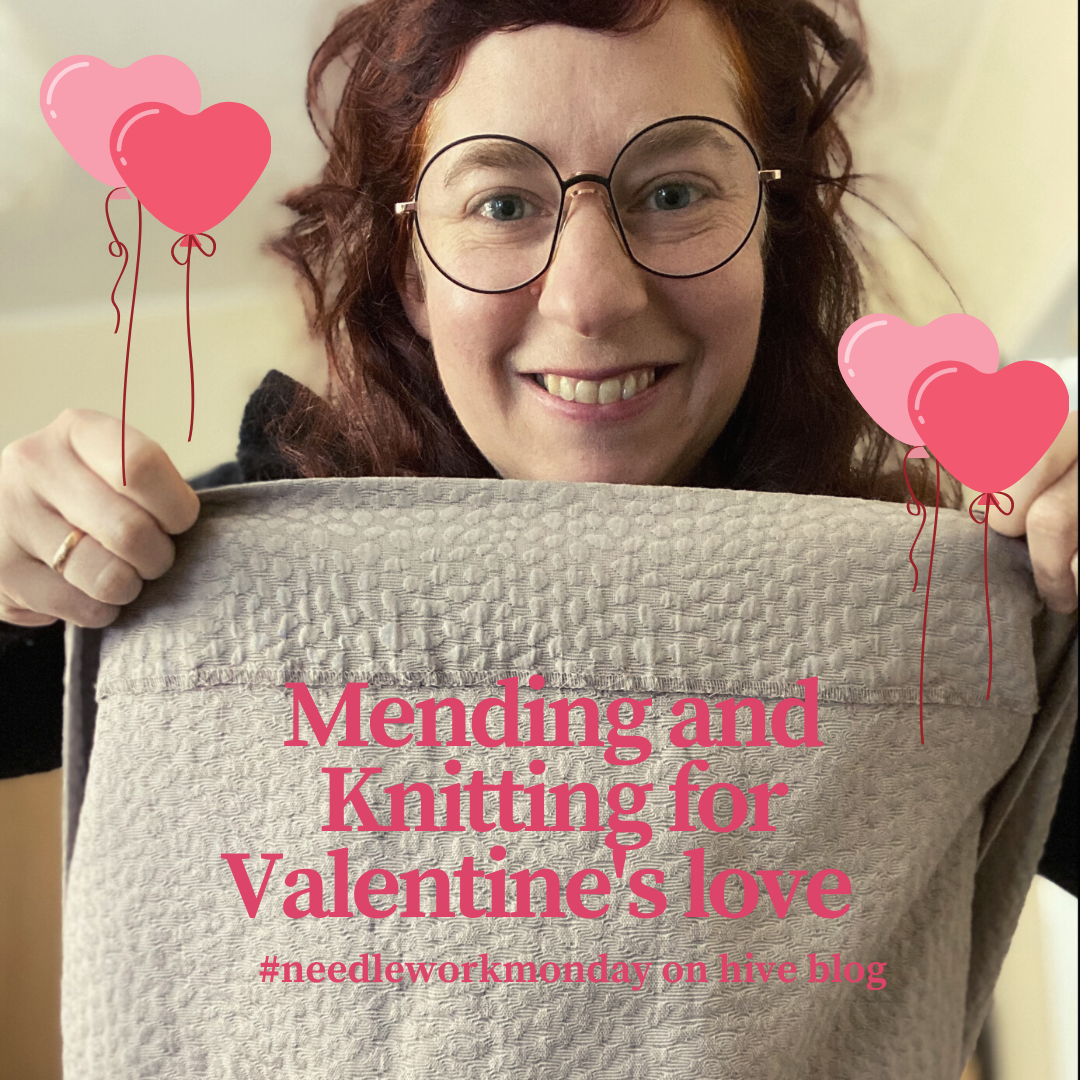 It's a Valentines post and I start it with HATE. You read it: HATE! In this Valentine's post you will find soft pink items but no cute heart shaped gifts only broken skirts and i-cords full of mistakes.
Let me explain.
I am one of these persons that has a huge wardrobe full of skirts and cardigans, dresses, and sweaters, but many of these garments are waiting for daylight. Instead I am constantly wearing the same I guess six or seven skirts in heavy rotation. During winter my most loved skirt is made from a very thick and stiff woven fabric. It reaches my calves, has pleats and huge pockets. And I have it three times :-DDD One in black, one in red and a soft pink one. These skirts live in my wardrobe for many years and I already have them altered to be bigger and smaller (before I new how to sew). But I still love them very much. I can wear thick tights beneath them, and I do not need to carry a bag, I simply put my sell phone and key in one of the deep pockets. Perfect for a snowy hike in the forest. Often, I wear them with calf high boots and that's how the disaster took place. The hem of the pink skirt got caught in the buckle of the boots and ripped a tiny bit. I ignored it…. Wore the skirt and boots and it ripped again and again. And now I cannot wear it any longer as the complete hem is loose – cryyyyyyy.
Now the hate/love part of the Valentines post comes.
I hate to hand sew, no idea why, but I really really dislike it, say I hate it. So mending is something I intellectually like, but practically seldom do. I walk around the skirt, look at the hem. I put it on the sewing shelf, I search for the fitting thread. But nothing gets done. Nothing. And I hate myself for being so lazy and for not getting this task done.
Here the love parts start.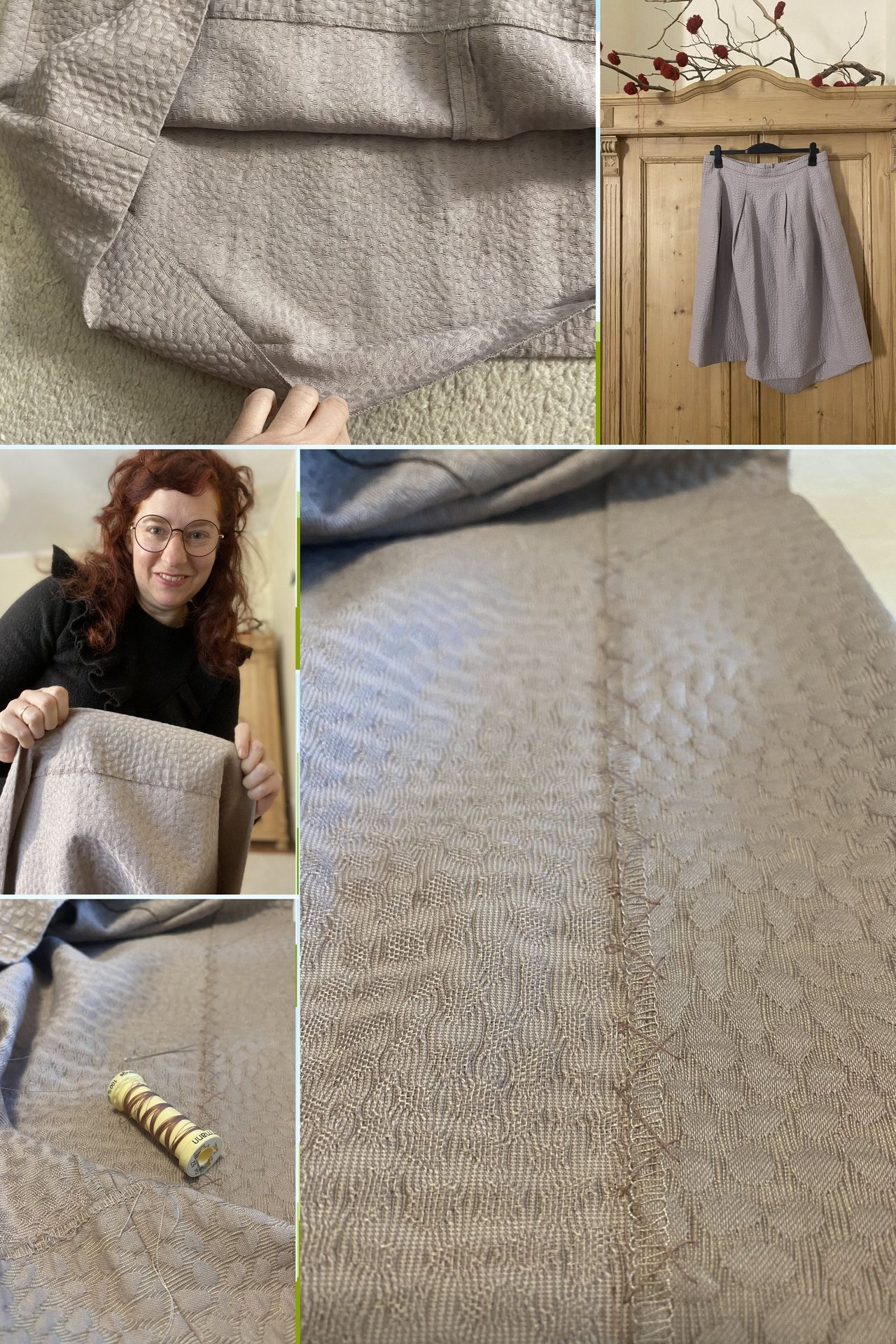 Two weeks ago @marblely wrote a post about altering trousers with an invisible hem. And as so often I loved her clear explanation and photos. She always inspires me to care for my (or my mothers or my husbands) beloved garments and to mend them. Without her, there would be a lot of trousers from my mother still too long and some socks would have holes in them and and and. So, I dedicate this first part of the Valentines post to @marblely because…. Wootwoooooooot I mended the pink skirt with an invisible hem (funnily in German this invisible hem is called witches stitch).
Thank you so much @marblely for being here and writing your wonderful posts, for being my role model to try mending and for showing me the techniques <3 <3 I will think of you when I wear my beloved skirt <3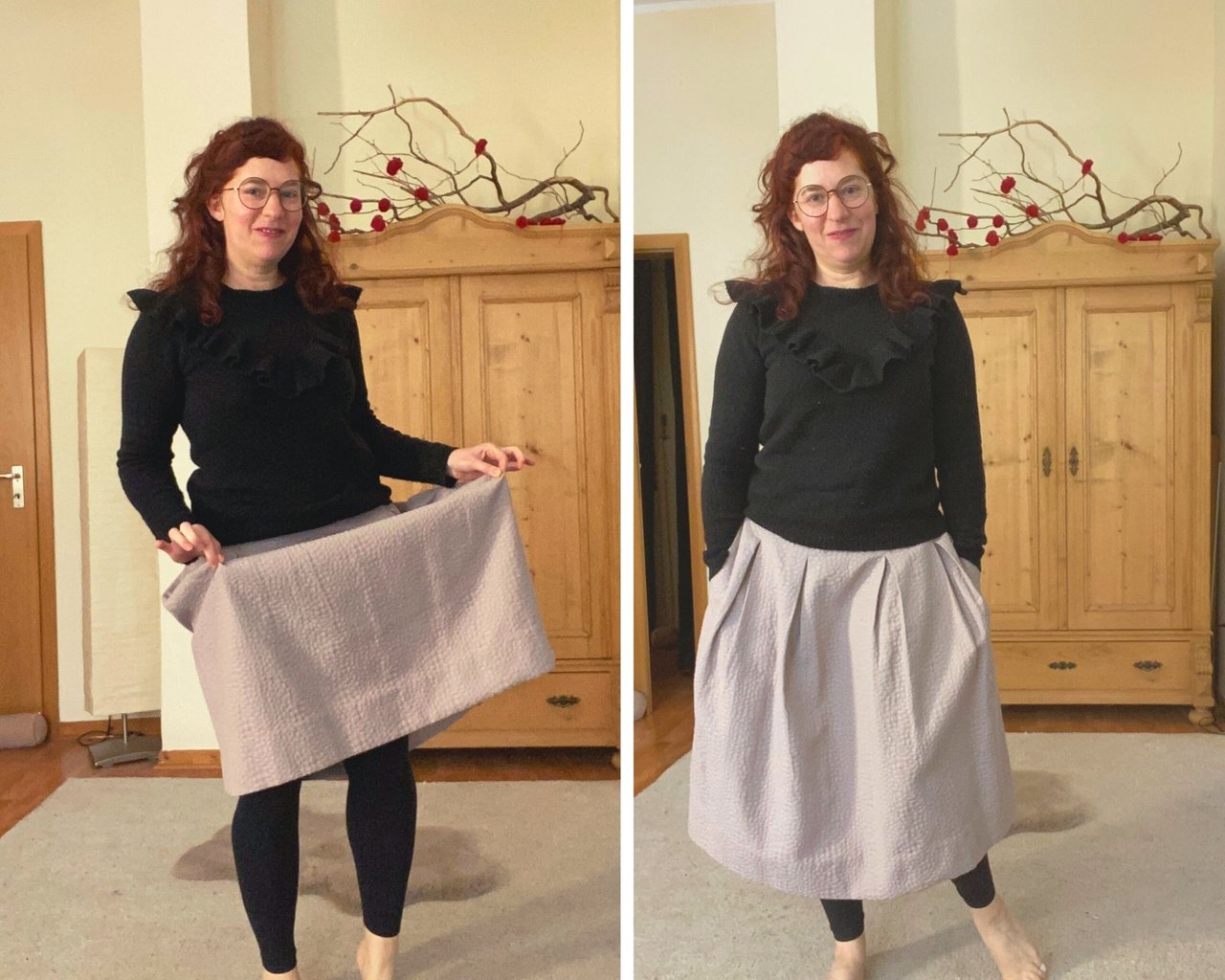 But this is not all…. My Valentine's post has another recipient: @muscara for always helping me with my crude knitting and crypto questions. I ask and she helps, always <3 This time I wanted to knit an i-cord bind off on an improvised wrap cardigan and I wanted to knit the tie for this cardigan in one go. I visualized knitting the i-cord for one front proceeding with the life stitches of the cardigan and then knitting the i-cord for the second front in one go, without sewing (read above: I hate hand sewing). And she found a solution 🎉 Thank you so much for having so much patience and for having so good ideas <3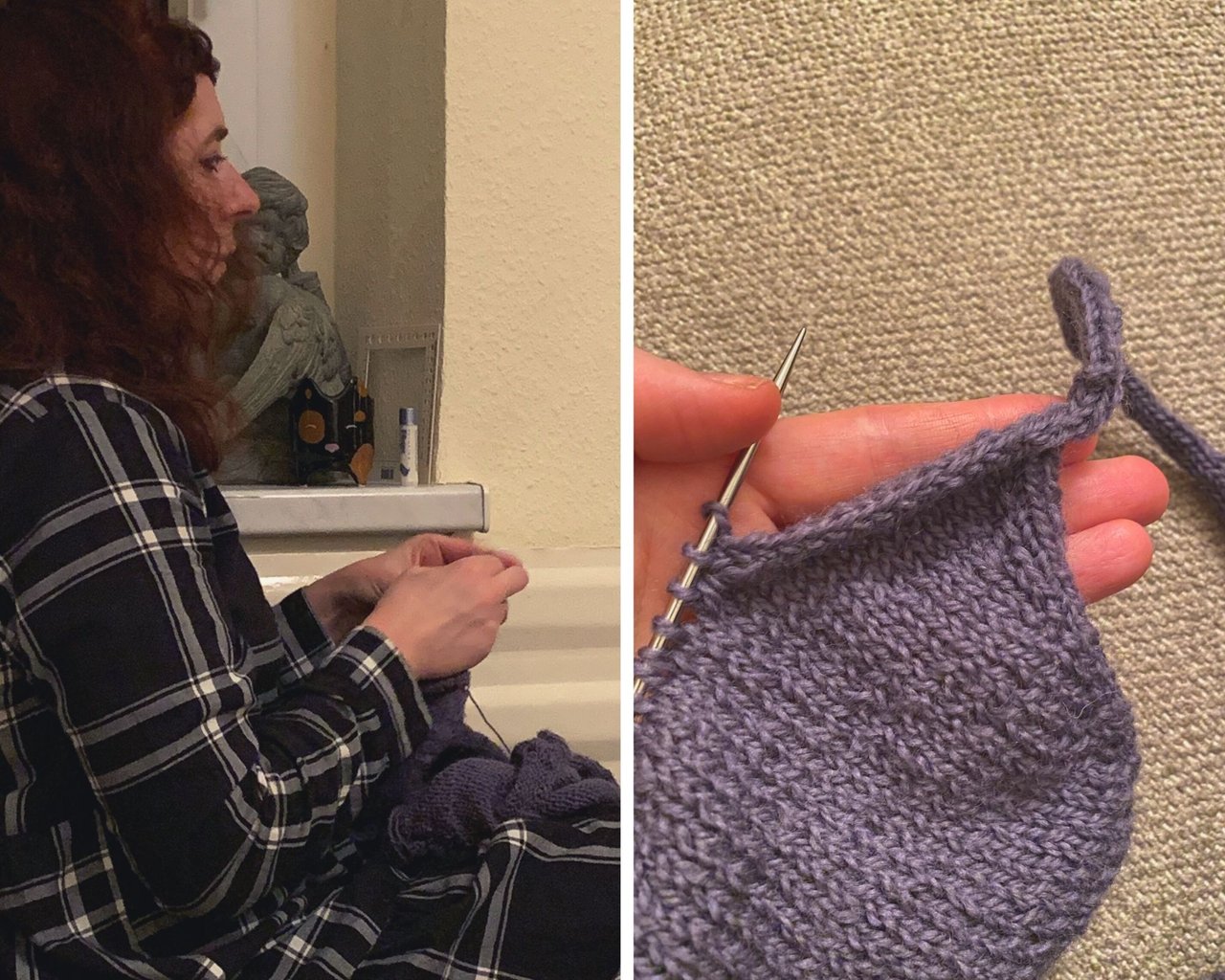 The hate part only relates to my own shortcomings: the i-cord I knitted looks as if moths has eaten it or as if a dog has mistaken it for a chewing toy. I guess I lost more stitches than I knitted (ok… I may exaggerate a bit), but honestly it does not look good. And the idea to cast off stockinette with an i-cord was also not my best: it rolls up and I fear is not wearable… I need to think about this (should I hope blocking will remedy the rolling, should I unravel and knit a ribbing, or should I sew the hem into the inside of the cardigan…?)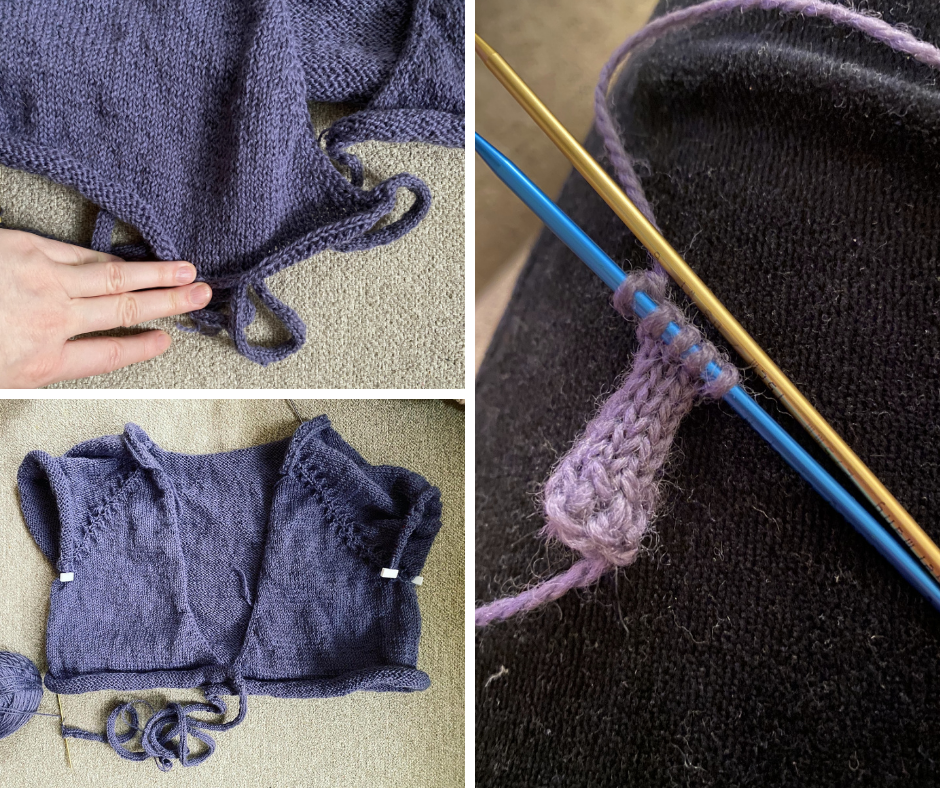 So, dear needleworkers this is my very un-valentine Valentines post. But I thought appreciation need not necessarily be a pink heart, but to be on the safe side:
💗
Thank you @crosheille for iniciating and @muscara and @marblely for hosting the #needleworkmonday. If you want to see more beautiful projects with yarn, fabric and most of all needles, follow @needleworkmonday on hive blog. Or even better grab your needles and keyboard and join the #needleworkmonday community. You can read more comments on this post on my hive blog.