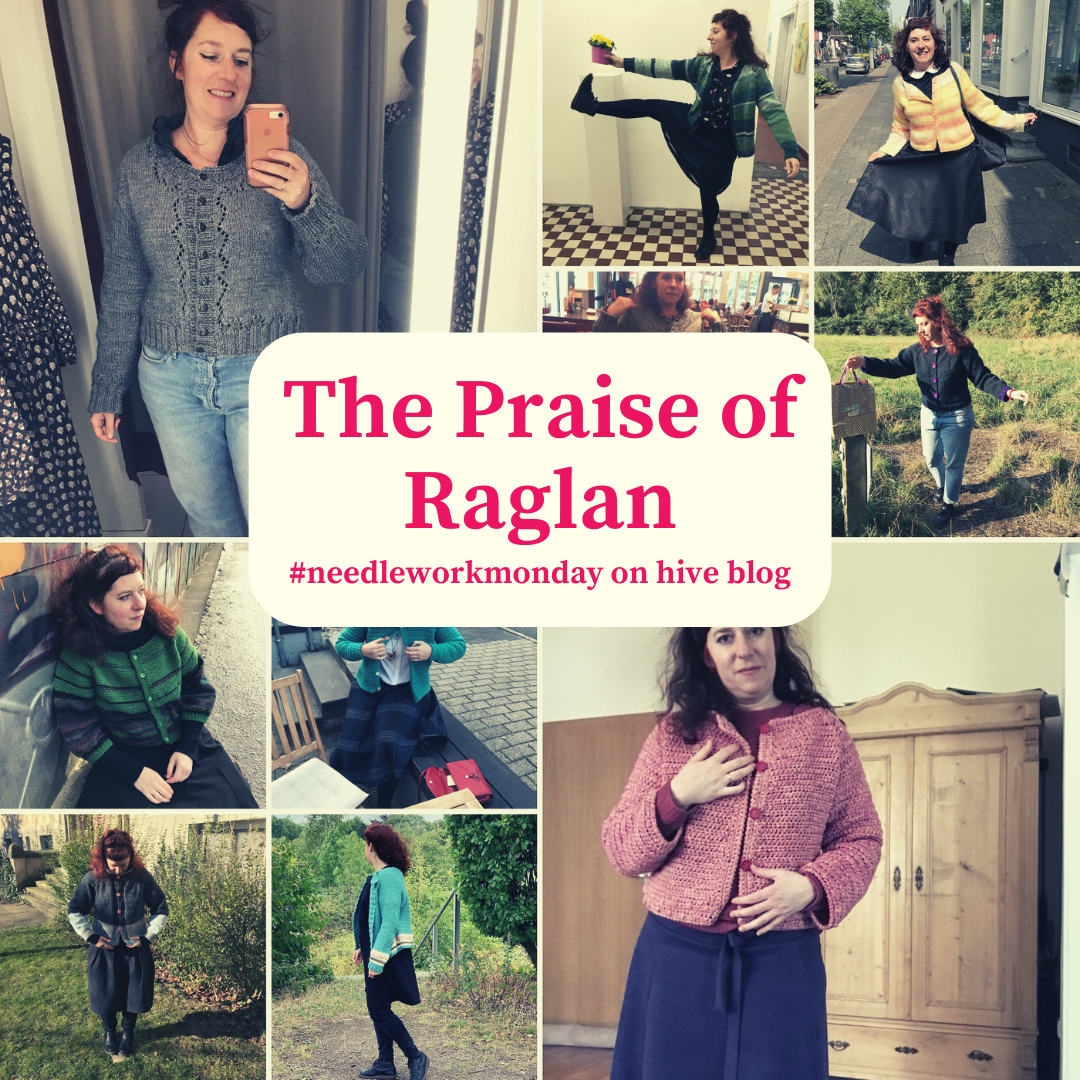 A fair warning at the beginning: if you read this and can knit, crochet or sew, you will perhaps immediately start a new project with raglan sleeves 😀
Some people relax with a good book, some use a stiff drink, some do yoga or go for a walk. Me, I do raglan 😀 Knitting or crocheting a top down raglan designs is heaven for me. All its special features are to my liking. First, I can try the thing on, sooo important, no rough awakening at the end to an ill fitting garment. With the help of some long cords I can put the sweater (in my case its always a cardigan) on and check its width and length and the overall fit. So relaxing… no fear the whole thing will end its life in a box (you know which box). And while talking about the fit, I really like how raglan sleeves sit on my frame.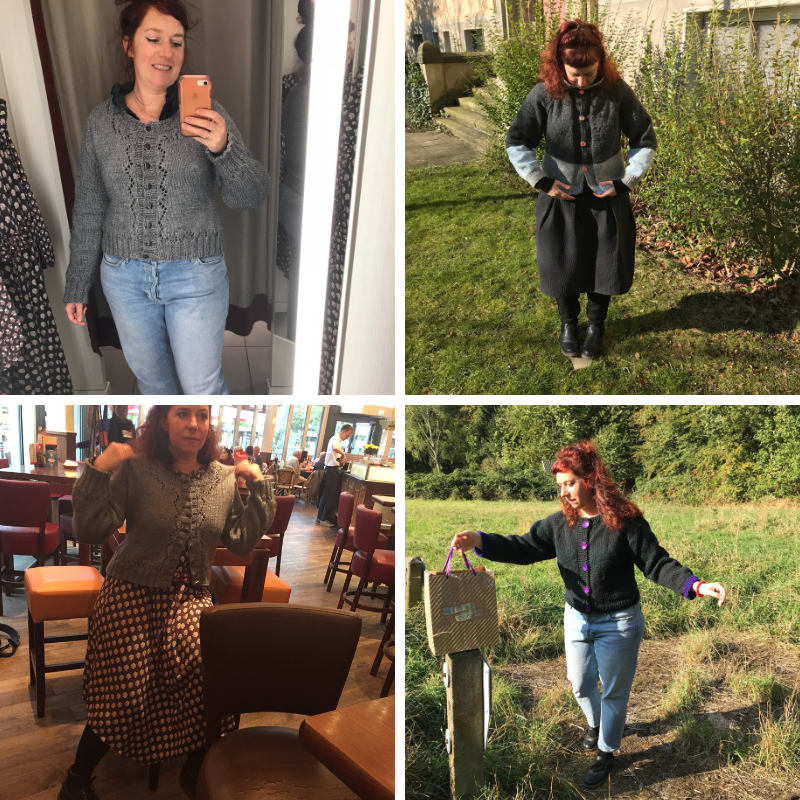 On the interweave website I someday found a short treaty about the various shoulder/sleeve construction ad how they will fit the different human shapes and sadly they told me that top down raglan would not be perfect for me. One feature of these constructions is, that you simultaneously increase the circumference of sleeves and torso. Therefore, the interweave website told me, raglan is more for people with a very balanced figure. And I am sure, if I have something not, it is a balanced figure :-DDD I have thick arms (30 cm), a big torso (upper bust 90 cm) and a small bust (96cm). Top down raglan should not fit me.
So how is it possible that I like raglan sleeves on me? Am I deluded? Is my fashion taste completely of? But I have some ideas about this phenomenon. While looking at a lot of my cardigans I recognize that most of them look wide on me, so perhaps I instinctively knit/crochet a bigger size and live with the looser fit. But that's not true for all of them. For example, the gray cardigan (Miette cardigan from Andi Satterlund) fits snugger in the bust area. But there I omitted the bust darts the pattern incorporated to give space for the bust (which I did not need). Or is it possible I am balanced/average in my torso measurements (besides that I am super short)? I fear we will not discover the truth in this case…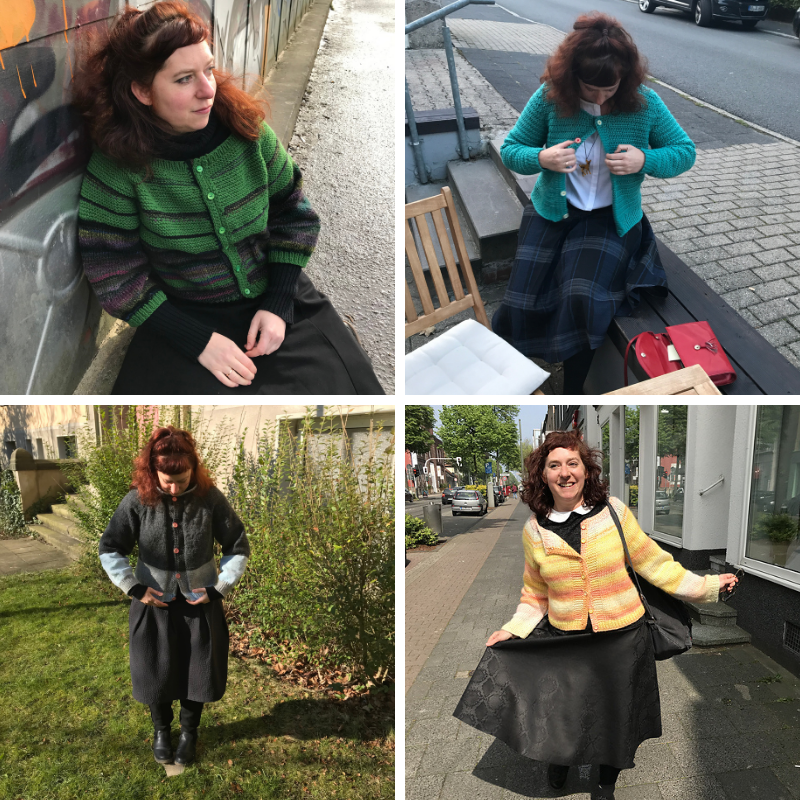 But also, of no small importance is, that I know what to do. Unlike many of you I came to crochet and knitting relatively late in live and many designs are not natural for me, I have to really understand how garments are constructed and work my way through detailed explanations only to notice at the end I made some stupid and avoidable mistake. Not so with a top-down raglan construction. This is the one design I meanwhile have made so often in crochet and knitting (and funnily also in sewing, which is my least developed skill) that I can do while sleeping. And as knitting is for me a tool to wind down or to spend days I am not completely fit; I want something easy to knit instead of a garment riddle to solve.
The next thing I love on raglan is, that I can calculate my yardarge easily. Hmmm let me rephrase. With a top down raglan construction, it's not as important as in a for example flat knitted construction to have enough yarn beforehand. If the yarn is not enough, I always can knit a different color for sleeves and bands and it will still look harmonious as back and front are made in one go. (Did I already write the I perhaps do not have enough yarn for my current blue raglan project…?)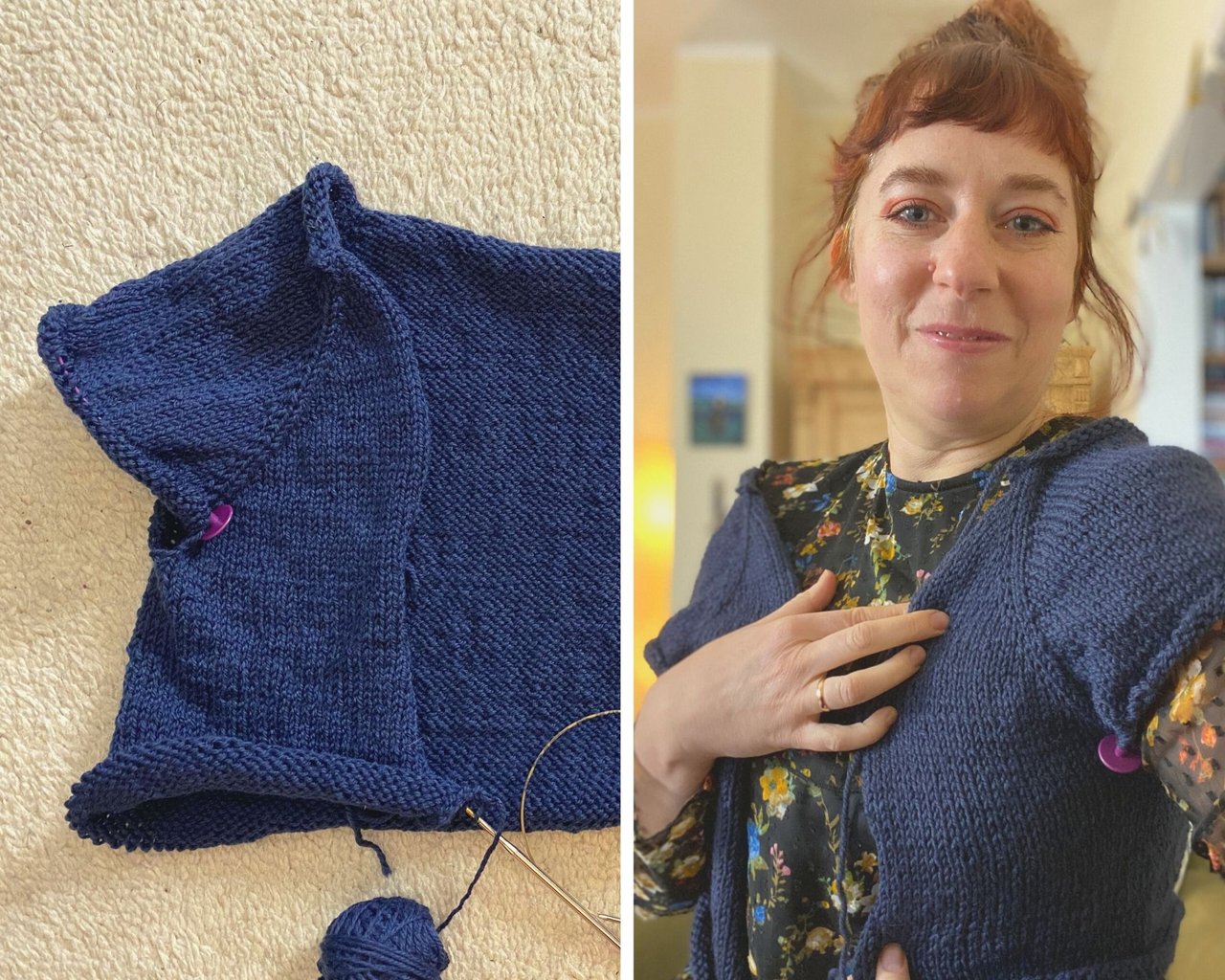 Now on to the least and best feature of these top down constructions: less sewing!!!! As much as I like to knit, so much do I despise hand sewing. I hate it! Really! Deeply! (Sorry for the high amount of exclamation marks, but hand sewing… gag) And with the raglan shape I at least omit to set in the sleeves, at best I even do not need to sew anything (besides the darn yarn-ends).

If you honestly managed to read my raglan eulogy to the end, than perhaps you are asking yourself, why I have written it today and here is the answer: I had near to now time to knit and the only project I worked on was my blue raglan cardigan 😀
As this is my last post before Christmas, I want to wish all of you an as nice as possible end of the year time – and if you celebrate – a wonderful Christmas. I am thinking of you and have you all in my heart <3
Thank you @crosheille for iniciating and @muscara and @marblely for hosting the #needleworkmonday. If you want to see more beautiful projects with yarn, fabric and most of all needles, follow @needleworkmonday on hive blog. Or even better grab your needles and keyboard and join the #needleworkmonday community. You can read more comments on this post on my hive blog.