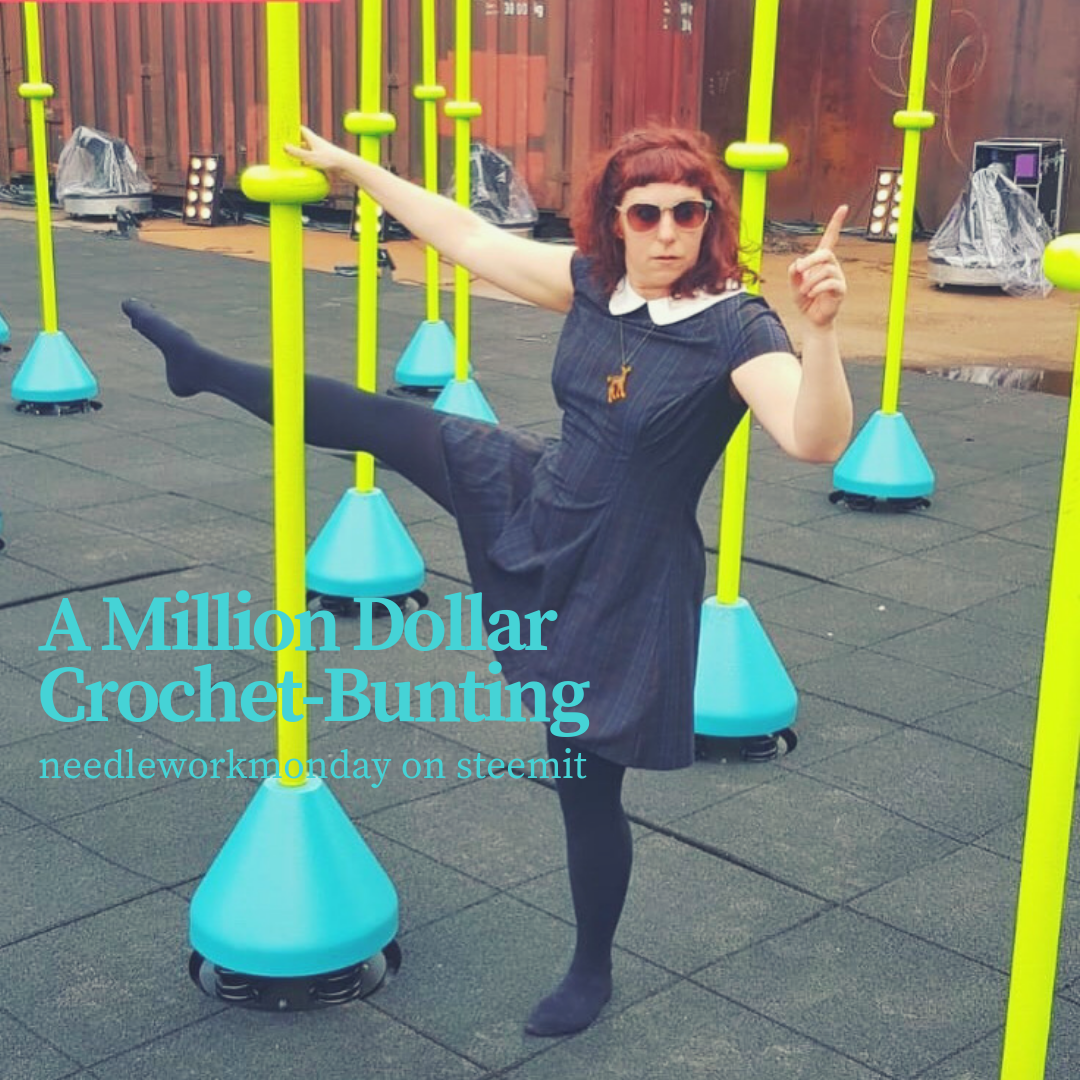 This is it! I am famous!!! I will appear on TV and earn billions. What!!??? You don't believe me?! Than read on… (if you are only interested in the progression of my crochet bunting, then hop to the 6th paragraph.)
Over the last weeks a good friend of mine worked at a film set as a stage hand. He does this regularly but mostly far away. This time though his working place was super near – in spitting distance ? He helped to re-create the set of an US show "one million dollar mile" which was bought for the German TV. And the location they have choosen for the filming is amazing: An old steelwork and ironwork the "Henrichshütte"
A million dollar mile is a physical game show where participants have to run from one obstacle to the next, master it and be faster than a pursuer who is part of the TV channels crew. If they manage to master all obstacles, they can win a million euro.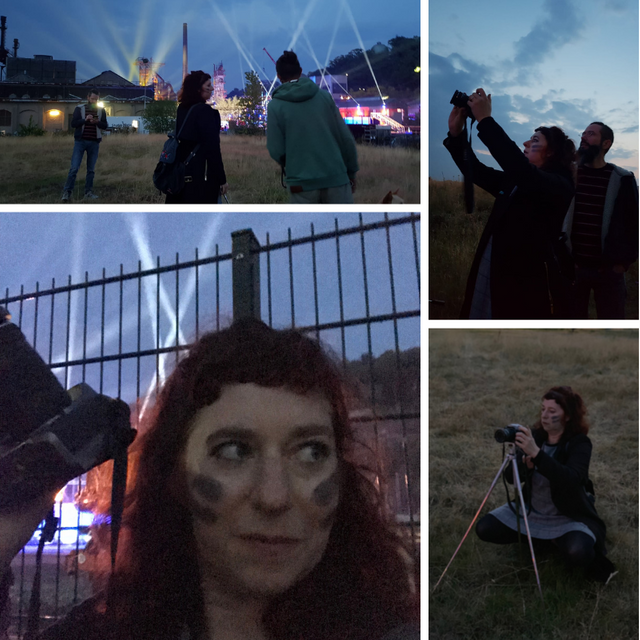 Curious as we (his wife, my husband and I) are, we immediately tried to spy. As it is forbidden to visit the Henrichshütte during the filming (usually it's a museum and open for visitors) we went there at nightfall with my best camera and tried to get photos of the obstacles they already installed: for example a water tank with a climbing wall, a kind of huge stairway, a maze made of concrete walls etc. But most of all we tried to capture the beautiful lightshow. I guess the light show was the costliest of the whole production. On the photos the Henrichshütte looks like an alien landing site, not like a museum ??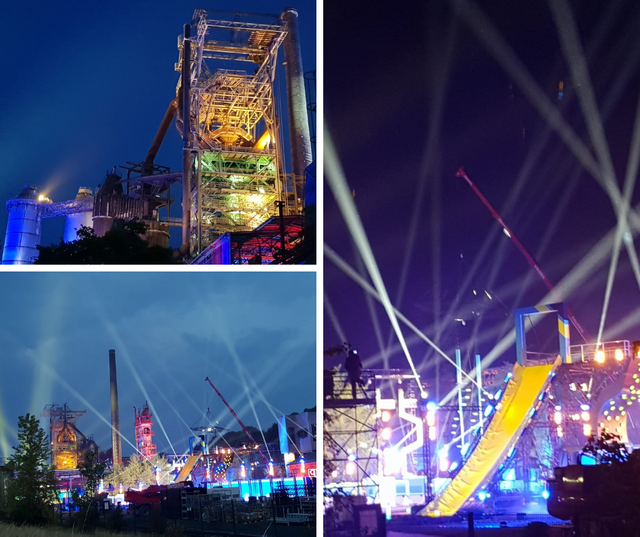 You will ask yourself, why am I getting famous, and why am I writing this under the #needleworkmonday …? Then look at the following photos. Our lovely friend managed to get me and his wife into the show.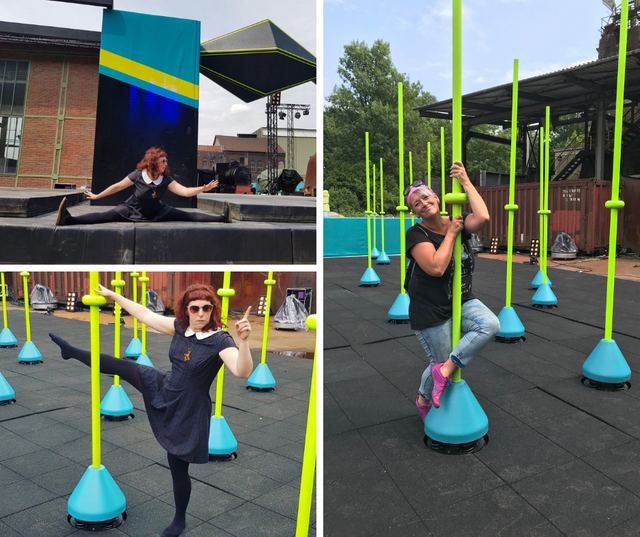 Ok, maybe not into the show, but we got guest cards and could take photos at the set. And funnily the security at the entrance thought me a participant ??????? This is extremely amusing, as I have an intense fear of heights and most obstacles involved climbing… (???) And my running skills, sigh, every one of you who reads my @actifit post knows, that a snail would catch me after 100 m. But nevertheless, we were at the set during the filming. First, we could sit with the participants and their friends and get to know them a bit. Her comes the crochet and needlework part. As I suspected that the filming would involve long parts of waiting, I brought my crochet squares with me and crocheted happily away.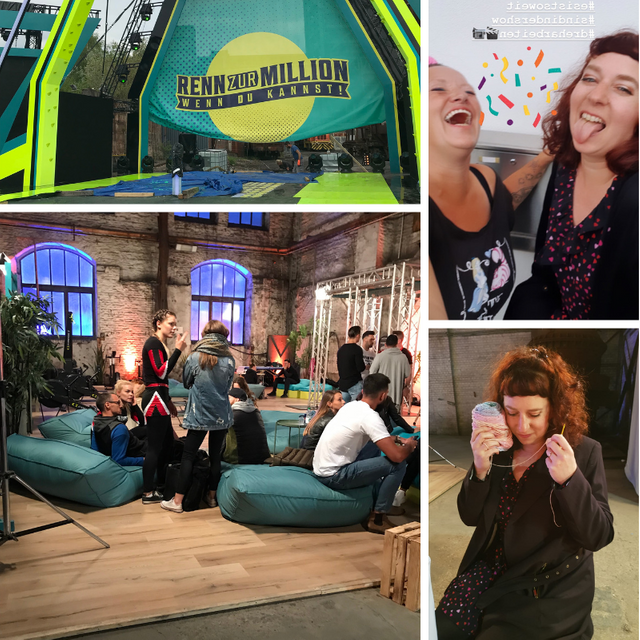 Finally, the "real" filming started. We could sit with the cleaning crew directly in front of the stage which was an amazing place. We could see the runners starting and finishing. But what a disappointment. Not only could no participants win anything as the pursuer were always better and faster, no, we also learned that this show is – ahem – a tiny bit manipulated. First the athletes are running only 100 m before they reach the obstacles as the area is not very wide. After every obstacle is a long pause, so there is no reason for the athletes to be fatigued. And we got the impression that the participants were casted more because of appearances than skill…
We stayed till one o'clock in the night, than our patience run thin (really looooong pauses – yawn) and we went home. All in all, this were some very fun moments, from the secret spying in front of the fence up to the actual filming. Now I am very curious how they will cut the film material and if the final episode will be more exciting than the life event.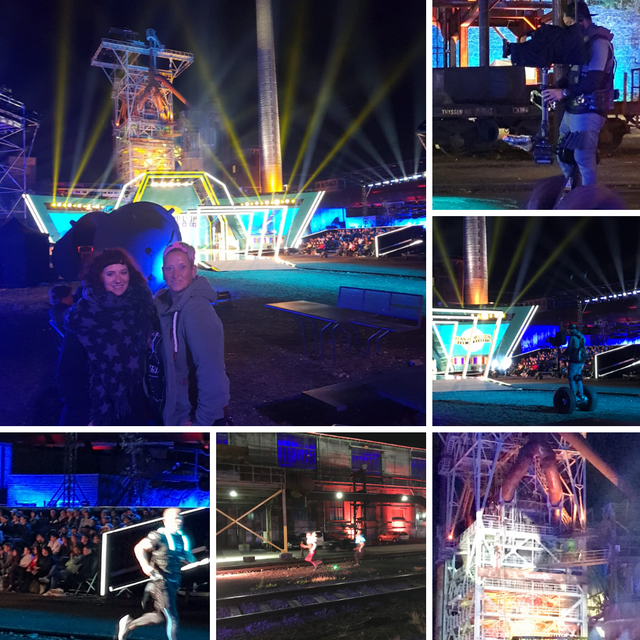 Finally, the needlework part. Over some weeks now I am crocheting squares for a bunting, I want to decorate our entrance with. The pattern I used is Lisa Pinenotes three tail dragonfly square which you can get for free. And she is hosting a contest to celebrate the two year anniversary of this pattern and you can still enter (till September the 5th). The squares work up fast and I love how clearly the dragonflies are recognizable. Initially I wanted to use up stash yarn for this project, but the hunt for colors led me away from my owned cotton yarn. I wanted a cheery and bright bunting and my stash yarn was more blueish and darker red, not so cheery… Per chance I found one multicolored pastel colored yarn cake in the nearest bargain shop and so it was decided. Sadly, the yarn is super stiff (yeah bargain shop, what did I expect) and scratchy, not so nice to work with. But the color scheme is lovely (for me).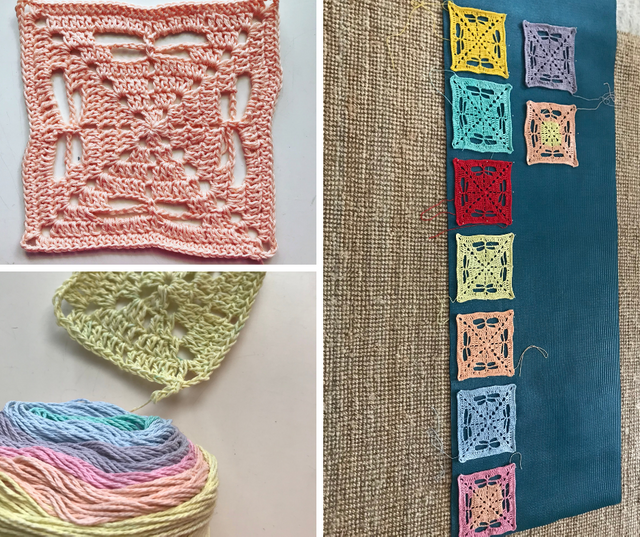 After finishing all tiles, I used my yoga mat to block them (works fine, if you have no blocking mats) and then (read yesterday) I wanted to finish the whole bunting to have it ready for today… We set down in the evening to watch the final episodes of Stranger things 3 and I was convinced I could crochet during the episodes. Well… have you seen this serial already? If yes you perhaps can understand why I did not finish: too much blood, slime and drama. After we finished the last episodes, I put my bunting on a pile and went a bit dazed to bed.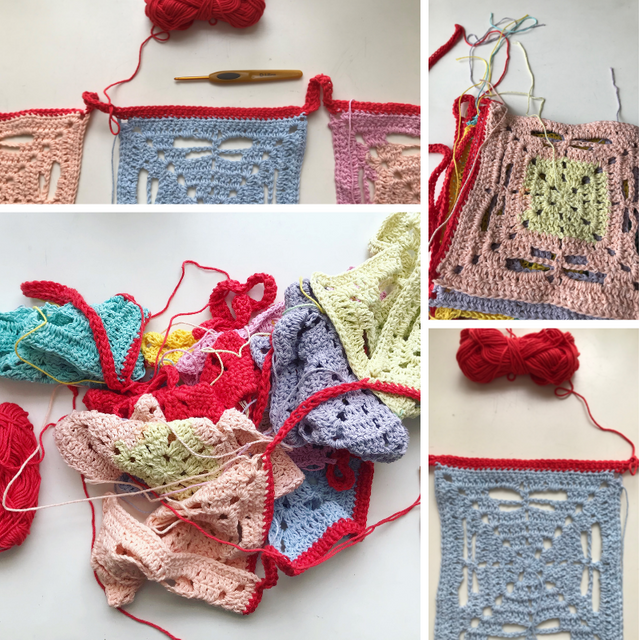 Look what I did!!!? The nicely blocked squares are completely crumpled, because of my thoughtlessness. Stranger things deterred me from finishing the bunting (honestly, I deterred myself) So, here you can see the unsmoothed bunting still with yarnends. But I managed to finish the connections between the squares. I crocheted foundation single crochet which I connected with a slip stitch to the square and continued with single crochet over the top row of the square.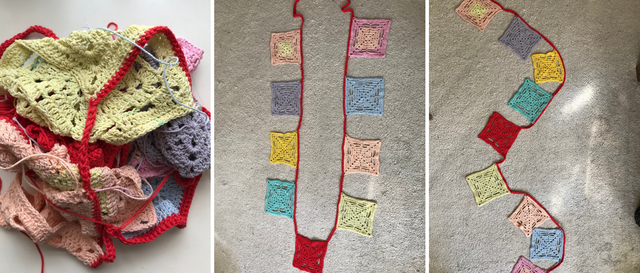 Hopefully I will find time to sew in all the yarn ends, so that I can hang the bunting over our entrance ?

Thank you @crosheille for iniciating and @muscara, @shanibeer, @marblely for hosting the #needleworkmonday. If you want to see more beautiful projects with yarn, fabric and most of all needles, follow @needleworkmonday on steemit. Or even better grab your needles and keyboard and join the #needleworkmonday community. You can read more comments on this post on my steemit blog.