"One step forward, two steps backward" is not only Max Romeos way to describe how he is entangled in the swamp of Babylon, no it is me and my relationship with the Fake Frankie cardigan. Everything with this cardigan is bumpy. First, I could not get the neckline width right. I unraveled several times to find a raglan distribution I liked (for all not knitters or crocheters: this raglan set up decides how wide sleeves, fronts and back will be). Happily, I knitted the body of the cardigan in record time, casted of only to notice the seater was too short and the pattern distribution (the distance between the garter stitch and the stockinette parts) was wrong. Being proud of my own patience I frogged again. No, I not only frogged, I made a short video of a secure method to unravel…. You read about this last week.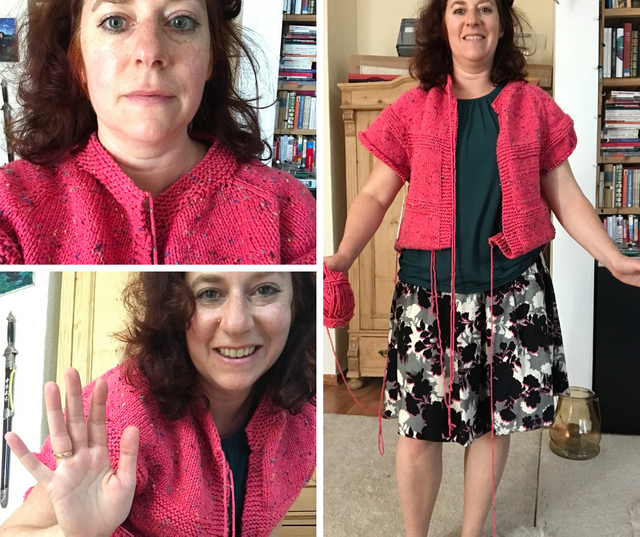 And here I am again, I hardly dare to write it down, but I think the sweater is too long now:
AHHHHHHHHHHHHHHH
Being blunt, the cardigan fits like sh**. The neckline is crumpled, the fronts are not closing which I did not plan, the back is too wide, the sleeves are too wide and the whole thing is too long.
Sigh.
I wrote it out aloud.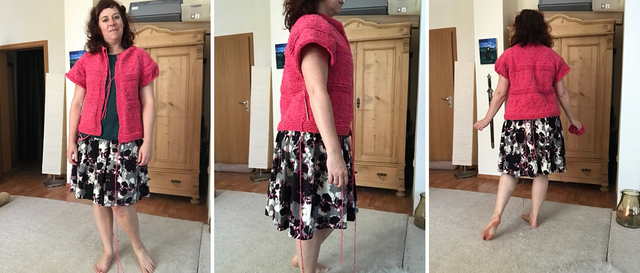 Now I will step back and let you look at the photos and think about the cardigan. What should I do? Unravel the whole cardigan. Unravel only the neckline and perhaps finish it with two rows of single crochet? Should I shorten the sweater or is the length ok and only my mood bad? And what shall I do with the buttonband? Should I let the fronts fall open or should I add a crocheted buttonband?
So many questions. Please help me decide… is it two steps backwards or a marathon backwards (read: should I burn the whole thing?)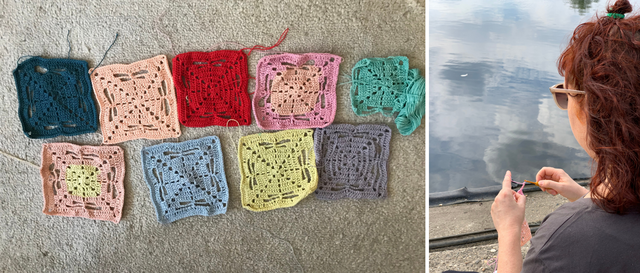 Besides the knitting I am still on the crochet bunting with Lisa Pinenotes three tail dragonfly pattern. I will crochet one or two more squares and then try to bring it all together to make a bunting. I am not satisfied with the colors I used, but as it was a stash project, I will try to overlock the disharmony (or shouldn't I?)
Sorry less fun more questions this #needleworkmonday.
Please don't forget @needleworkmondaycompetition to celebrate the birthday of our amazing community.
Thank you @crosheille for iniciating and @muscara, @shanibeer, @marblely for hosting the #needleworkmonday. If you want to see more beautiful projects with yarn, fabric and most of all needles, follow @needleworkmonday on steemit. Or even better grab your needles and keyboard and join the #needleworkmonday community. You can read more comments on this post on my steemit blog.