(Trigger and boredom warning: I only start to write about knitting in paragraph five. If you want to avoid reading about migraines and my whining, jump further down to the headline "the knitting")
---
I just yesterday wrote how much I love to read more about the daily life of you all, to learn about your hobbies (if there is any room besides needlework), if you love snow or sun, what you love to read or watch and and and… But I also think our lovely needlework space has room for fears and hurts, to write if something in our life goes wrong (and I am not talking abut all my mistakes in sewing :-DDD) and we need reassurance.
So, here is my "going wrong"… I originally wanted to work on my cardigan design. The deep blue wool is sitting on the couch and smiling invitingly but what got I done last week: NOTHING!
The week started nice with birthday preparations and finally sunny weather and I was eager to spend time with my loved ones in the garden.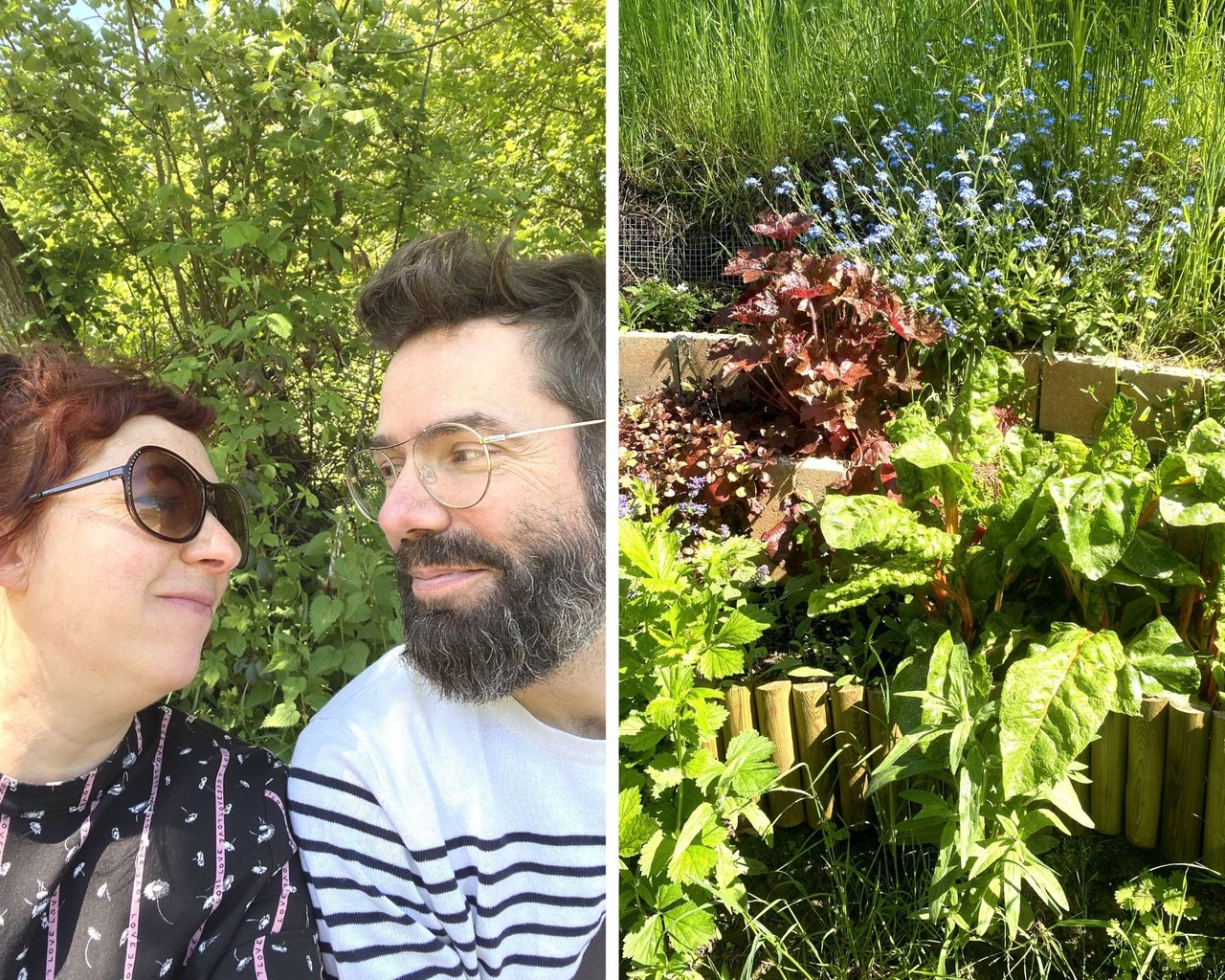 I already envisioned myself sitting on our bench in the sun and working on the new cardigan. But no…. since Thursday I had headaches. And with headaches I mean migraines which subside after roughly 30 hours only to start half a day later anew and are so intense that I need to lay down motionless for hours because every movement makes my head explode. This went on since today. I still have them (but not too bad) while writing this post.
---
So, this is my reality besides the funny photos in my handmade clothes. And believe me, I am a lot angry at myself that I cannot be as productive as I want. I even envy my neighbour that she could go running while I had problems to walk the 700 m to our garden. I am neither patient nor humble I fear… (starting a journal of blessings is still on my to do list).
The knitting
You are still with me? Because now comes the needlework part. During the times when the migraines recedes or the days between more intense attacks (the headaches seldom goes away completely) I try to knit stupidly easy things. No shaping, no pattern no nothing. Simple stockinette rectangles which I later will call a cardigan :-DDD But this time I thought "come on Simone, pearl stitch is nearly as easy as stockinette, you can manage". Dear reader, you know when I start to speak to myself in a post something not too good is going to happen.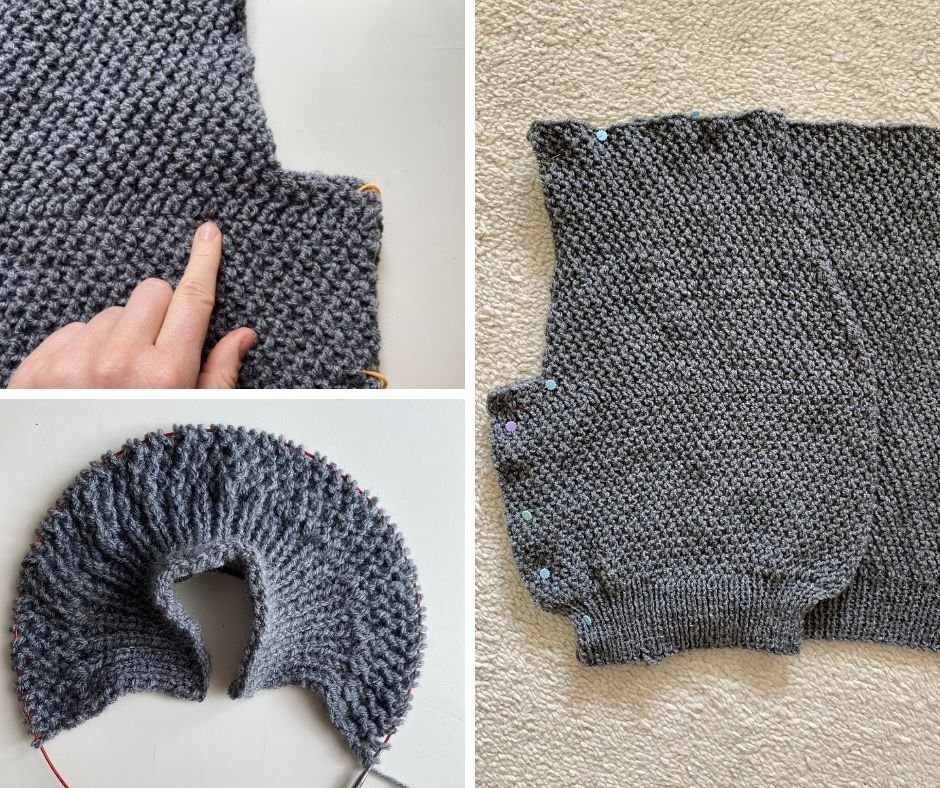 Let me tell you the problem with pearl stitch: it has a two-row repeat and I am incapable to read my own stitches and to know on which row I am. Fun Fun Fun… combined with my stubborn mentality I made mistakes (clearly visible) knitted on and then, maybe six rows later I cracked and unravelled to correct the mistake (I should have done this directly – would have been less messy). And I repeated these mistakes so many times, I think I frogged more than I knitted (I even overlooked a whole row which is wrong). But nevertheless, I got both fronts and the back done (over the last month or so) and even started the first sleeve.





The cardigan has this lovely grey color (irony) which looks exactly like my blank mind during headaches. And the fit is – ahem – a tad more boxy than I anticipated :-DDDD But all in all I love it so far. I hope it will still look good with sleeves attached. The only downside on this cardigan is its stiffness. The pearl stitch does not drape nicely with this thicker yarn.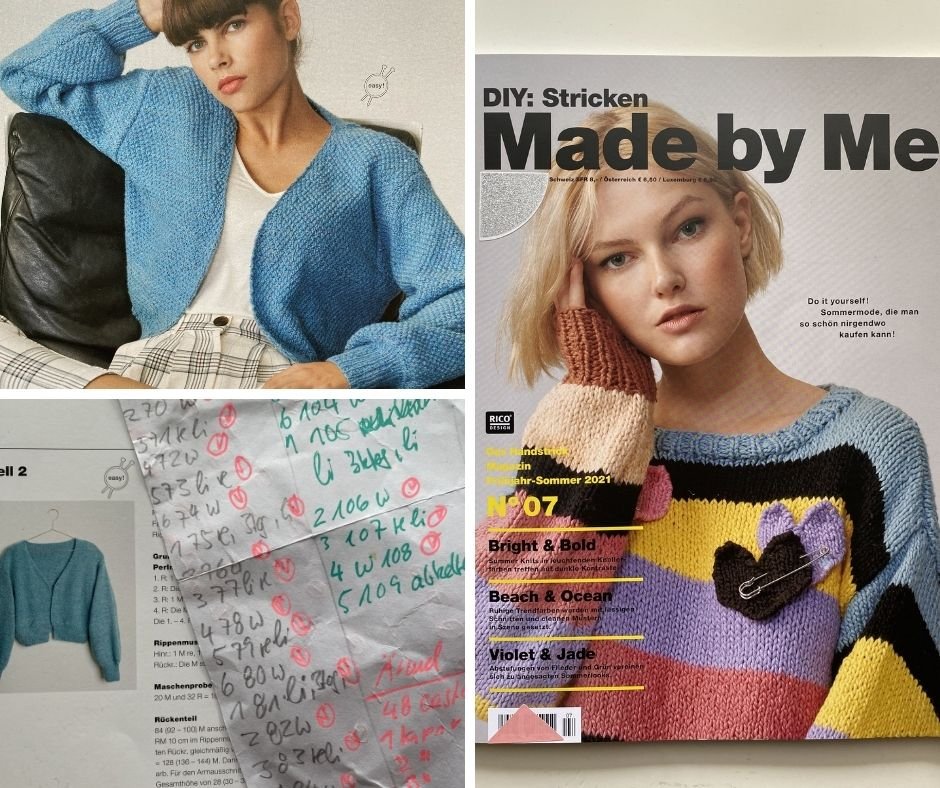 The pattern is from a German magazine and looks amazing on the model (in my eyes) it is knitted in a lovely bright blue color and I still can imagine trying the pattern again in a softer, drapier yarn in a more friendly color. But let's wait till I have finished the sleeves… who knows if it will still fit when completed.
---
I hope you are all well and up and are not too bored with all my whining (sorry, but I fear I will do it again) Do you like the huge boxy cardigan in pearl stitch? Do you have a beloved stitch pattern in crochet or knitting you think I must try?
---

Thank you @crosheille for initiating and @marblely for hosting the #needleworkmonday and the community builder team @lauramica, @romeskie and @kattycrochet I am so glad to be part of.
If you want to see more beautiful projects with yarn, fabric and most of all needles, follow @needleworkmonday on hive blog. Or even better grab your needles and keyboard and join the #needleworkmonday community. You can read more comments on this post on my hive blog. 
Read more about my art und upcoming exhibitions on neumannsalva or buy some of my digital artworks on NFT showroom.