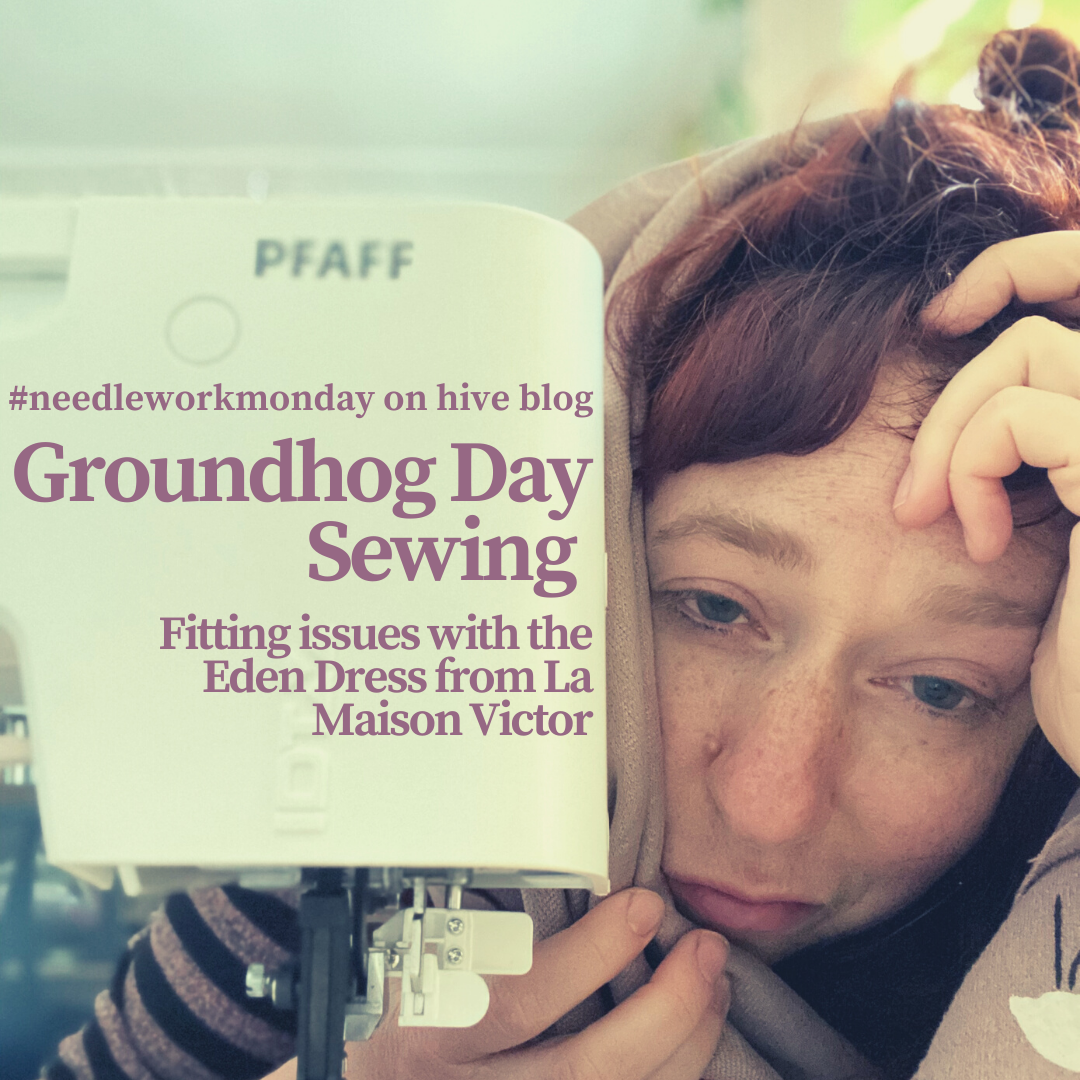 I assume everybody knows the iconic film "Groundhog Day" where Bill Murray wakes up at six o'clock to relive the same day over and over again.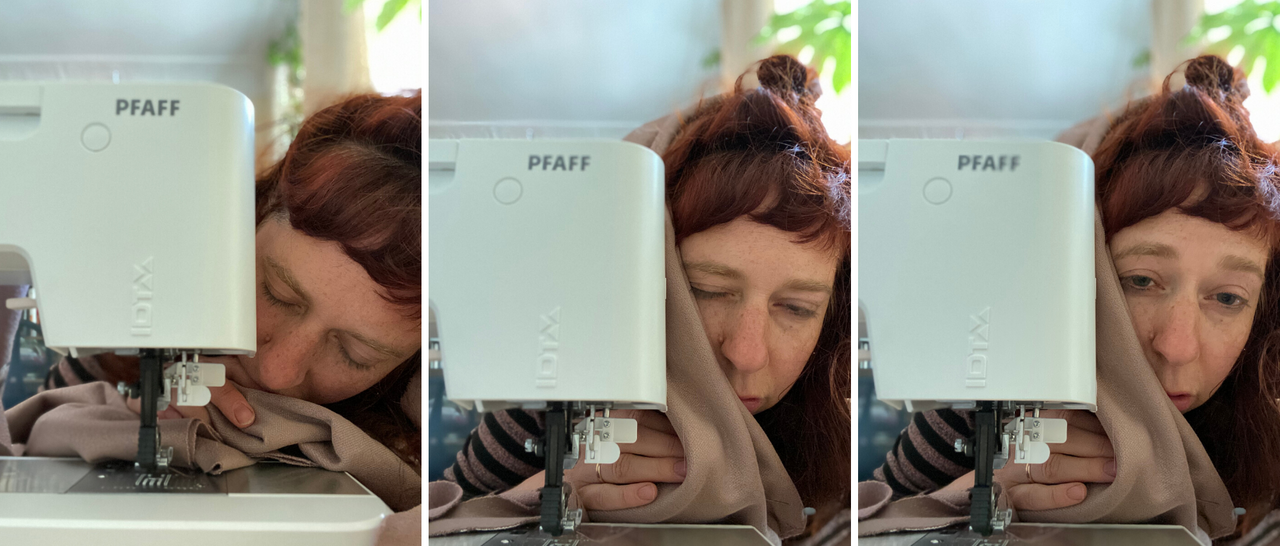 Now visualize me, waking up and stumbling sleepily into my sewing room. My hair is a tangled mess and my eyes bloodshot. I wear too tight pajama pants, a shirt and a huge crocheted coat. Sitting down in the floor I grab the next best sewing book and open a random page. Then I pull out a scrap fabric from the cupboard above me and with this causing a kind of fabric landslide. With these preparations completed I now am ready to sew. The randomly opened paged showes the Eden dress from La Maison Victor, a kind of skater dress in stretch fabric I already sewed once.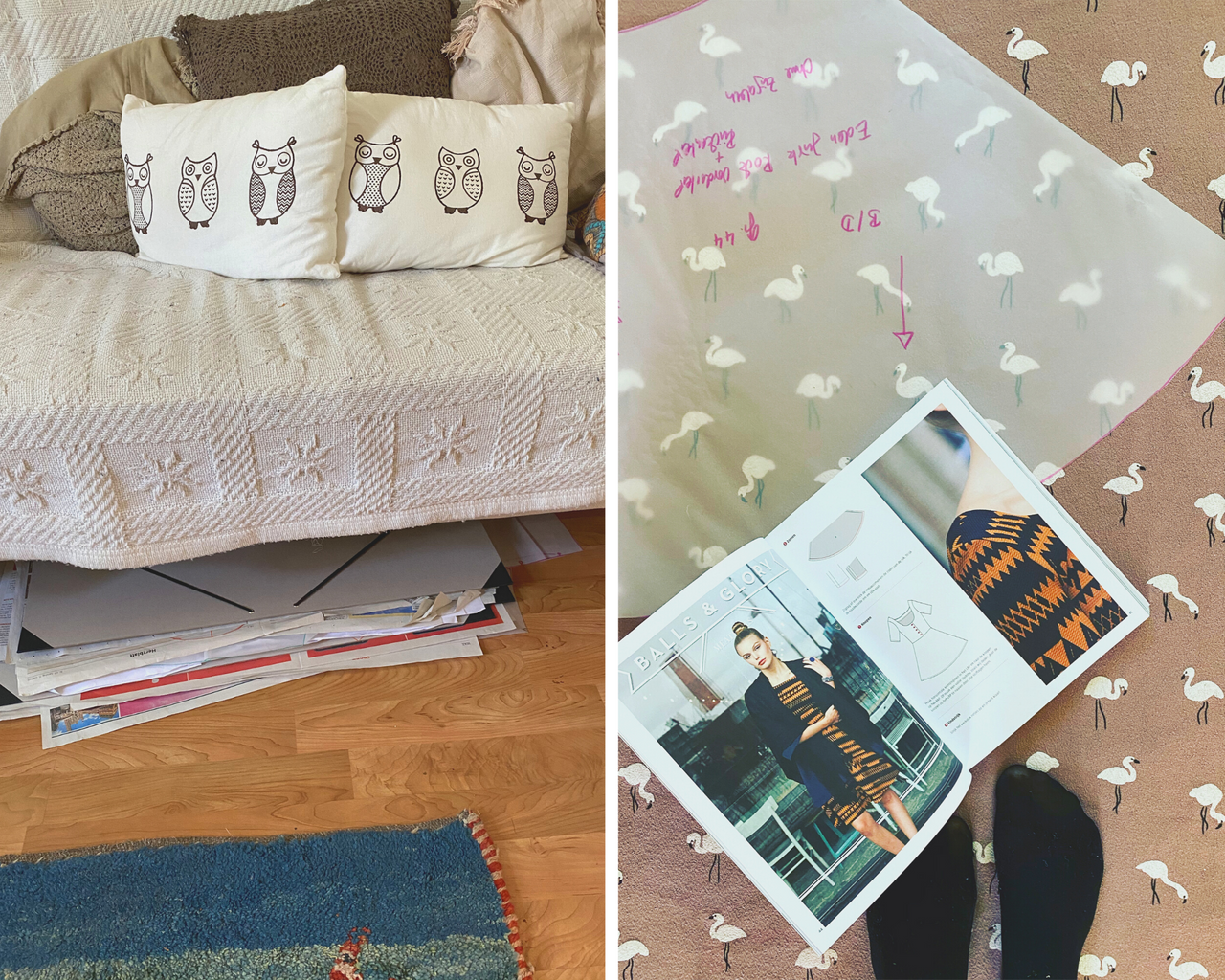 Reassured that I can tackle the sewing process although I am half asleep, I pull out the pattern from beneath my couch where I store my traced and cut out patterns. Getting more awake with every minute I spread out my fabric and place the pattern pieces… and here we are, my first groundhog moment, the pattern pieces do not fit on the fabric. No real wonder as the book states you need 1,85 m of fabric which lays at 1,50 m. My scrap fabric lays at 1,40 and is only 1,50 m long. A bit smaller, joyyyyy…. Now the film has a dramatic moment, you can see me lost in thoughts, numbers are rolling in front of my eyes while I visit my mind palace and … Eureka! I conclude I need more fabric.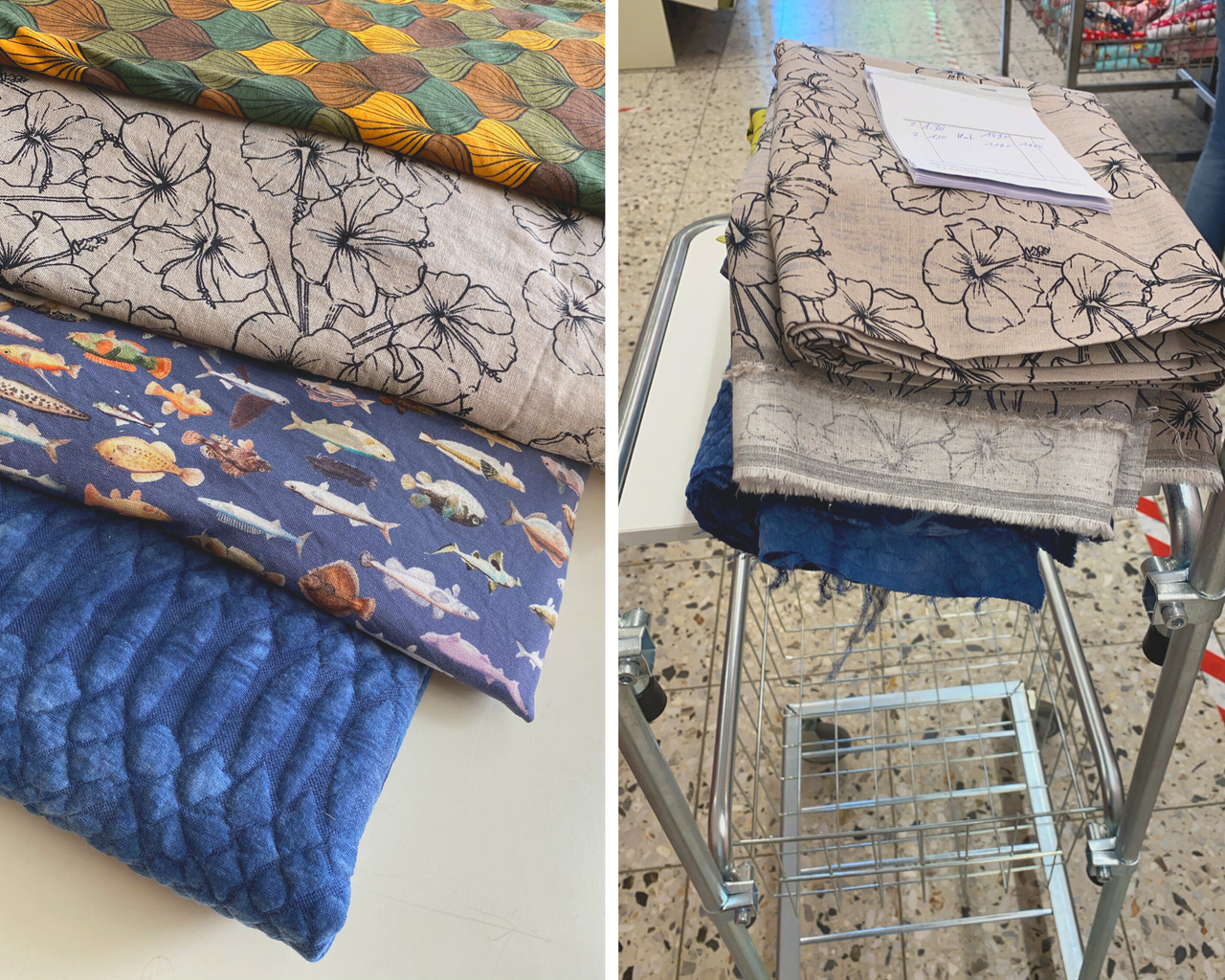 I forgot to tell you, in this adaption of the Groundhog Day the world is held hostage by a gruesome and frightening pandemic, which made is impossible for many weeks to buy fabric. But this dire situation seems to clear out so I (you know the film 's amazing protagonist) am able to visit the fabric store after three!!! month of abstinence. To be safe I decide to take a good friend with me, who should help me to concentrate on the one purchase I am allowed to make: the fabric for the Eden dress. But marmot greeting, I did not consider that my friend also loves to sew and is one of these cordial and inspirable persons.
I ended buying a pile of fabric (in my defense she did not buy less). But my dearly sought-after Eden dress fabric was sold out…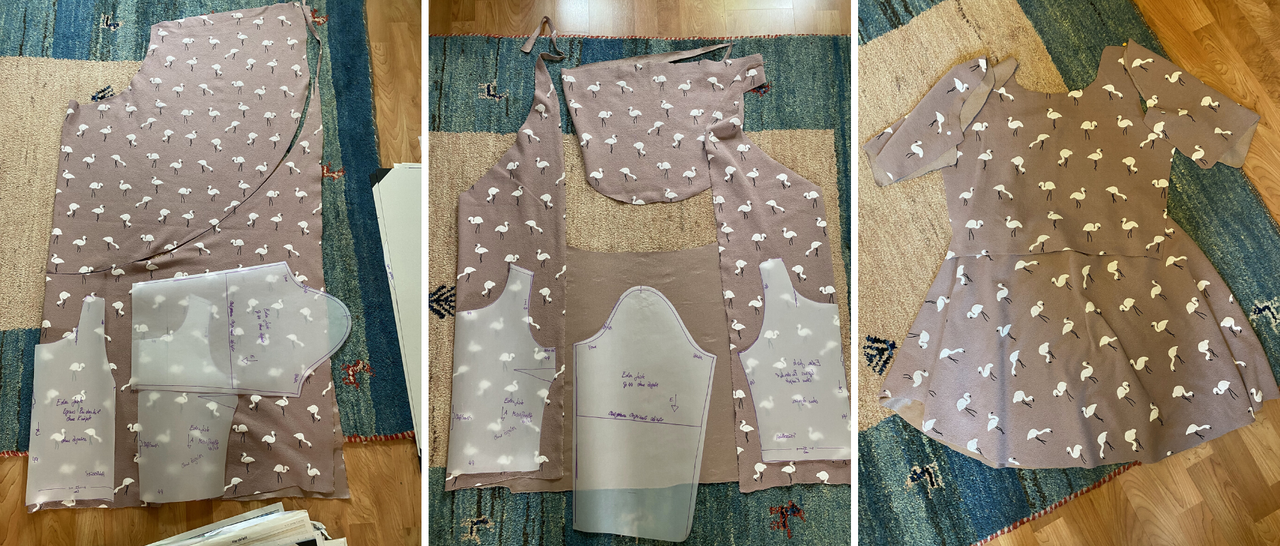 Back home I pushed myself with a huge amount of coffee and stretched my pattern tetris superpowers. I again tried to place the pieces on the fabric and had the clever idea to ignore the run of thread or pattern orientation (why not wear a dress with flamingos which are partly upside down?). The biggest problem were the two skirt pieces as they are constructed as a half circle skirt which uses a lot of fabric. I pondered to split the back and front into four panels which I then could place on the fabric without loosing too much space. But I found a much cleverer solution (I assure you it was pure chance): I transformed back and front skirt into one huge piece and circled it so long that I had enough fabric for the other pattern pieces. Now the flamingos were saved of being upside down which I guess would have been very uncomfortable for them.
Heartily I cut into the fabric and even faster I started to sew. First the bust darts, then closing shoulder seems, setting in the sleeves and finally sewing sleeves and body seams in one go. Done. The upper part of the dress was ready to wear. And as a good marmot I made the exact same mistakes as the last time.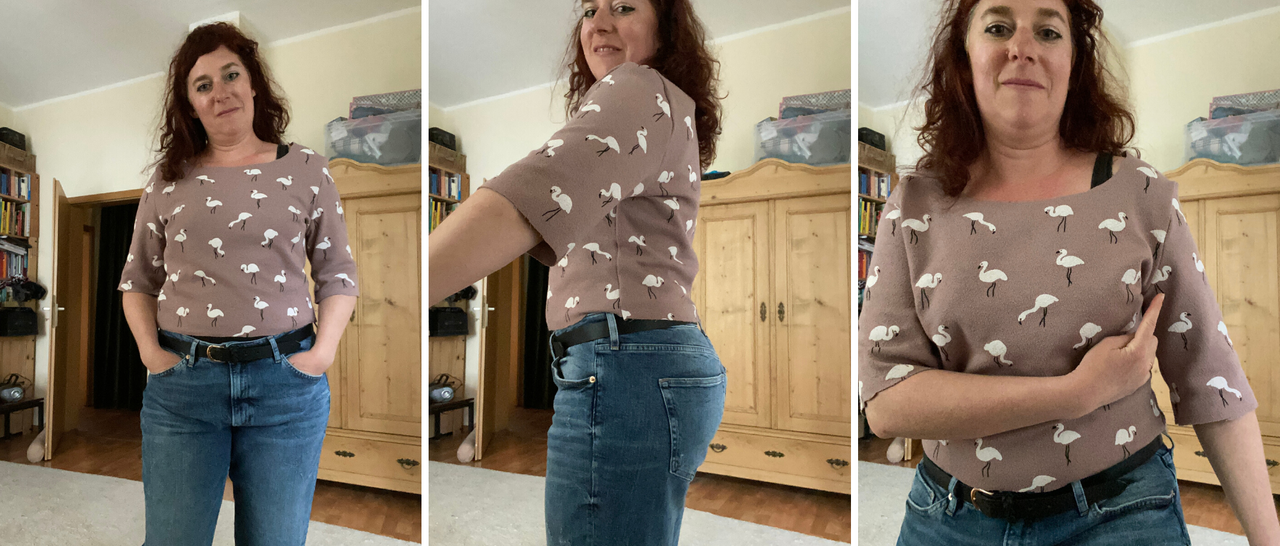 I so feel with Bill Murray, this moment when you recognize everything is the same, starting witch the impulsive wish to sew, followed by the too small fabric ending with an ill fitting garment. Because the body of the dress is again too wide and has strange folds at my armpits. I assume I should have made this small bust adjustment (I know, I know…. You told me so).
But I guess we are not far enough into the film and the part where I learn from my mistakes will someday arrive.
But leaving my story behind, I really have the before mentioned fit issues. I am not sure if I can rip the shirt open (I used a zigzag stitch and I find this very hard to unpick) But perhaps now I can learn for a future Eden dress. Do you think it's the small bust adjustment I should do? Or are there different problems?
In my perception I I think the shirt part of the dress is too wide at the shoulders and there is excess fabric above my bust. The bust itself seems ok for me. I used a size 44 for the dress and graded the armholes and sleeves up to 46 as the dress has narrow sleeves which I dislike.
So, dear #needleworkmonday community, what should I do to avoid another Groundhog Day? Do you have recommendations?
??????????????????????????????????
By the way, I followed @fibrefrau's advice and the first sleeve of last weeks cardigan is finished. Thank you all for your moral support and technical help <3 Now I already fear the yarn-ends ?????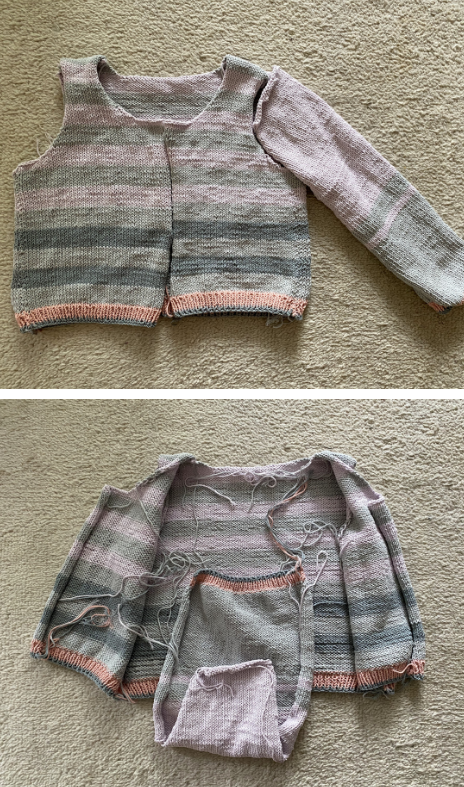 Thank you @crosheille for iniciating and @muscara, @shanibeer, @marblely for hosting the #needleworkmonday. If you want to see more beautiful projects with yarn, fabric and most of all needles, follow @needleworkmonday on hive blog. Or even better grab your needles and keyboard and join the #needleworkmonday community. You can read more comments on this post on my hive blog. 
If this is not enough, you can find my post on Handmade on Tuesday and read even more about knitting and sewing, but beware most post are in German.