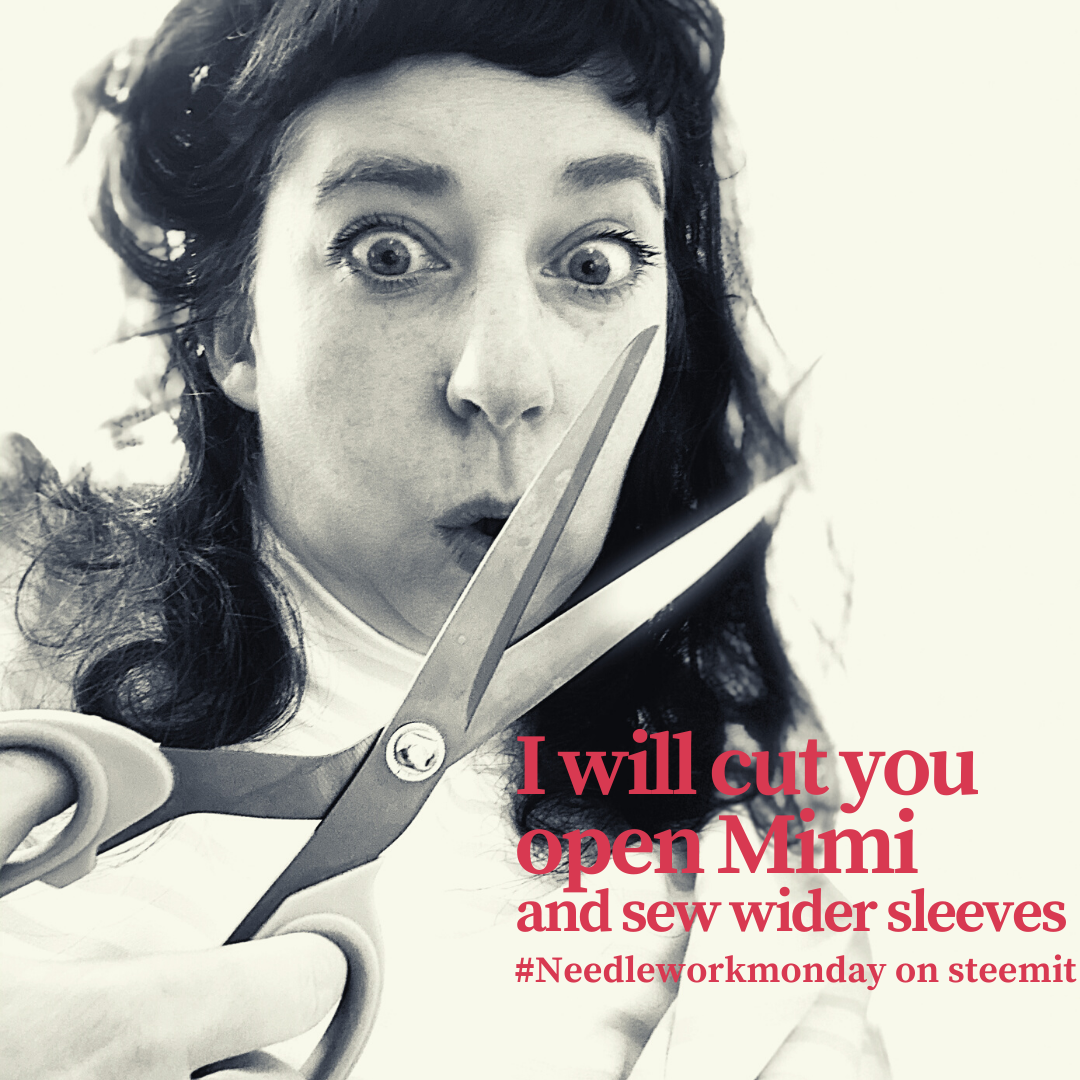 Last week I complained about my failure with Tilly and the buttons Mimi blouse. I thought I had cut out the wrong size because the armholes were so small, I could barely get my arms through them. Encouraged by your extremely lovely comments and very helpful advices on steemit and instagram I decided against my standard procedure to burn the whole garment with merry flames, but to try again to sew a wearable blouse.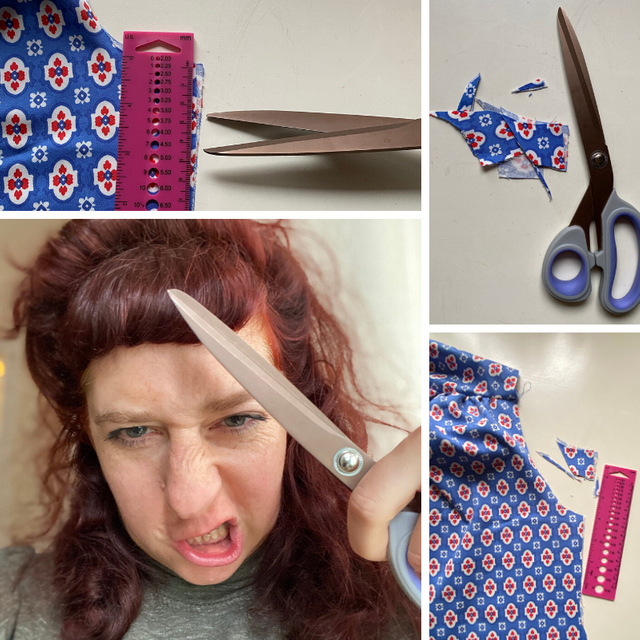 First thing I did is to fetch scissors, a big knife, a bucket for the blood and then I cut Mimi open. Yeah not exactly in this order. I am a bit more sensible. I first measured the armholes, then I measured the sleeve cap and as I wanted to be on the safe side, I also pinned the sleeve into the armhole. And my theory was confirmed: the sleeves of the Mimi blouse are 10 cm wider than the armhole because you should gather them at the shoulders. Which I will omit. Tada! Thought and done. I measured 3 cm on back and front parts at the armhole opening and cut them away. Now the Mimi blouse has to live with only a tiny gathering (in my calculations I have 4 cm of excess fabric which I still can gather). I sewed the sides of the blouse together and tried it on.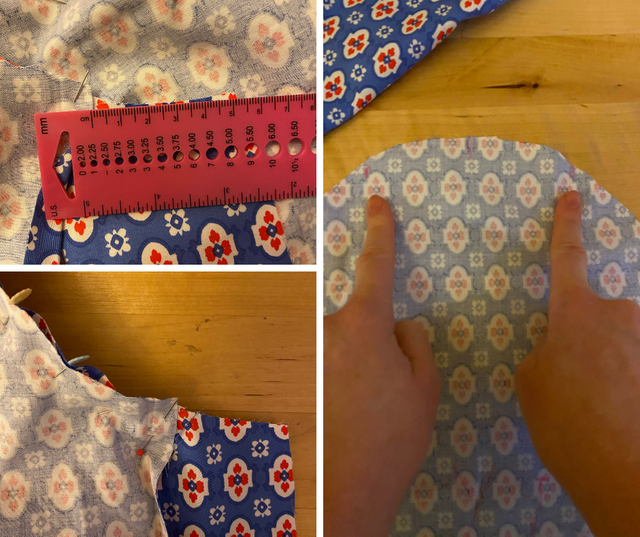 Many of you told me that the blouse is constructed for a high waisted bottom as it should be tucked in. I am a very lazy person who loves soft, wide and extremely comfortable clothes (but wants to look like a model which wears three layers of shape ware). I am especially sensitive to tight waistbands meaning, all my bottoms sit at my hips and have a lot of ease. I even cut the waist of my tights open as I really cannot stand tight garments. But I value your advice, so I fetched the smallest and constricting skirt out of wardrobe, hold my breath and tucked the blouse in and pulled the skirt nearly up to my waist. (CANTSPEAKTOOTIGHT)
But look, the whole ensemble looks a bit more like the amazing examples I found online. (Ahem, I cheated a bit, as I have a new cellphone which has a portrait mode which lets you look smaller, wrinkle free and other social accepted things… I am ashamed that I still fall for these features, as I intensely despise body shaming and am a big advocate of showing diverse bodies in media. You can identify the "portrait mode" by the blurred background.)
With this intermezzo: blouse tucked into a high waisted bottom helps a lot. But I will never wear it outside a photo shoot.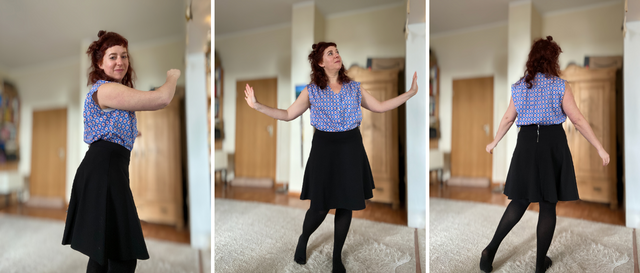 Back to my armhole surgery. This went well. The armholes now have enough ease to be comfortable for me. I hope that the sleeves will fit inside them… I will let you know ?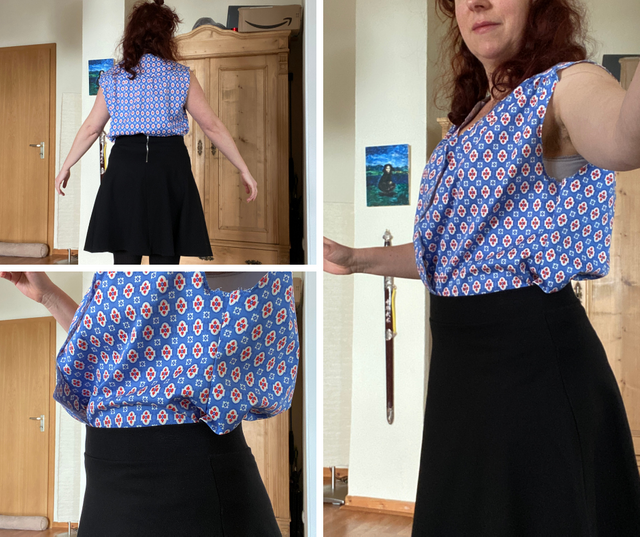 But although I followed the wearing advices, the blouse still bunches up a lot, as you can see on these photos. But you, dear readers, already knew why (I needed help to see the light).
For the blouse I have chosen a cheap cotton fabric which perhaps was originally fabricated to become a tablecloth; its stiff and sturdy, with no drape at all. I needed you to tell me that it may be not the perfect fabric for a gathered blouse ? Now I understand that much of the excess width may be a result of a non-yielding fabric. Should I ever try myself again on this pattern I will use a much lighter and more drapy fabric.
Thank you @crosheille for iniciating and @muscara, @shanibeer, @marblely for hosting the #needleworkmonday. If you want to see more beautiful projects with yarn, fabric and most of all needles, follow @needleworkmonday on steemit. Or even better grab your needles and keyboard and join the #needleworkmonday community. You can read more comments on this post on my steemit blog.
If this is not enough you can find my post on Handmade on Tuesday and read even more about knitting and sewing, but beware most post are in German.