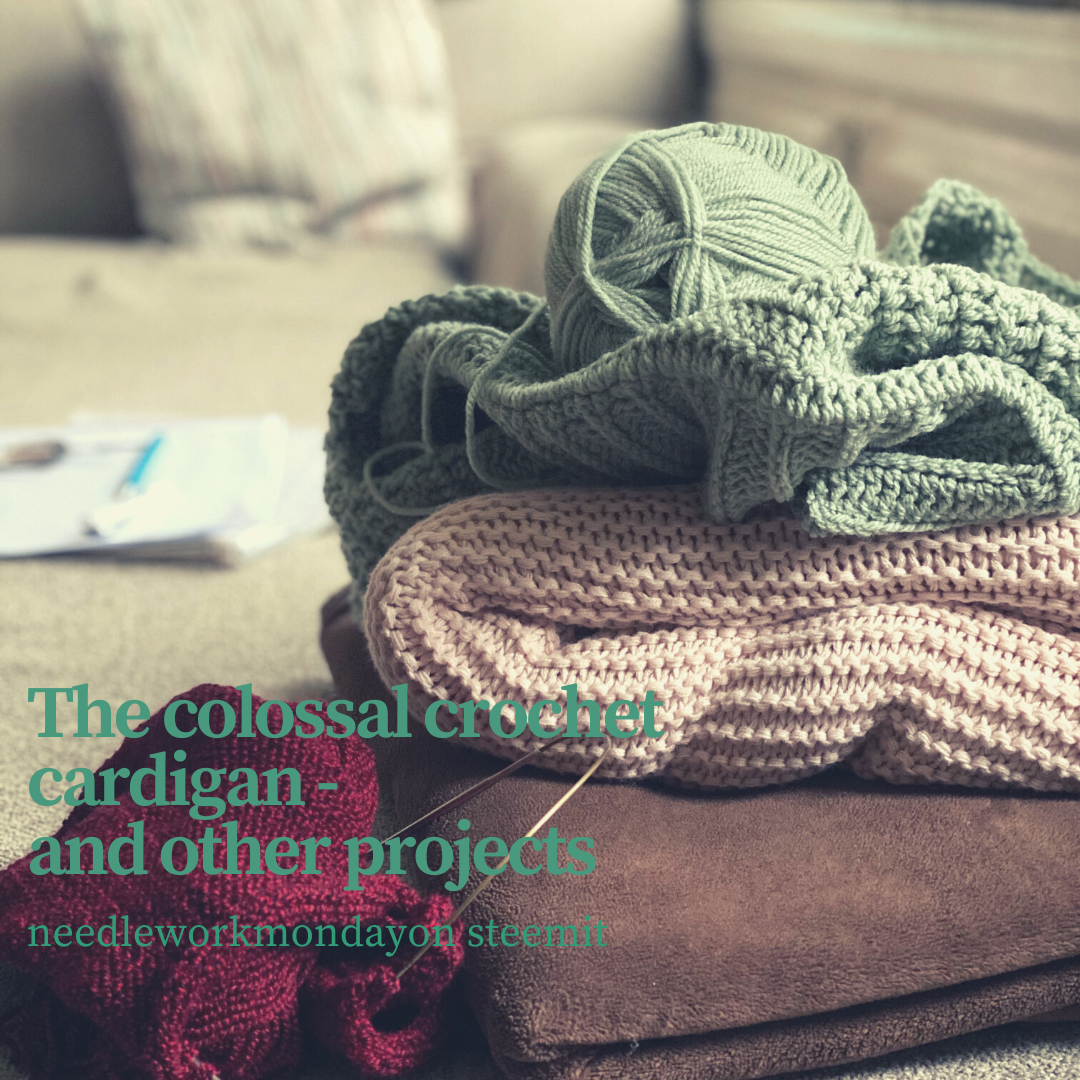 Beware next eight sentences are excessive whining about migraines. If you rather want to read about crochet and knitting hop to "what I am working on".
It's this Monday again… and no I do not mean my joy about #needleworkmonday, no I mean THISMONDAY… the Monday full of headaches I already have since Saturday. The Monday with a still unfinished Mimi blouse. The Monday where in front of your flat a carnival parade will march (although I feel like the parade is already inside my head). And if this is not enough, the carnival parade will be the biggest for years as yesterdays parades in the neighbor cities were cancelled because of storm and rain and these will unite today in front of our flat.
Yes, this Monday.
My only means of escape is knitting or crochet as all roads are blocked till the evening, public transport is suspended and my head generally does not allow me to walk around because of intense pounding, and sewing is much to loud and to exhausting. So, yarn will be my solution.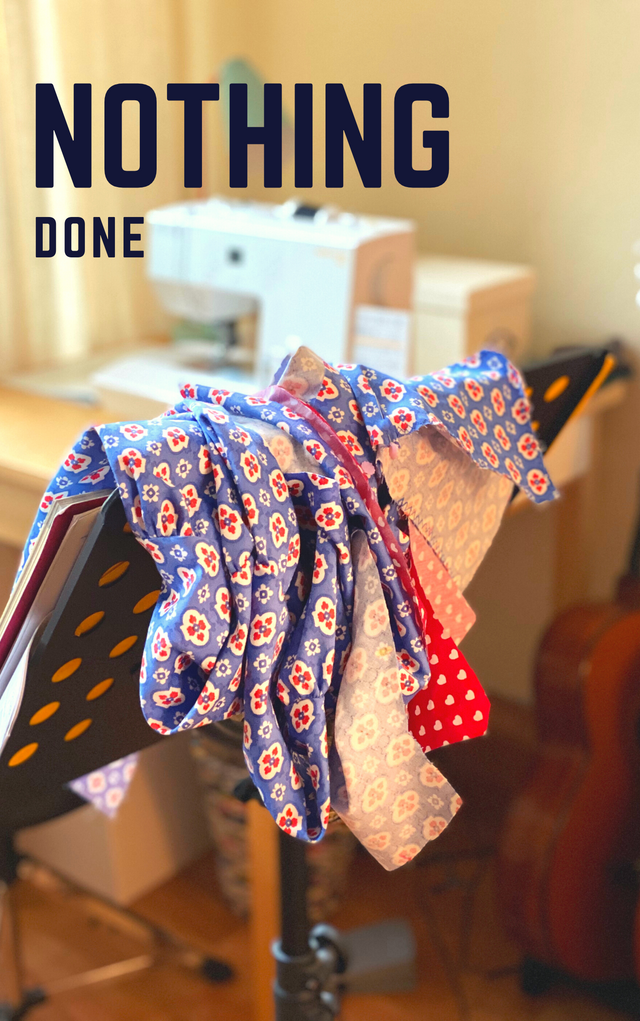 What I am working on – cropped knitted sweater from Vogue
If you thought I worked monogamous for two weeks on one project (the Mimi blouse) you disqualified yourself as an inattentive reader of my blog (sorry, I had to say it ?). Naturally there are several other projects waiting for me to play with them. My main wip's (read: project I honestly plan to finish this year) are a knitted raglan sweater and an oversized crochet cardigan. The sweater is out of an older publication "Vogue knitting. Very easy sweaters". "Very easy" sounded so promising :-DDD
The sweater is designed by Lori Steinberg and rightfully named "easy". It's completely knitted in stockinette, but I was drawn to it because of the construction and fit. The sweater is kitted flat in four pieces and has a raglan construction and a flat knit raglan sweater is new to me. It reminded me of the sew house seven toaster sweater which is my most sewn pattern so far.

Both (the toaster sweater and the vogue sweater) have a wide and slightly cropped fit and a high neckline. The vogue sweater is presented with wide ¾ sleeves which I plan to change into more balloony and longer sleeves. Therefore, I omitted the cuff and started directly with the stockinette part which I also elongated. When the sweater is finished, I will decide how many decreases and which kind of cuff I will knit. So far, I finished front, back and one sleeve and I am currently working on the second sleeve (no second sleeve syndrome – joyyyy). The only problem I encountered is, that the raglan part of sleeve and front are not the same length. I am unsure if it's the pattern or if I forgot to knit some rows on the sleeve. But I am (still) sure I can remedy this later….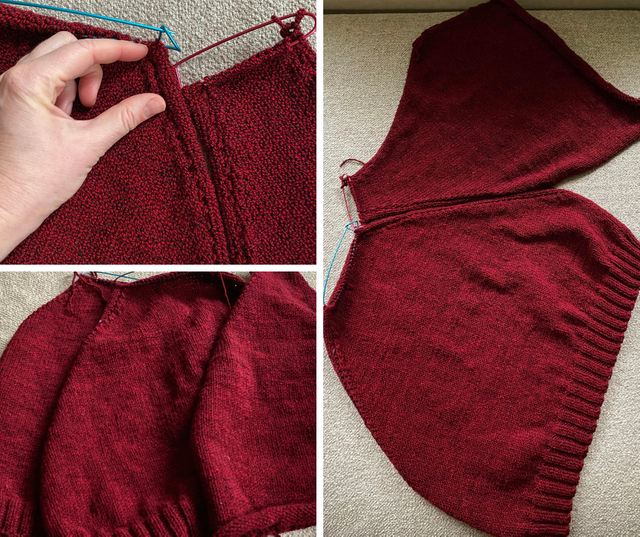 What I am working on – the crochet cardigan
The second project, the crochet cardigan, is a pattern from inside crochet 121 and it was love at first sight. The urbanite cardigan designed by Emily Platt has an oversized fit with a geometric pattern on the fronts. Sleeves and back are completely worked in double crochet and the cuffs are made from half double crochet stitches which are worked into the middle loop to create a ribbing which resembles knitting. To brighten up my mood I decided on a light mint yarn from Zeeman which is very inexpensive, which was a clever decision as I now know… Because the cardigan is huge. It's gigantic, enormous, colossal… you could easily mistake it for a blanket, and I am only speaking of the back part. I decided to crochet the second size, but my tension relaxed a lot while working on this cardigan and now its 90 cm which corresponds with size 3…. Looking at this monstrous back part my hands get sweaty as I fear I must unravel this at some point (I used already 200 grams of yarn for the ribbing and only 26 rows).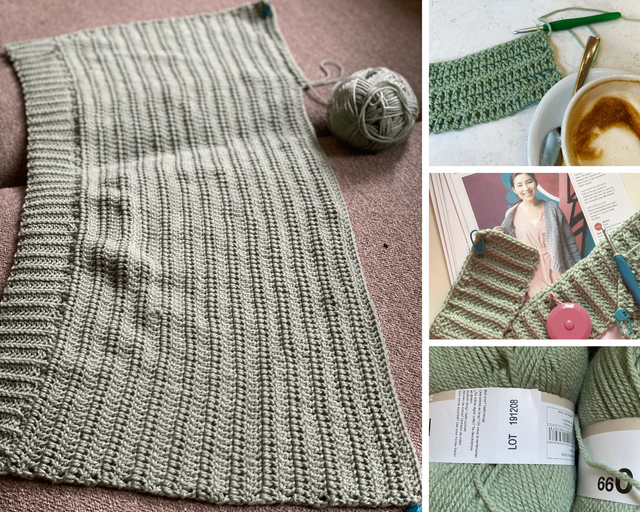 But as this project is so relaxing and helping me to get through these days of headaches, I am not willing to give up on it.
I hope next week will be better and I have the head (haha) to continue my Mimi blouse.
Thank you @crosheille for iniciating and @muscara, @shanibeer, @marblely for hosting the #needleworkmonday. If you want to see more beautiful projects with yarn, fabric and most of all needles, follow @needleworkmonday on steemit. Or even better grab your needles and keyboard and join the #needleworkmonday community. You can read more comments on this post on my steemit blog.
If this is not enough you can find my post on Handmade on Tuesday and read even more about knitting and sewing, but beware most post are in German.