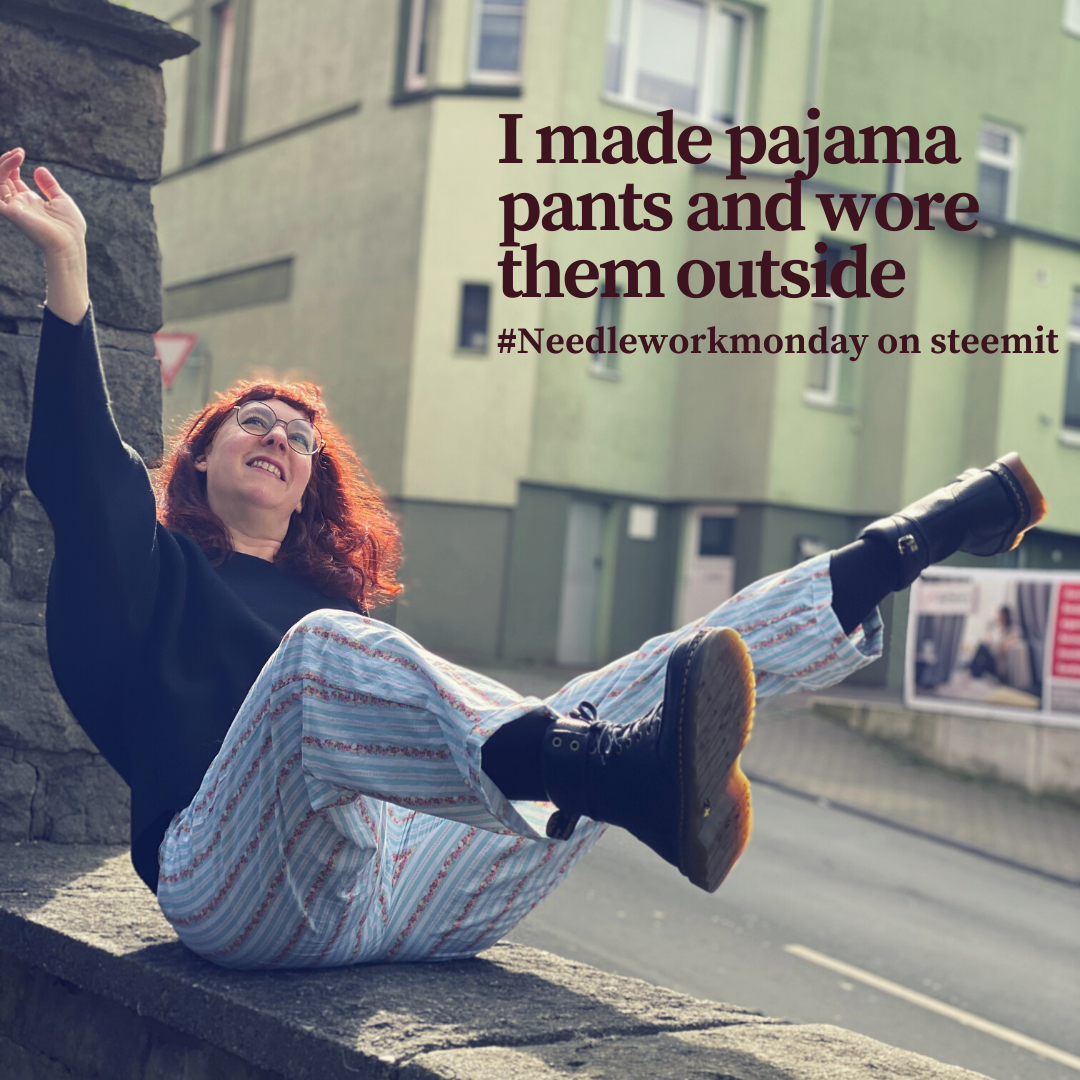 Trying out a pattern from Asuka Hamada
Yesterday I wrote in a comment to @shanibeer that I want to be more daring with my clothes. I want to look so beautiful and exceptional like the designers of this new show Next in Fashion on Netflix I want to be usable as an example of art on a body… So, I have sewn pajama pants and will wear them outside.
Do I have your attention?
Good, because now will follow an boring post about how you manage to sew the easiest pants in the world (and make it possible that they do not fit).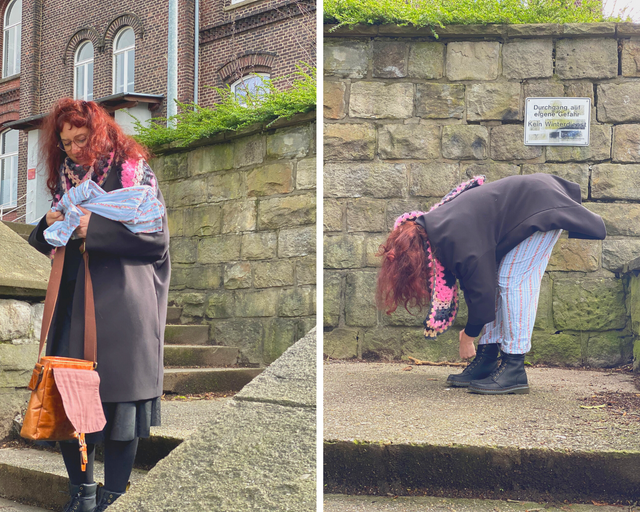 Again I want to remind you of my long list of sewing goals for 2020 and one item is 'sewing trousers'. I may have already told you several times that I find buying fitting trousers a nearly impossible task for me. Trousers are mostly to small in the thighs, to high in the front rise and too wide at the back of my waist. With this knowledge I am already equipped to modify a pattern for a perfect pair of trousers for my body. But what shall I say, my crafty enthusiasm got the better of me.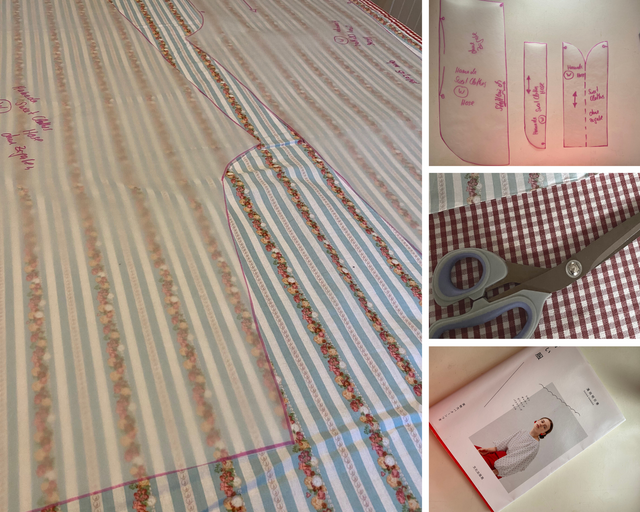 My pant sewing experiment started out very clever (but it deteriorated fast). Last year I bought a super cheap cotton fabric on the Maastricht market. I already washed it and it is soft and thin, perfect for a comfortable pair of pajama pants. The pattern was also ready to use, cut out about half a year ago…
This time my fabric was big enough for the item I wanted to sew, and I did not have to puzzle the pieces weirdly onto the fabric.
I placed the trousers legs on the fabric, and the waistband and…. yes and. There were three more strange pattern pieces I should cut out, and no, the pants have no pockets. As a diligent sewist I should have fetched the book and read how the pants are assembled and why there are these excess pattern pieces. But you know me, why do something reflected if I also could do something stupid? So, instead of reading I took my scissors out and cut the fabric.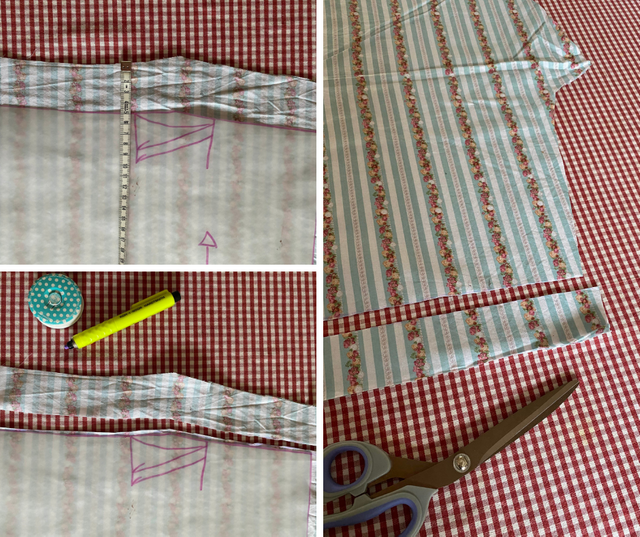 Oh wait, I forgot, I also modified this never used and completely alien pattern, as the pants seemed to have a too high rise and too short legs. (As if I have any experience how the pieces of a trousers pattern should look) Therefore, I cut 5 cm of the front and back height and elongated the legs. (I see you bumping your head on the table, stop it please, you will hurt yourself). I also may have forgotten which part was the front leg and which the back.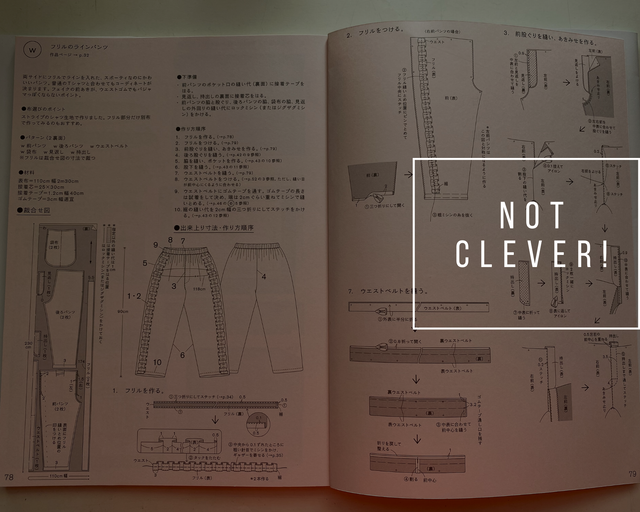 So, fabric cut out, I thought to investigate the explanation, how to proceed. And yeah funny, as I used a Japanese pattern, I did not understand what I should do (believe me, I am laughing myself). I somehow forgot that this pattern was from an extremely stylish and wonderful Japanese book "Sewing Sweet Clothes" from Asuka Hamada, which provided only these two pages of compressed explanations.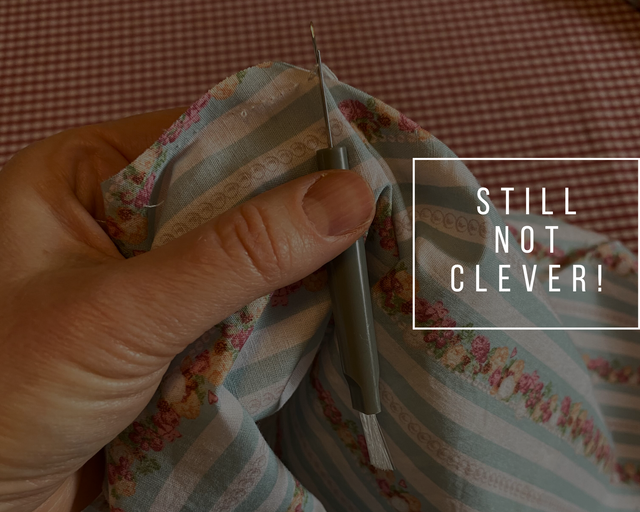 But not to worry, I was in such a high, that I finally was trying to sew pants, that I simply took another magazine with similar pants in it and read the following instructions "sew the side seams together". Which I did. I sewed all side seams together. And made a skirt.
GROAAAAAAAN.
Sadly, I have no photo of my mistake. I was in such a hurry to rip the skirt/trousers open I forgot to take one. Back to four separate parts of fabric, I again pinned them together… and again I made a skirt. I could not wrap my head around the instructions. At this point I was coming down from my sewing high, and I started to research the internet for a better explanation, and I found these two wonderful websites: one for sewing the trousers and one for adjusting the fit.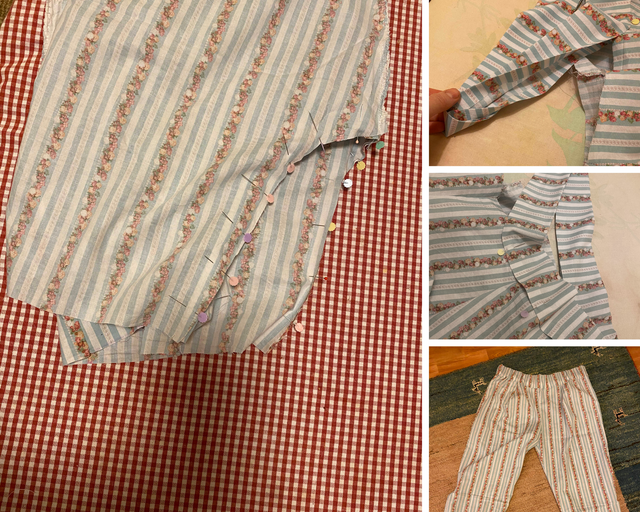 Now I understood, that I first had to sew two separate legs, which I then stuff into one another to close the crotch. DONE!!!! I made my first pants. Yippee ?
The waistband I ironed into form and then I sewed in on in one go… You can see it on the photo. After reading a bit more about pant making in the last days, I now know better. I should have first sewed the waistband on the outside of the trousers and then should have folded it inside and sewed exactly into the outside seam, so that this seam is invisible. I put the elastic into the waistband and sewed the remaining opening together and the result is this pair of pajama pants.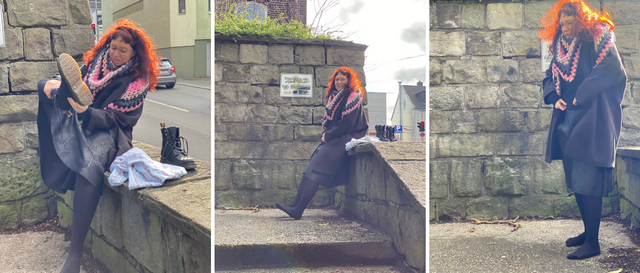 it was cold and stormy while taking the photos and I am a wussy…
I jumped out of my skirt and put them on and they – ahem – kind of fit. As written into the introduction of this post, there are several things I should have paid attention to before I cut out the fabric. My pajama pants were too short in the back (remember my huge bottom), too tight at my thighs, too short at the legs and too long at the front rise. Exactly the things I hate on bought trousers. ???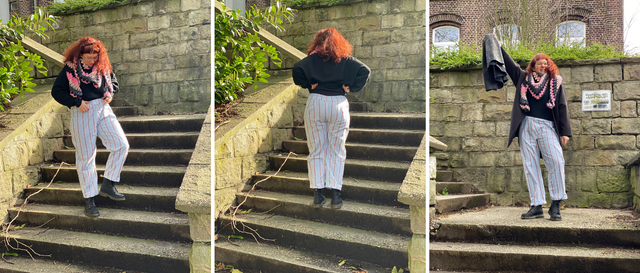 To make a wearable garment out of this mess, I decided to wear them with the fromt turned to the back. These trousers have two folds at the front and when turned to my back, these provided a bit of extra room for my bottom. As the trousers still barely covered my back, I decided to sew a higher waistband (as high as the remaining scraps of fabric allowed).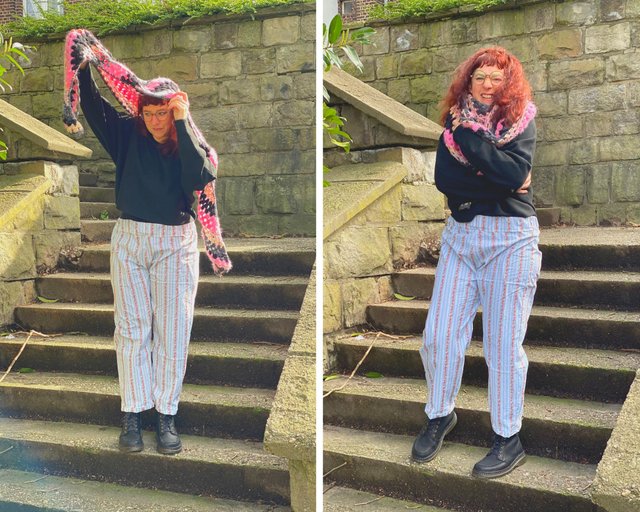 remember: cold
Not perfect but not too bad either (in my view). But be sure, I will never wear them outside. This was only to draw your attention dear readers ??
Addendum: I still have the excess pattern pieces from the original Japanese pants, which are by the way, not meant to be worn in bed. I guess these pieces should have been inserted into the front as a kind of fake fly.
Thank you @crosheille for iniciating and @muscara, @shanibeer, @marblely for hosting the #needleworkmonday. If you want to see more beautiful projects with yarn, fabric and most of all needles, follow @needleworkmonday on steemit. Or even better grab your needles and keyboard and join the #needleworkmonday community. You can read more comments on this post on my steemit blog. 
If this is not enough you can find my post on Handmade on Tuesday and read even more about knitting and sewing, but beware most post are in German.