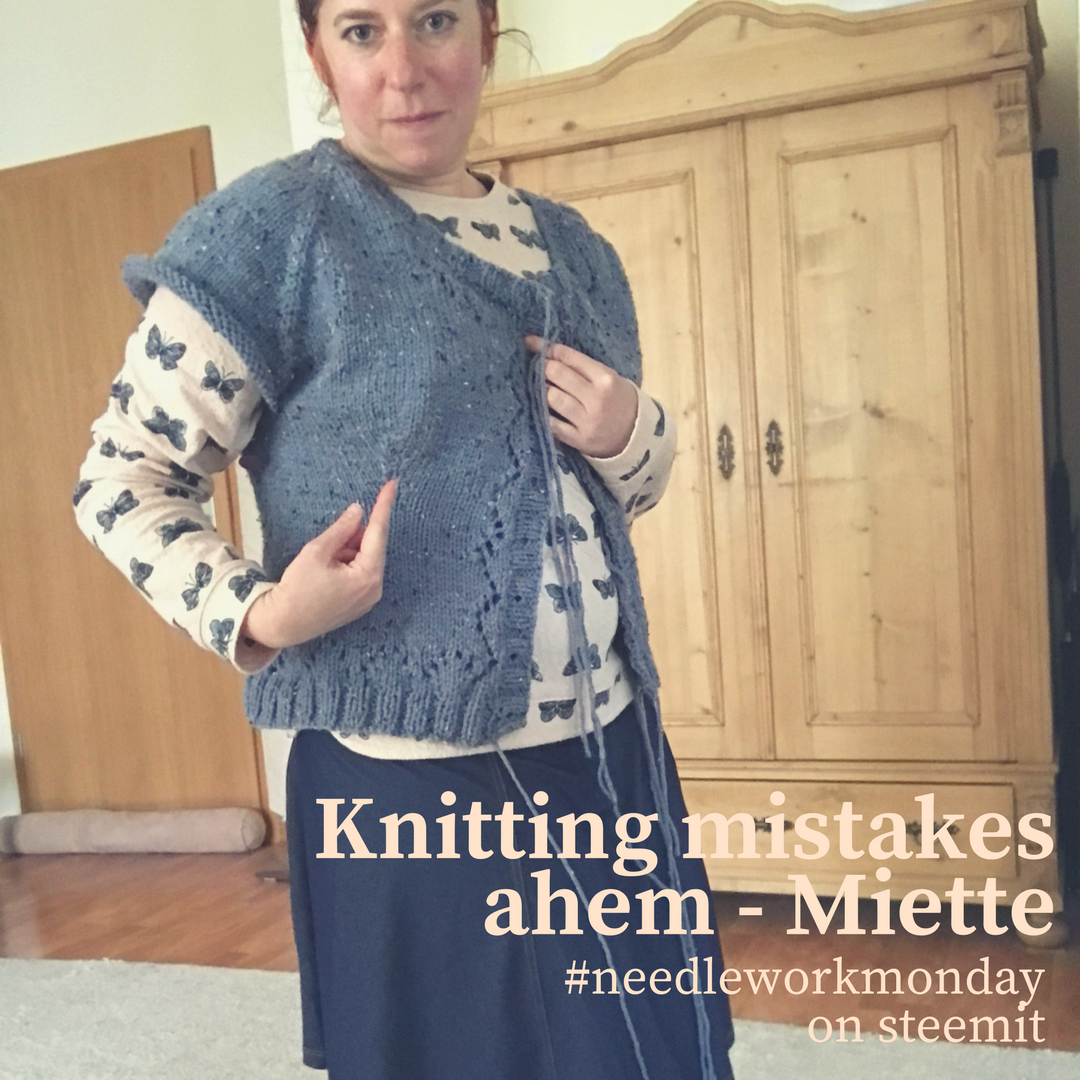 Knitting a top-down sweater – again.
I could't resist to cast on… I tried and tried: like putting the new yarn away and forbidding myself to research ravelry – but to no avail. Although I have some project resting in the already mentioned box, I casted on for a new sweater. To be honest I may have researched for hours had a single little glimpse on my favourite section of ravelry and perhaps putting the new yarn at the end of the couch was not far enough away.
So here I am with two new ufo's. 'Why two' you may ask, because my dear fiberfriends, for the first attempt I have chosen the size 'porn-star'.
But back to the beginning
For years now, I wanted to knit a special little lacey top-down sweater, the Miette cardigan by Andy Satterlund. It is a free pattern and more than two thousand people already made this cardigan. Judging the photos on ravelry, they finished the pattern successfully. The design is meant to be worn with negative ease and is strongly tailored with a very small waist and bust darts. Because I am not as small as the most people who made this sweater and because I do not like snug fitting clothes I decided to make the medium size with thicker yarn and a bigger needle. (You perhaps already know where this will lead…)
What went wrong
I have chosen a blue-grey tweed yarn from a Netherlands discounter which in hindsight was not a perfect choice, because the lace pattern does not show well. The first 24 rows (the pattern only counts the right-side rows) were made in a rush. The pattern is very well written, and I found no mistakes. In row 25 you must cast on 10 stitches on every side: This was the first moment I turned suspicious, because suddenly the fronts became very big. But I muted my inner voice which told me I had chosen a too big size for the thick yarn and continued. Next step: bust darts. This was a first for me. I have never knitted or crocheted a garment with bust darts. They are made by decreasing 12 stitches on every front, which is fairly easy, so I knitted on and all went well… Up to the point I noticed, that my hips will never fit into these tiny measurements. Again, no problem, I simply modified the pattern and increased some rows, till hips and belly fit inside the cardigan.
After finishing the body of this cardigan, I wanted it so badly to be done I simply continued to work the button band and neckline without trying it on. And now I have a sweater which could accommodate my fictive self after several breast enlargements and some broken rips for a smaller waist…. Or to say it simple: it does not fit.
The second attempt
My reasonable answer to this problem was to cast on the same sweater again, but in a smaller size. (And I write this in brackets, because I feel a little bit ashamed – I also used a thinner yarn. So maybe this version will be too small. Not sure if I should laugh or search for help.)
I present you some unglamorous photos of me wearing this half-finished sweater. I am so unsure if I should unravel it – what is your advice??? Rip it out or finish the sleeves…??