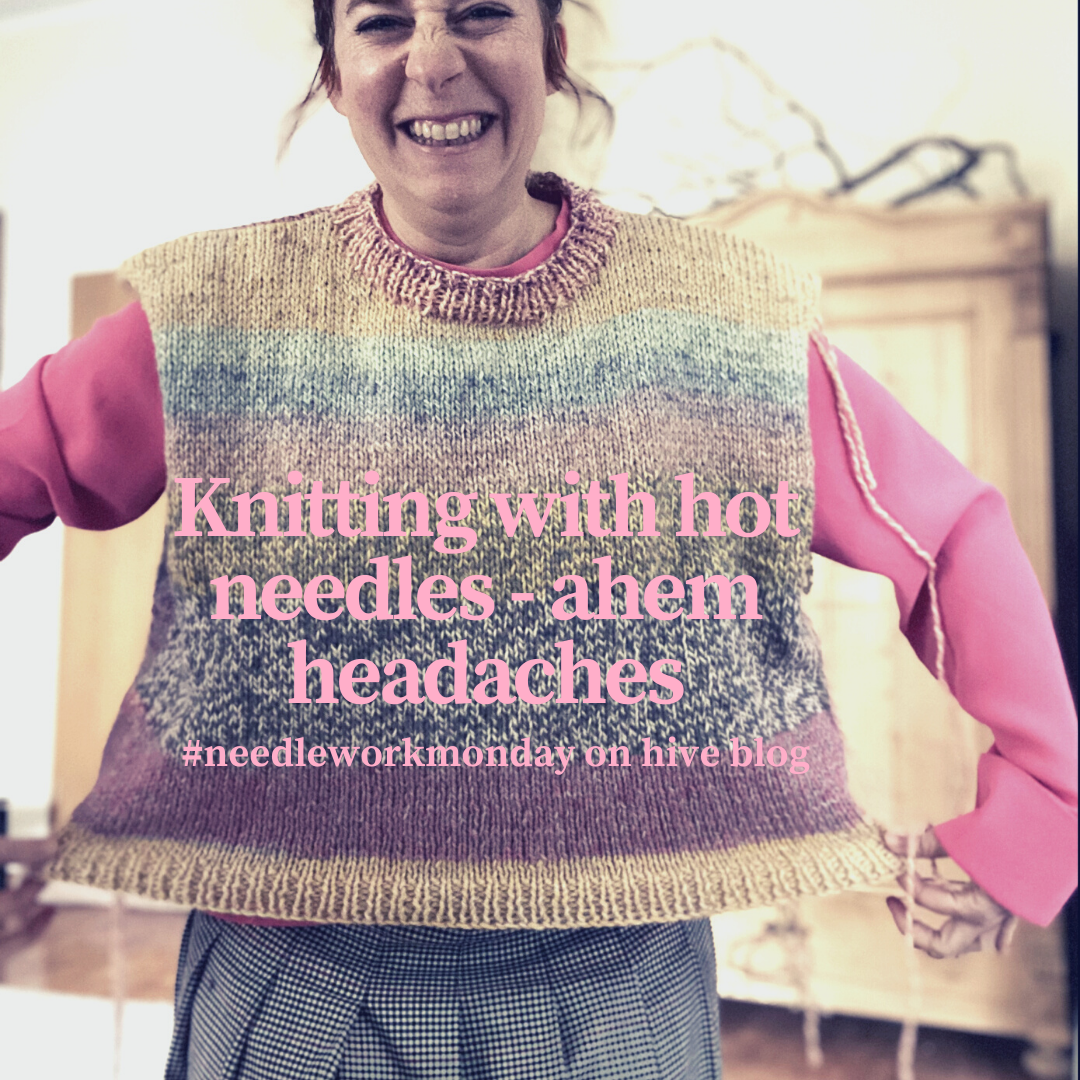 In German there is this saying, "knitted with hot needles" (mit heißen Nadeln gestrickt) which means you did a project hasted and sloppy. And this is what I did with my knitted slipover. Today, dear readers you will get another whining post, as I have headaches since Thursday and the slipover fits strangely.
I some post back explained that although I have migraines which are known for being very painful, I knit especially much if I have them. This is because my headaches don't simply stop and are over after a day (or after taking medication), no they more often linger for two, three and sometimes even more days. In these "aftermath" times I am not able to read or watch anything as I have eye problems during the attacks, and it will result in even worse headaches. So, these are the times when I knit or crochet the most, get a lot of done and make the stupidest mistakes :-DDDD And exactly this happened yesterday.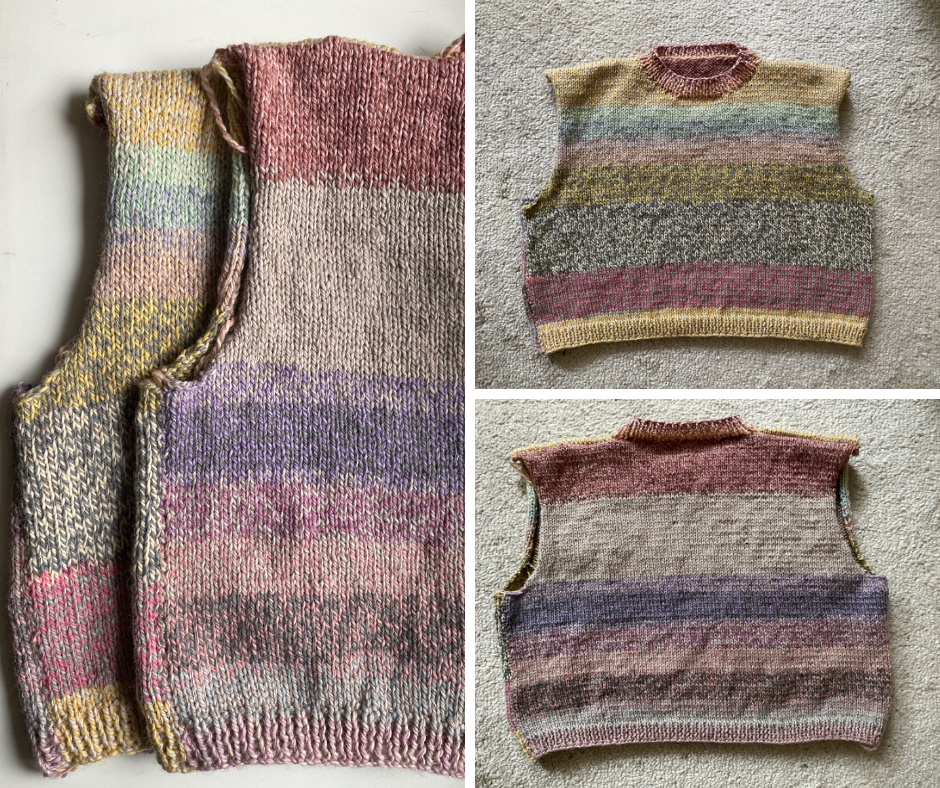 In my post three weeks back, I showed you some of my unfinished projects and one is a warm slipover in self striping cuddly yarn. My first project (honestly) where I used the exact yarn the pattern called for as I loved the designer's idea to knit back and front of the slip over in two different shades. I decided to knit size s after looking at the finished width, started happily (yes, after I made a tension square :-D) and knitted the first 5 rows. As it happens so often, I suddenly became afraid, that this slipover will be much too small. I measured the cuff and measured it again and again and… fumbled some crochet stitches onto my needles to get to the next size. (Do you also do such things, like instead of unraveling the knitting you simply do some double crochet at the end of the row with the super long beginning tail – which I extra leave for this emergency?)
Size M it is and to cut it short, its much too big. Funnily, with the additional stitches I reached a final width of 60 cm for front and back, which corresponds with size s of the pattern. But I have no clue why I thought 120 cm circumference is a fitting size for a slipover for me… I even thought it too small. I am confused by myself.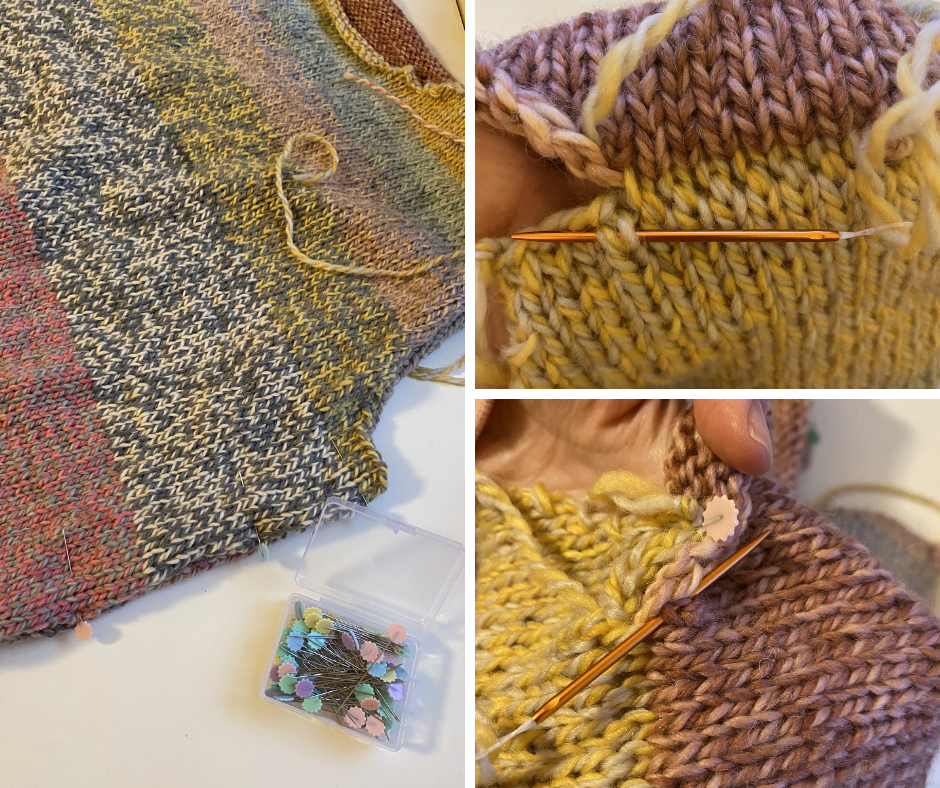 I finished the sweater last week and used the mild headache days to sew it together. You know I hate sewing my knits and my thoughts were like "the day is already rubbish, so I can add hand sewing to its all over misery". Worked fine :-DDD
Next day I was completely out, so no knitting only whining and exchanging ice packs. On Saturday I had a 5-hour long video conference coaching with the board of the charity organisation I am in… I only say, an even worse idea to do this with headaches than knitting with headache. But ok, its done. On Sunday I decided I want to write about this slipover on Monday and frantically knitted the neckline. I got it done, but it looks like I have made it with hot needles: wobbly, irregular and I am unsatisfied. I should have used a smaller needle size and perhaps should have knitted more attentively. Yeah… but I did not.
So, hello Monday, here is my still unfinished slipover (the sleeve cuffs are missing) which is much too wide and has a sloppy neckline. I made some happy faces to show of my superpower of faking that I am fit (ok, and I naturally smile, because I want to make you all smile back at me <3 <3)

What did I learn? Knitting with headaches results in sloppy garments.
Will I do it again? Yes.
Thank you @crosheille for iniciating and @muscara and @marblely for hosting the #needleworkmonday. If you want to see more beautiful projects with yarn, fabric and most of all needles, follow @needleworkmonday on hive blog. Or even better grab your needles and keyboard and join the #needleworkmonday community. You can read more comments on this post on my hive blog.