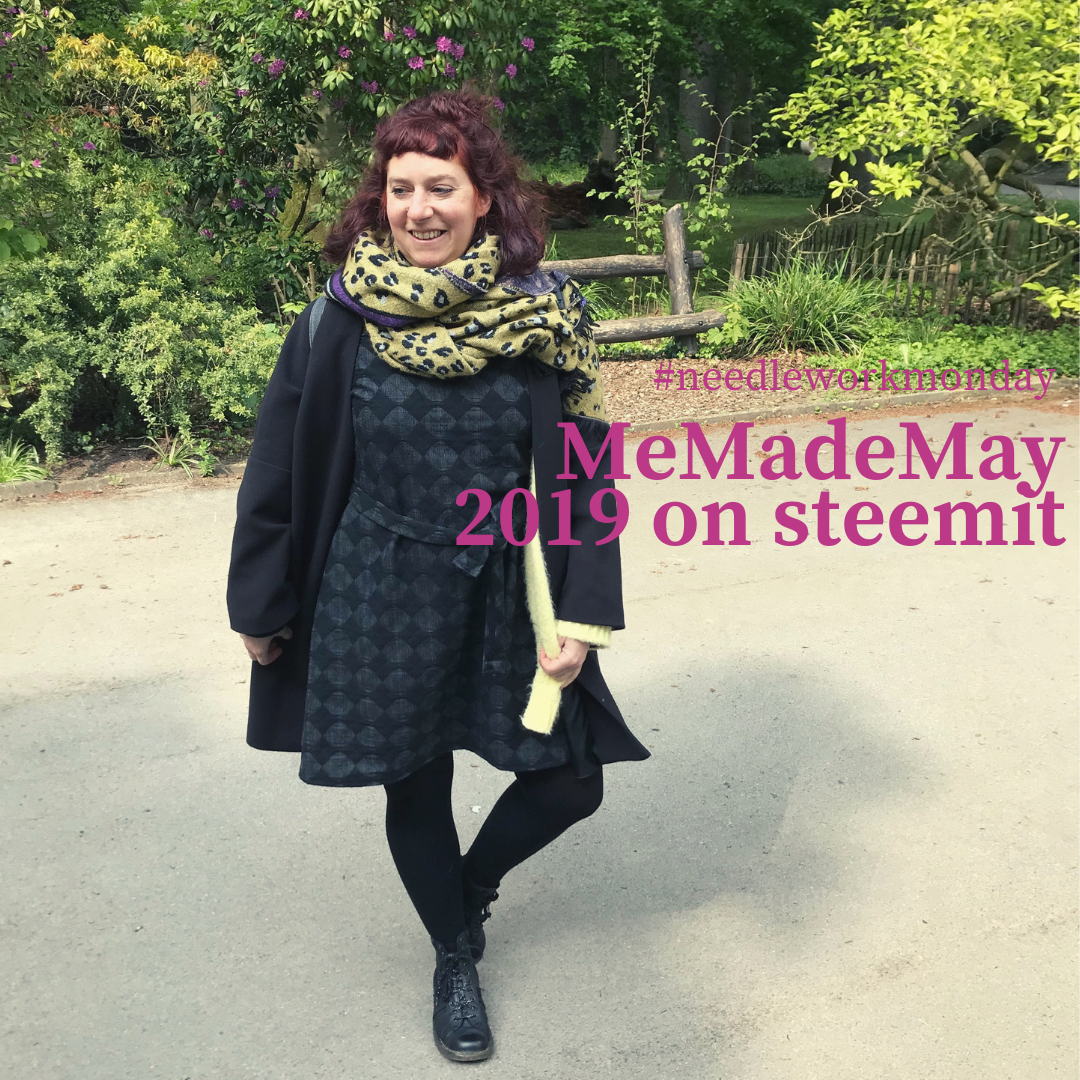 It's May. The sun is shining, birds chirping happily in the blooming trees. Bees are hunting for the best flower and this – my friends – is me: flowered out in handmade garments ?.
It is the first time I participate on MeMadeMay. This initiative was founded by Zoe from So, Zo… What do you know a wonderful sewing blog with lots of helpful information, free sewing patterns and inspiration. Zoe wants us to challenge our attitude towards handmade clothes. And this challenge hits me into my woolly heart. Her idea is to inspire crafters to cherish all the beautiful items they made, so that these clothes not only are a nice hobby but also become wardrobe staples which are useful and sustainable.
MeMadeMay is open to every crafter's own goals, for example to wear a handmade item every day (me) or wearing a whole handmade outfit everyday, to do it silently or openly on social media. The idea is not to produce feverishly new handmade items in May (but it could if it is what you desire), but more to love the things which we already have in our wardrobe. MeMadeMay could be an opportunity to learn which clothes we love most, and which clothes are maybe missing in our wardrobe. Which fabrics or yarns are easy to care for or generally how much effort we are willing to put into our handmade garments.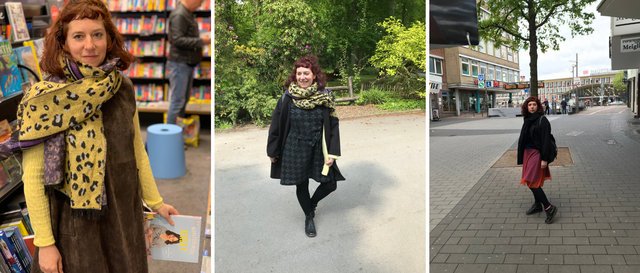 Ida dress from Rosa P., Freya dress from Tilly and the buttons, self drafted half circle skirt.
For me MeMadeMay is an opportunity to wear more of my handmade clothes. Not whole outfits – I am far from this – but single skirts or sweaters. With my sewn garments I often feel as if they are not good enough: ill fitting, bad seams, or simply too weird. And with the knitted/crocheted things I am in constant fear I will destroy them by wearing…. Ahem – am I strange or do you have similar feelings? (Pleaaaase confess, so that I don't feel to bad :-D)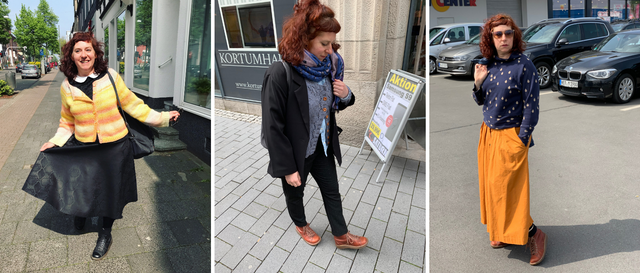 improvised raglan cardigan, Miette cardigan from Andi Satterlund, toaster sweater from Sew House seven
Another objective for my MeMadeMay is to finish some of my knitted WIP's and working off my pile of to-alter clothes. So far, I have finished one 'secondsock', knitted my lilac sweater (seeming is still unfinished) and I have repaired a pair of workout trousers I looooove. More on these items perhaps in the next weeks…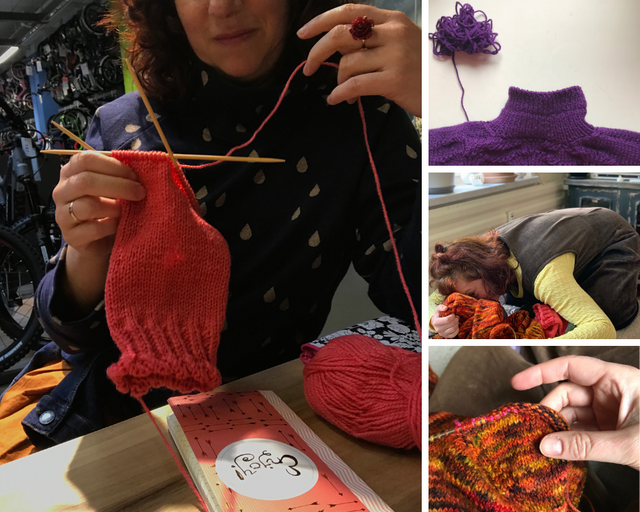 At least a call for testers. Eline Alcocer, the designer from Emmy & Lien has a new and amazing crochet cardigan in the pipeline and needs now testers for various sizes as she offers a huge and inclusive sizing range from 32 up to 62 inches / 82 – 152 cm bust. You know my personal situation is a bit strained, so I cannot commit to this testing. But I thought perhaps somebody of you wants to grab this opportunity. Taste is always divers, but I really love her designs and find them so unique. I already made a design from her, the Hanabira cardigan and not only was the pattern written very easy to understand, I am still in love with the flower pattern on this cardigan.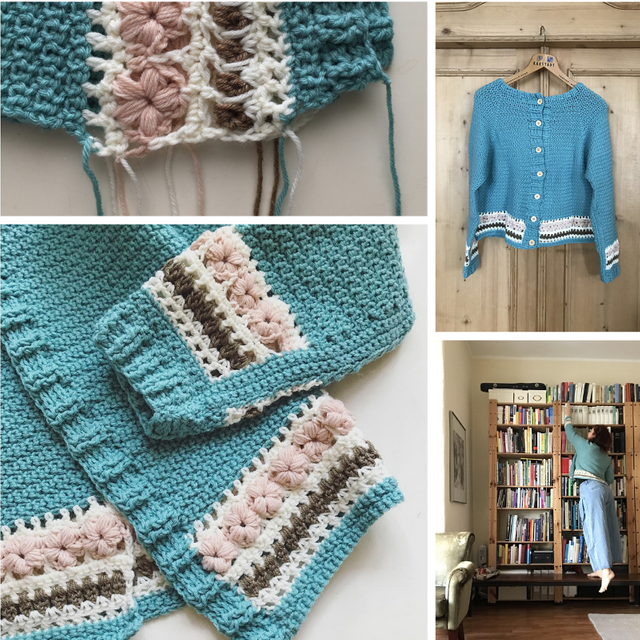 So, if you are interested, here is the link to all the information: link ?
Thank you @crosheille for iniciating and @muscara, @shanibeer, @marblely for hosting the #needleworkmonday. If you want to see more beautiful projects with yarn, fabric and most of all needles, follow @needleworkmonday on steemit. Or even better grab your needles and keyboard and join the #needleworkmonday community. You can read more comments on this post on my steemit blog.