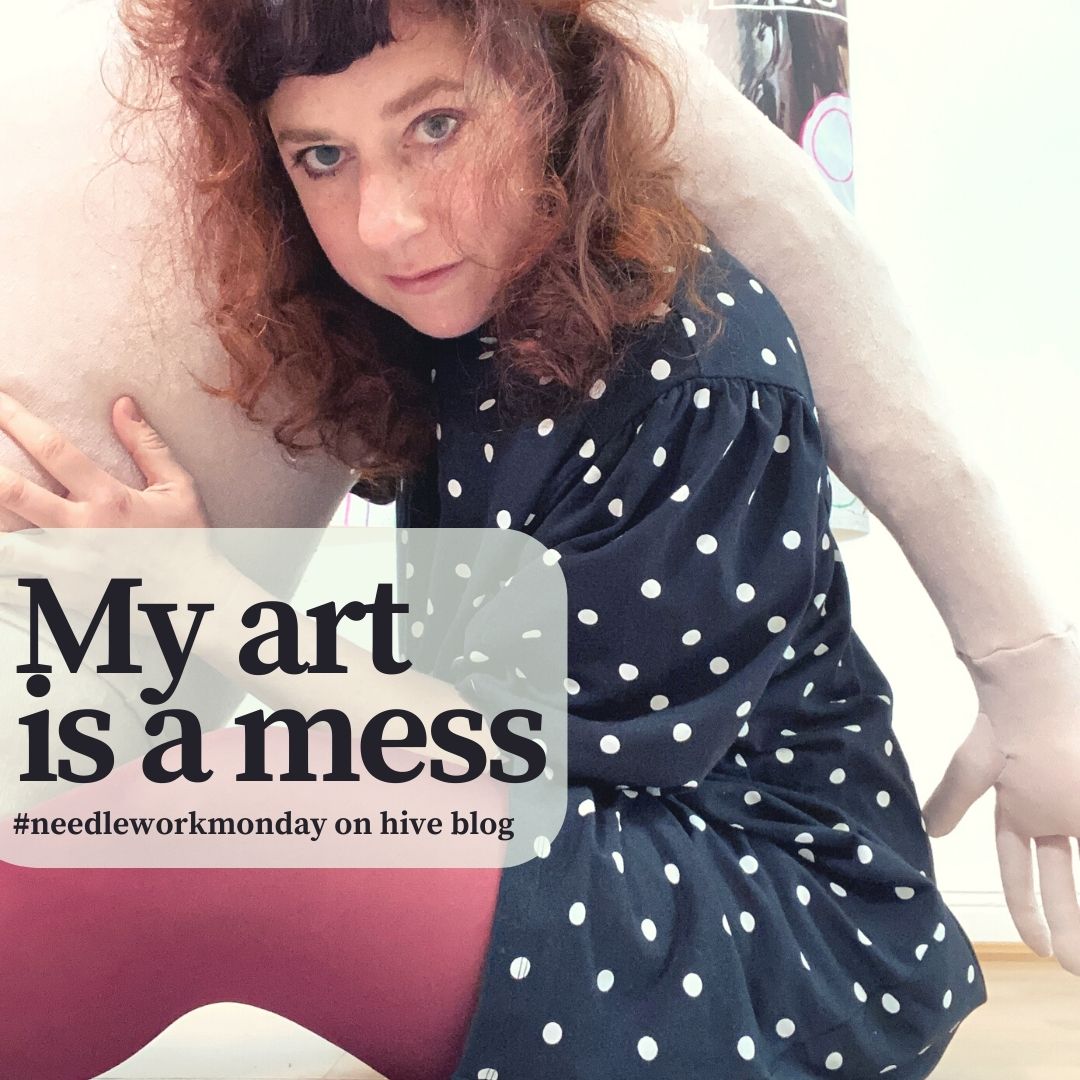 I woke up today drank a coffee and after a look at my to-do list pondered to get some much more potent stuff… Joking, besides that I am not learned about what to take to enhance productivity I am very anxious about everything that has more mind-altering ability than caffeine or valerian tea.
But back to my to-do list. On Saturday this week (ohhhgggooooooddddddd) is the vernissage of our new exhibition and Silvi and I are working like maniacs to get everything done in time. Between still working on the artworks (no idea why I am always working on them till the last moments) we are writing press texts, make announcements at social media, plan the catering and and and.
And as I am very bad at multitasking, all needs much longer than I hope. You have to envision me hopping around like a confused bunny starting to write, then fetch the phone to post, only to leave the posting midsentence to pick up a needle to sew the neck of my doll.
Ha, great transition. Which doll do you ask? And here is the answer: the huge over life-size doll I made from jersey, upholstery scraps and tape 🤪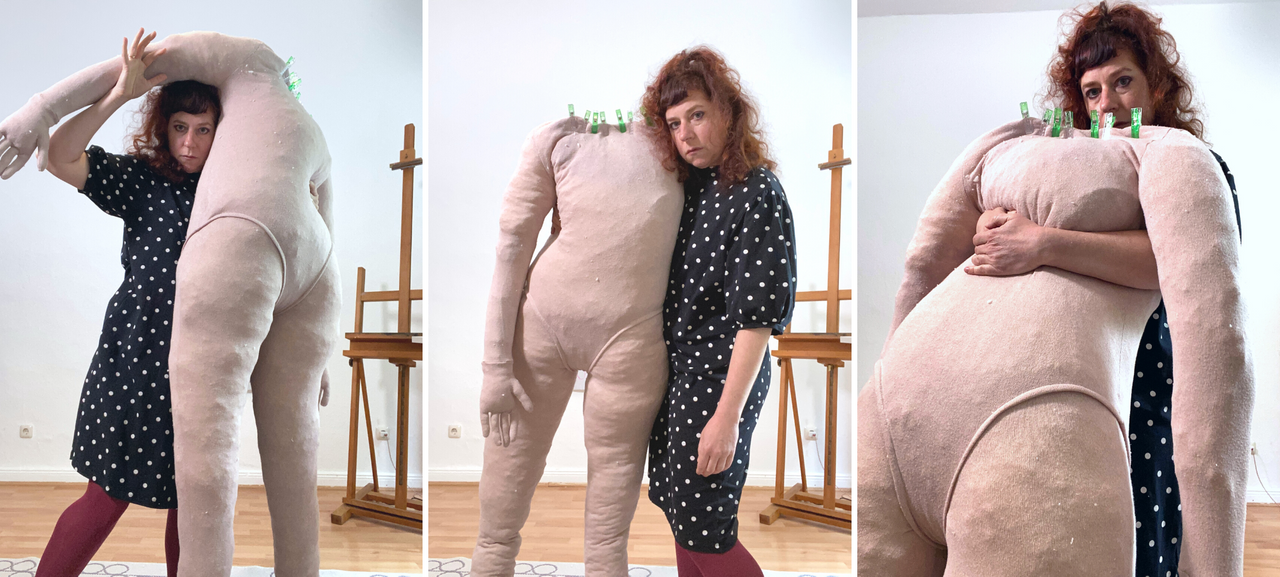 Last week I presented you leggings I sewed and already mentioned that they not for me, but a doll and I honestly stuck with it and have the object? sculpture? (not sure how to call it) nearly done.
And it was such a mess. The upholstery flocks and the padding we used (yes, I had help from @giavellottista) were flying around and because of some mysterious static electricity they were glued to everything: Our shoes, hands, the carpet, and the doll.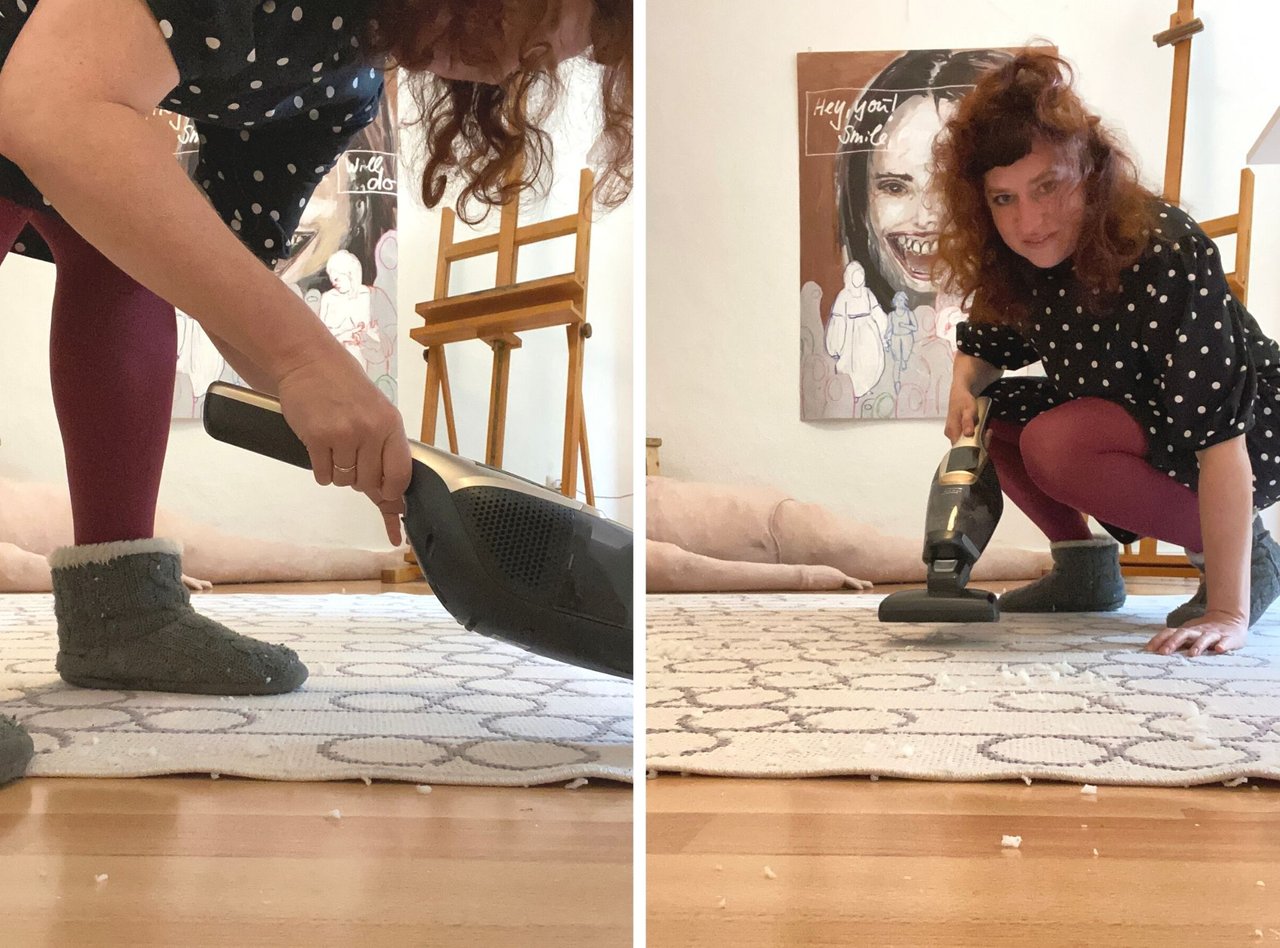 this is how doing art looks 😀
The upside of the fight against upholstery is that I got inspired for a slightly different presentation of the sculpture. Originally, I wanted to hang the doll up (which would be very difficult in the rooms we use for the exhibition) but now I love how gruesome the doll looks just lying on the floor without her head and upholstery falling out of the open neck.
Maybe I am a tad morbid, but I really love it. For transportation I clamped the neck opening shut hoping this will stay put during the transportation.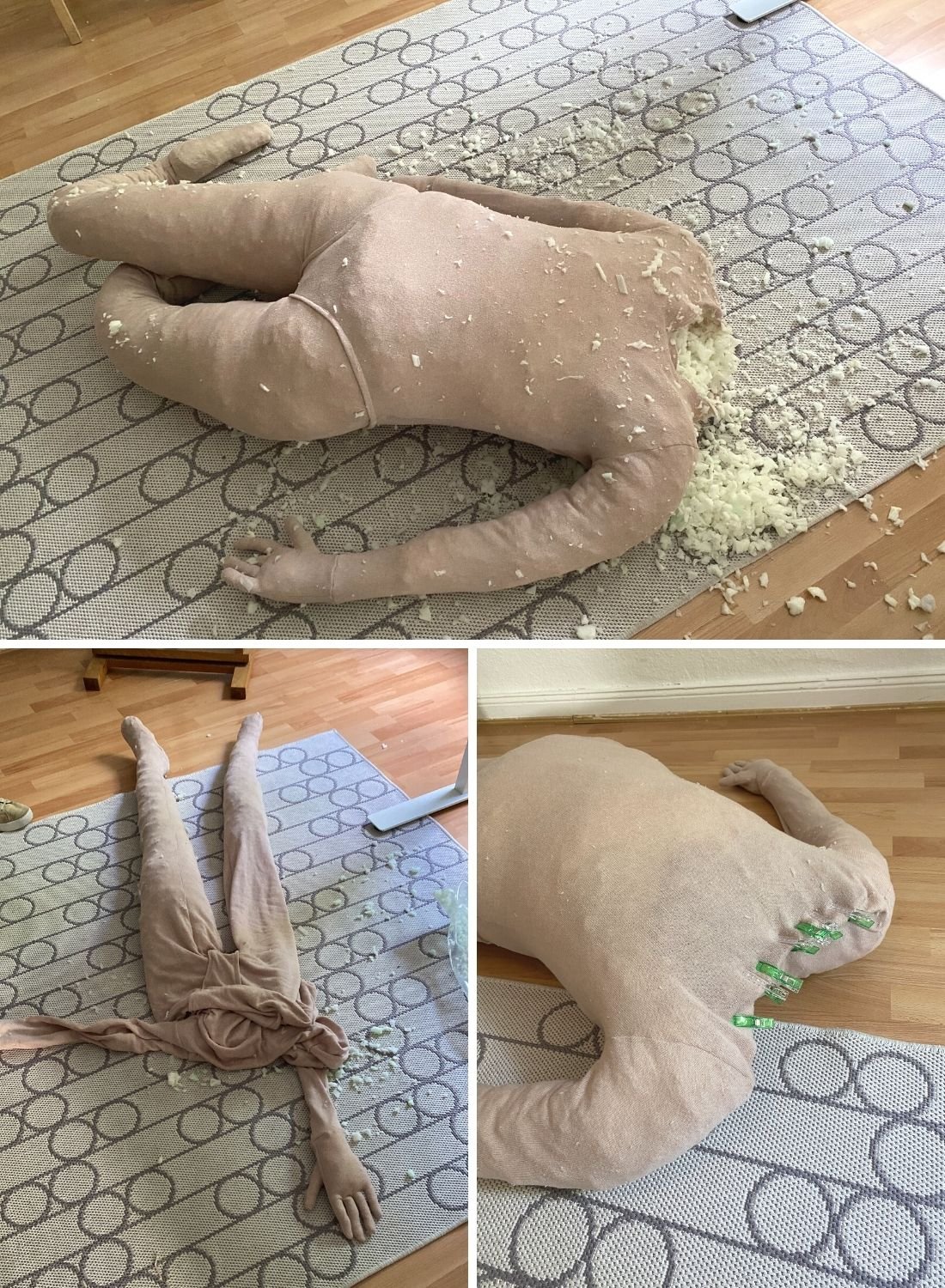 The sewing of this doll was a kind of nightmare for me, and I do not want to go into details. I only will tell you that I may or may not have inserted the thumbs several times wrongly into the hand opening.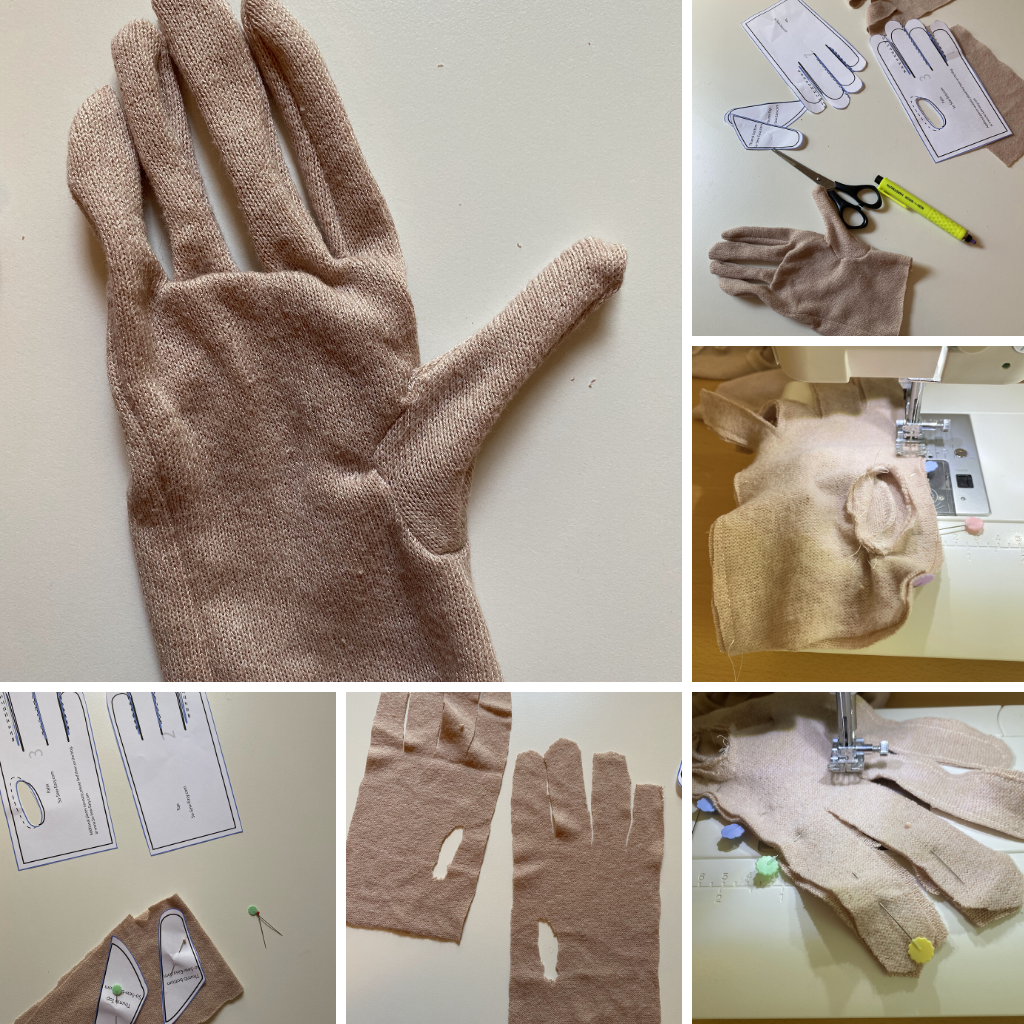 But if you ever plan to sew such a doll, I will give you a rough report what I did:
First, I constructed the body. Here fore I combined a long sleeve shirt pattern with a bodysuit pattern. Next was said leggings for the legs. For the feet I used a free sock pattern and for the hands a free pattern for gloves. I then sewed everything together and started with filling the hands and feet. Legs and torso have a kind of skeleton made from padding rolls we cut into the right form. The rest is filled with the upholstery scraps which give a kind of cellulite optic for the skin.
The week before this I already crocheted some breast in light pink, but I am not sure if I will use them for the final sculpture…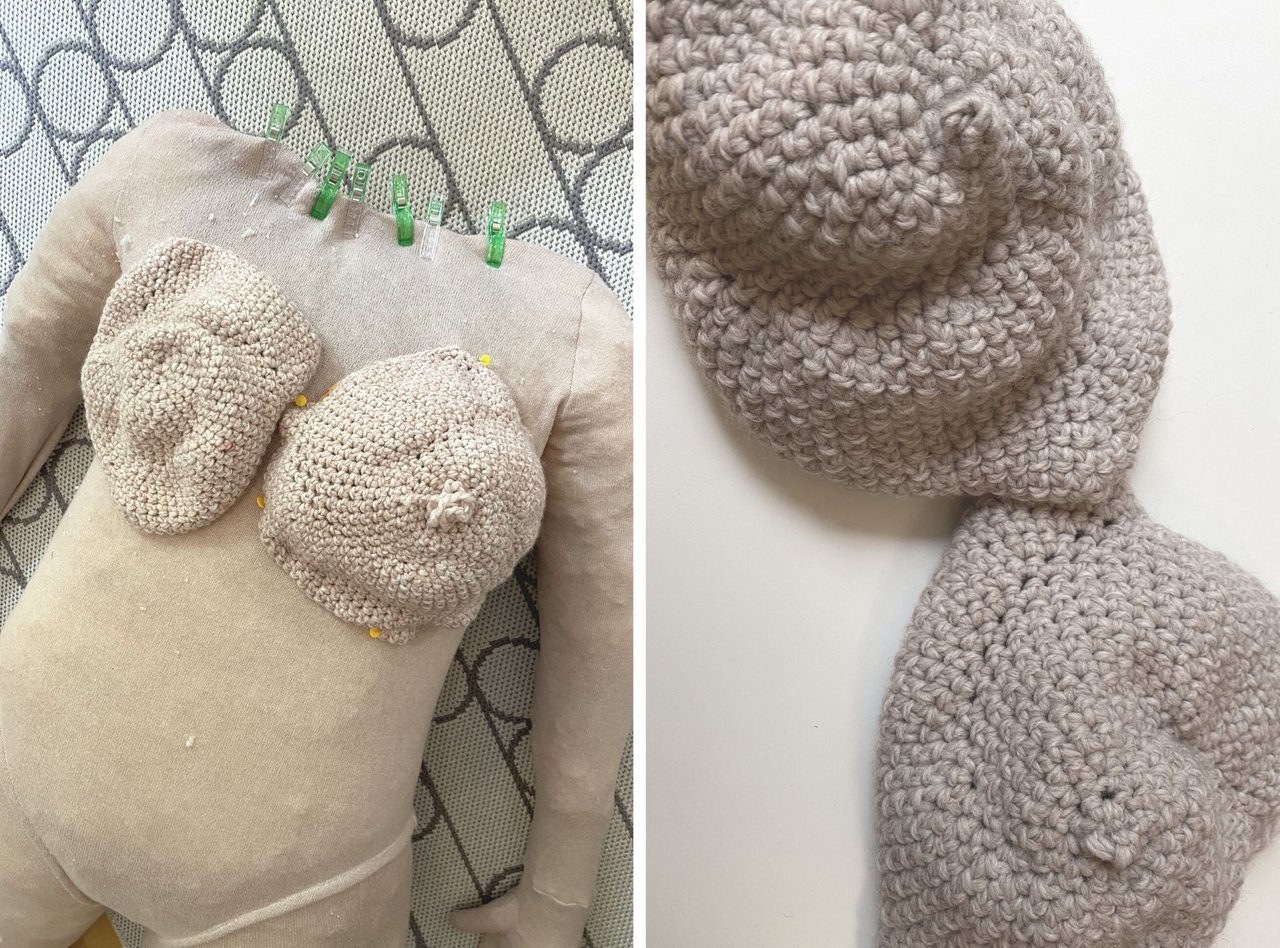 the breast are still unstuffed…
That's it for today as I need to run back to my to-do list… 😀
If you are living in Germany and are not far away, you are cordially invited to visit our exhibition. The opening will be at 18:00 on Saturday 21.5.2021 at Velsstrasse 19, Bochum. Would love to see you all there, again I say we need the beamer from Star strek 🙂
---
Thank you @crosheille for initiating and @marblely for hosting the #needleworkmonday and the community builder team @lauramica, @romeskie and @kattycrochet I am so glad to be part of.
If you want to see more beautiful projects with yarn, fabric and most of all needles, follow @needleworkmonday on hive blog. Or even better grab your needles and keyboard and join the #needleworkmonday community. You can read more comments on this post on my hive blog. 
Read more about my art und upcoming exhibitions on neumannsalva or buy some of my digital artworks on NFT showroom.
Last but not least: if my post coaxed a smile on your face you could support me on Ko-fi Share this…