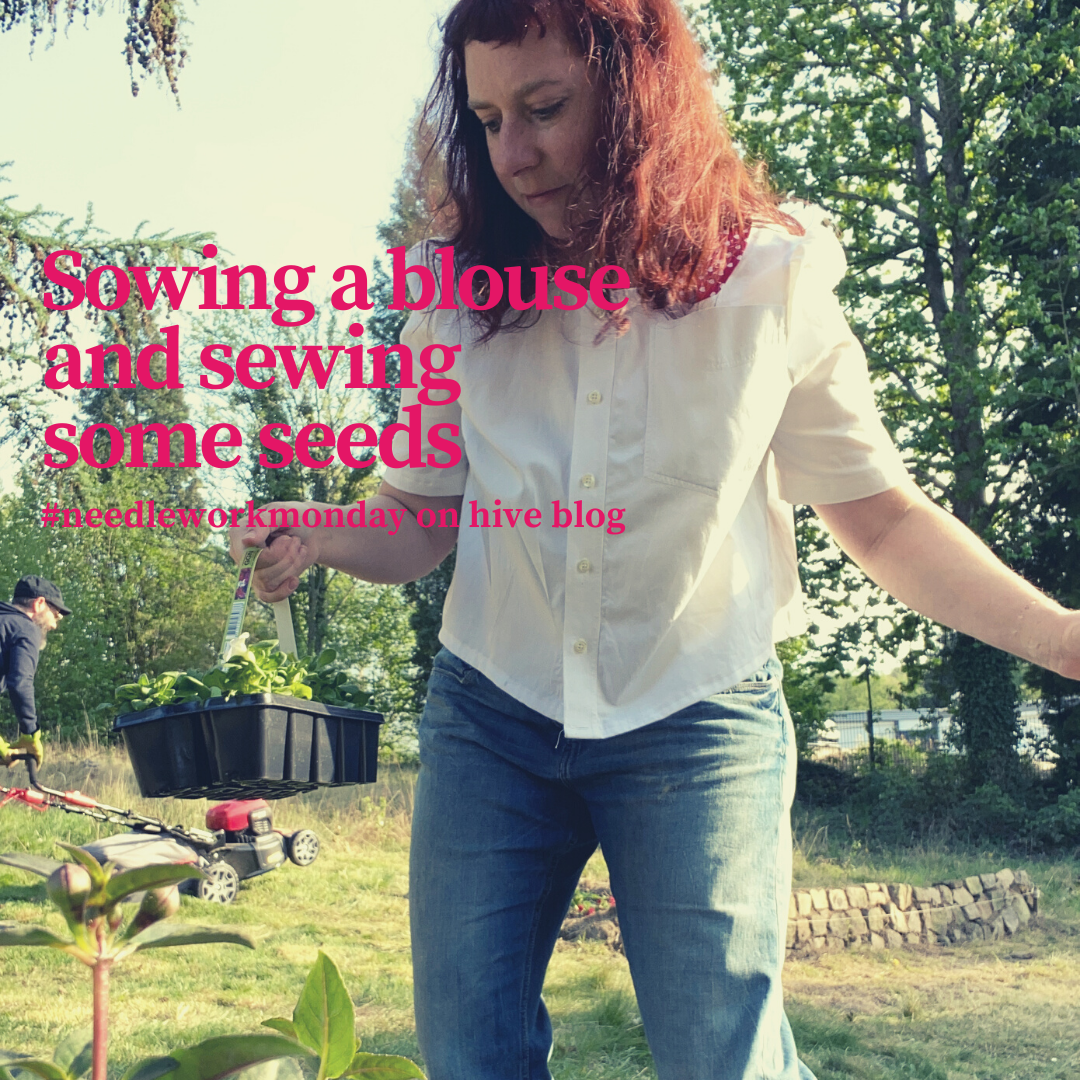 The Norns are weaving their fabric of fate with swift fingers and a lucid mind (does they weave only on #needleworkmonday?? Are there studies to proof this?). They combine stories like we combine yarn for the perfect sock or colors for an amazing quilt. And in my case, there are two stories which found a miraculous uniting: I sowed a blouse and sewed some seeds or was it the other way round?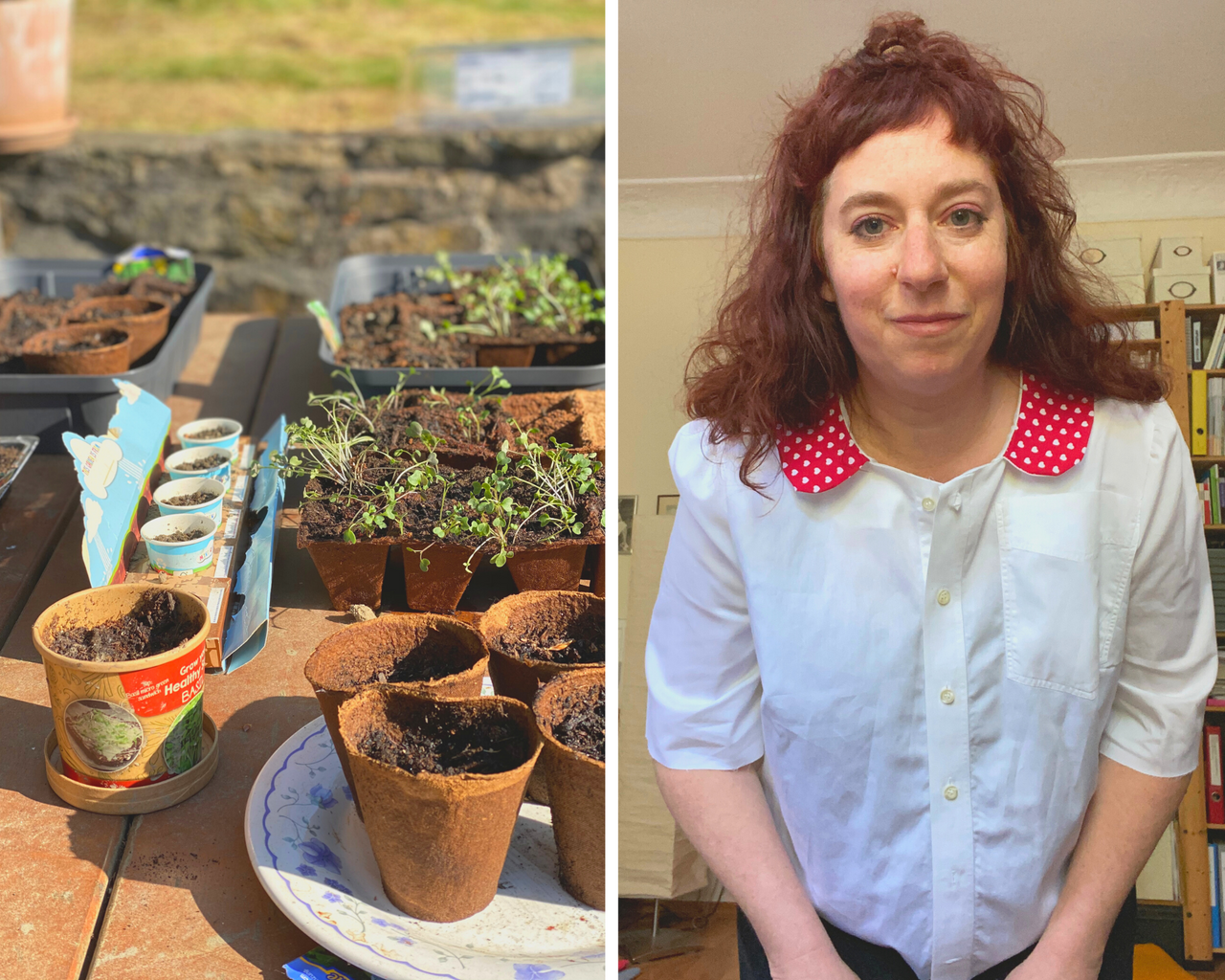 Many weeks ago, I tried myself on my first blouse ever. I chose the Mimi blouse from Tilly and the buttons only to encounter some fitting issues ('some fitting issues' is my code for 'the da*** thing fits like sh** and I want to sue the designer, then abduct their family and burn their house). After doctoring with too small sleeves and an over-all ill-fitting body – too boxy, too wide – I gave up. Till last week. After some wonderful hours in the garden, during which I stroked some weeds or herbs, I am not sure about this, I was so relaxed that I wanted to try it again, sewing a blouse with woven fabric. And clever me, tried it with old men's shirts to spare me the buttonband and the potential destruction of new fabric.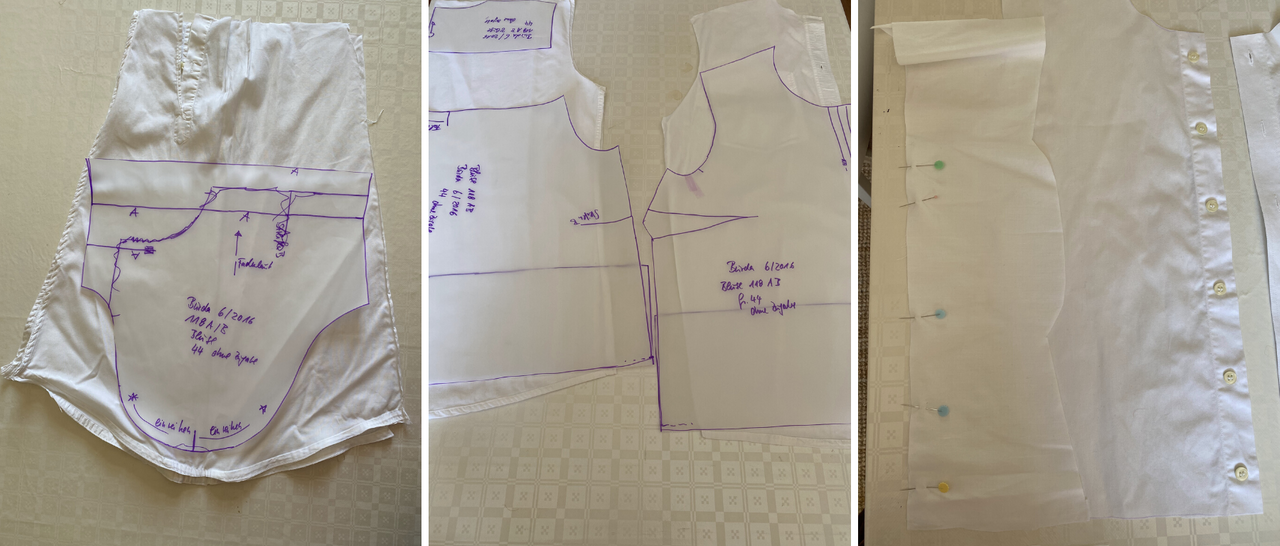 Thought and done (this, my dear readers is a trick… I needed a whole week to sew this blouse, but I will pretend I did it in one evening). I already had a pattern at hand I wanted to use. It is a puff sleeve (naturally) blouse with a Peter Pan collar from an older Burda magazine (6/2016) I bought on Ebay. I cut out the biggest size (44) and snatched one of my old men's shirt and …. It did not fit. Size 44 was too big to fit on the shirt. Most tutorials I watched about refashion seem to have XXL men's shirt at hand and only sew for size 36. This did not stop me, no… I simply ignored everything I read about fabric grain and placed my pattern Tetris like on the shirt. Avid reader of my blog knows, I am very good at ignoring wisdom and in fitting patterns on small fabric scraps. But this time I needed reinforcement in form of another scrap of fabric, as I could not get the two parts of the collar out of the old shirt. Fittingly I had this unobtrusive red fabric scrap with hearts in my stash 😀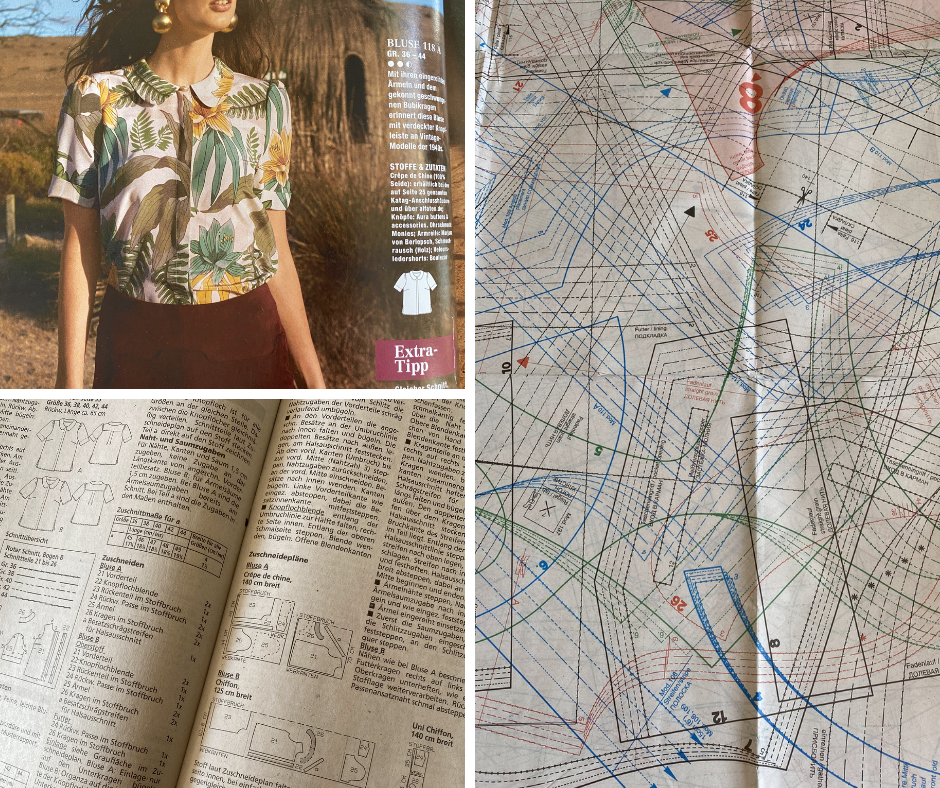 Everything cut out I started to read the explanations. And I did not understand a word. Honestly. Burda is famous for very short and condensed explanations, but these… The explanations were not short but in a kind of code. I had no idea how the made the collar and the inside of the blouse. But I really wanted to get this done as I already have one half finished blouse in my cupboard (the Mimi). So, I researched YouTube and found an explanation how to sew Pater Pan collar, for a t-shirt, in stretch fabric, without buttonband. At this moment I was convinced this is similar enough to my blouse made of woven fabric and with a buttonband (sorry, I really try to explain my thought process, but sometimes even I do not understand my ideas). From this video I learned that I needed a neck facing to attach with the collar. Heartily I cut into another shirt – remember I had used up all fabric from the last one – and improvised a facing.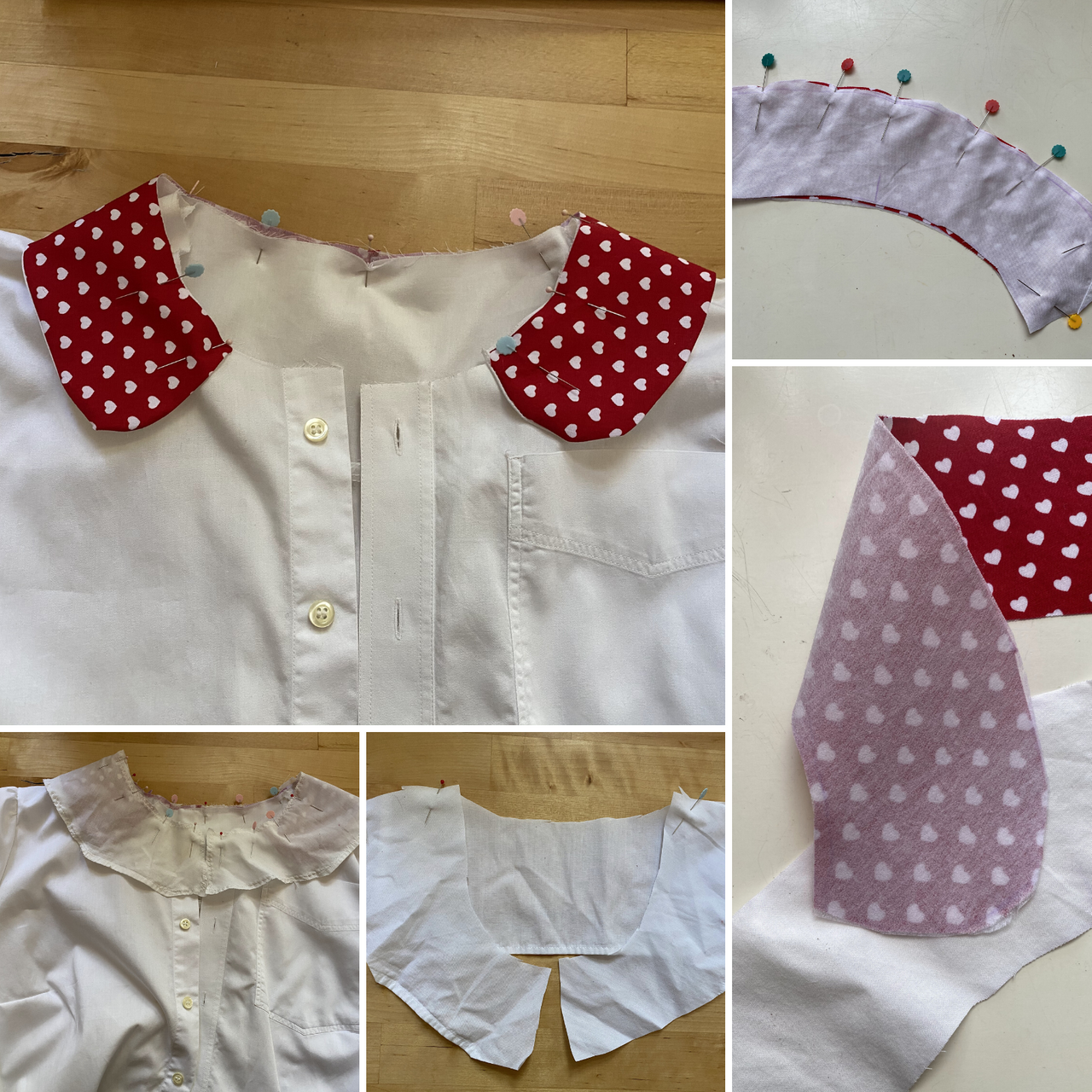 I could follow the videos instruction and got the collar attached to the blouse, but (there is always a 'but' in sewing) the collar is too small and too flat. I guess I made a mistake while repurposing the buttonband from the men's shirt and the flatness… not sure if this is owed to my improvisation with facing and collar. The blouse is again too wide and boxy for my liking, but wearable, kind of.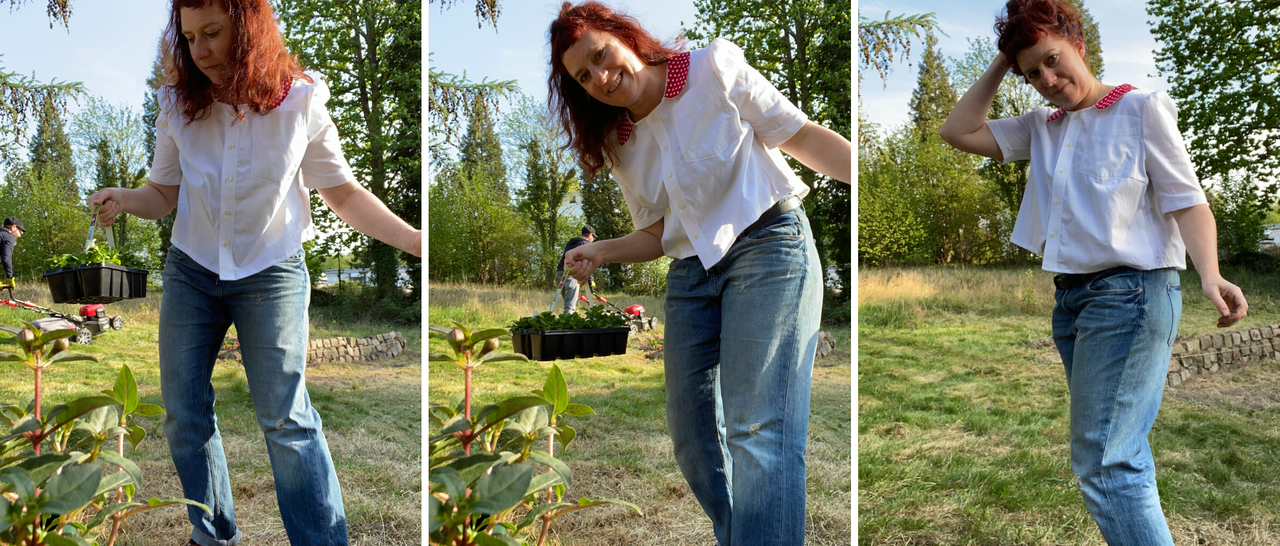 At the end of this post you may ask why did I start with Fate weaving strings together and so on? Because again I wore my handmade cloth in the new garden. The flowers are lovingly unfazed by my sewing mistakes which lead to weird garments. Both the story of sewing a blouse and the story of planting (broccoli, cucumber and tomatoes) are united.
Addendum
Do you know Astrid Lindgren? I remember her story Mirabell which I loved as a child. There the protagonist learns to grow dolls out of seeds … do you think I could grow clothes from seeds? Or does it only work with seedlings?
Thank you @crosheille for iniciating and @muscara, @shanibeer, @marblely for hosting the #needleworkmonday. If you want to see more beautiful projects with yarn, fabric and most of all needles, follow @needleworkmonday on hive blog. Or even better grab your needles and keyboard and join the #needleworkmonday community. You can read more comments on this post on my hive blog. 
If this is not enough, you can find my post also on Handmade on Tuesday and read even more about knitting and sewing, but beware most post are in German.