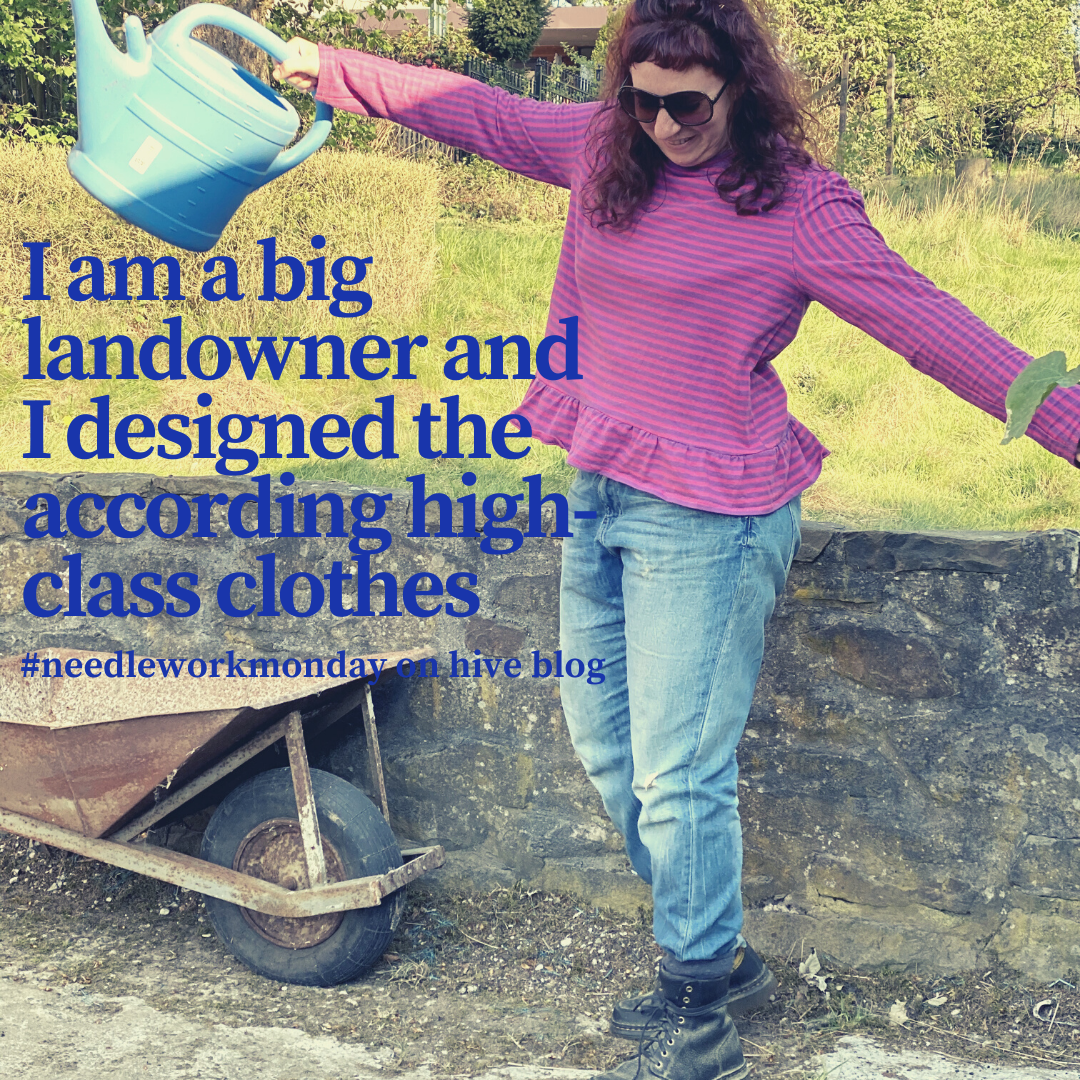 I am a big landowner now and I designed the according high-class clothes
So here we are, starting with the dissection of my blog post title. I will play this game with you, where you must decide which of my statements is a lie. (If you directly want to read about the ruffled shirt I sewed, hop to the middle of the post)
First statement: I am a big landowner.
For the whole time I am with you writing about needlework I so often complained in private and public that I never had a balcony or a garden. I complained that I have no possibility to sit in the shadow beneath a big tree and read one of my beloved fantasy novels. I complained that I cannot grow plants like currents or strawberries, nor tomatoes or pumpkins. Do you remember that I call our single flower box at the window "our garden" where I sit on the windowsill to play pretend? And now it happened: the statement is no lie; we really rented (ok…. I am not the owner, but nevertheless) a garden.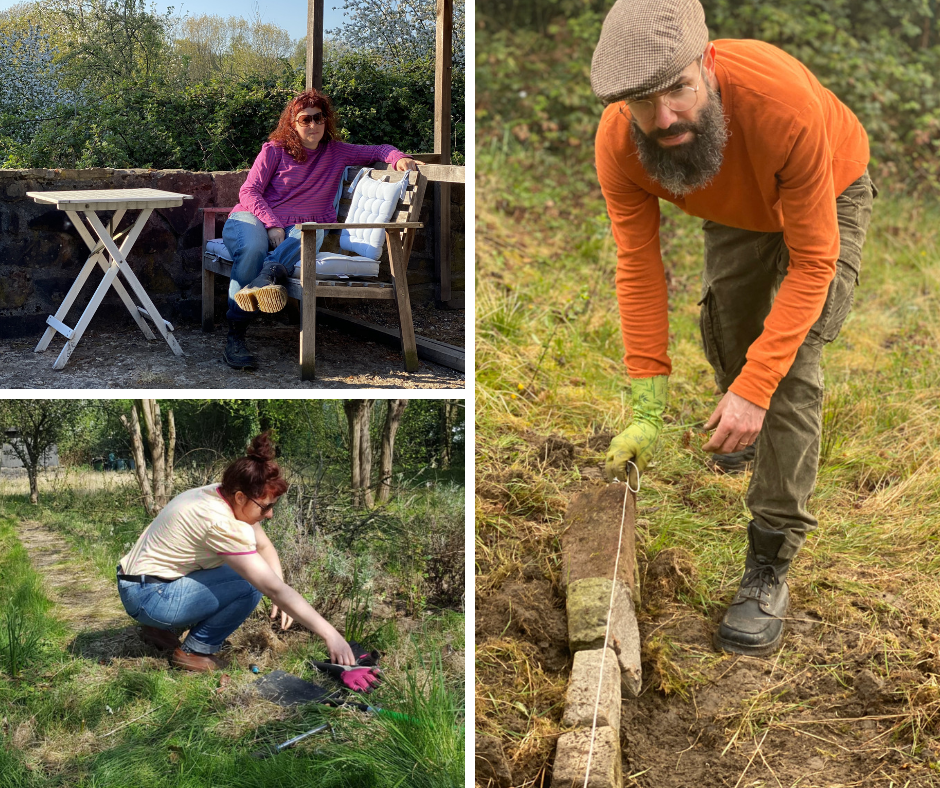 It was a huge coincidence. Over a month ago (or even two, it was before the lock down) I went for a walk with a good friend along the 'apple street' (I wrote last autumn about this little street which is full of unused apple trees). And the end of this way are three houses and a wonderful kitchen garden I always admired. This time an older man was working away in the garden and as I sometimes lack modesty, I told him how lovely I think his garden is. Lucky for me he was not offended but even told me that the whole area belongs to one landlord and that there is another garden to be found and if we meet again, he will show me this garden.
After this I regularly walked this route in hope of meeting him again. And we did and he was no fraud but such a lovely person. There really was another garden hidden which lay fallow for years. After some (impatient) waiting, several phone calls and mails with the Landlord, we last week met in person and dared the jump: we rented (we will cancel our newspaper and magazine subscriptions and replace it with the rent for the garden :-D)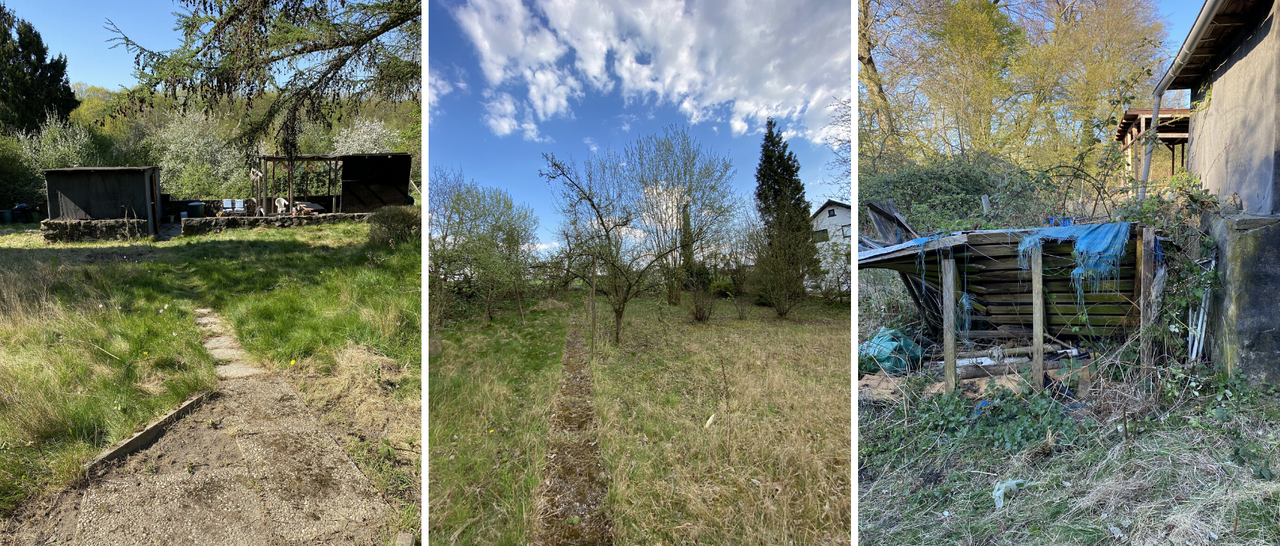 I am sooooooo happy (although the garden has some issues and I guess many people would not call this wilderness a garden). The area is huge, we measured roughly 1000 m² and the property has no electricity and no water. Besides the previous owner (the people who abandoned it some years ago) left behind a rotten garden house – the roof is leaking and therefore the wood is decaying – and a pile of garbage. On the upside is that the garden is in 700 m distance to our apartment which is such a luck… you remember, me living in a big town… and some of the older garden plants survived: I found rhubarb, currents, wine, wild strawberries, apple trees, a quince tree and a plum tree and a lot of brambles. Wait, the brambles are not one of the advantages :-DDD.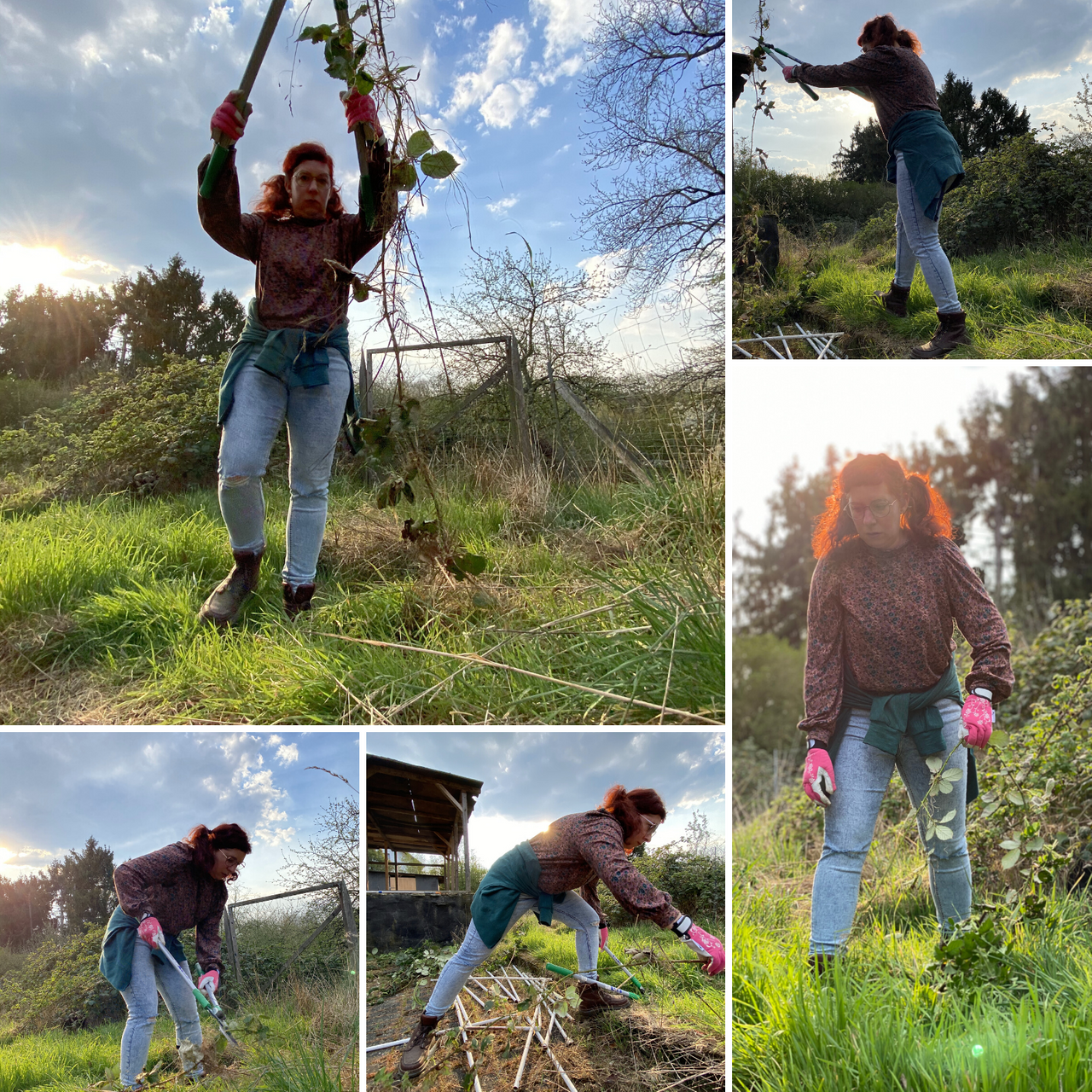 I guess the only thing we did the last days was cutting brambles as they started to overgrow absolutely everything, the shed, the trees, the grass, the flowerbeds, everything.
As this is a needlework post (yes, it is) I will stop with the sentiment, that I now need even more tutoring from you: not only do I still have to learn so much in sewing and knitting, I also have this sourdough challenge waiting, and now I also want to transform the wilderness into a garden and have no clue about gardening.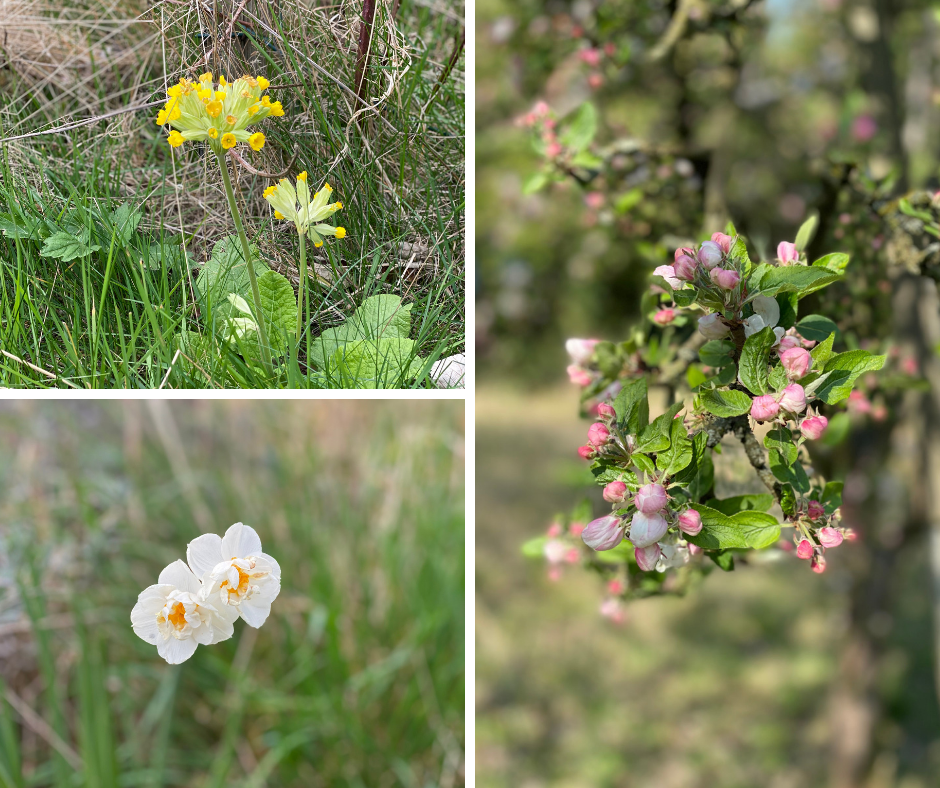 Finally, the needlework… we reached statement two of the blog post's title 'I designed the according high-class clothes'
Yeah, you guessed right, I did not. I am working on a blouse (again) but I did not finish it in time to tell you about it, but I made a funny striped shirt with ruffles which is not really how I imagine big landowners to dress :-D.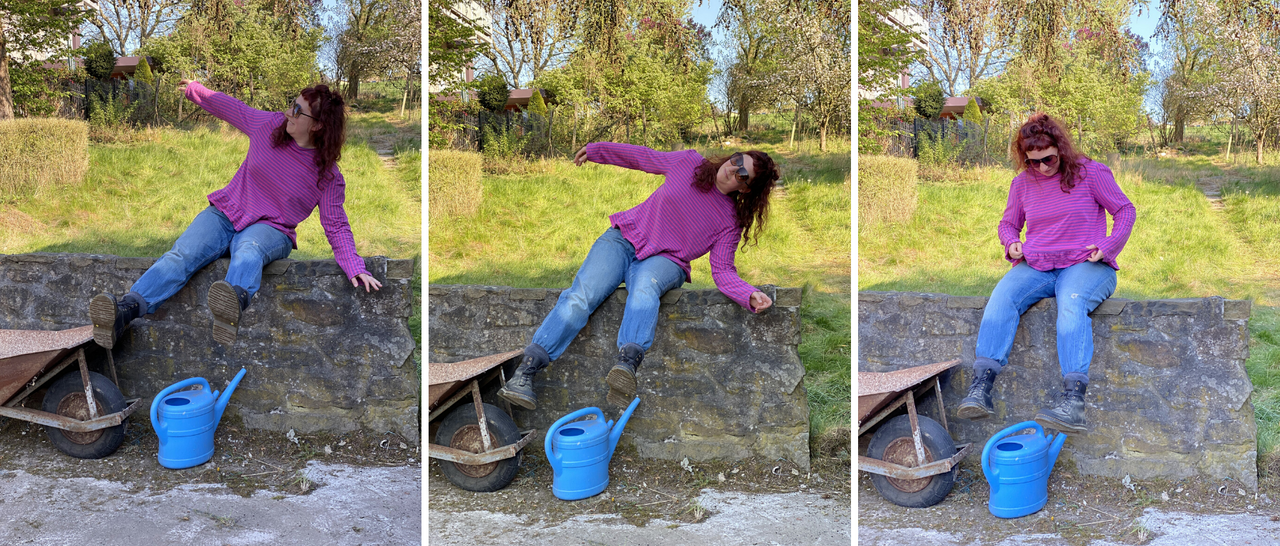 At the beginning of the year I made a list with things I want to do/learn craft wise and on this list was the ruffled shirt. And I did it, but completely different than I originally wanted. While writing the list, I thought about ruffles around the shoulders or the yoke of the shirt, but I sewed the ruffles at the hem instead. One day I found this bright striped fabric in my stash (and it is old, I remember I bought it years ago for a performance, not for sewing). Inspiration hit and I dived into my wardrobe and excavated a grey shirt with a big ruffled hem I really like to wear in winter as it is huge, and I can fit a turtleneck under it. In my mind I saw this with stripes and a bit smaller and so I started to copycat my own shirt.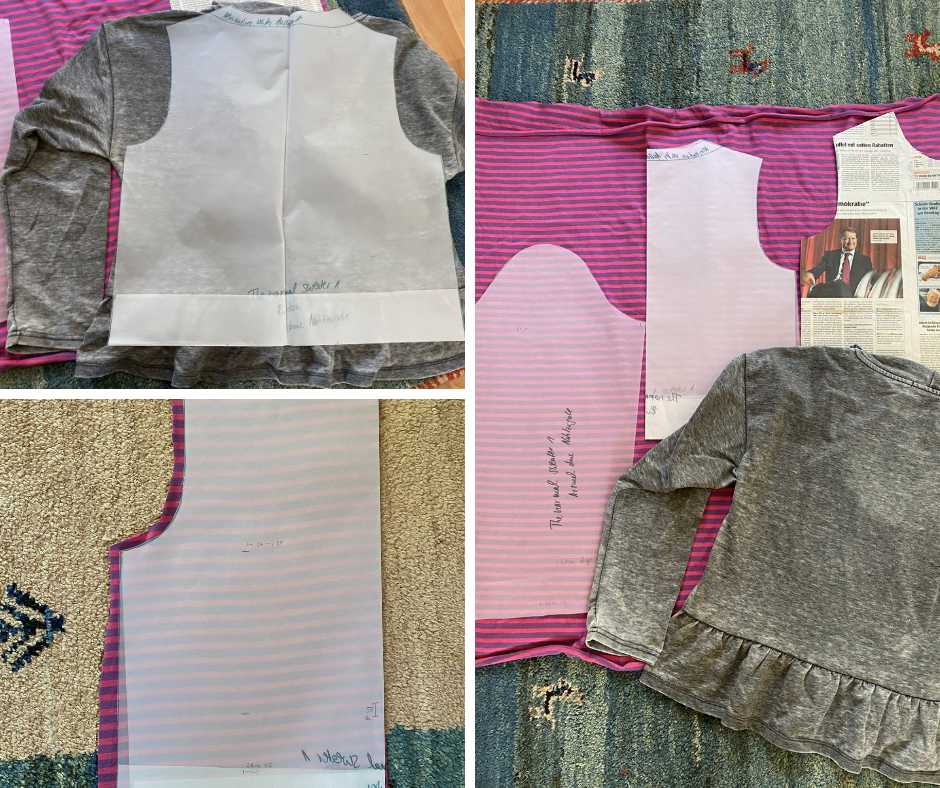 The grey shirt has a very simply sleeve construction which I though will look bad if I make a more tailored version of it, so I decided to use set in sleeves (I used the pattern for my standard sweatshirt to be honest) After fighting a to align the stripes of the fabric ( the fabric was annoyingly contorted) I had the shirt done. Now I measured the width of the ruffle of my grey shirt and did the same for my new striped one. Sadly, I did not have enough fabric (story of my sewing life) so I had to make the ruffle out of several smaller parts and being my inattentive self, I put the seam into the middle of the shirts front ??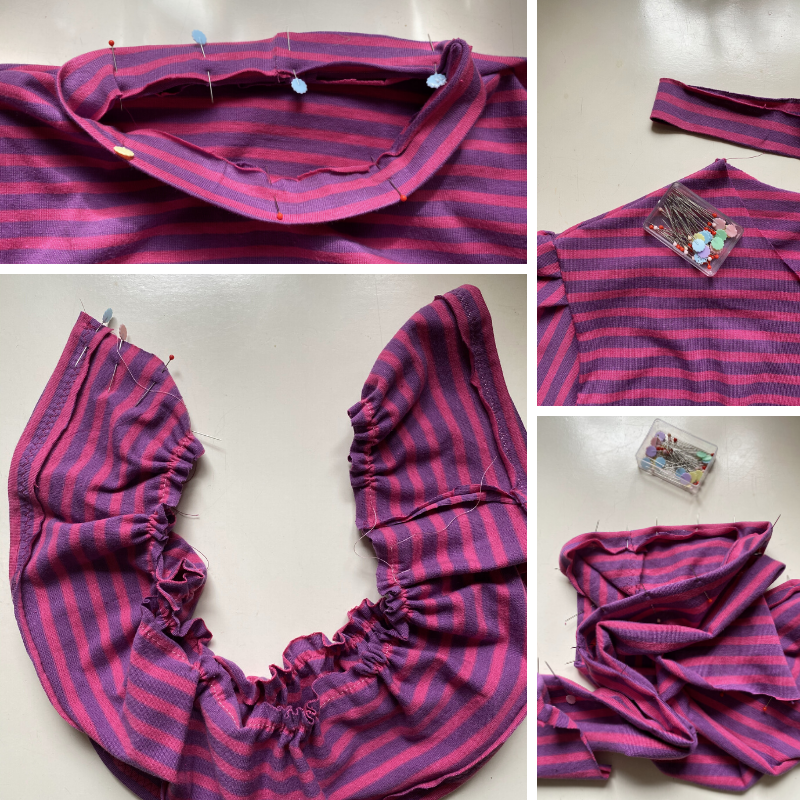 Oh, I forgot I also gathered the sleeves, but they do not sit perfectly, the shoulders of the shirt are too wide. I think this result from the thinner striped fabric, the pattern I used is meant for thicker, warmer sweatshirt fabric.
All in all, I like the shirt, it is no high-class designer garment, but it allowed me to show you several photos of our garden and simultaneously to claim that I have written a #needleworkmonday post.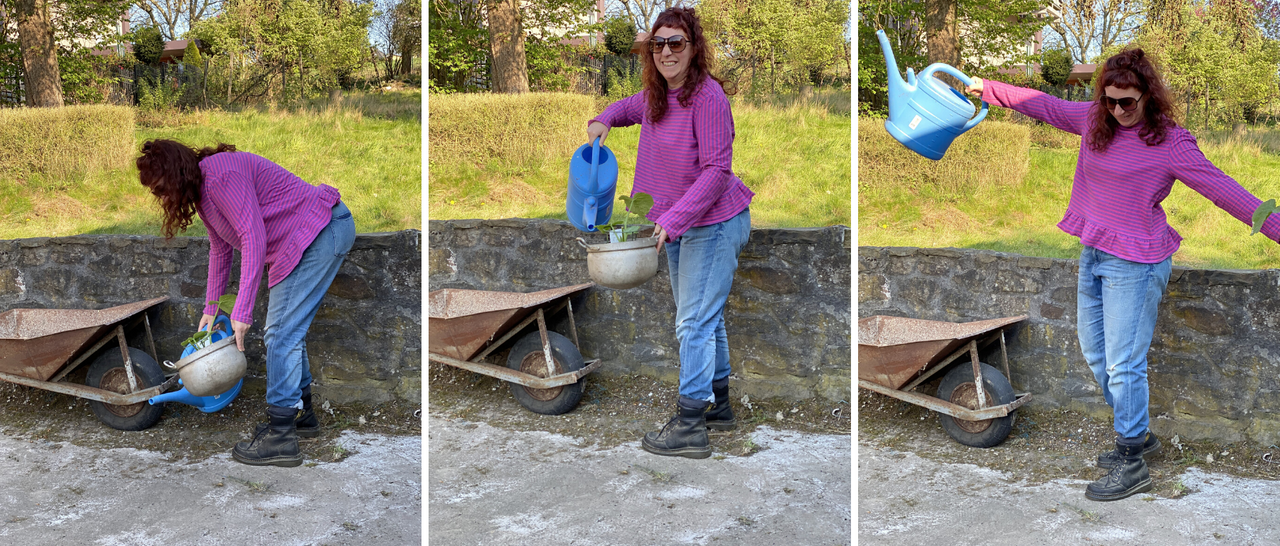 Thank you @crosheille for iniciating and @muscara, @shanibeer, @marblely for hosting the #needleworkmonday. If you want to see more beautiful projects with yarn, fabric and most of all needles, follow @needleworkmonday on hive blog. Or even better grab your needles and keyboard and join the #needleworkmonday community. You can read more comments on this post on my hive blog.
If this is not enough, you can find my post also on Handmade on Tuesday and read even more about knitting and sewing, but beware most post are in German.