I made a crochet chicken for Easter and it was a mistake
Do you know this state of mind when the tiniest question from another person, a needle falling on the carpet, the ripping yarn or the long hair inside your shirt feels so annoying that you want to pretend to be ailed with the blight of Berserk rage? Yes, no?
I mostly get these nervous breakdowns when I am making fiddly small things which I want to give away as a gift. To worsen the situation, add a hefty miscalculation of production time. Translated into needlworkspeech:
I wanted to gift my mother a crochet chicken for Easter and had the idea short before this weekend….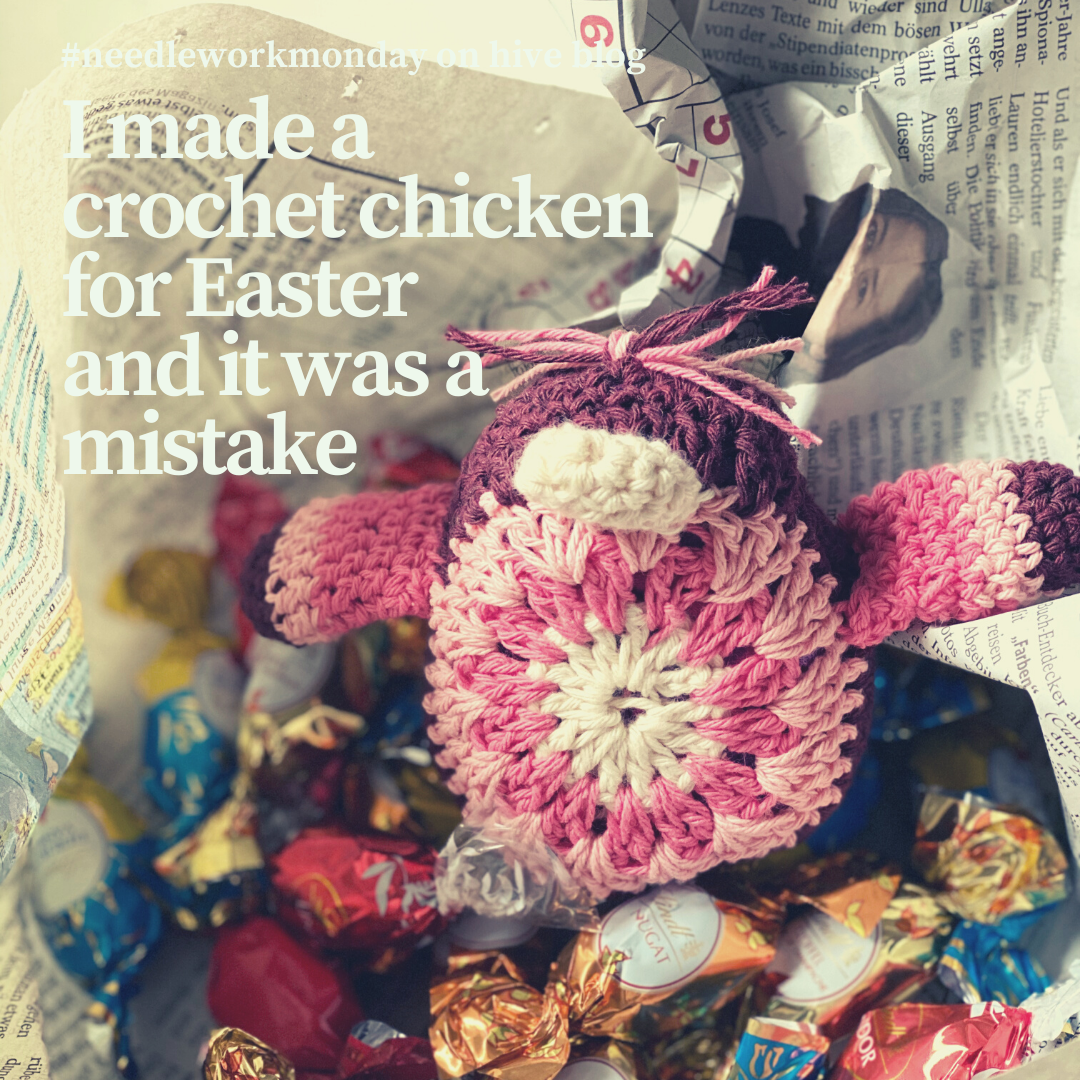 To explain why I plan such crazy things although I know my emotional reaction towards amigurumi I must refer to the corona crisis. My mother loves some special chocolate fillings you can only purchase at Christmas or Easter, one is called "Knickebein" the other "Blätterkrokant" which translates literally into "bendingleg" and "leavebrittle". You see German can be fun ?. The first is a whitish cream of indifferent super sweet flavor (I personally find it ??), the second I assume is brittle toffee in English. Both are sold in a shop for pralines, coffee and other more elaborate sweets. Which is closed. And does not have an online store. Yeah ?? (I hope you understand that this emoji was meant ironically).
So, no way for me to follow my Easter chocolate routine. I had to improvise and as I have crocheted so many cardigans, I mused in my Easter mood, it should be a trivial to crochet an Easter amigurumi.
Should…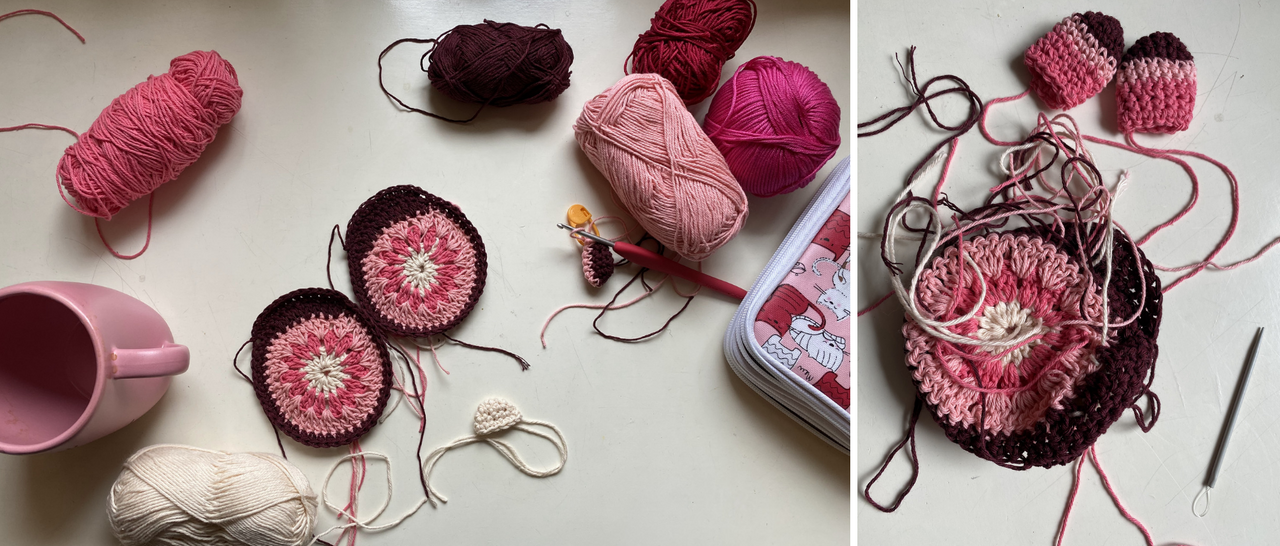 My fibre friend Lisa's Pine Notes had already made several wonderful Easter hangings, bunnies and an adorable chicken. She was also so kind to provide me the free pattern which you can find here. The pattern for the chicken is super clear, simple and absolutely doable… if you like to sew by hand and to work with things which are a tiny bit smaller than a cardigan for a grown-up woman.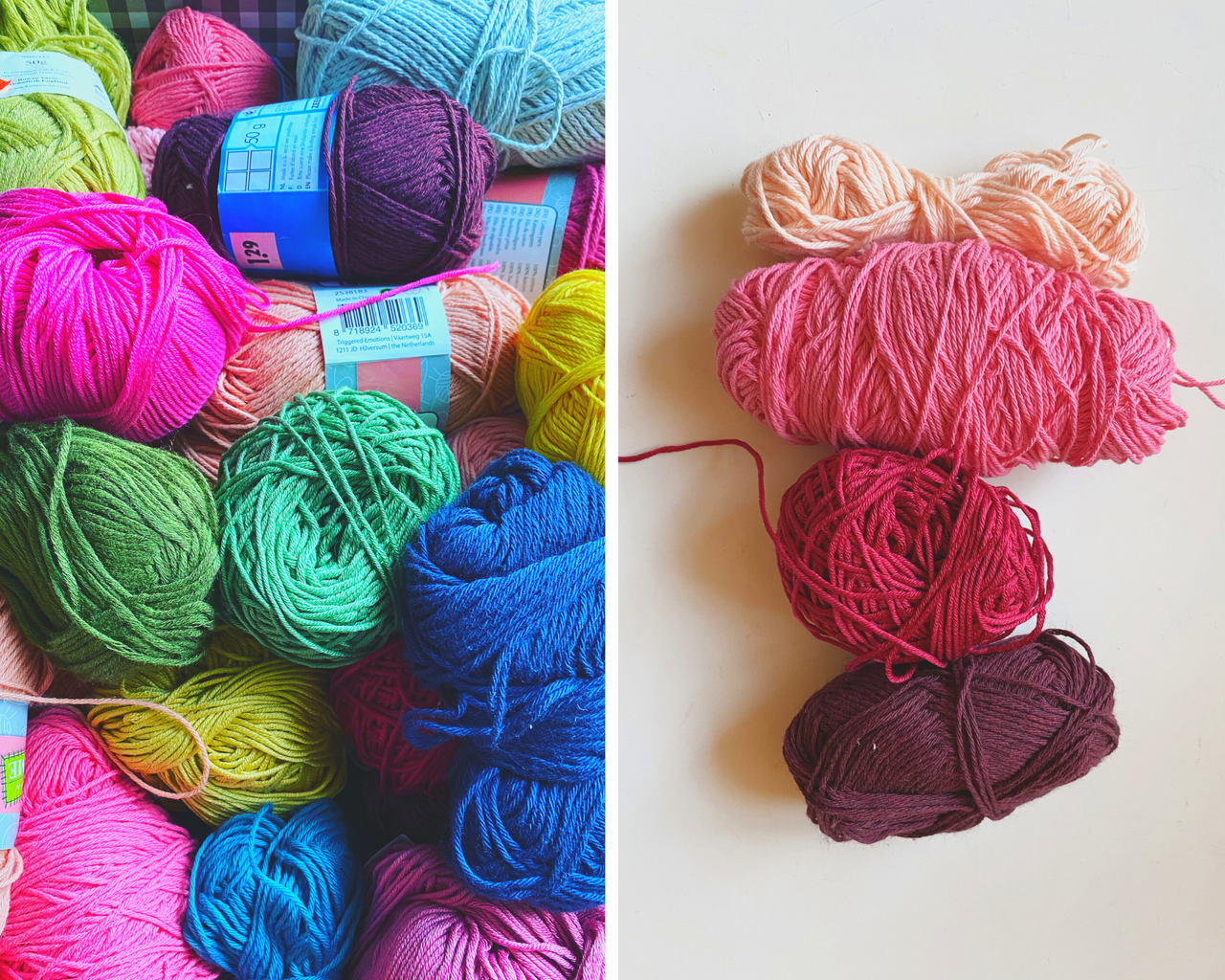 I excavated my cotton yarn box, which is filled with remnants of yarn I used for other gift projects (I seldom use cotton yarn for myself, I somehow dislike the "blunt" feeling of the fibre). And after some minutes of intense thinking I decided to use all pink hues (yeah… you are surprised ???)

I made the body (no problem), the beak (no problem), and the wings (what!!!? I must crochet two of them? I now have the second wing syndrome).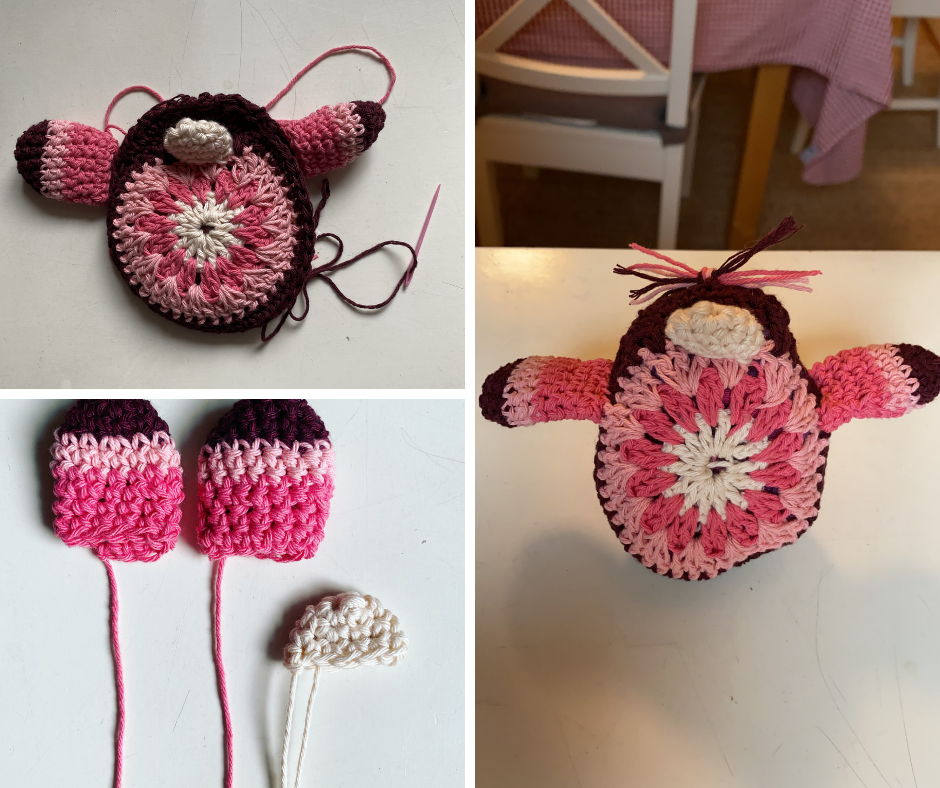 All done I needed a filling, which I did not had, but I had scraps from my sewing projects which are too small to use for anything else (see, I also can be sustainable, if only by accident). Now I started to sew the beak on (I did okeyish) and then the wings… Groan, I did not manage to get them on the exact same height but after about four attempts (read: I tried it once and then gave up) I sewed them on. Now I made the hair out of some yarn ends and done.

Tada! Or wait…. The poor chicken had no eyes. I made a mole chicken ? I forgot that you must insert the eyes before you sew the body together. If you think there will come a wonderful ending, like I decided to embroider the eyes, or to use tiny buttons as eyes. No, sorry, my mother will get a cute mole chicken today.

Happy Easter to y'all <3
(Or if you do not celebrate: Happy springtime)
Thank you @crosheille for iniciating and @muscara, @shanibeer, @marblely for hosting the #needleworkmonday. If you want to see more beautiful projects with yarn, fabric and most of all needles, follow @needleworkmonday on hive blog. Or even better grab your needles and keyboard and join the #needleworkmonday community. You can read more comments on this post on my hive blog. 
If this is not enough, you can find my post also on Handmade on Tuesday and read even more about knitting and sewing, but beware most post are in German.