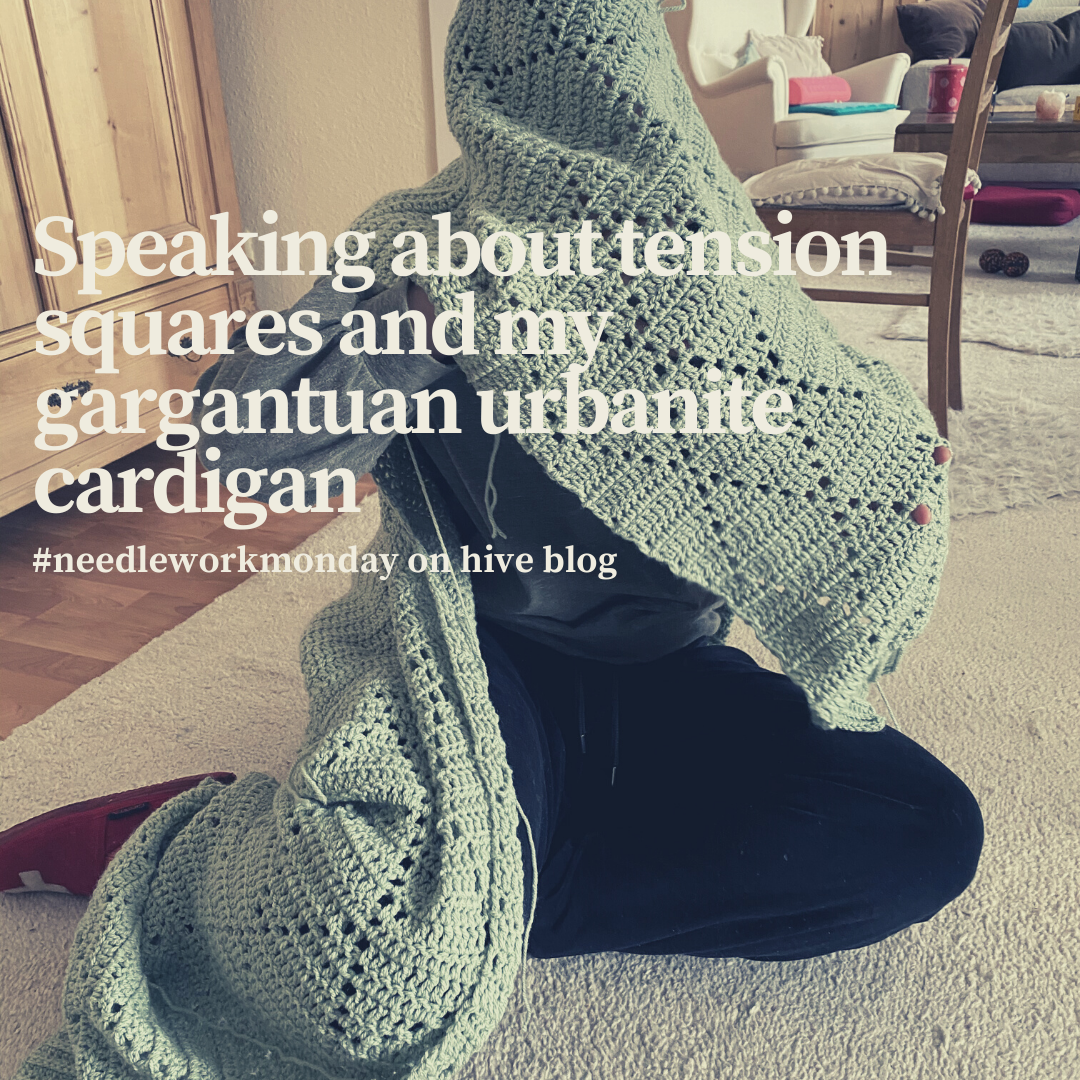 Speaking about tension squares and my gargantuan urbanite cardigan. It's #needleworkmonday and I am not finished with my Urbanite Cardigan. Instead of wallowing about my snail-like speed, I will use this unfinished crochet cardigan to reflect about tension.
Do you make a tension square before you start a new project?
I mostly do although my many ill-fitting garments could make you think otherwise. Actually, I quite enjoy working on this little squares as it is a moment to work without pressure to make something fit, or to grumble about a difficult pattern or or or. I simply can enjoy working with lovely yarn and slippery hooks or needles (I love smooth metal tools… hmmmm… don't get ideas, I do not have a room coated with washable plastic foil and a set of knifes sorted by length… )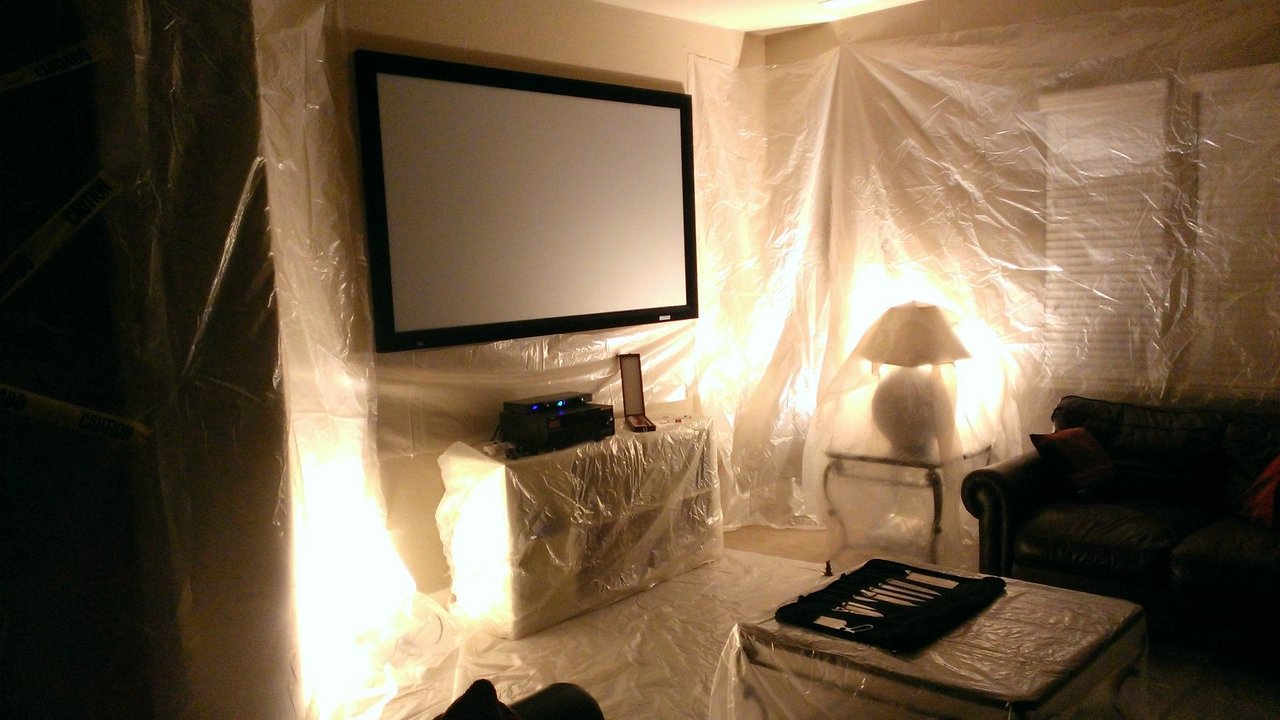 In knitting a tension square is essential for me as I knit very loose and therefore, I have to experiment with several needles sizes to get a fabric which does not consist of holes. Also, I am not good in concluding the finished measurements from a row of cast on knitted stitches.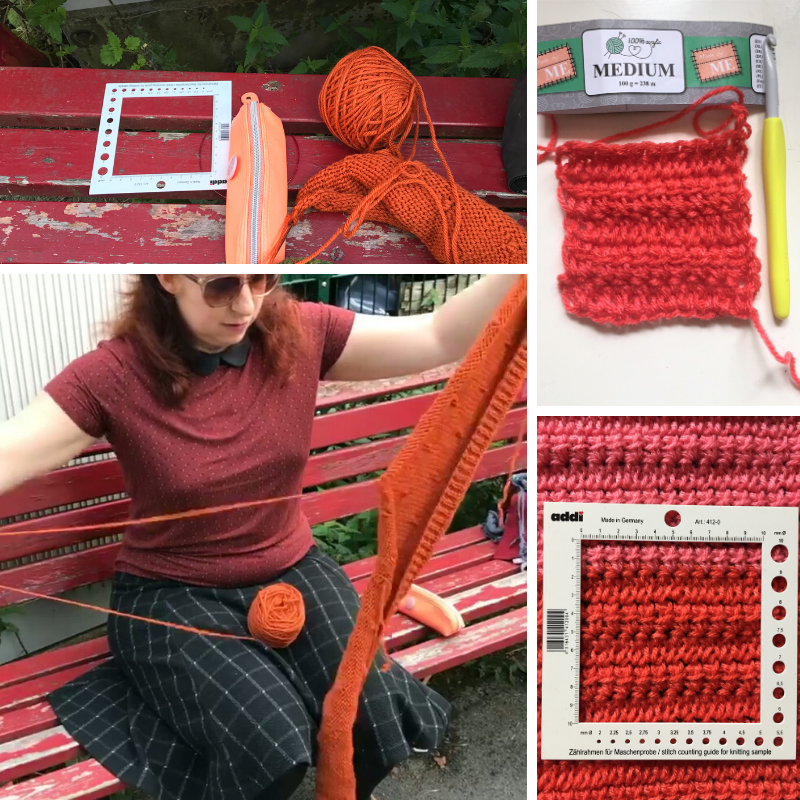 This is different in crochet. As crocheted fabric is less flexible the first row of stitches does not differ vastly from a bigger fabric made of 20 rows or more. Naturally there are exceptions, for example if you use a stretchy crochet stitch which mimics ribbing or if you use front post and back post stitches to form cables, or if there are stitch pattern changes between the cast on row and the latter rows and and and…
For my current project, the urbanite cardigan, the pattern asked for a tension square in double crochet. This is a pretty standard stitch pattern with little stretch. I can hear you thinking 'oh no, she omitted the tension square for the urbanite cardigan because she felt sooo accomplished in crochet' Ok, maybe I have such petty thoughts about myself not you. But no, I tested the yarn and played with hooks sizes. Mainly to get a compromise between the required stitch count of the pattern and my dislike of stiff crochet fabric. The pattern called for a 5 mm hook and a yarn with 170 m / 100 g to achieve 10 x 10 cm with 15 dc in 8 rows.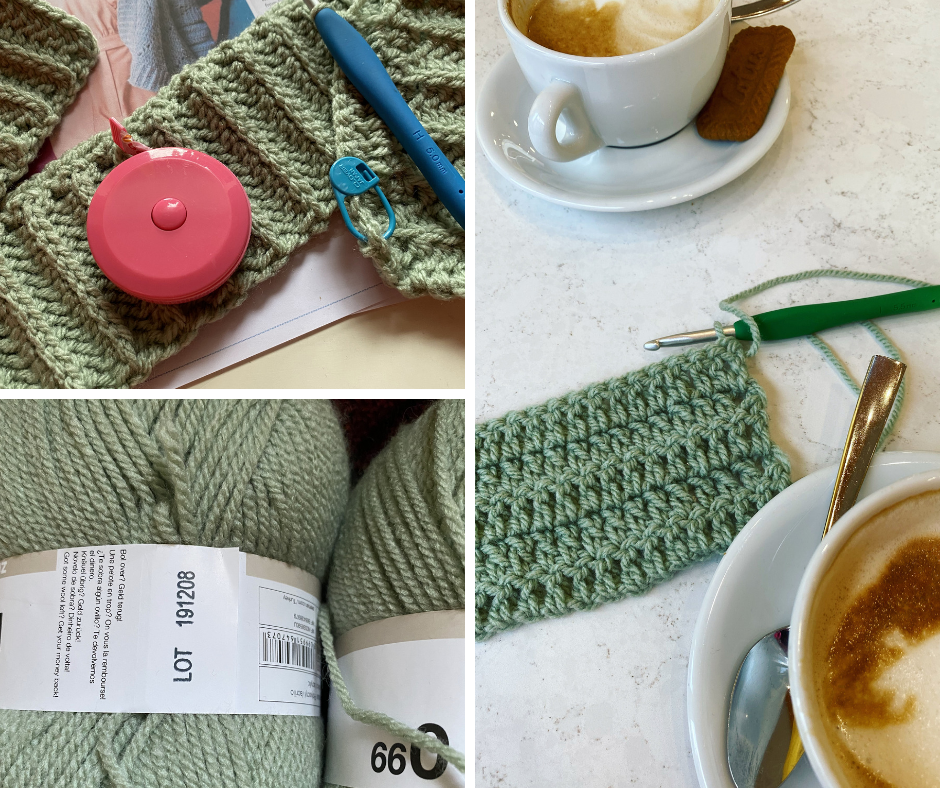 Sitting in a café with my loved one (whom I forced to take photos) I played with my wonderful mint yarn and various hook sizes. I admit buying the yarn first and only afterwards checking if it fits the recommendation may be not the best way, but it is the way of yarn (tells me my inner zen master). The yarn I have chosen for the project runs theoretically with 241 m / 100 g much thinner than the pattern asked for. But my yarn is a cheap acrylic variety (I sometimes feel a bit of shame for this choices, but I could not have made this with a more expensive yarn… the pattern asked for 800 g of yarn) and is therefor much thicker than the yarn used in the pattern which is made form wool and nettle. I would have loved to use a 6 mm hook as I liked the drape of my tension square with this bigger hook, but this was no way near the 15 stitches for 10 cm. My compromise was 5 mm hook, stiffer but okeyish fabric and a stitch count of 14 stitches and 7,5 rows. I finished my coffee and was satisfied with the world and my yarn decision.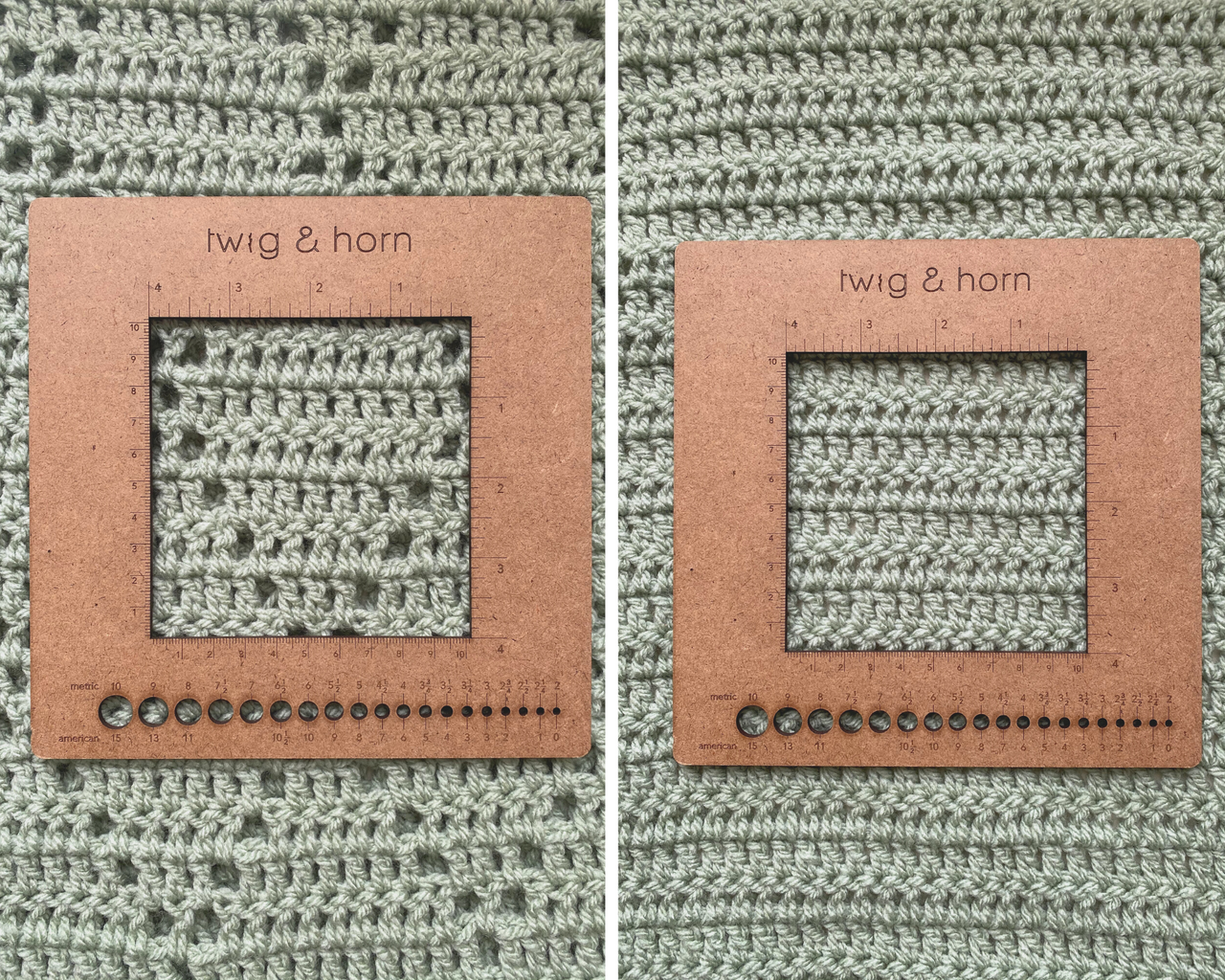 Some weeks ago, I already told you that my tension relaxed a bit (1 stitch per cm) and the backside of this cardigan looked gargantuan. So much to my skills of crochet-tension-estimation.
I am not sure why this happened, perhaps after knitted more I only found my natural tension in crochet after some more rows than I made for the tension square? Did this also happened to you, that your tension changed during the knitting or crochet process?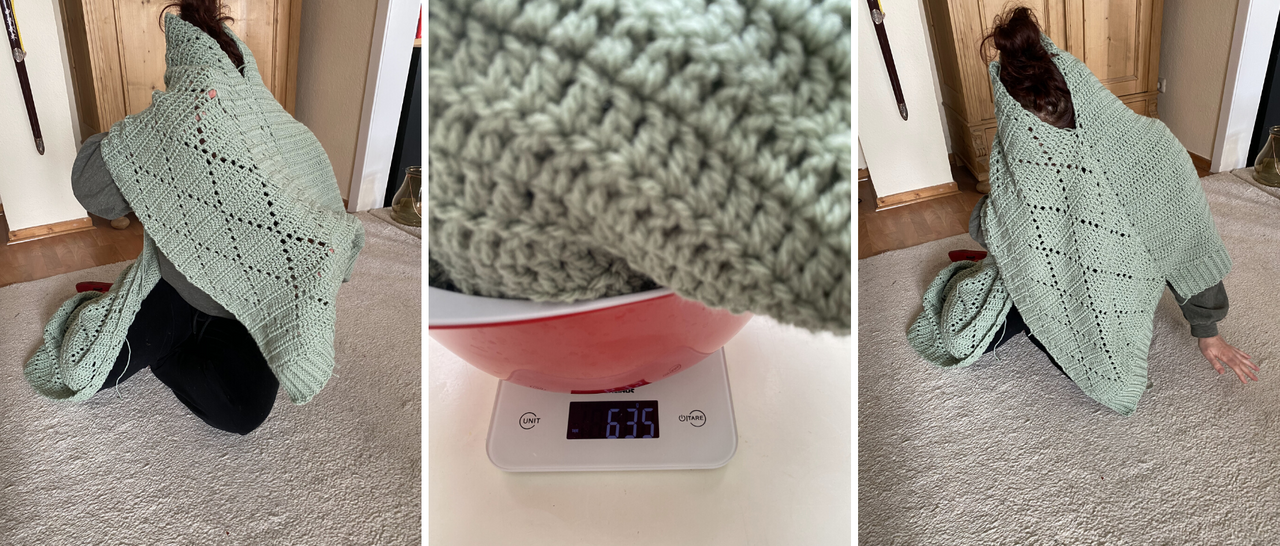 Now I am sitting here with this blanket like cardigan which already ate 636 g of yarn and the sleeves and ribbing are still missing. Today the cardigan measured 196 cm (with the non-finished ribbing)… 196 cm width. Cute or?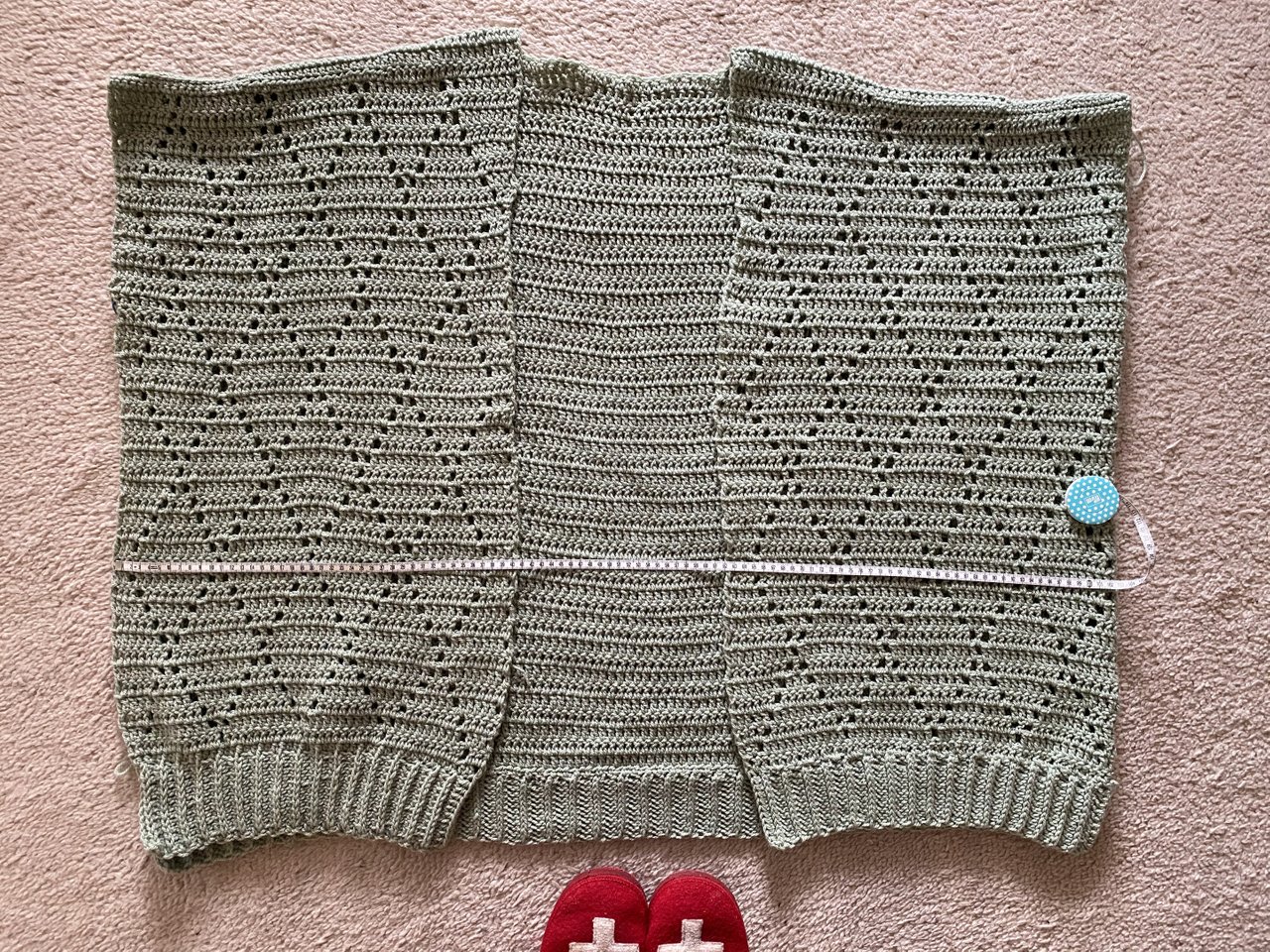 These are 30 cm more than the size I have chosen. But even more surprising is the length, (I know the width difference is no surprise considering my tension). My cardigan measures 85 cm lengthwise, a whopping 33 cm more as in the pattern stated, and my row count is hardly different from the one the pattern called for, very strange….
Against all odds I will persist. I will finish this blanket – ahem cardigan. And I will wear it proudly, if only for one photo shoot to make you smile.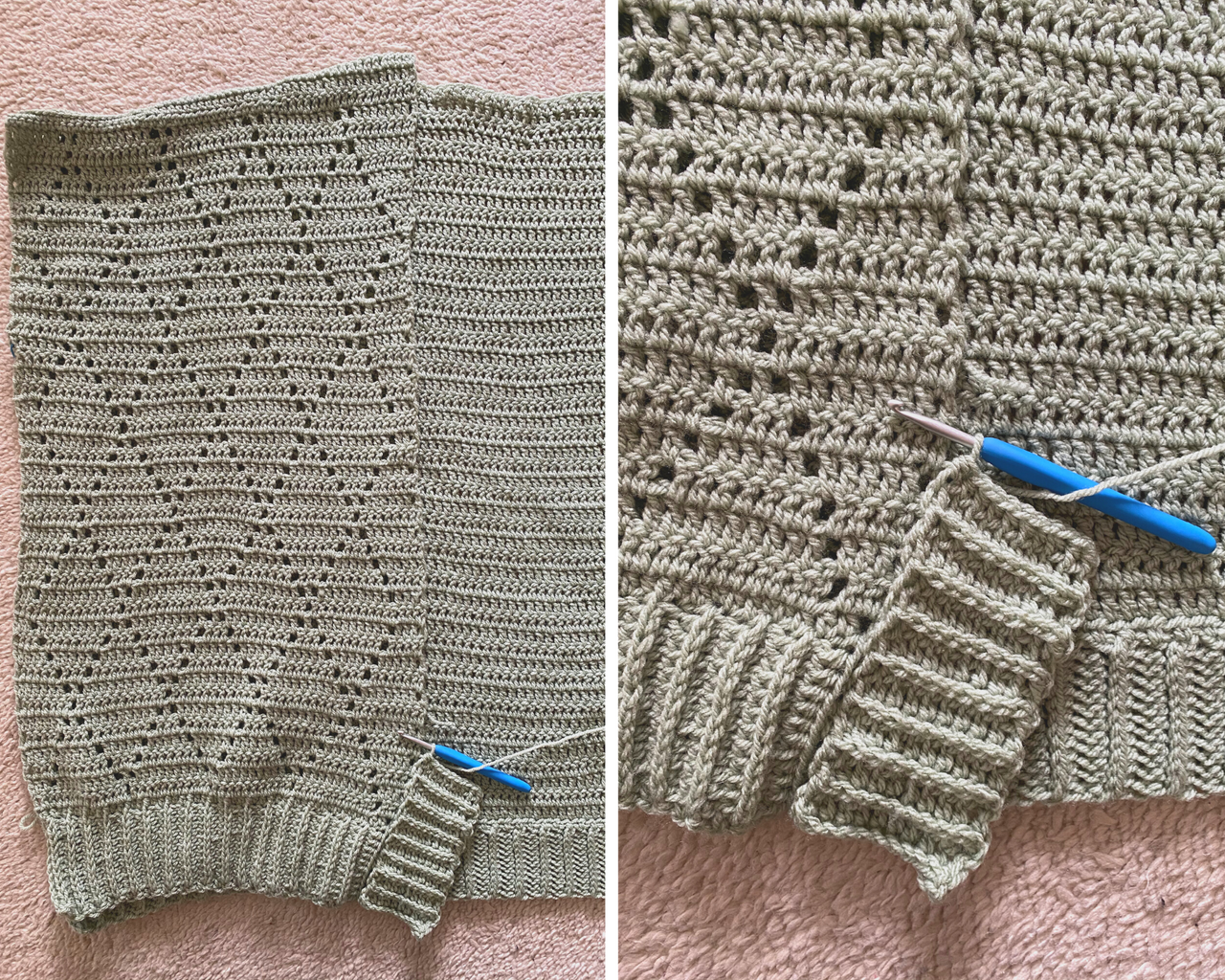 PS: I am unsure if I should crochet the ribbing around the neckline and the fronts or if a simple/smaller twisted single crochet border would be nicer?
Thank you @crosheille for iniciating and @muscara, @shanibeer, @marblely for hosting the #needleworkmonday. If you want to see more beautiful projects with yarn, fabric and most of all needles, follow @needleworkmonday on hive blog. Or even better grab your needles and keyboard and join the #needleworkmonday community. You can read more comments on this post on my hive blog. 
If this is not enough you can find my post on Handmade on Tuesday and read even more about knitting and sewing, but beware most post are in German.