Today is the day of settlement, the truth will rise to the surface and penance must be done:
I finally finished my first Rönn cardigan and it is absolutely wearable (but I maybe have casted on another one months ago and I bought this lovely striped cotton yarn for it and had the crazy idea to knit it bigger although the first cardigan fit perfectly and I never doubted that lavender would flatter my pinkish skin tone or that the oversized fit would look like a sack on me)
Inhale ….
Exhale…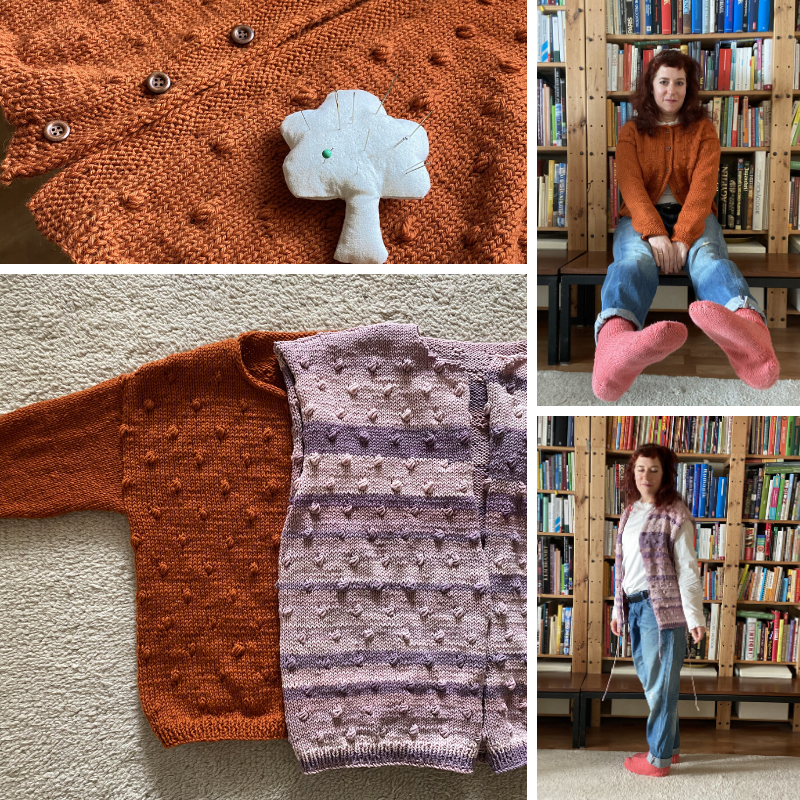 The construction and knitting process
You remember my Rönn cardigan, this lovely design from The Weststrand Sisters. I started the project in summer (I will not mention the year…) with a sturdy organic wool in burned orange. I have chosen size 103 cm and I am really pleased with the length and width of this cardigan. The sleeves could have been a tad wider to be perfect for me. But my wool is thick so I guess that the sleeve width would feel different in a softer yarn…. (message for myself, if I will knit it again). The cardigan is knitted bottom up in one piece to the underarms and I am happy that I know have learned this technique. I still prefer to knit from the top down, but I am amazed that the cardigan fits good, without me having the possibility to try it on during the knitting process. I especially love that the shoulders of the Rönn cardigan are knitted with short rows, which results in a slightly sloped fit. The sleeves also make use of short rows, but I am not sure why this technique was implemented, as the sleeves are not fitted but dropped down… hmm do you have ideas?
Button band and neckline are finished with an i-cord, also a new for me technique which I find very pleasing: I love the thick and sculptural form of the I-cord.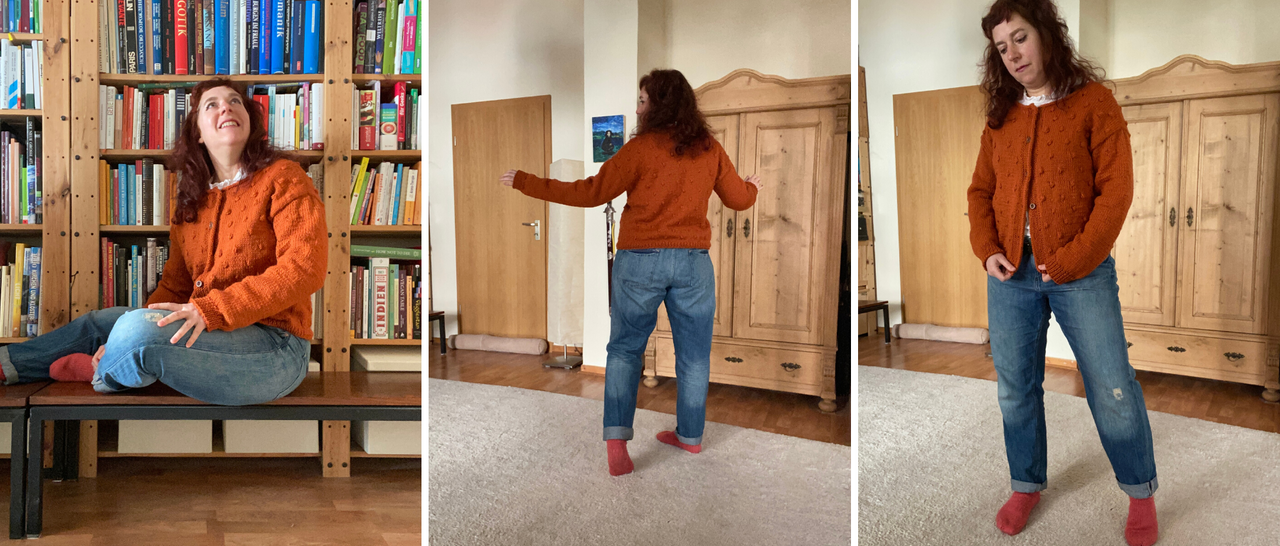 The button dilemma
Due to the quarantine order, I was on the one hand able to overcome the second sleeve slump, but I also was totally on my own for sewing in the yarn ends and even worse, sewing on the buttons.
I pondered to drive to Silvi and throw the Rönn cardigan at her door, hoping that she will telepathically divine that I am emotionally unequipped to sew buttons on a cardigan. In my defence, I pondered this roughly for an hour. Then I tried to coax my husband into sewing the d*** buttons on… As an attentive reader you already noticed that some of the buttons are still missing… that's not on me, all my employees loved ones were busy. Life is tough.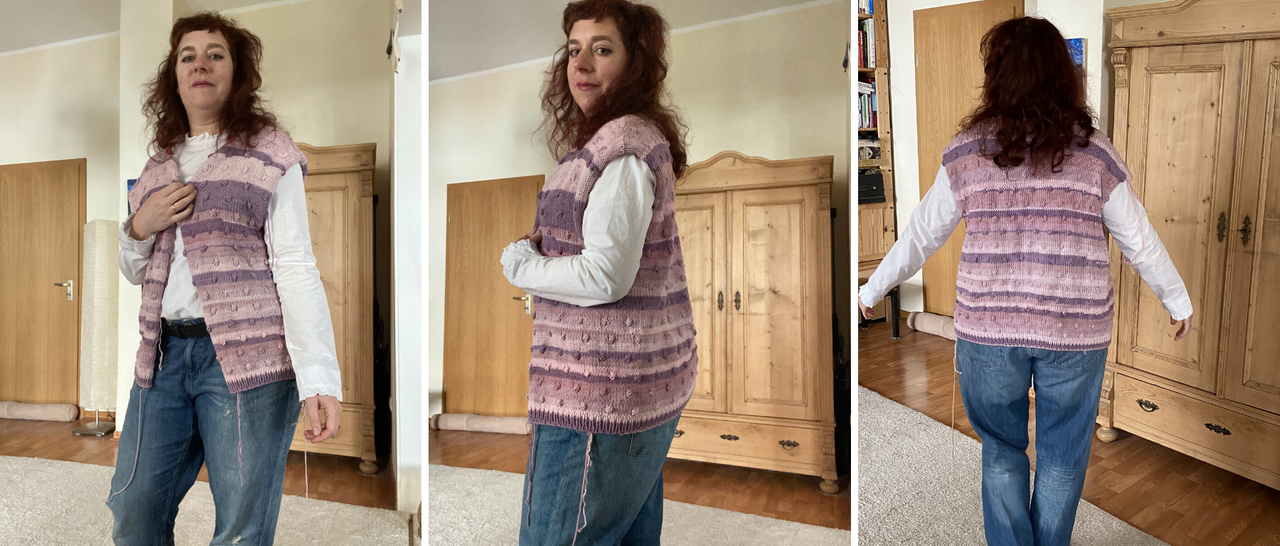 The bad one
While still having the first Rönn cardigan unfinished in a box, I stumbled over a beautiful self-striping cotton yarn in various shades of lavender, beige and pink. I bought it and directly casted on another Rönn cardigan, but this time one size bigger to get wider sleeves and an overall more relaxed fit. I knitted and knitted and now I tried it on…. And it looks ?. The ribbing hits me exactly at the wrong place. It is much too wide at my back and in this way accentuates my big backside even more. I am so angry at myself. I really wanted to use my quarantine drive to also finish this second Rönn, but now my energy vanished into thin air.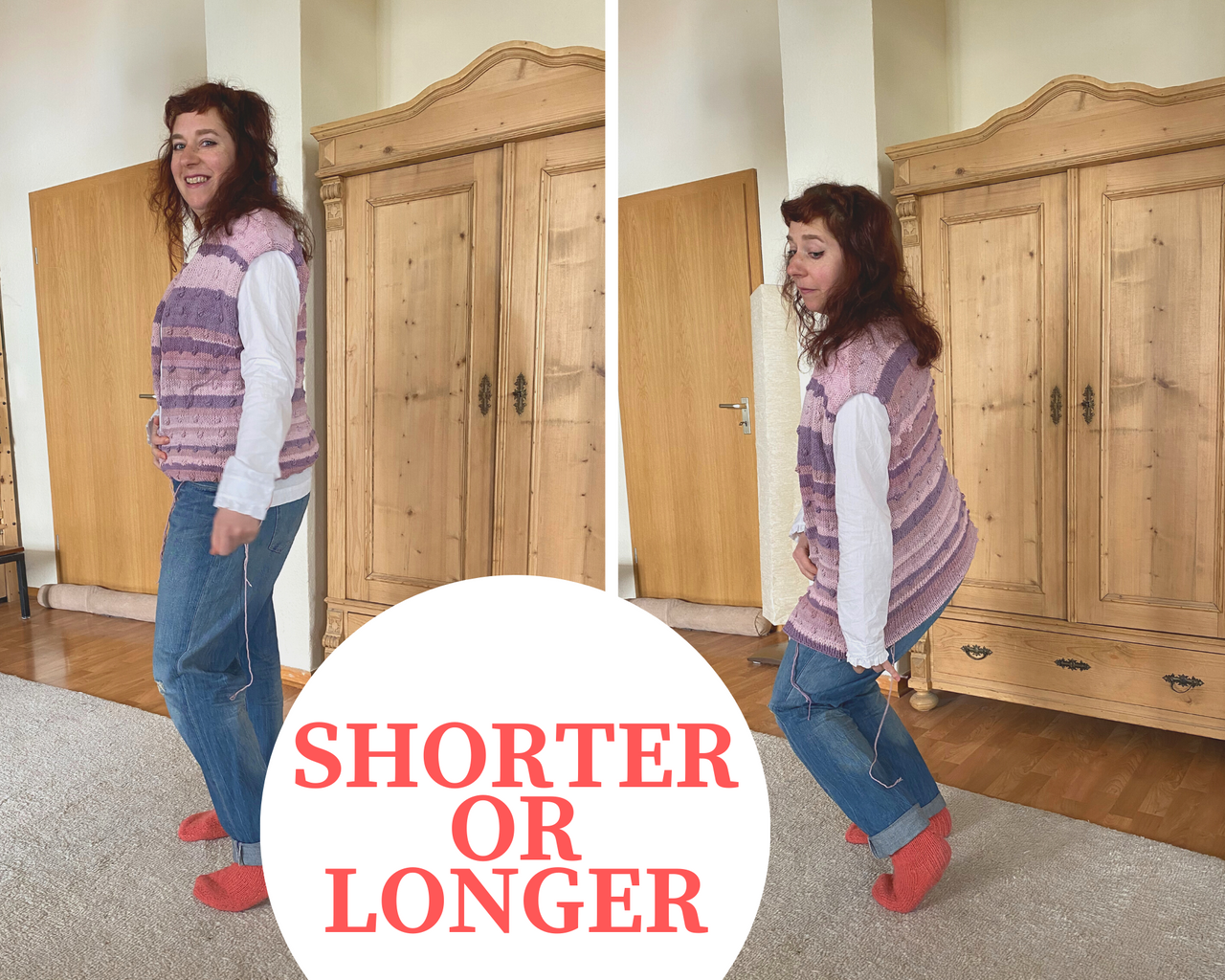 Look at the cardigan and please help. Here are some ideas I have to perhaps rescue it:
Unravel/cut it to shorten the cardigan.
Unravel/cut the ribbing and knit it even longer, like a coat (not sure if I have enough yarn and if it will look ok, as I am knitting in the wrong direction)
Gifting yarn and half-finished sweater to Silvi, who likes her cardigans longer.
Burn it…. Maybe this doesn't count as rescuing.

I hope you have some creative ideas, and even more do I hope that you are all well.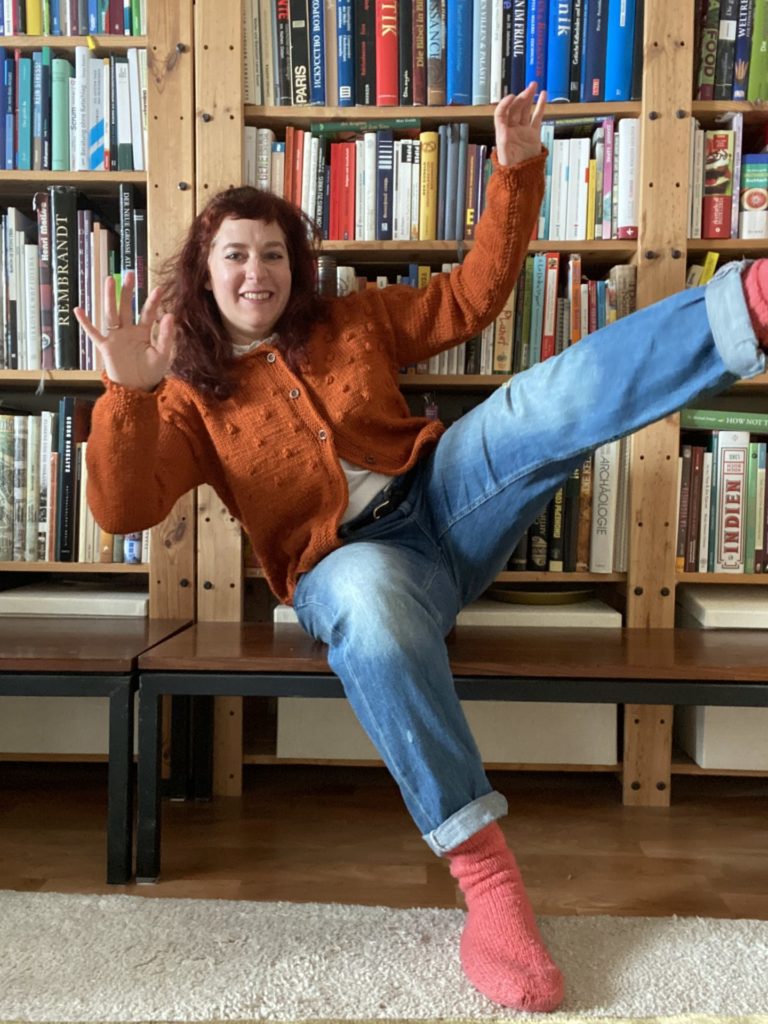 By the way if you wondered because of the photos if we have furniture in our apartment: no, we don't, we have only books ???
Thank you @crosheille for iniciating and @muscara, @shanibeer, @marblely for hosting the #needleworkmonday. If you want to see more beautiful projects with yarn, fabric and most of all needles, follow @needleworkmonday on hive blog. Or even better grab your needles and keyboard and join the #needleworkmonday community. You can read more comments on this post on my steempeak blog. 
If this is not enough you can find my post on Handmade on Tuesday and read even more about knitting and sewing, but beware most post are in German.