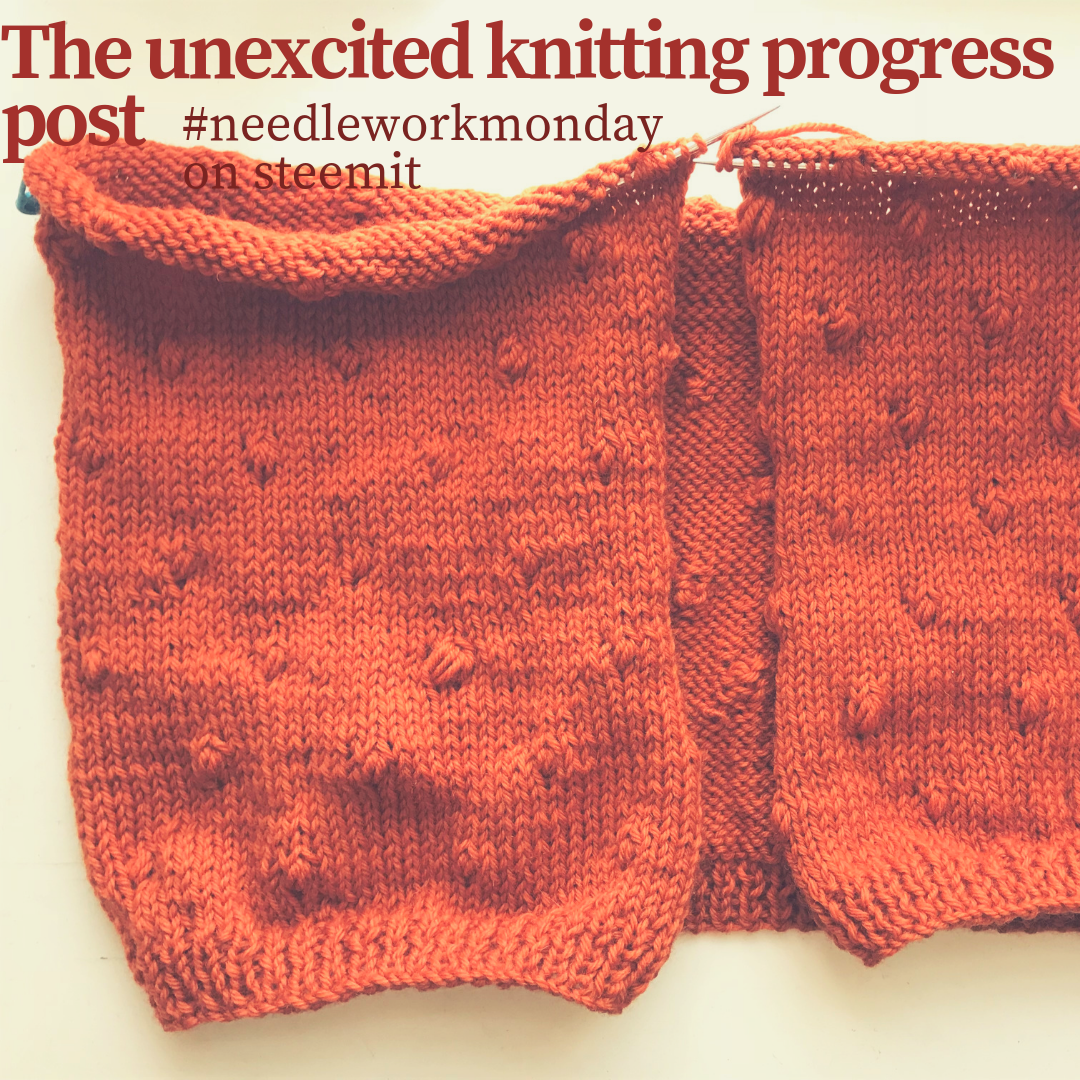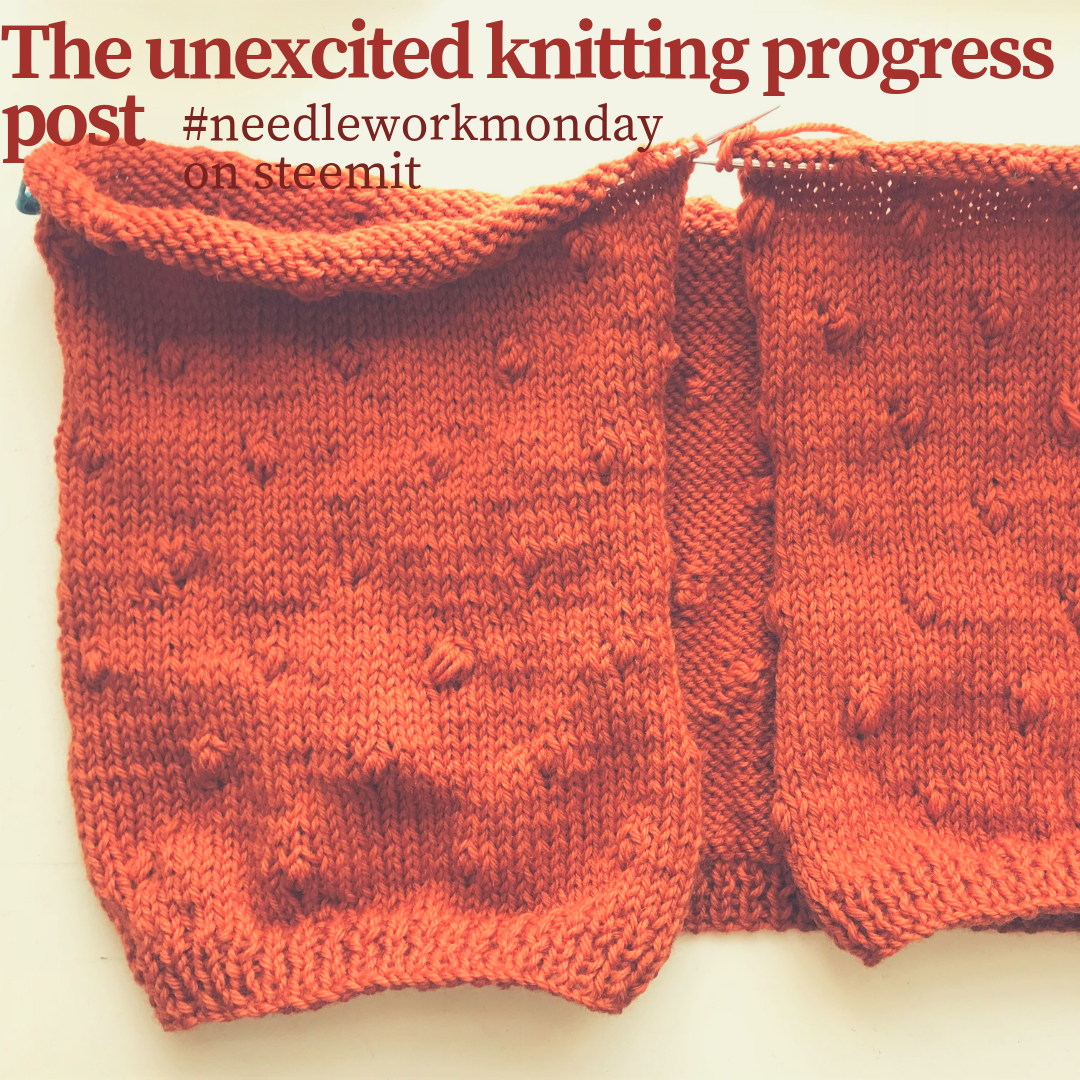 Nothing exciting on the knitting front to announce… My green and very tight vintage sweater is finished and waiting for someone who will sew in the last yarn ends. The yellow sweater is currently sleeping in a box, because the 'in-the-round-knitting' hurts my fingers … no idea why. I hope this will go away, so I can finish the sweater. And one stripy cardigan is waiting for a second sleeve :-DD
But my main project should be something completely different – sigh – and I am stalling avoiding procrastinating: I should knit/crochet the fiber part of another sculpture which must be ready in the next weeks and I should also start the clay part of yet another artwork. They will be a competition entry (together with the mask you already know) with a deadline on September 30. But as I am not too convinced I will be chosen for the exhibition my motivation is low (shame on me).
Therefore I answered my to do list with the prudent crafters solution: I started a new cardigan. 😀 To have a reasonable excuse I did not start another top-down cardigan but I tried myself on a for me new construction. A bottom up cardigan with separate front and backs and set-in sleeves. My selected object of distraction is the Rönn cardigan  from the Weststrand Sisters. You must visit their ravlery account, they have sooooo beautiful designs and I also love their photos.
The Rönn cardigan is a boxy design with little dots (not sure if they are called like this in knitting). Their construction of these dots is similar as I would do them in crochet, so not too hard for me 😀 On the knit row there are worked 5 stitches alternately into the stitch on your needles and into the stitch beneath it. To get visible bubbles, the 5 stitches must be very loose – no problem for me as I am Misses loose knitter 😀
I had the perfect yarn for this project already in my stash, so there was no delay in my distraction. After swatching I decided on the second size and this was my first mistake…. But as you now me, I am stubborn and although I found the amount of yarn immense which went into this jacket I carried on, and on, and on… Up to the point when I went out with Silvi to knit in the sun and she asked if the cardigan wasn't a tad big!? The sun was shining, we had some ice-cream (with a side dish of wasps) and I embraced the idea to unravel the sweater.
Nevertheless, I was miffed and wrecked my anger out on the actually lovely burnt orange eco yarn (Wolle Traub). I immediately swatched with another stash yarn, a green tweed yarn I bought from a shop liquidation. But common sense won, and I simply started anew in a smaller size but with the same orange yarn. So, after all this writing I am still on the body of the cardigan. I have no idea if this different way of knitting a sweater will lead to a fitting garment. But as you see I developed an highly elaborate distraction strategy for avoiding work :-DDD
As so often thanks to Silvia you can see me unravelling the cardigan, because she made the photos 😀
Thank you also @crosheille and @crystallize for hosting the #needleworkmonday. If you want to see more beautiful projects with yarn, fabric and most of all needles follow @needleworkmonday.