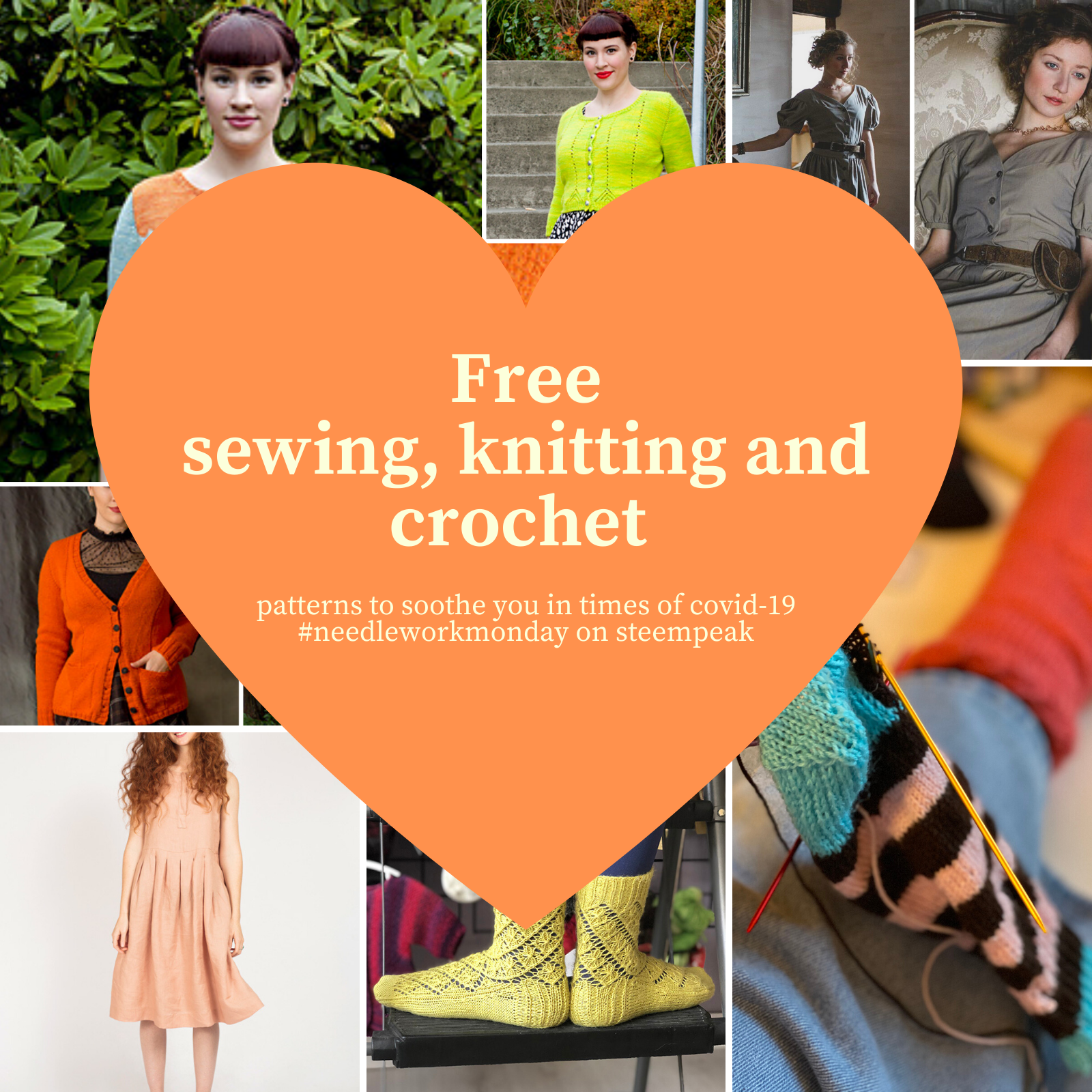 Free sewing, knitting and crochet patterns to soothe you in times of covid-19
You all know I lost my father and a good friend last year and I now fear intensely for my mother, who is at risk because of her age. I am sure you all have loved ones (or perhaps yourself) who need extra attention so that they/you can stay healthy. I guess you all have heard the advices often enough so I will fully concentrate on knitting, sewing and crochet. Yes knitting, sewing and crochet, because these crafts can keep us occupied and of the streets (this sounds more like an advice for troubled children ?)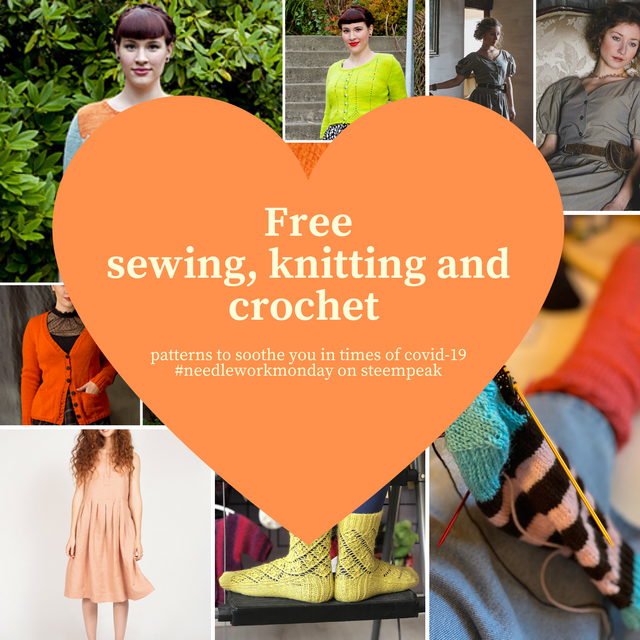 I want to start with a goody: Andy Satterlund, an in my eyes amazing knitwear designer gives to every person one of her fabulous patterns away for free. You must be a Ravelry member (something everybody should absolutely be in my view ???) and then you need the code STAYHOME to download one pattern for free. (I also posted the link into the #needleworkmonday discord channel, but I am not sure if you all visit it regularly. Perhaps during quarantine the channel can help us to not feel alone, to reassure or to just have a bit more fun)
And there so many beautiful patterns. Andi is best known for her vintage oriented style. Many of her sweaters and cardigans are cropped and tailored with beautiful patterns. Her explanations are highly praised and seldom are there mistakes. But fear not, if you like a longer cardigan or want to work on a top or a hat, she also has this kind of pattern. Although most of her designs are for knitters, she also has a wonderful and very special crochet jacket in her portfolio. So, this should be enough incentive to got to her Ravelry profile (and maybe even buy anther pattern to support her).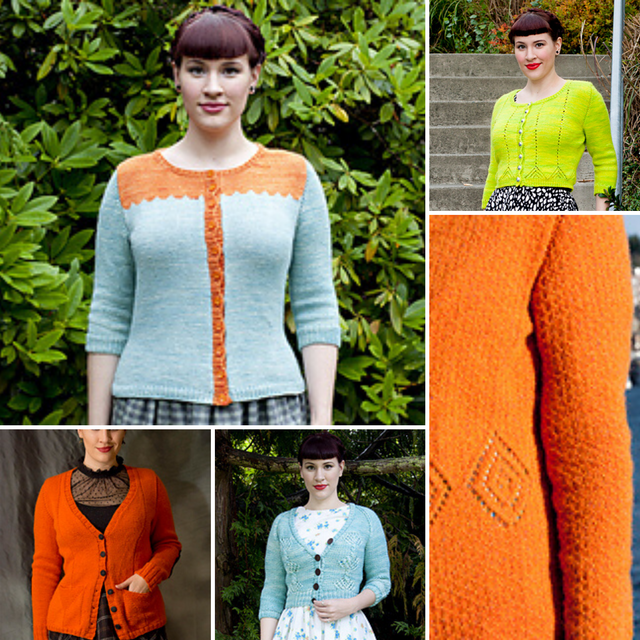 I am so grateful for this opportunity and find it very kind of her, to give a pattern away for free in these times of stress (if you are reading this Andi: thank you so much!!!). I hope you all love her designs as much as I (remember the Miette pattern I already knit two times: one too big, one perfect)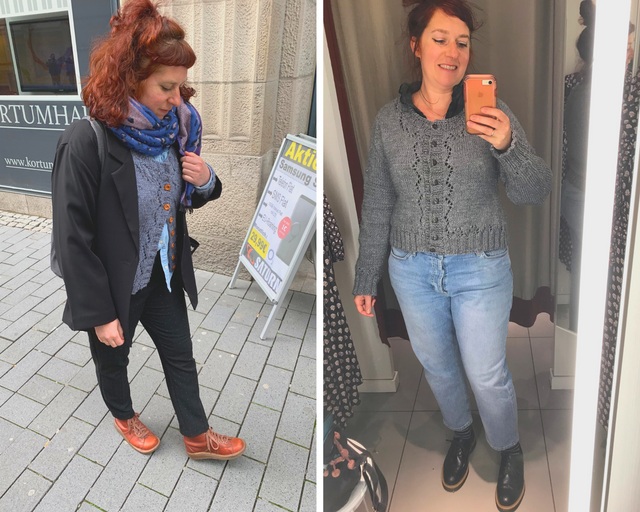 Before I hint you to more free patterns I first need your opinion, because I cannot decide which pattern from Andi I should get. Currently I am torn between: Ichabod, Blaster, Henriette, Zinnia and Penelope which you can see on the uppermost photo. HEEEEELPPPPPPPPP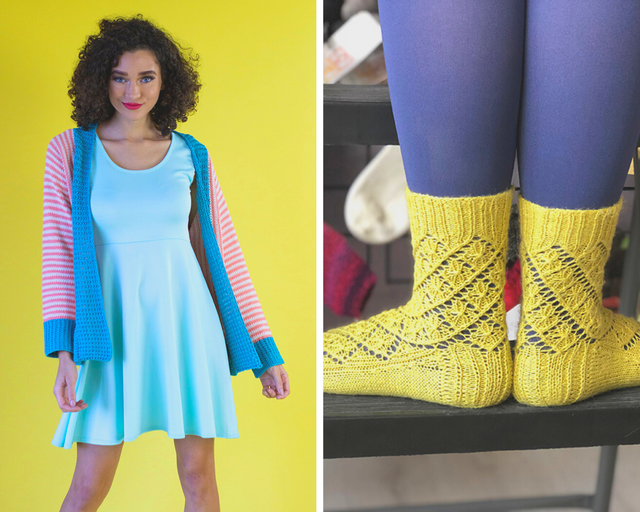 I am sure someone wrote already about this free online magazine, but it cannot be wrong to mention it again: knitty.com All free. Everything. And in the current edition there is stripy cardigan with a color combination I love: it's called grapefruit.The Magelind socks are also tempting but far above my skill set in sock making 😀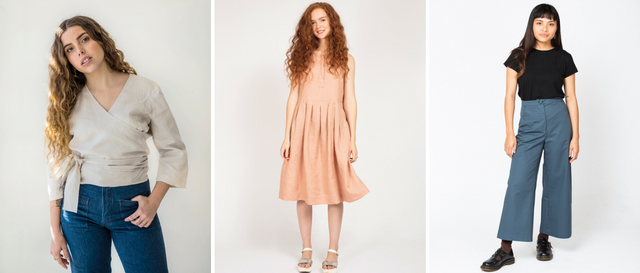 And for the sewist there is Peppermintmag with a whole library of free patterns which are extra designed for this magazine. The patterns are a mix of basic and stylish which I really love. One day I am fearless enough and will sew their wide-leg pants. The trousers come in 10 sizes from a waist measurement of 61 cm to 116 cm. I find this remarkable for a free pattern. You can download the patterns and instruction on their website, no signing in necessary.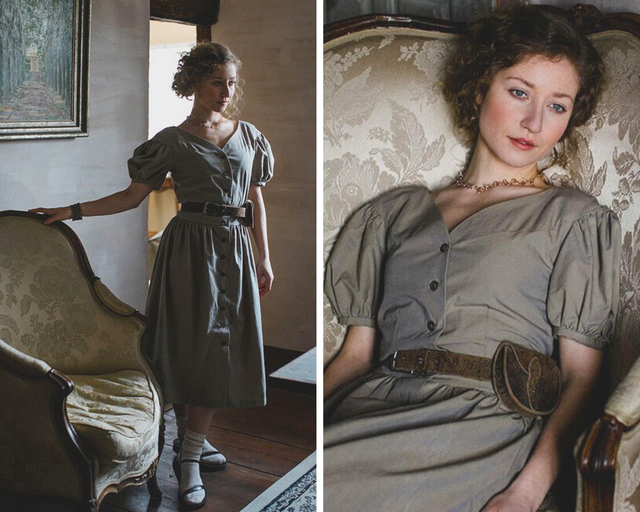 My last found is this a magazine SisterMAG you can read for free in German and English. And in every edition it gives you one sewing pattern for free (you can find several more inside but you have to pay for them). I fell in love with the sand-coloured chambray dress which looks opulent like a historical costume. Sadly, you only get one size for free, but I dream of changing this pattern to my size.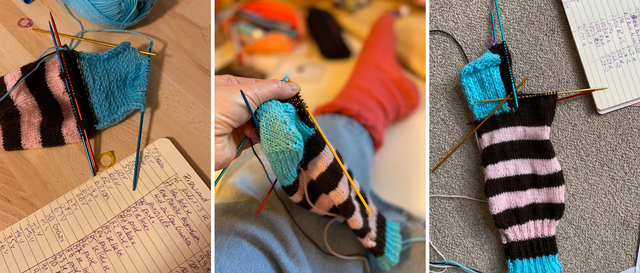 While I lust over all these wonderful patterns, I constrain myself and work on my husbands socker socks (very old project… shame…)
I hope I could provide you with a bit of crafting distractions. I will try to send you all anti-virus beams.
????????
Thank you @crosheille for iniciating and @muscara, @shanibeer, @marblely for hosting the #needleworkmonday. If you want to see more beautiful projects with yarn, fabric and most of all needles, follow @needleworkmonday on steemit. Or even better grab your needles and keyboard and join the #needleworkmonday community. You can read more comments on this post on my steempeak blog. 
If this is not enough you can find my post on Handmade on Tuesday and read even more about knitting and sewing, but beware most post are in German.