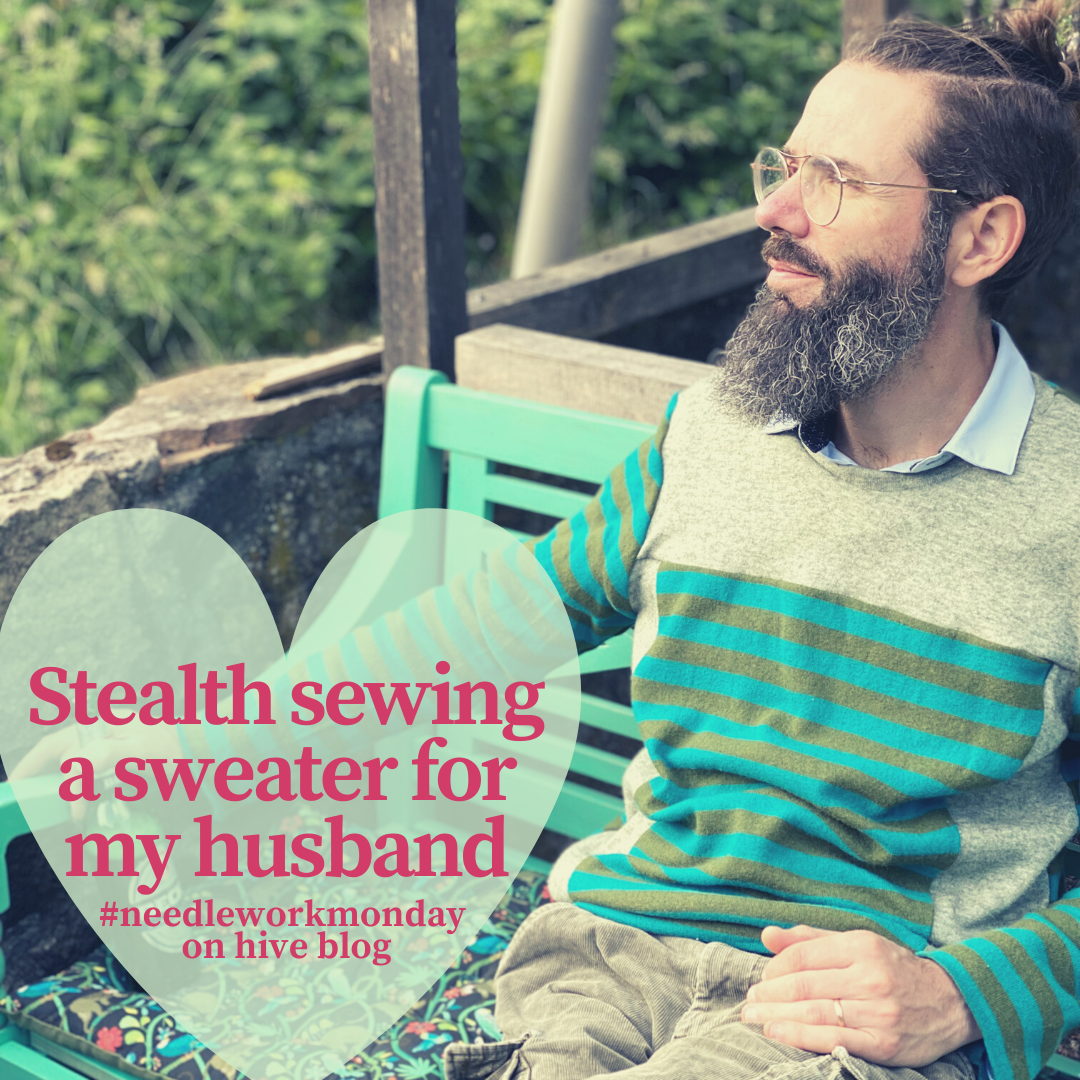 Last week I told you that I was working on birthday presents for my husband but could not show you anything in fear he might see them. Today all is clear and here it is the striped sweater.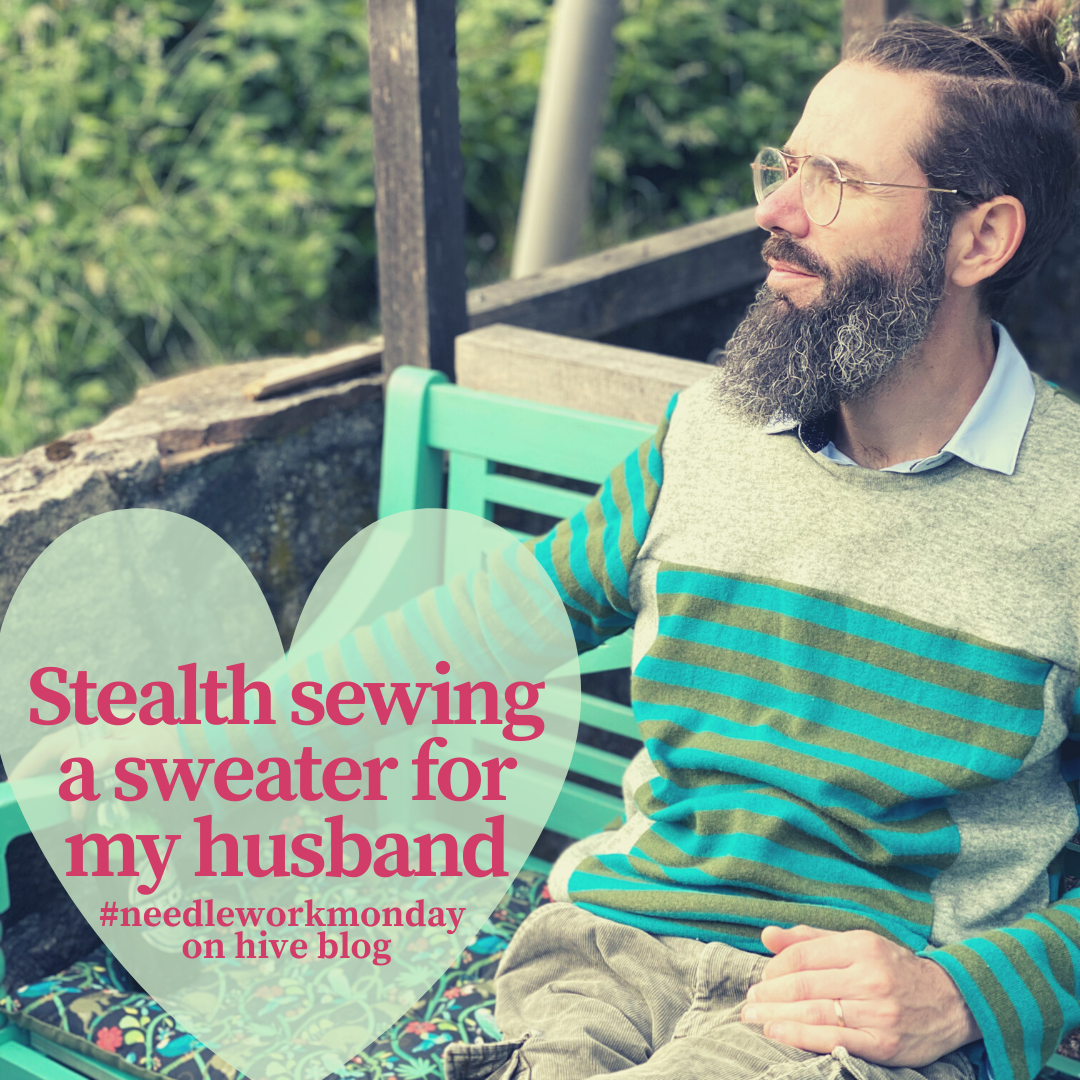 I guess nearly 3 months back my husband showed me photo of a striped sweater with color blocks. The sweater had a solid blue yoke (no real yoke as it was not knitted but a normal set-in sleeve construction and sewed) and beneath the yoke it was striped in yellow and a third color I cannot remember. The last word, by the way, is the keyword in this gift-making session "remember".

He only showed me the photo once and, in my hubris, I thought that I will remember the exact style of this sweater without secretly sketching it or copying his photo. I was still sure about the sweater when I bought a striped green and blue knitted fabric on the fabric market… While shopping I did not notice, that I already had forgotten to buy the single-coloured fabric. At home I washed the fabric and hid it in a box on a wardrobe for later stealth sewing… which did not come because of Corona: My husband was in home office and I was under constant observation (to be honest, it was wonderful to have so much time together, but if I would admit this, the drama of my story would be gone).
Weeks later, June nearing and with it also my husband's birthday and I still have not made the sweater. Because of the Corona situation I forgot which day we had and I to start in a timely manner. But thankfully I remembered that he wanted a sweater with three colors and not only a striped fabric. As the fabric store is very near, I started off …. Only to notice that I could not remember the colors nor their distribution on his dream sweater. SIGH!
Besides we are nearly in summer and the sweater he wanted was more suitable for autumn or even winter. The green-blue fabric I already had, is a middle weight knitwear and the selection on fitting (winter) fabrics in the shop was meagre. I decided on an also knitted very soft light grey-green fabric, which is impossible to photograph (the color always looks wrong) and went home still ruminating about the appearance of the original sweater. But I couldn't remember…
Back home my husband joyfully proclaimed that he wanted to take of the next days, so that we could be in the garden: nooooooooooooo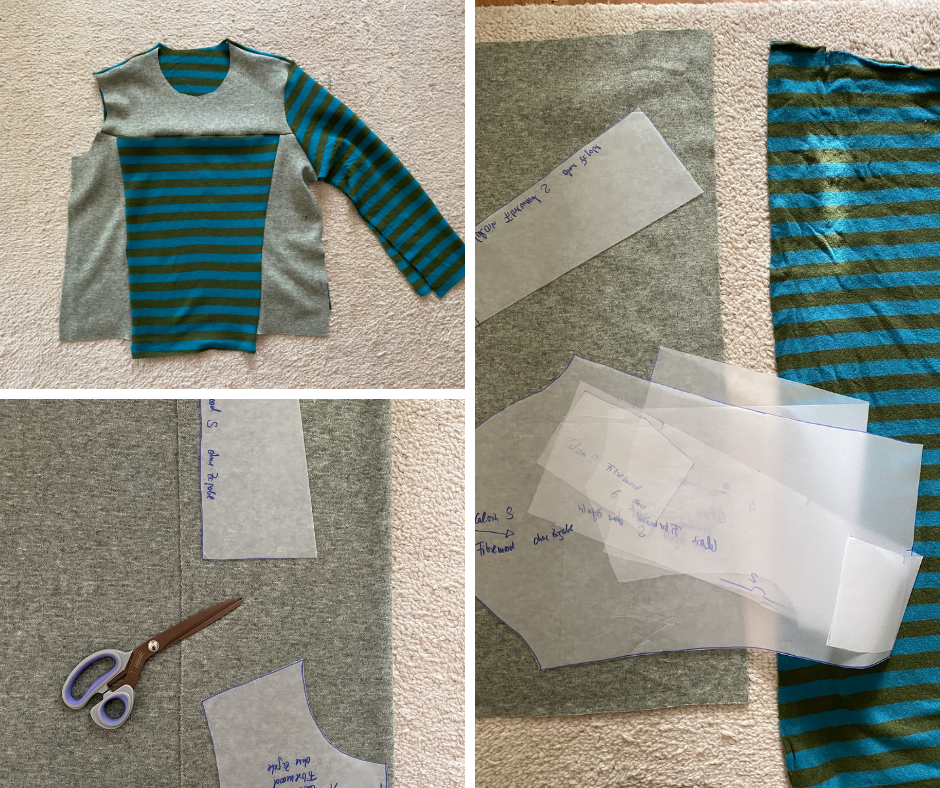 To make it short: the sweater was born at a very unreasonable time of the day night. I used a pattern from Fibremood I already knew will fit him and because of lack of memory I went with two panels of the single-colored fabric at the sides and a single coloured yoke. I now know the original sweater looks very different, but ok… I or better my husband had to live with it.
The sewing process itself was fairly easy, as I had made the pattern already two times. The only problem I encountered was the softness of the grey-green fabric: it did not glide. Very stubbornly it tried to block my sewing machine and only by pulling it I was able to get it sewn (I know, pulling is not a good idea, but I was desperate to get the sweater done).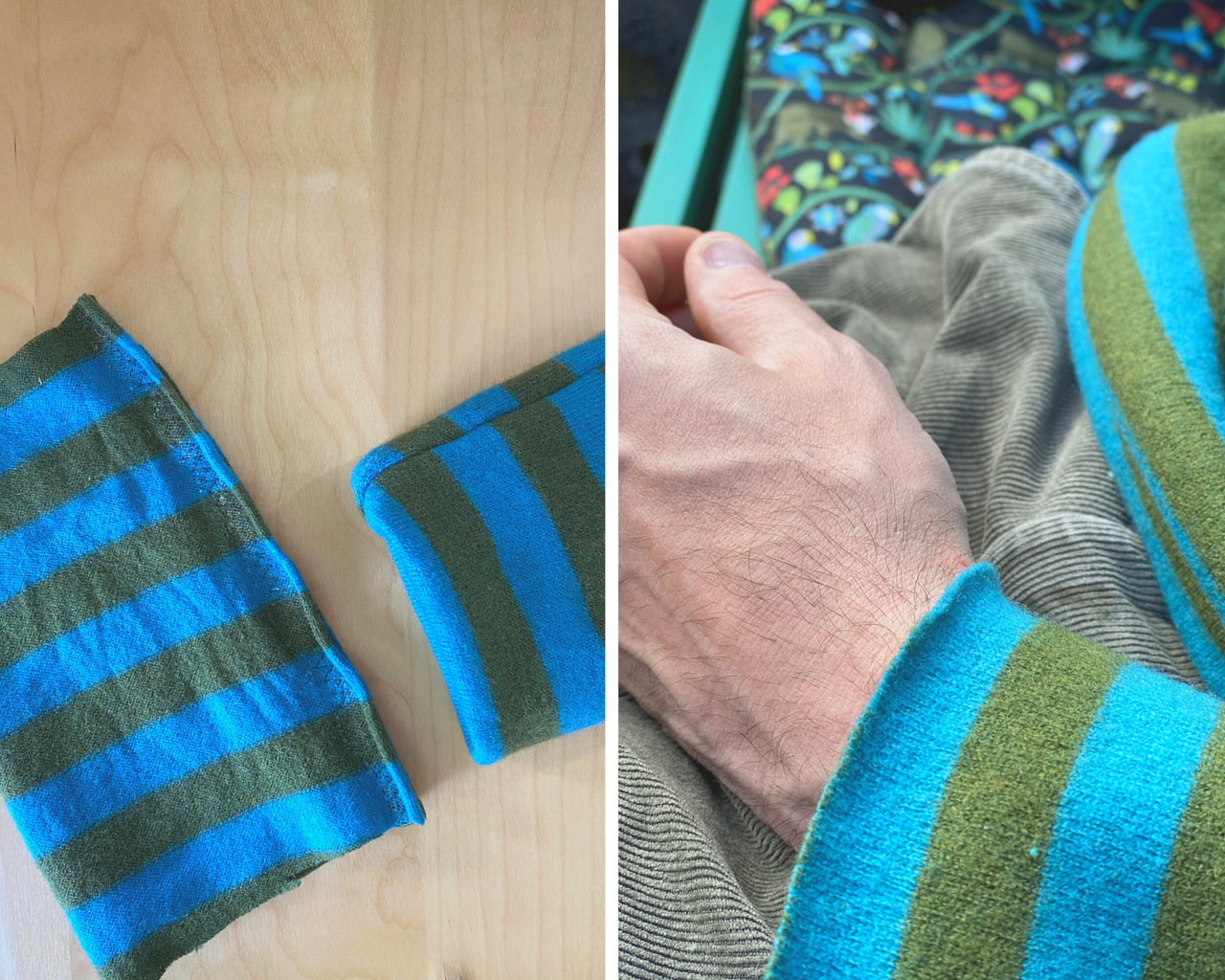 Because of my excellent planning skills, I did not manage to sew on the sleeve cuffs. But I wrapped it nevertheless and please don't laugh: my husband is already wearing the sweater ?????
Till today I was not able to snatch it back to finally sew the cuffs on.
Thank you @crosheille for iniciating and @muscara, @shanibeer, @marblely for hosting the #needleworkmonday. If you want to see more beautiful projects with yarn, fabric and most of all needles, follow @needleworkmonday on hive blog. Or even better grab your needles and keyboard and join the #needleworkmonday community. You can read more comments on this post on my hive blog. 
If this is not enough, you can find my post on Handmade on Tuesday and read even more about knitting and sewing, but beware most post are in German.