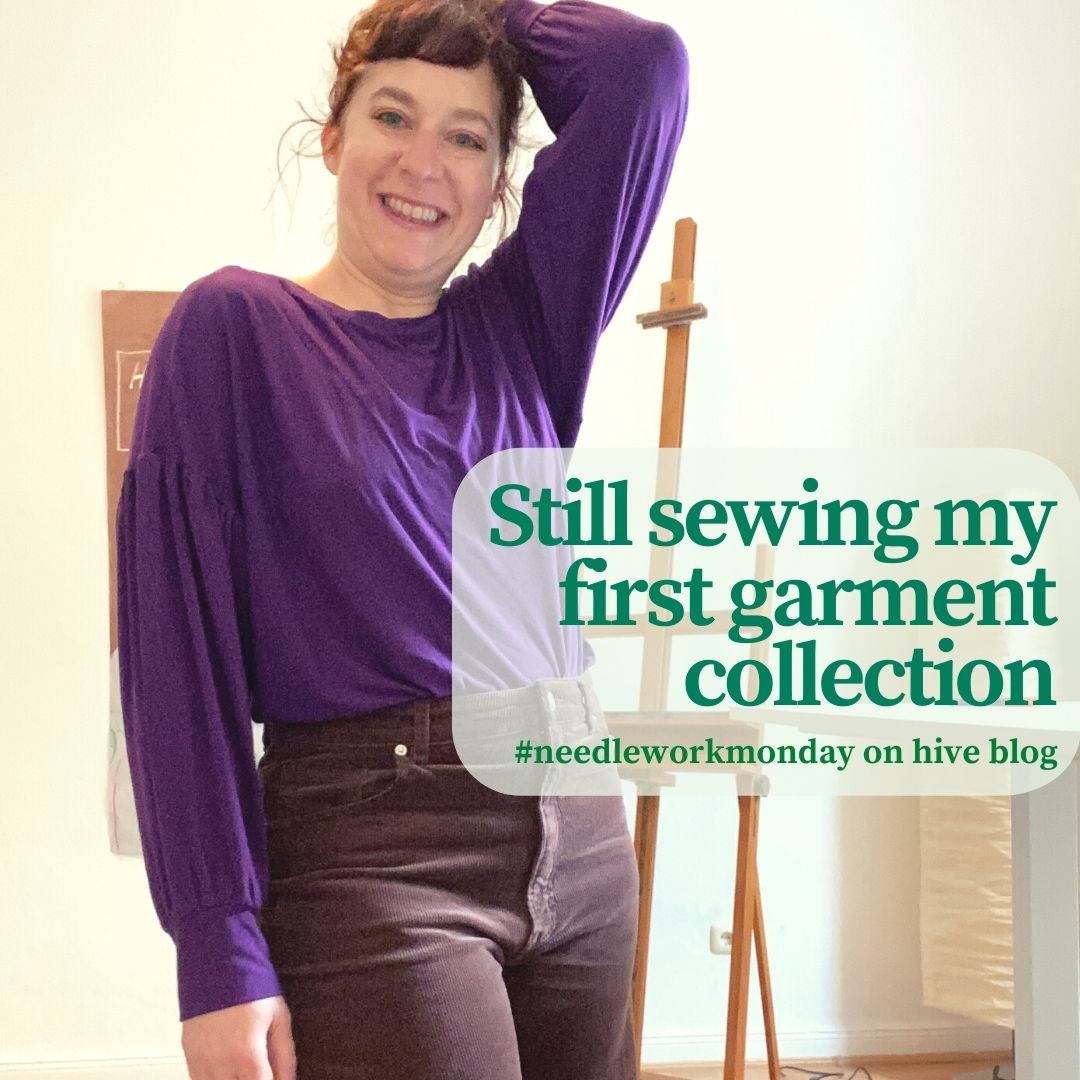 It's needleworkmonday and there are two direction how this post can go: One will destroy my newly found confidence in finishing craft projects and reveal my jittery self, lost in the depth of the evil starteritis, staggering aimlessly between several knitted sweaters, crochet cardigans and half-finished art projects. The other whereas will paint me in shining colors of victory for sewing matching items for my garment collection. It will elevate me from a mere hobby sewist to seamstress goddess. And again I am only a few steps away from securing world domination… oh wait, this phrase may be from a different intro :-DDDD

So, easy question in which direction I will go. Yes, my intense delusions of grandeur convinced me to choose the second direction. So, beware… today I will shower you with numerous selfies showing me in lilac, green and yellow.
Perhaps you remember that I for longer planned to sew/knit/crochet garments that fit together. I want to create "sub-capsules" (thank you @shanibeer for this term) instead of making single garments which are wonderful in themselves but get no wear at all as I do not have any other garments which would go with them.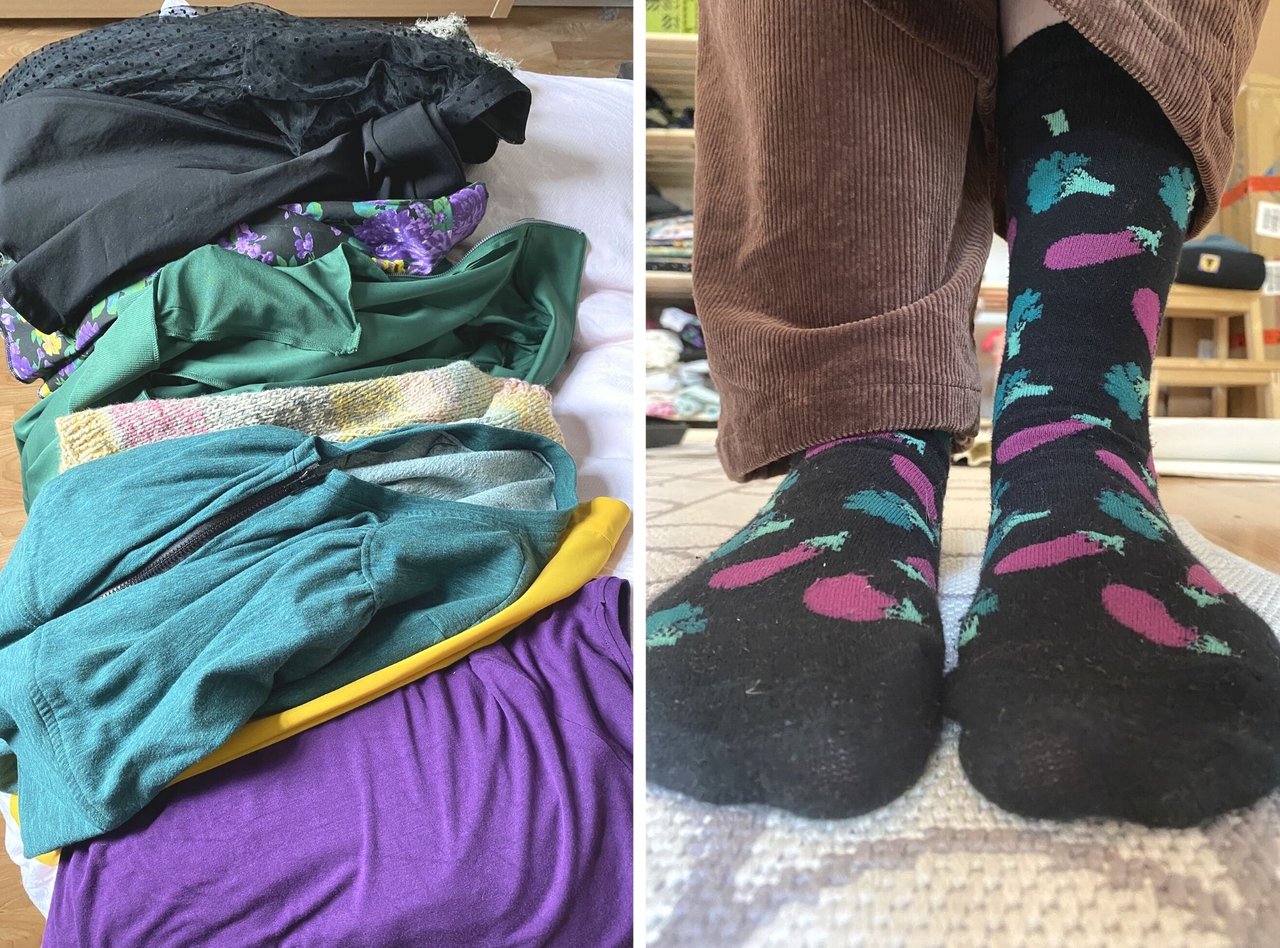 garments which fit with my new flower skirt and the new sweaters


I started out to plan this collection or sub-capsule around a flower fabric which was a fortunate bargain-box found in the fabric store. The fabric is perhaps meant for water-proof garments like a coat or rain proof covers for garden furniture, but I decided to transform it into a half circle skirt. This happened two weeks ago and wow, the skirt got a lot of wear. During the two weeks which were originally planned as a tiny holiday but sadly/thankfully transformed into an intense work phase for an exhibition project I will participate in (if you are interested here is the link, topic are portraits of the famous artist Basquiat) I made three more garments which fit into the collection and tried out various old clothes which also match with my flower skirt and with the new sweaters.
---
At first, I made something boring… another black half circle skirt (photo is placed several paragraphs downwards). This variety of skirt is kind of my "uniform". My old skirt broke down and the last black skirt I sewed was a bit small and therefore not comfortable enough, I needed to make another one. And as I thought every top, I will created to match the lilac/yellow/green of the flower skirt also gos with the black skirt I count this skirt into the collection.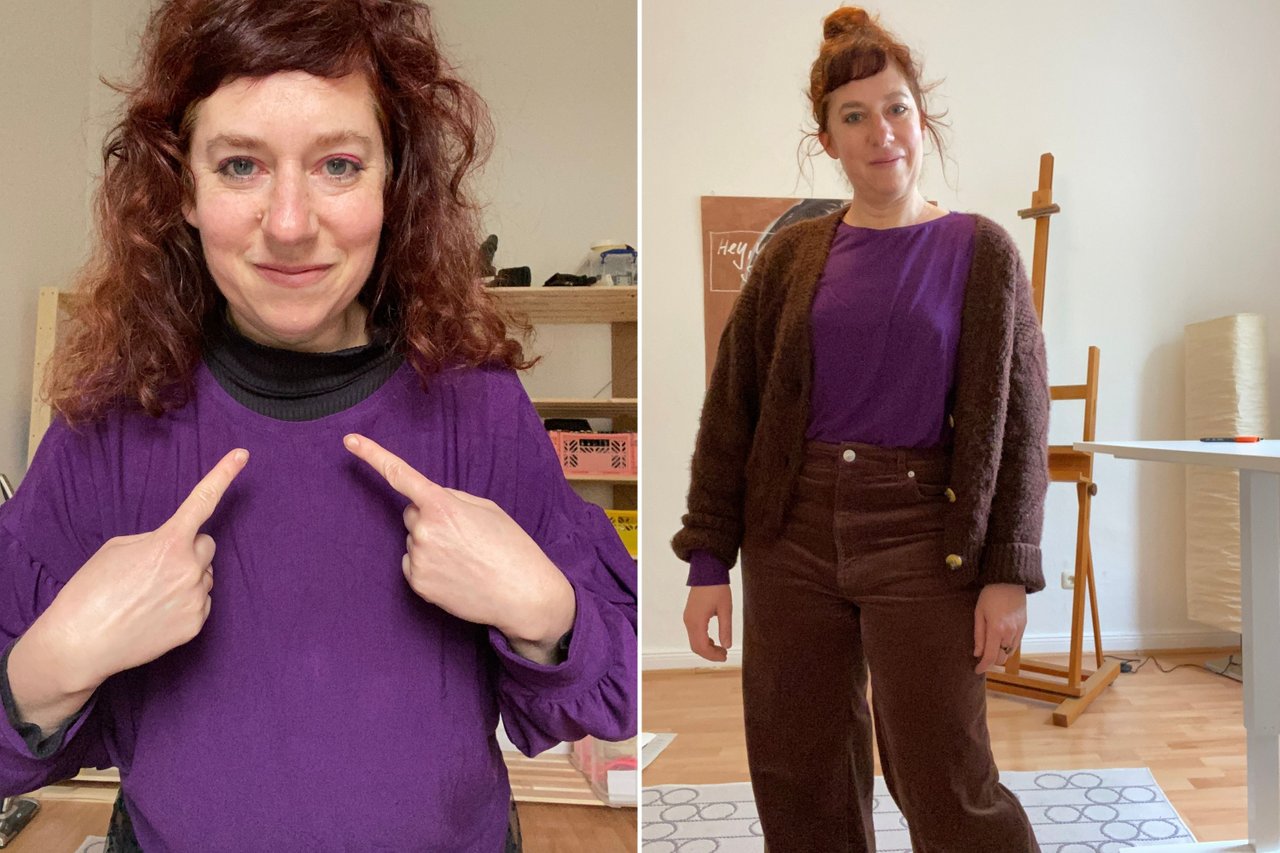 rescued the neckline and brown lilac combo I write later about
The project was a lilac top. I have chosen to replicate the Fibremood Paola sweater which I already made from the fluffy unknown fabric-variety two weeks ago which transforms me into a kind of teddy bear while wearing it. This new Paola sweatshirt I made with a very flowy, stretchy, and lightweight jersey. It should have gone smoothly as the construction is uncomplicated and I already had made it before. But no…. In a moment of distraction, I sewed the neckband with the seam onto the front of the sweater. I kind of placed the seam at the most visible place possible :-DDD No way I could ignore this, so cutting and snipping was required (and a lot of cursing 🤬). After this surgery the neckline was wider than planned but the shirt is nice and wearable.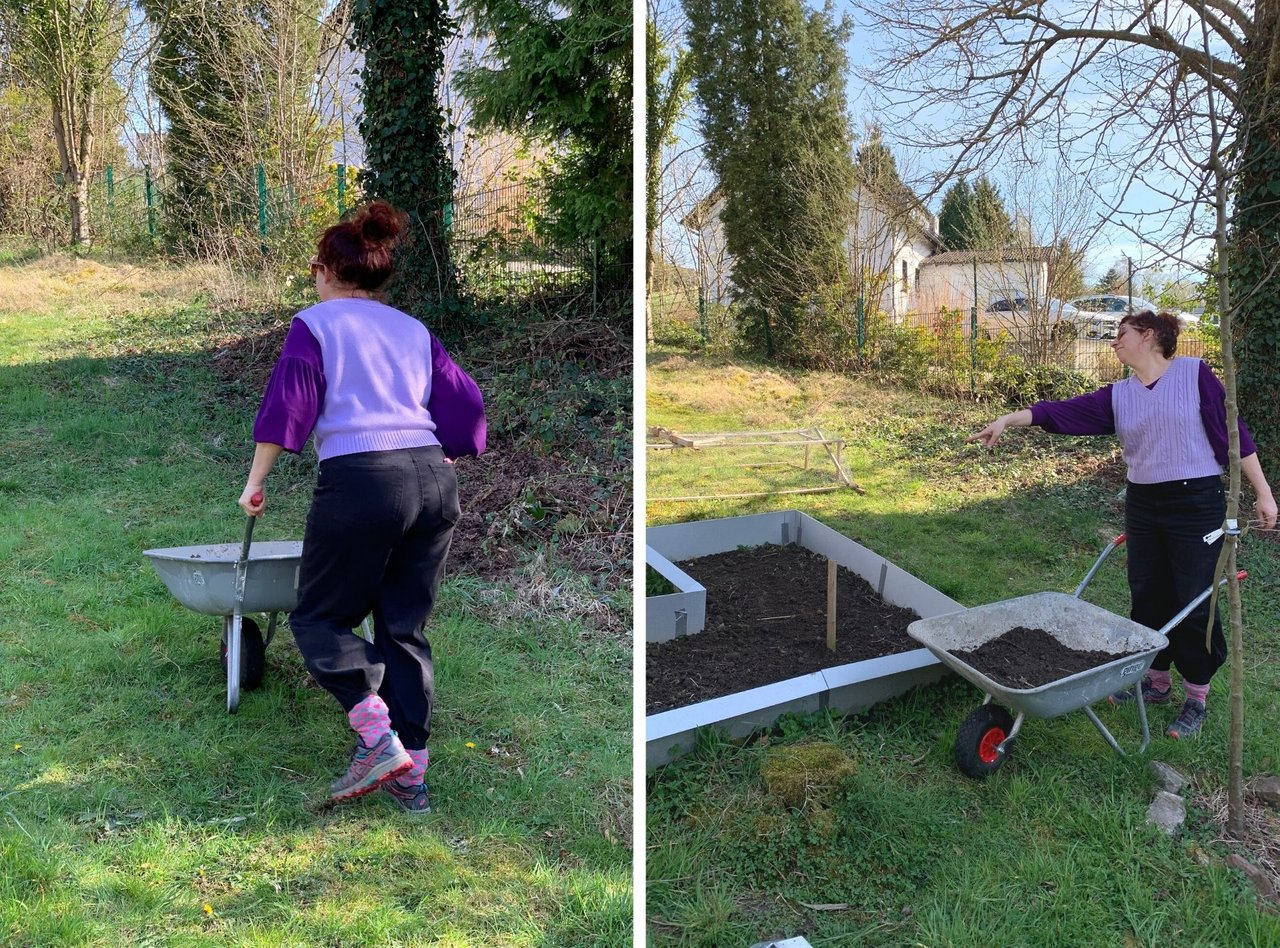 gardening with new Paola sweater


What better to do than repeat (yeah, sorry dear reader, you perhaps hoped for elaborate designer garments after reading my hubris fueled intro, but I mislead you): The next sweater was again a Fibremood Paola, this time made from a yellow velour fabric. I nearly made the same mistake with the neckline, but thankfully noticed it before I started to sew. The rest was uneventful and I now have a lovely yellow sweater, a first for my wardrobe 🎉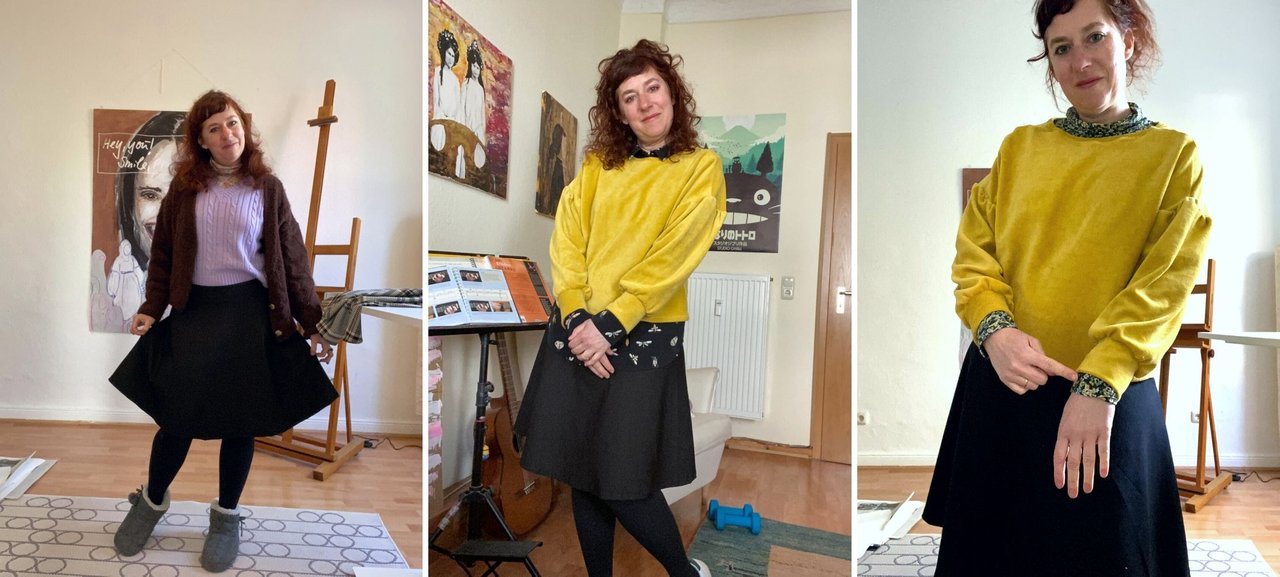 new wider black skirt and different shirts under the yellow sweater


These three (or four if you count the flower skirt from last week) new garments were my go to clothes in the last weeks. I tried to pair them with garments I already own and to come up with new combinations. But in the contrary to my intro I took some, but not the huge amount of photos I threatened you with :-DDD
After two weeks of wearing I can say especially the yellow sweater is a promising garment as I can fit a blouse or a turtleneck sweater beneath it and combine it with new colors (you can see this on the photos above with the black skirt).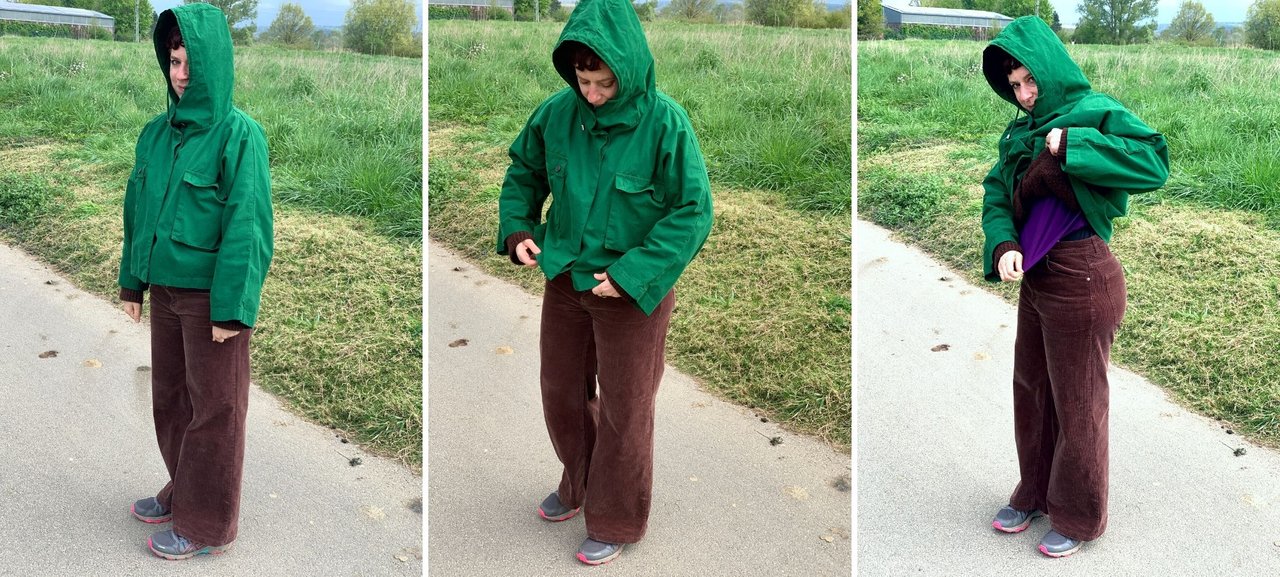 The thinner lilac sweater fits well under a knitted cardigan and as the weather is very gloomy, I tried it out with a dark brown one and am pleasantly surprised that brown harmonises with the green/yellow/lilac combo.
Both the lilac and the yellow sweater go well with a pair of brown corduroy pants I really like, and they also look good with the too-wide-jeans (remember?).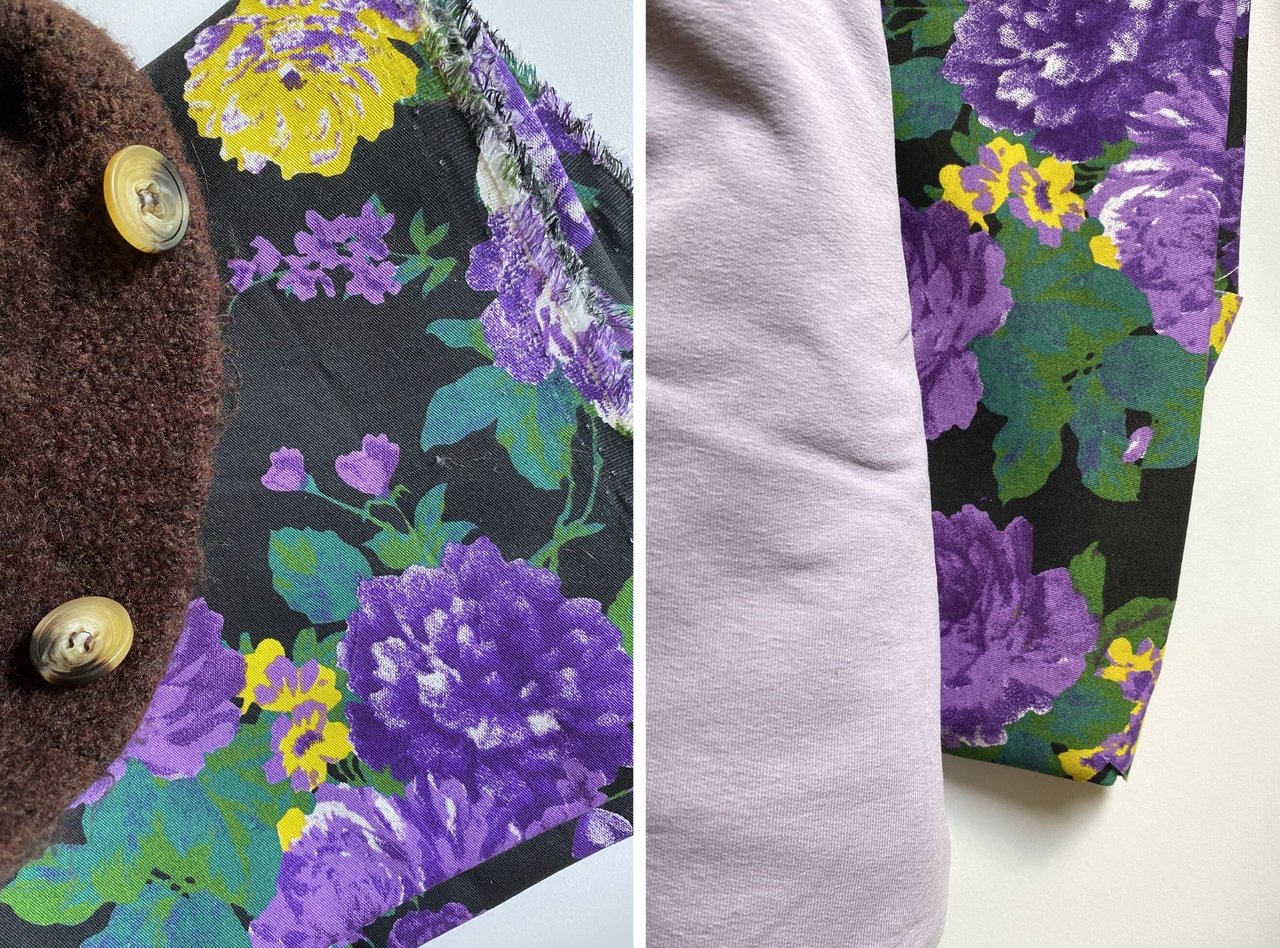 A tighter lavender turtleneck is on my to-sew plan and another sweater made of the strange fluffy fabric, but this one in green and perhaps with puff sleeves instead of the dropped shoulder construction you see on the Fibremood Paola. And I hope to come up with some more daring combinations in the next weeks (or month, as I strangely still must work in between this pleasure sewing :-DDDD).
Next week I will walk the other path I announced in the intro and I already am frightened what I must confess (it will involve a lot of yarn :-DDD).
I hope you are all well and managed to understand my bit jumbled photo story of my newly sewed garments. I hope you all had a nice Easter time (if you celebrate) and are already creating precious jewelry for Mother's Day I am so curious what you will all come up with.
---
Thank you @crosheille for initiating and @marblely for hosting the #needleworkmonday and the community builder team @lauramica, @romeskie and @kattycrochet I am so glad to be part of.
If you want to see more beautiful projects with yarn, fabric and most of all needles, follow @needleworkmonday on hive blog. Or even better grab your needles and keyboard and join the #needleworkmonday community. You can read more comments on this post on my hive blog. 
Read more about my art und upcoming exhibitions on neumannsalva or buy some of my digital artworks on NFT showroom.
Last but not least: if my post coaxed a smile on your face you could support me on Ko-fi Share this…