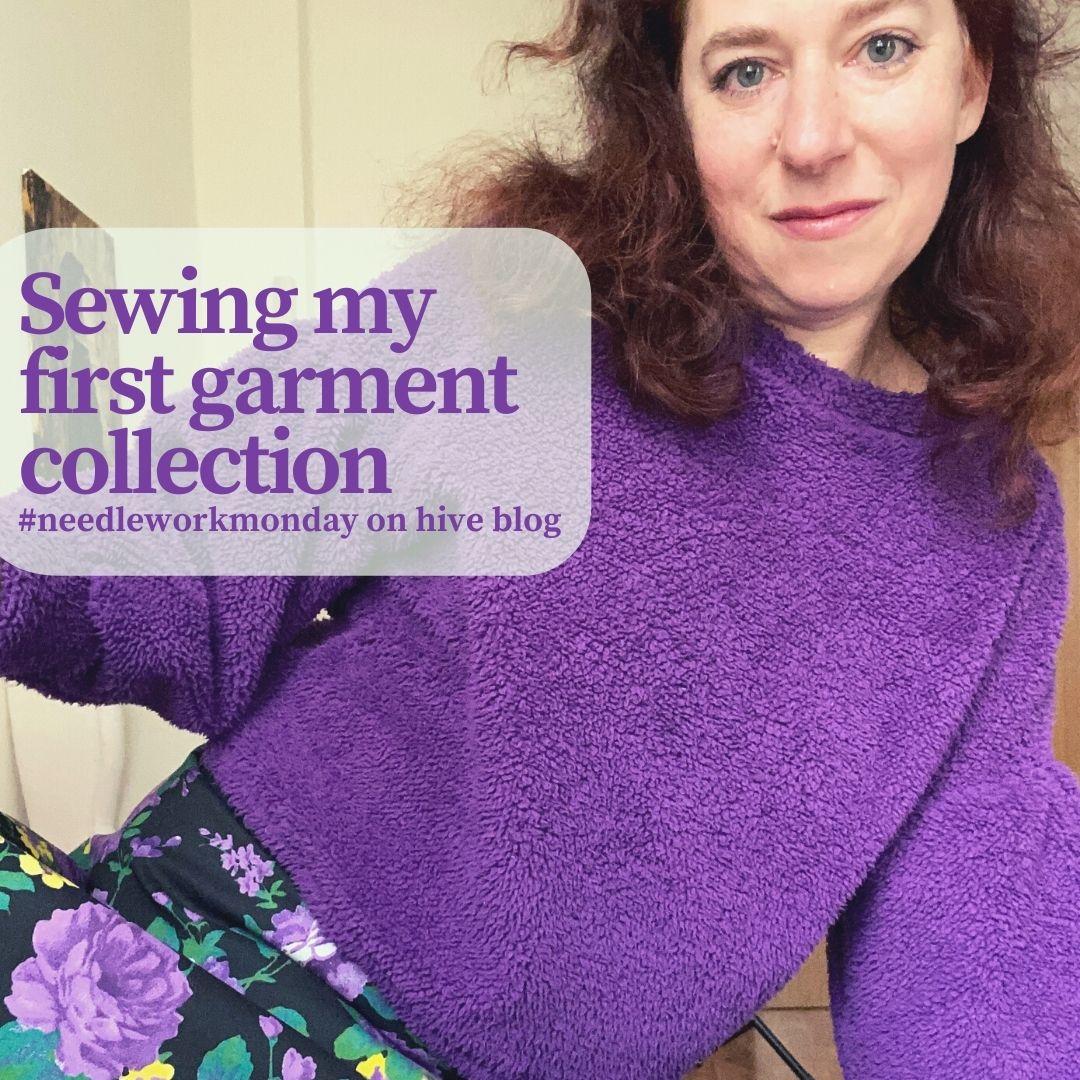 Sewing in collections… I heard this idea three years ago and I was intrigued (oh my… do I really sew three years already and still am such a beginner?). I was introduced to this concept by the lovely blog of Emily Hallman. On and of over the last year I looked at her site but thought she had quitted writing and sewing only to discover today that she had to take time out because of her father falling ill. So happy she is back (and her father back to health). And I am so excited to not only tell you about her approach to sewing, no I even have followed her guidelines and I can proudly present results in the "collection" department.
---
So, what is it all about? The first encounter with Emily's blog was because I loved the circle skirt dresses, she has made and by researching them I stumbled about her concept of collection sewing which she learned during her fashion design study. In complete contrast to me she plans before she cuts the fabric, and her planning is oriented on selling clothes – although her blog is about making her private wardrobe not about clothes to sell.
The first three questions she asks are "Who will wear the garment? Which kind of fabric to use? Is there a cohesive theme?" The first question seems easy if you are sewing for yourself, but its deceptive. I often notice that the concepts about which kind of garments I would like to wear, and which garments I actually wear are quite different. So, here could be a starting point to research, to introspect, to have more successful makes (aka: a lot of wear per garment).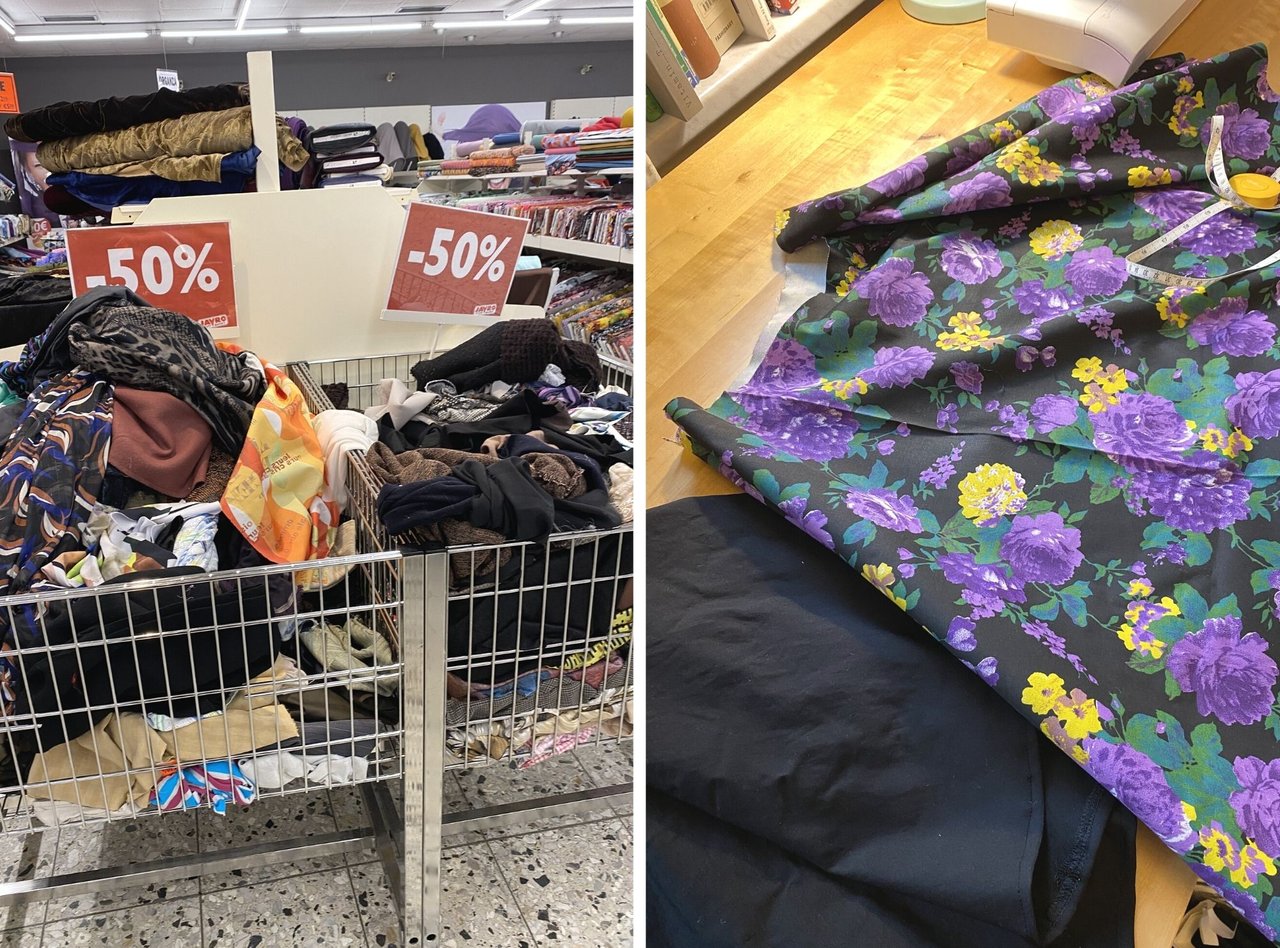 left: bargain boxes; right: my new skirts in the make

The question about the fabric… yeah, there I had to laugh a bit. She has a whole blog post dedicate on how to choose the right fabric and how much of the good stuff you should by. Her conclusion: 4 yards (365 cm). I am still laughing, because so far, I always buy the least possible amount of fabric. Often my fabric is from the scrap box, and I try to puzzle something out of tiny amounts like a sweater from 1 m² of fabric. Yep, maybe I should change my mindset here. Sadly, its not only mindset but also money as fabric is expensive. My answer to this in the last months is that I tried to mix her and my ideas about fabric shopping: I took one of my "statement" fabrics from the scrap box as the starting point and bought a bit more than usual of matching fabric which was affordable.
---
And this already touches the last question, the question about the style/color/fit idea behind the collection one is sewing. Mine is about cuddling and bold colors, about a chinched waist and wide shoulders. Sounds good but to be honest my collection-creating is still in the infancy stage because I created outfits which are staple for me, the half circle skirt, and sweatshirts with statements sleeves. But – yes there is a but – I planned the colors in advance. I planned several garments I can interchangeably wear without getting dizzy from the color combination (hmmm, I do not get dizzy, but I cannot guaranty that you won't get ill from the colors :-D) and this is something I always wanted to do but never did.
So here it is my first collection which I call Rainy Spring
Emily Hallman has several dress forms so her presentation is much better than mine, but you – dear needleworkers – are so creative that I am sure you can envision what I am doing with my less polished photos.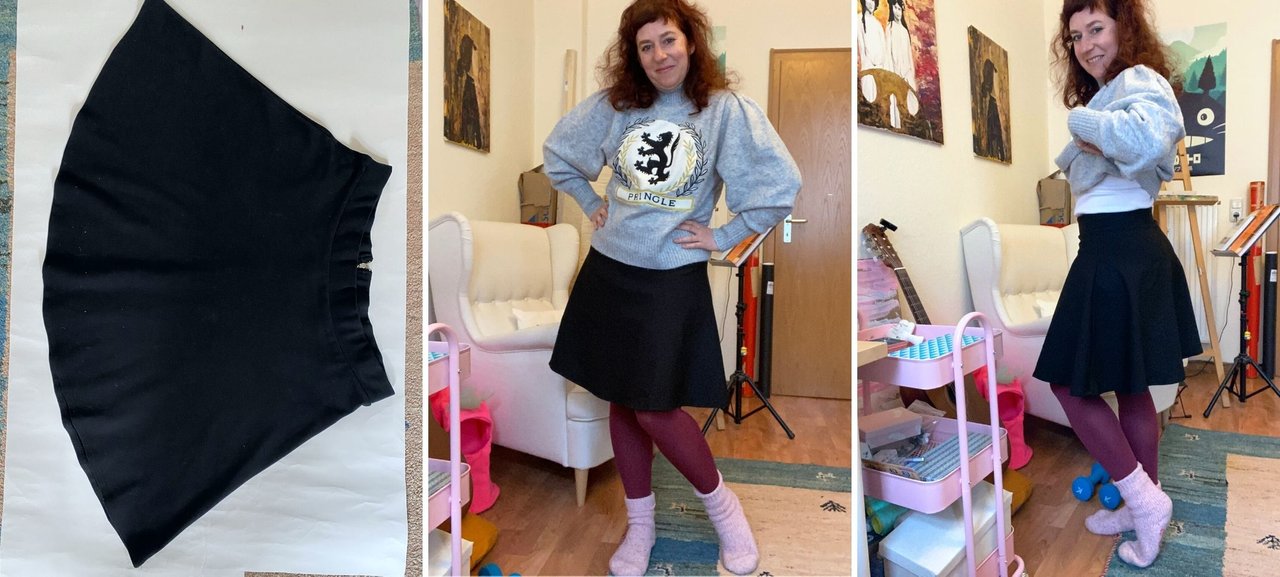 the recreated skirt… I definitly will make another one with a bit more room at the waist

My collection consists of one finished sweater, several planned sewed and knitted sweaters and two circle skirts, one in black (I needed to replace my beloved 15-year-old H&M skirt) and one with green, purple and yellow flowers. The latter being the center piece of my collection around which the other garments are designed. The fabric is a perhaps meant to be a bag or a raincoat? I am not sure… It is kind of stiff, woven fabric with a tiny amount of stretch and a rubbery feeling. I found said fabric in the famous scrap box and was in love with the colors.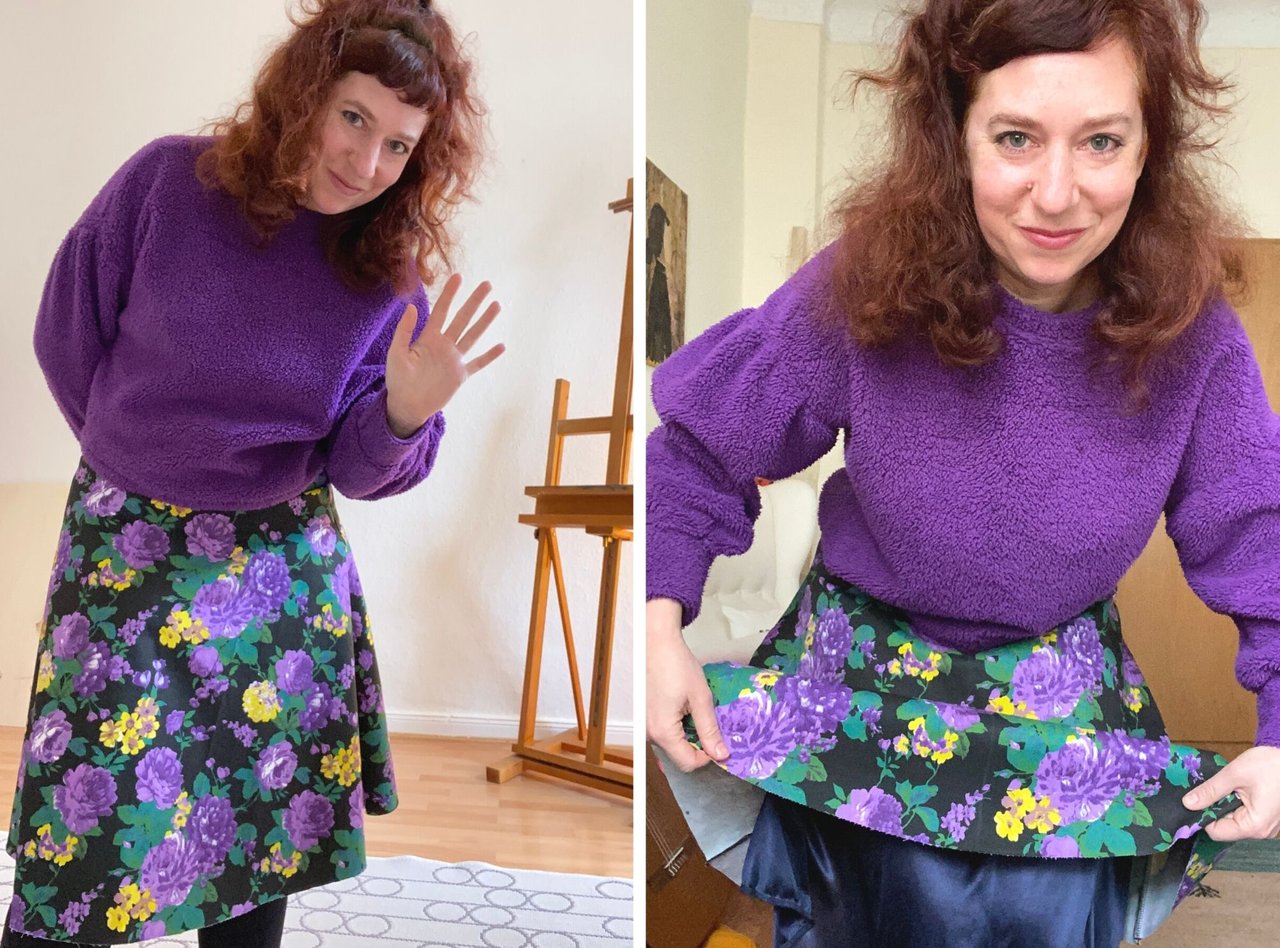 To accompany these bold colors I bought a purple fluffy fabric. I am a bit strange sometimes and this strangeness made me start the whole project with the fluffy sweater (you saw it last week) instead of starting with the center piece, the flower skirt. But I was so afraid to ruin the fabric that I needed the time to muster the courage to work with this irreplaceable wonderful bargain bin fabric. To overcome my fear, I started out with sewing the black skirt first. Tada it worked (photos are above). Fortified by this success I immediately sewed the flower skirt. Tada I succeeded… but… while trying it on and walking three steps I noticed the rubbery fabric bunched up around my thighs and in no way could I wear it without a underskirt. Clever me only basted the waistband, so I had no problem to insert an underskirt. And second tada 🎉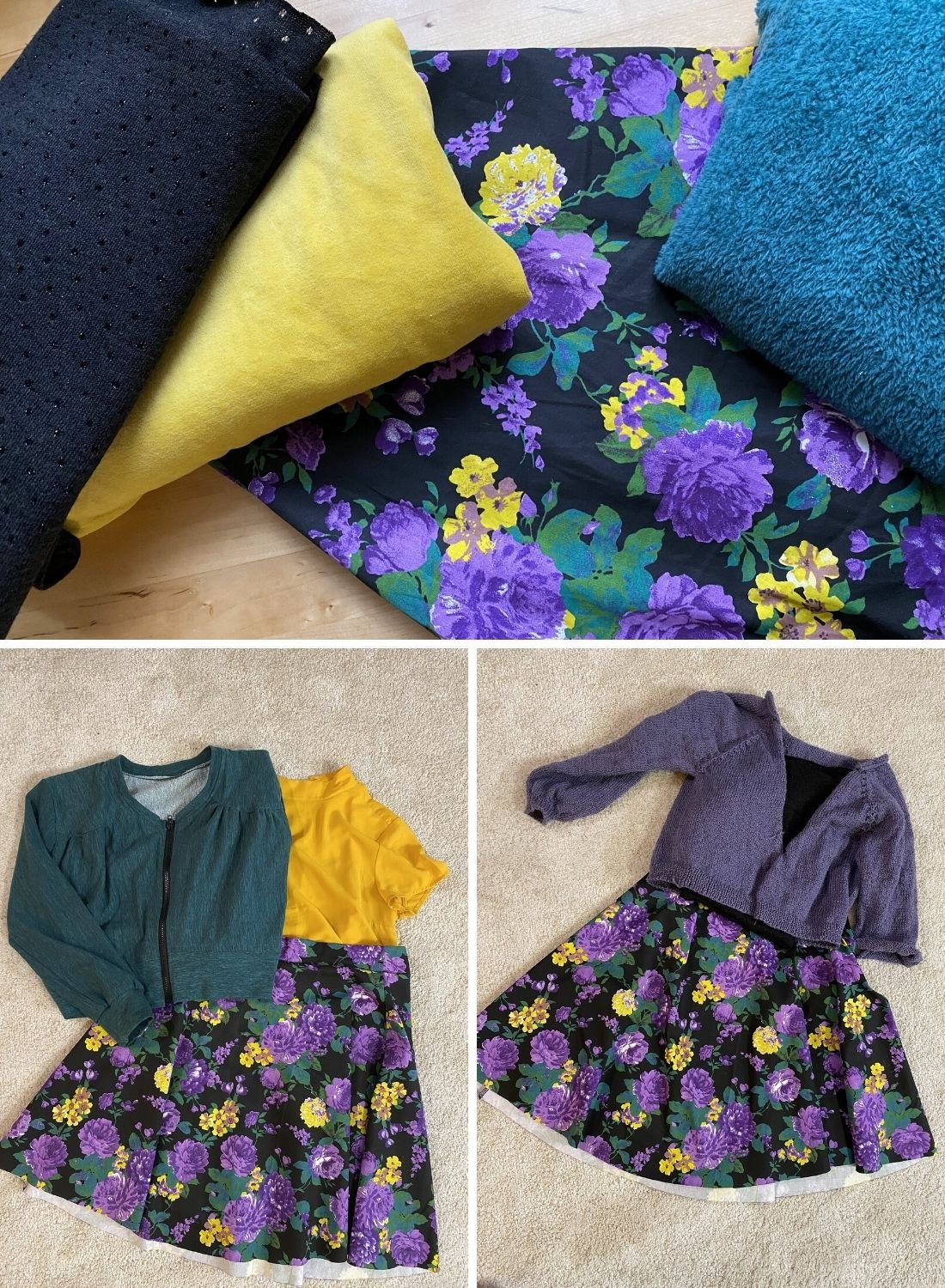 I know my actual collection is quite small, but I am working on some artworks for the next exhibitions so, sewing needs to wait till next week. Planned are a turtleneck sweater with puff sleeves made from the yellow velour fabric, a puff sleeve sweater with a wide neckline (or a gathered neckline if I find a pattern for this) made from the black knit, and another Fibremood Paola sweater from the green fluffy fabric. In my wardrobe I have a green cardigan (Jenna pattern), a bought yellow blouse and the lavender wrap cardigan I am knitting right now may harmonize too (not completely sure about the color).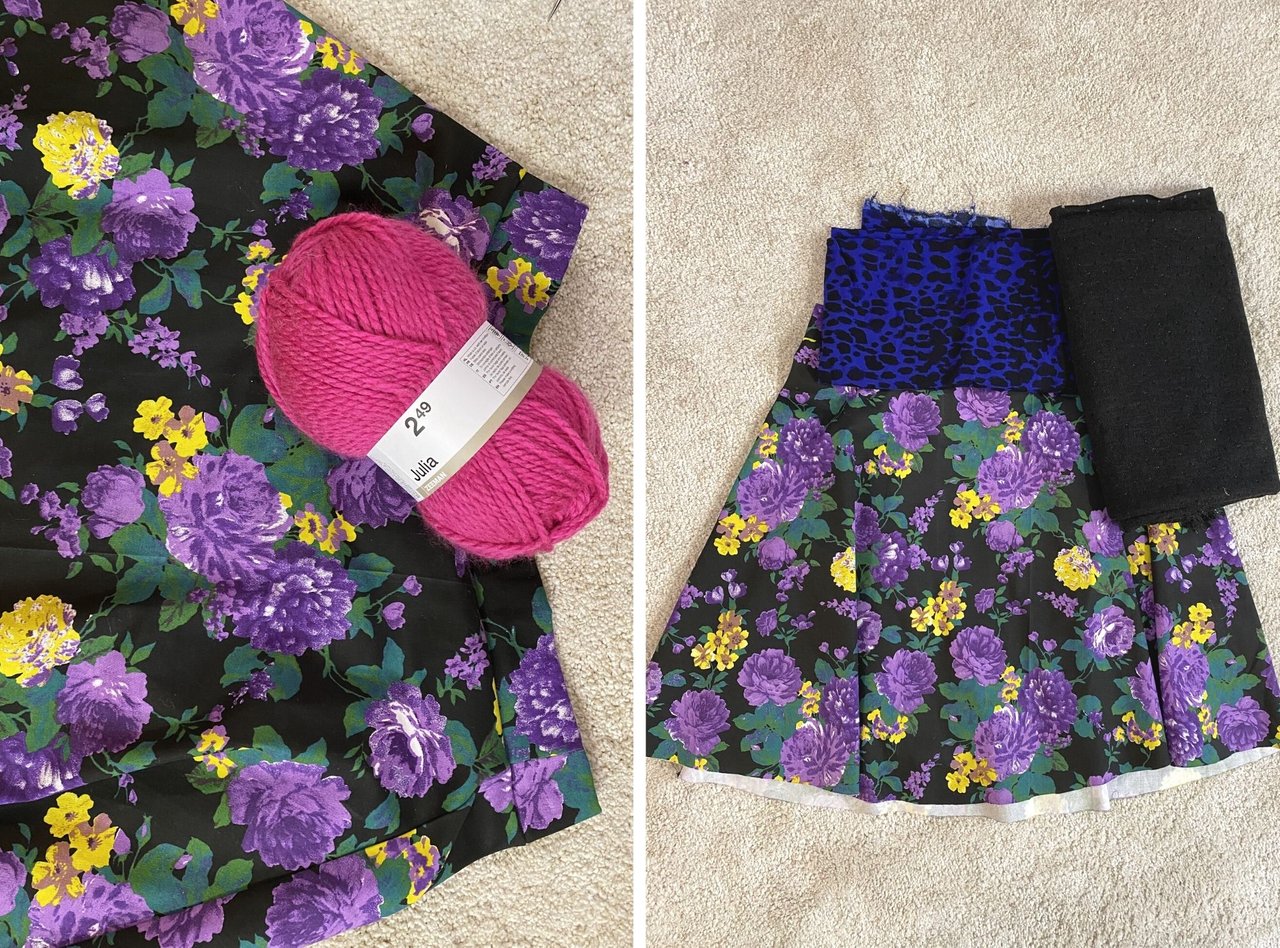 I am contemplating to sew a blouse in the blue/black fabric to have a more edgy mix and perhaps I am knitting another cardi or sweater with the bright pink yarn. I only have one ball of it, but I am tempted to buy more. The last item I have planned is a black skirt with irregular gathers for which I will use the skirt part of my last artwork/dress. But here I am only in a thought process.
I hope I manage to discipline myself so that I make more matching garments in near future and less strange single pieces :-DDD
What do you think of my Rainy Spring collection? Good idea or fad? Are you already planning your makes in collections, or would this suck the fun out of your sewing/knitting/crochet? I am really curious to read about your experience.
---
Thank you @crosheille for initiating and @marblely for hosting the #needleworkmonday and the community builder team @lauramica, @romeskie and @kattycrochet I am so glad to be part of.
If you want to see more beautiful projects with yarn, fabric and most of all needles, follow @needleworkmonday on hive blog. Or even better grab your needles and keyboard and join the #needleworkmonday community. You can read more comments on this post on my hive blog. 
Read more about my art und upcoming exhibitions on neumannsalva or buy some of my digital artworks on NFT showroom.
Last but not least: if my post coaxed a smile on your face you could support me on Ko-fi