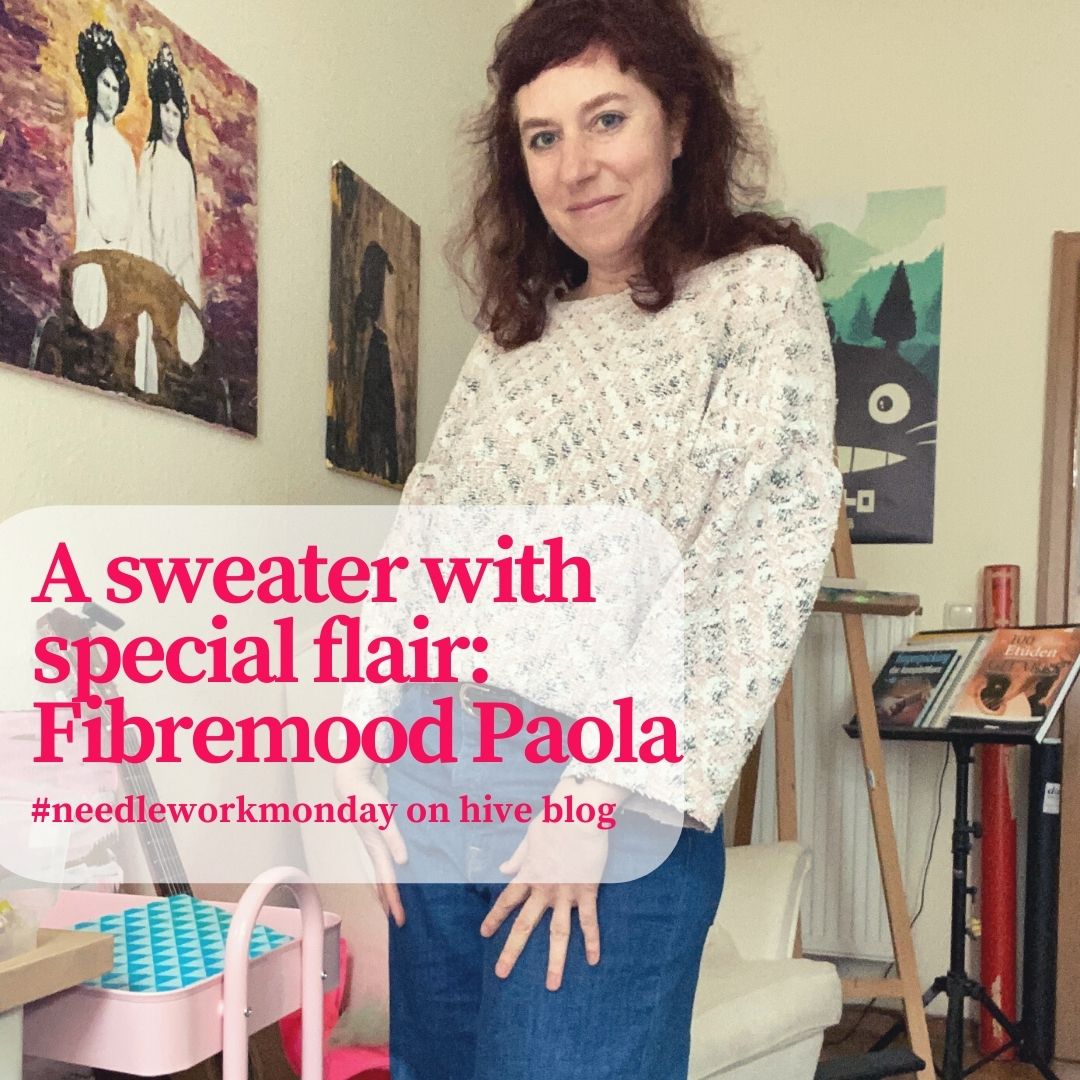 Monday Monday… and my too wide jeans are still too wide. But thanks to your amazing ideas how to rescue the jeans, I not only have now ideas how to alter them successfully I also found more love for them. Isn't this funny? The jeans are still too big, but somehow, I am starting to like them even with this excess fabric. And while wearing them I though of some comfortable sweatshirts to pair with the dark blue trousers, but sweatshirts which are a bit more… like stylish sweatshirts? Unusual sweatshirts? Fashion sweatshirts…? :-DDD
I had two fabrics in my stash that were desperately shouting at me that I please sew something out of them. Both fabrics have stretch – good for sweatshirts – and have colors which in my eyes pair perfectly with jeans (and a lot of other trousers in many wardrobe which is in itself a wonder, as I normally knit and sew with colors which are wonderful alone, but make you dizzy if I wear them with garments I already own – puh long sentence :-DDD).
When I write "stylish or special" sweatshirt I mean a shirt which has a bit of an extra like statement sleeves, a hood or pockets or an unusual construction. But as I am like a human bunny who only wants to cuddle this shirt also needs to be super comfortable.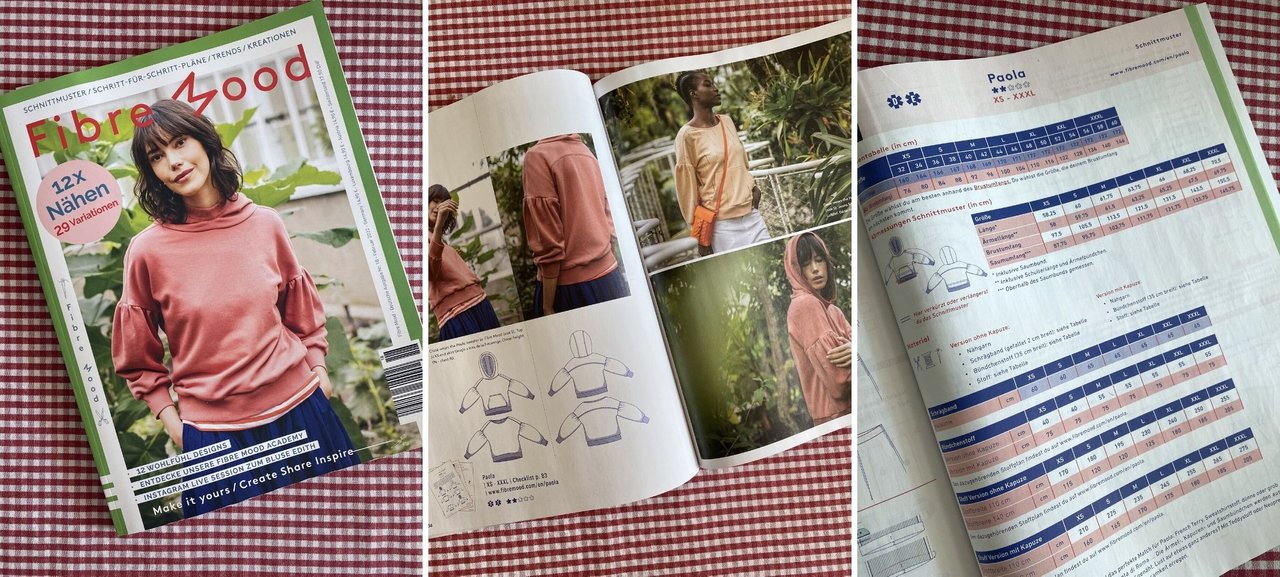 My newest make which ticks all these boxes is again a fibremood pattern (although I am such a fangirl, they still do not pay me…😱). It is the fibremood Paola sweatshirt, a wide shirt with dropped shoulders and a ruffled sleeve, with options to add a kangaroo pocket and a hood. LOOOOVE
I decided to sew size M which is a perfect comfortable wide fit for me. I omitted hood, pocket, and the waistband. The latter is something I often do as I like short wide shirts.
The sewing process of the Paola sweatshirt is uncomplicated. The dropped shoulders and the gathered sleeves are forgiving as is the wide fit at the bust. A breeze to sew. The one thing which could be new, if someone has not made a lot of sweatshirts, is the construction of the backside which incorporates a yoke. This means one must sew together two slightly curved pattern pieces. I did (besides the gathering) everything on the overlocker and found it manageable.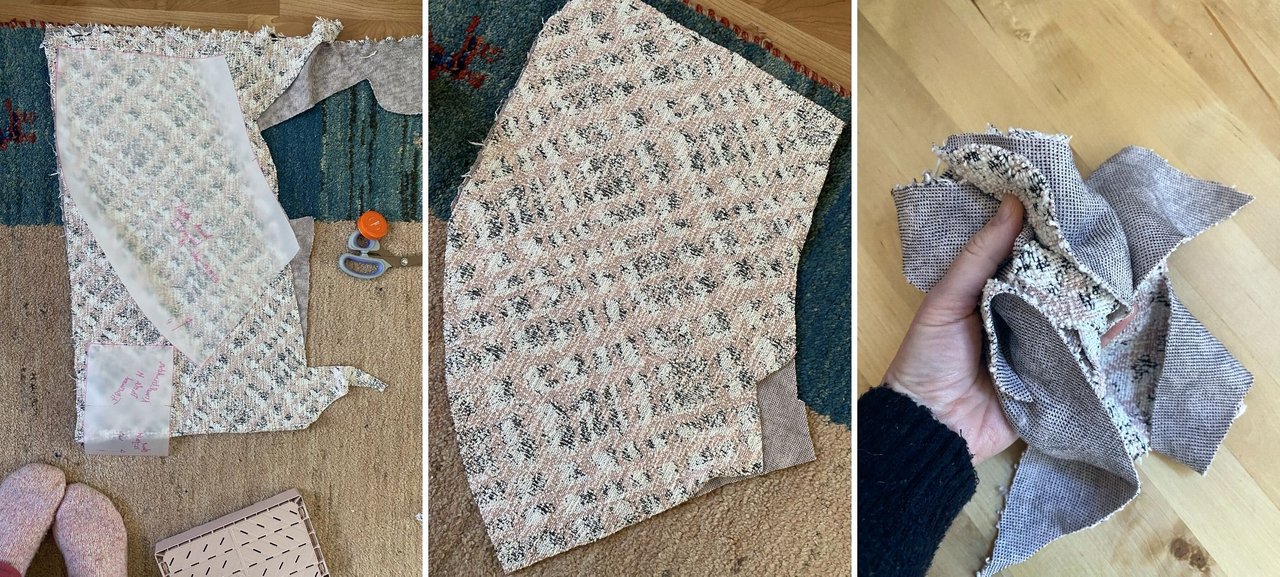 My first Paola is a fabric out of the scrap box, meaning: I accidentally sewed very sustainable because it needed to puzzle the pattern pieces together, needed to add some patches to get the wide sleeves out of a much too small scrap fabric (the fabric was 1 x 1,40 m). On the foto you can see the tiny amount of fabric I had left over :-DDD Sadly I missed that the fabric has a weaving mistake, but as I arraigned it on the backside it is nearly invisible. I only have photos of this first Paola version without neckband and sleeve cuffs. But as you can see, I love it already.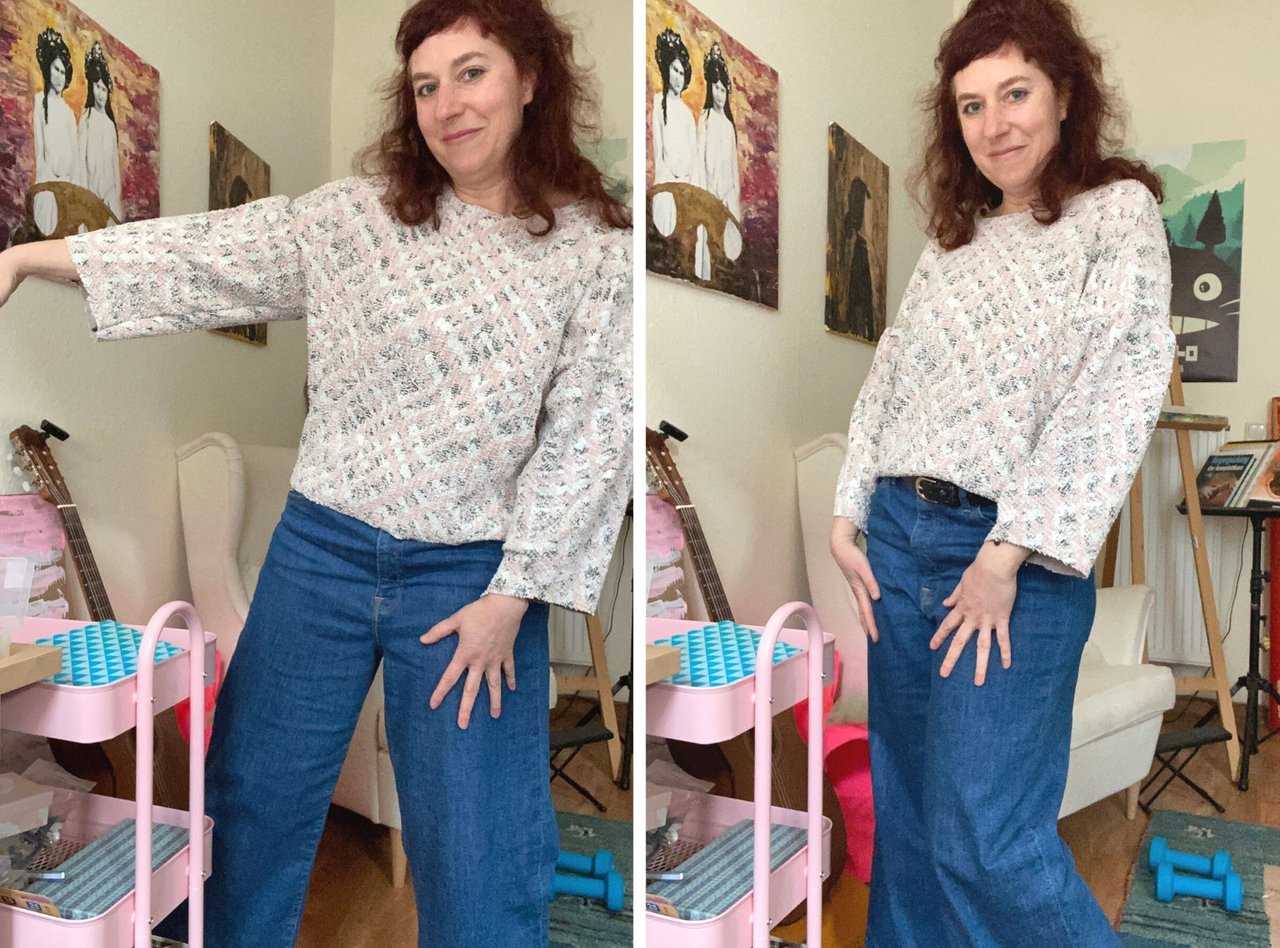 My next Poala is made from a fabric which perhaps is meant for making toys 😀 It is a super fluffy violet stretch fabric. The upside of this fabric is that I am very pet-able when I wear it, the downside was I had to vacuum the studio several times while cutting and sewing the sweatshirt.
But even this could not dampen my joy over this cute shirt (you notice, I am easy to please).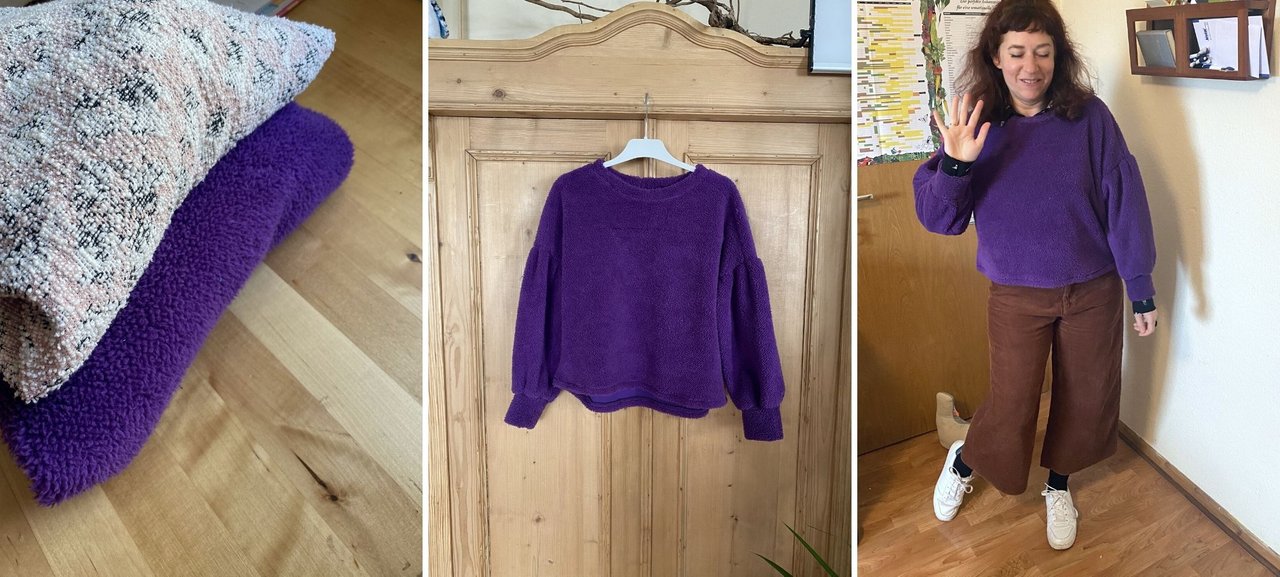 I already am pondering to sew some more Paolas … perhaps one in thinner fabric for the summer. But I am not sure if the gathered sleeves will look as cute in thinner fabric, because it has less stand.
Oh, and one more thing, the Paola sweatshirt has bracelet-length sleeves, something I do not fancy at all. For me it was no bigger problem as the fibremood patterns are constructed for taller humans than me, so the sleeves are shortish but not unbearable for me. But be warned if you have longer arms or are taller and want an honest long-sleeve shirt you need to lengthen the sleeves.
Do you have a "special" sweatshirt pattern you can recommend? Something I should look into?
---
Thank you @crosheille for initiating and @marblely for hosting the #needleworkmonday and the community builder team @lauramica, @romeskie and @kattycrochet I am so glad to be part of.
If you want to see more beautiful projects with yarn, fabric and most of all needles, follow @needleworkmonday on hive blog. Or even better grab your needles and keyboard and join the #needleworkmonday community. You can read more comments on this post on my hive blog. 
Read more about my art und upcoming exhibitions on neumannsalva or buy some of my digital artworks on NFT showroom.
Last but not least: if my post coaxed a smile on your face you could support me on Ko-fi