When your sewing machine is a loan (remember, mine is still in repair) and you are afraid to sew a sturdy jean fabric on it, but you want to participate in the #needleworkyourjeans contest… then you must be inventive. And that – my dear needleworkers – is what I am.
My contribution to this lovely contest is a riddle, a mystery, an unsolved secret which could shake the earth if a solution is found.
Here my inventiveness leaves me, and I will tell you I haven't done anything for the contest but sat in front of a jeans which does not fit. Yeah… the big secret are ill-fitting jeans.
Said jeans are a culottes type with a high raise waist and a bit of stretch in the fabric. The jeans were always on the wider side, but somehow, they are now so wide at the waist, that I cannot wear them comfortably. No idea what happened if the stretch part of the fabric lost elasticity or if I shrank… For months I had these jeans hidden under a chair in the sleeping room (hiding faulty sewing and knitting projects seems to be my thing) in hope to get an idea for altering it to my liking. But no…
So, here are the photos.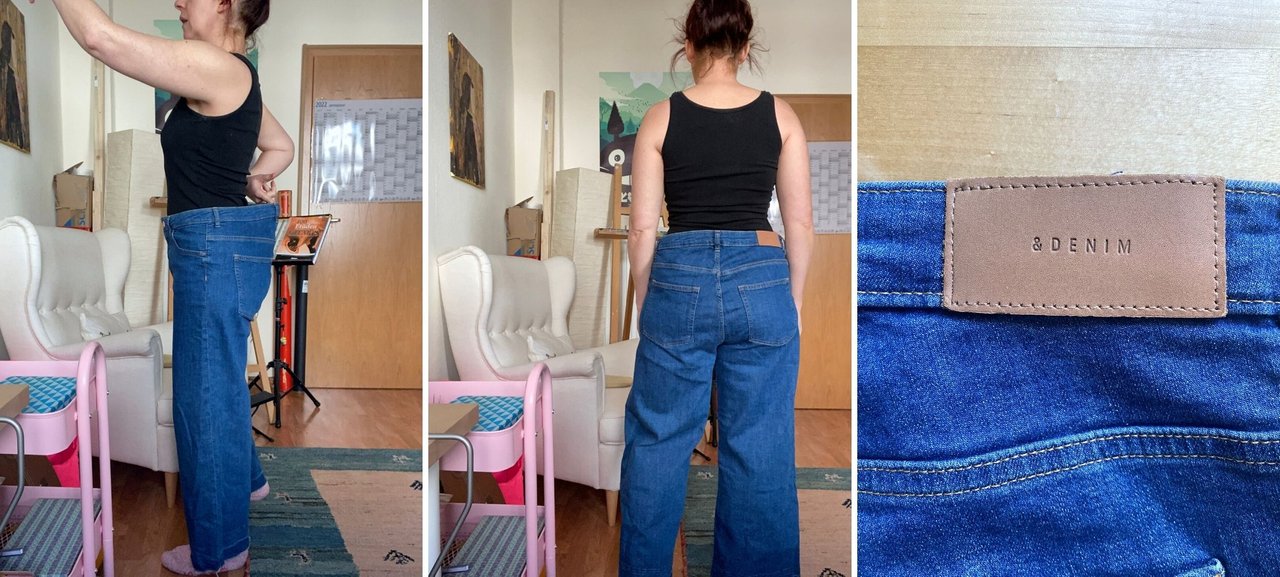 The main problem is the too wide waistband. The waistband of the jeans has 94 cm and my natural waist 78 cm (above my bellybutton). But there is another problem. These jeans are perhaps made for a woman 10 cm taller than me, because the rise is much too long. If I wanted I could pull the jeans under my ribs… but I really do not want :-DDD For my taste a jeans sitting directly under my bellybutton is high rise enough. Although I am a lot wider under my bellybutton the jeans are still too wide at this place (not speaking of the 10 cm of excess fabric between my legs).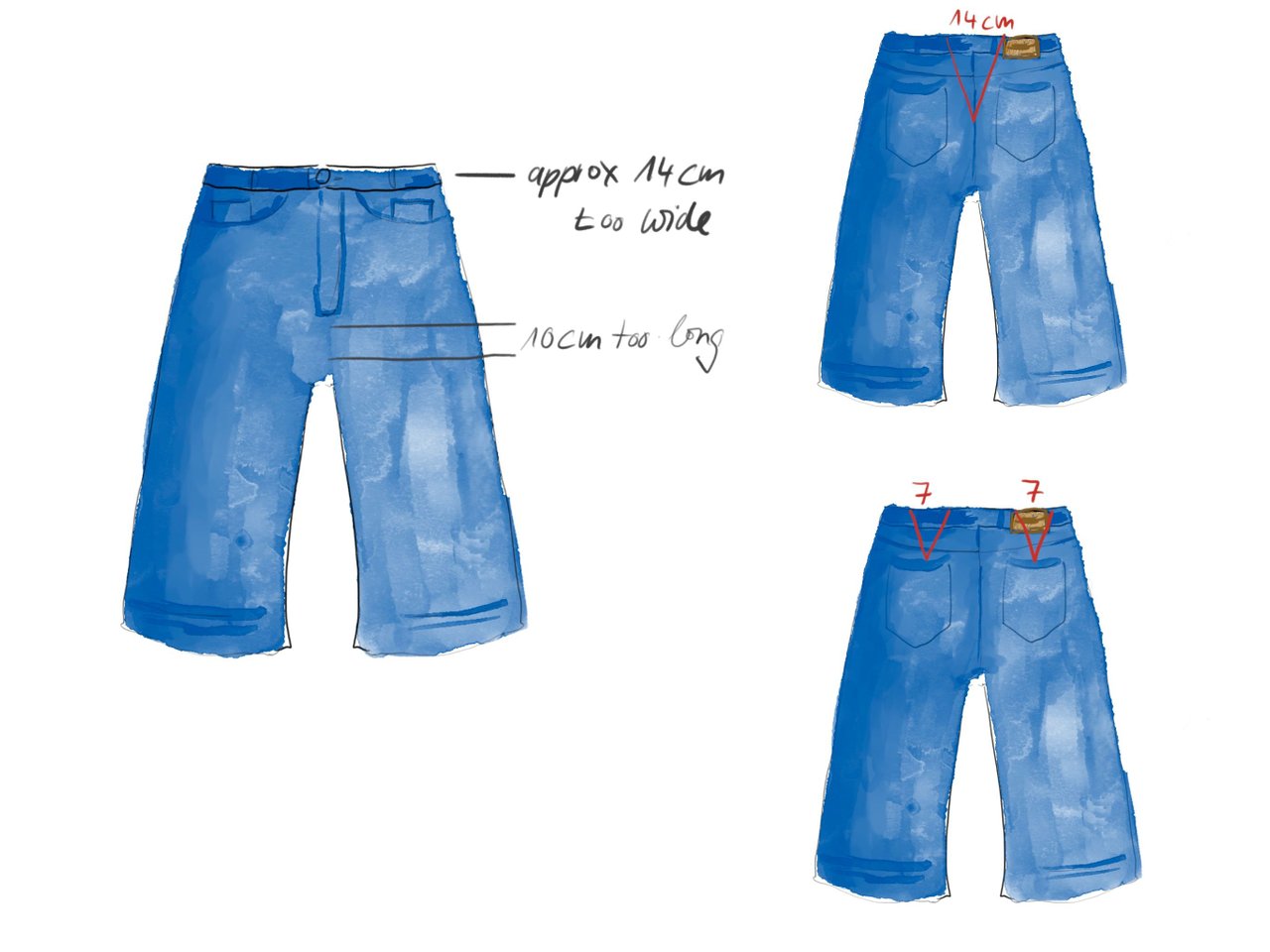 My first idea was to insert darts into the trousers to get a slightly better fit. My go to method of inserting one big dart at the middle of the back is not possible, because there is too much fabric I must take away. The second idea was to insert two darts placed left and right from the centre back (like you would do for a form fitting skirt). Here another problem surfaces: the jeans have a fake leather placket sewn onto the waistband which I so far could not unpick. And this placket sits exactly at the place where I would insert a dart.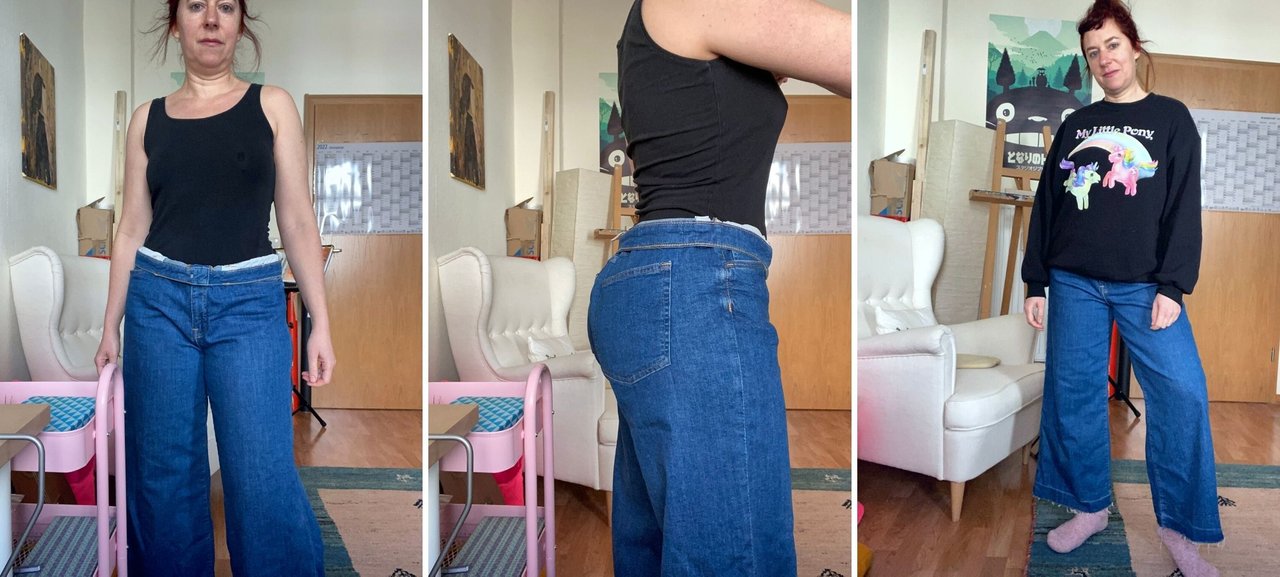 After these unsuccessful thoughts I tried something with the jeans which I always do with wide exercise pants. I folded the waistband. And tada, this fits a lot better because the rise is shorter, the trousers are sitting lower at my torso and a bit of the width is gone. I already googled how I could alter the waistline and cut out 6 cm of the rise, but I only found the advice to give it to a tailor and expect a price which is higher than the original cost of the jeans.
So, that's all my ideas. I still would love to wear the jeans as it has such a wonderful dark blue color, feels so soft and comfortable, but even a belt cannot hide the excess fabric at the waist.
Ideas? Help? Rescue? Suggestions? Or is fire needed to burn the trousers down?
If this were your jeans, what you would you do?
---
Thank you @crosheille for initiating and @marblely for hosting the #needleworkmonday and the community builder team @lauramica, @romeskie and @kattycrochet I am so glad to be part of.
If you want to see more beautiful projects with yarn, fabric and most of all needles, follow @needleworkmonday on hive blog. Or even better grab your needles and keyboard and join the #needleworkmonday community. You can read more comments on this post on my hive blog. 
Read more about my art und upcoming exhibitions on neumannsalva or buy some of my digital artworks on NFT showroom.
Last but not least: if my post coaxed a smile on your face you could support me with cocain coffee on Ko-fi