I am confused… craftwise. I started this post with the secure feeling I will tell you about my husbands journey to Iceland and the amazing unspun wool he bought for me. Then it started to rain, and rain and rain some more, and I felt like bright colours, easy projects and instant gratification without research and planning.
How better to get all of this at once than crocheting a granny square shawl with stash yarn.
(Dramatic pause: Dear reader this is the moment to either commit yourself to a journey through my chaotic planning, time wasting thought process and destabilizing sense of color or run away.)
To acquire a pattern for this kind of shawl is easy. The internet is full of wonderful free explanations for this easy and beginner friendly kind of shawl. Nevertheless, I spent roughly an hour researching different varieties of this design: I got sidetracked by this also amazing shawl completely made of double crochet and a beautiful crochet shawl with a hint of lace and tassels.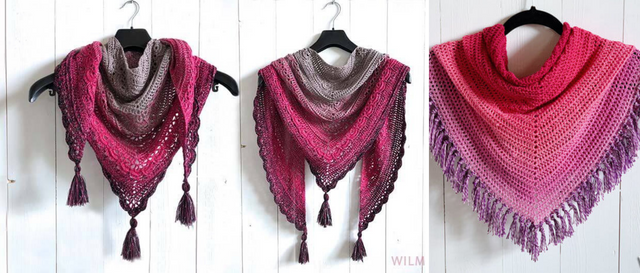 While admiring these designs, my yarn hungry mind told me that a shawl made out of a yarn cake would be even better than one from stash yarn: I would not have to sew in yarn-ends and the finished shawl would have a beautiful colour combination which will not occur naturally if I plan the colours myself. Because of this I stopped researching patterns and instead thought about going out to shop yarn. Thankfully my hair was wet, the weather ugly and I stopped my treacherous crafter-brain from purchasing even more yarn.
I went back to research patterns and decided to use this one from Le Monde de Sucrette as it not only has a written but also a schematic explanation which I prefer for crochet (and honestly also for knitting).
Now I only needed yarn. I had this vision of a very soft and drapy yarn at around hook size 4 or 5 mm. The colours would be heatherd and look a bit vintage. Maybe some mustard, soft pink or green. I dreamed up a shawl which would be cheery in this grey weather but on the other hand muted enough to fit for winter.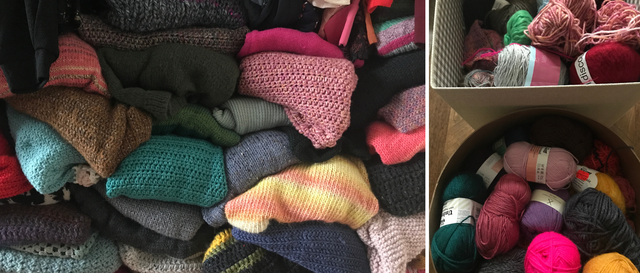 My first step was to jump inside my wardrobe where I hide my yarn behind my handmade sweaters and cardigans. And as you can see on the photo the static of my sweater wall is not sound (please don't judge me too harsh ??). I did not find the right yarn in my treasure boxes, but stumbled upon a sweater (ok, the sweater fell out of this overcrowded wardrobe) which I haven't worn in ages. It is one of my first knitted items and although I love pattern and wool, I seem to not like it on myself (proof: I don't wear it). In my now completely distracted mind, I thought "why not unraveling this sweater and use the yarn for a shawl?".
The sweater is currently intact but what's your opinion, should I unravel it?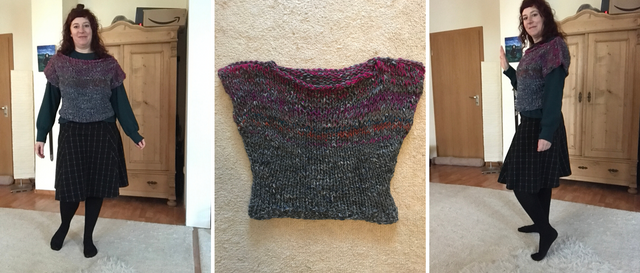 The search for a fitting yarn got a bit frantic and I plundered a box of scrap yarns, remnants of older projects or yarn of which I only had one or two skeins (mostly gifts).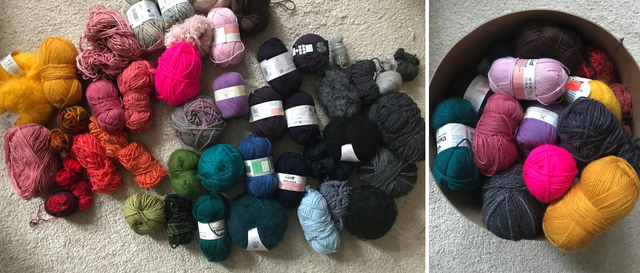 I arranged the inmates of this scrap boxes on the carpet according to their color and I am firmly decided to use some of these skeins for a crochet shawl. Here you can see my top color choice.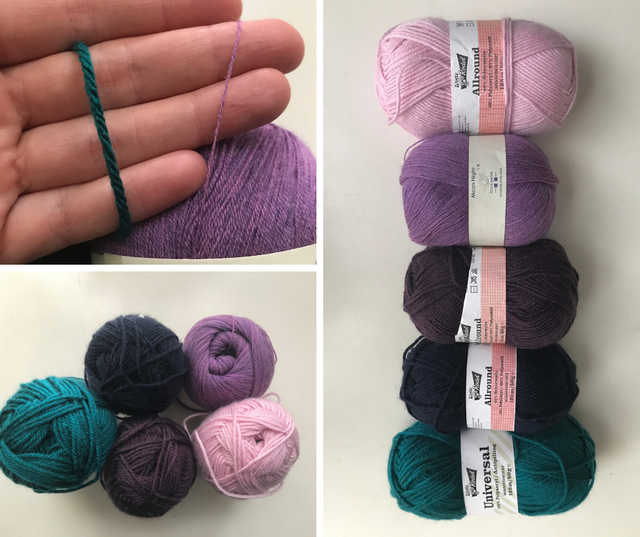 And here are some alternative arrangements: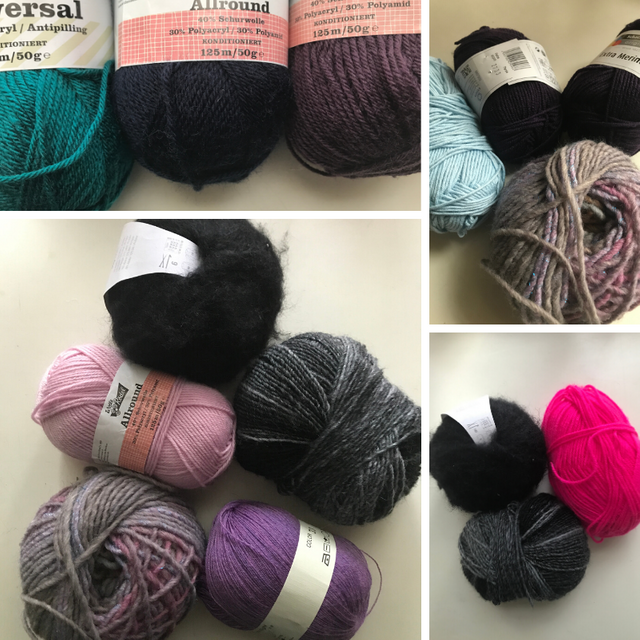 Nothing of them is cheery, neither are all yarns of the same thickness. I am still undecided if I should start the project and if I start, which colours I should use. Please help!!! And rest assured that I will most likely ignore your help and knit socks of the yarn. ???
Hopefully next week I will present you either a crochet shawl or impressive photos of the Icelandic landscape and some Lopi wool.
Thank you @crosheille for iniciating and @muscara, @shanibeer, @marblely for hosting the #needleworkmonday. If you want to see more beautiful projects with yarn, fabric and most of all needles, follow @needleworkmonday on steemit. Or even better grab your needles and keyboard and join the #needleworkmonday community. You can read more comments on this post on my steemit blog.