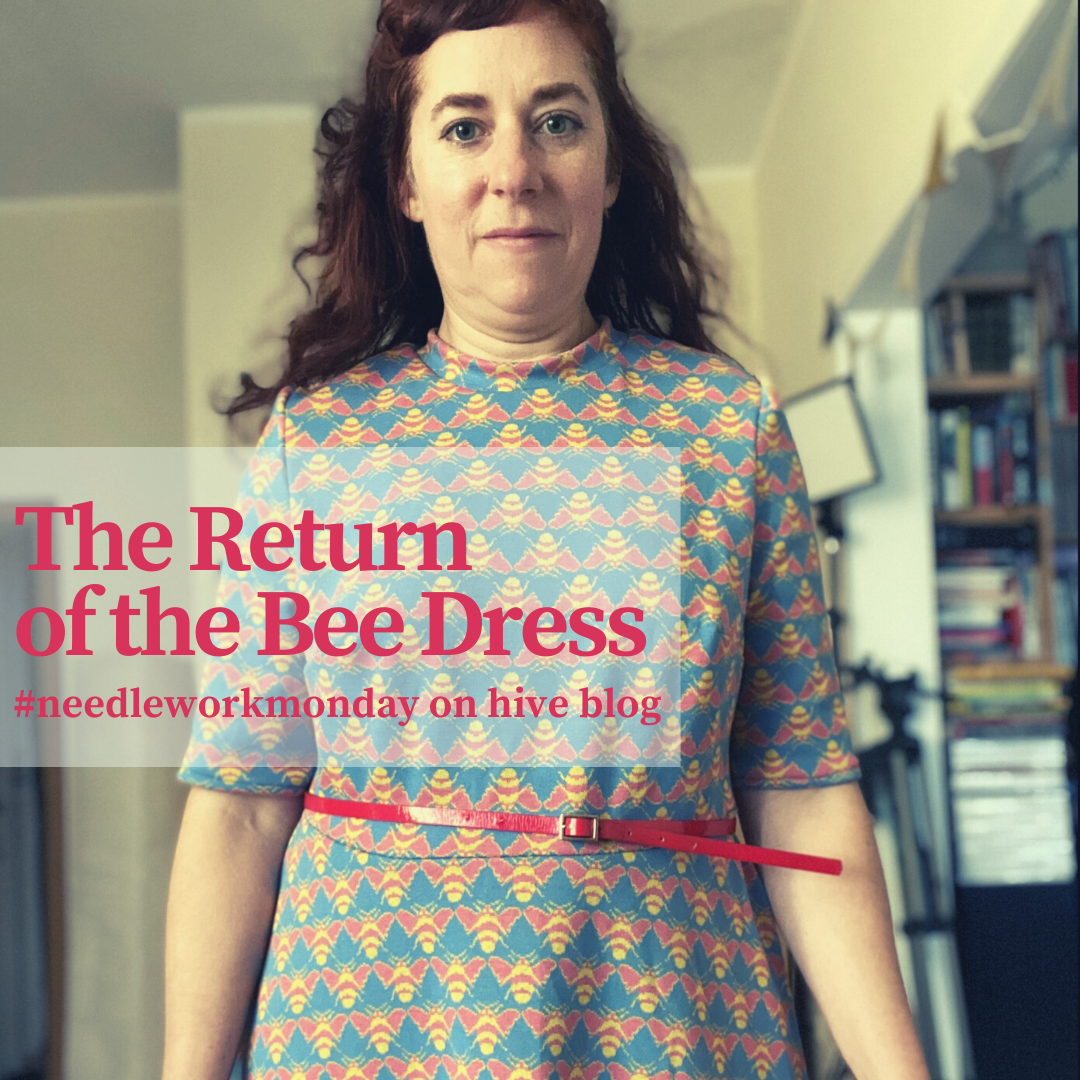 I promised you a dress two weeks ago and I deliver.
Ok, it is a completely different dress, a different method to make it and has nothing to do with my last blog post and my promise to explain how I will copy a bought dress, but much more important: you cannot call me a liar, because there is a dress 😀
So, several weeks month back, in a time where shops still were open and we could walk the streets freely, I bought this super cheery bee fabric in the unobtrusive color combo of pink, yellow and sky blue. As I laid my eyes on this fabric, I envisioned myself in a swingy dress full of bees and I looked so cool, funny, and stylish at the same time.
6 months ago I had decided on the dress pattern – my tried and tested Tailornova dress pattern for stretch fabric, a pattern with a semi fitted bodice with bust darts and a half circle skirt. I cut, I sewed, and I tried it on and: whaaaaat!!!? I look super boring and stuffy in this dress which was destined to be so funny.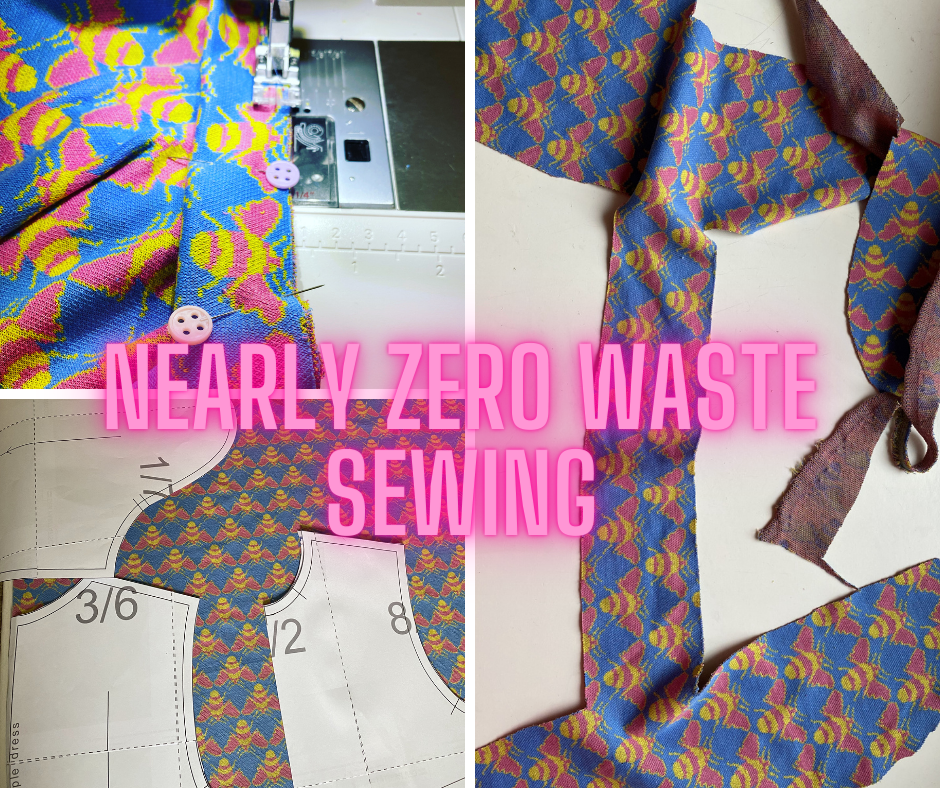 You can read more about this wake-up moment (and the sewing process) in this blog post. After being so disappointed by the dress, I hid it in my cupboard of shame, till last week…
Last week I originally wanted to sew a wide dress with tiers and a huge collar (remember?) but I was unable to buy fabric – a kind of sweatshirt fabric in dark blue or green. Sigh… I was too afraid to order fabric online, as I feel not skilled enough to gauge the drape and feel of fabric only by reading a description or looking at images online. So, the tiered dress must wait. But I was sooooo lusting after sewing and wearing a new dress, I overcome my disappointment of the bee dress which rested half finished in my cupboard. I pulled it out and tried to figure out why I disliked it so much on me.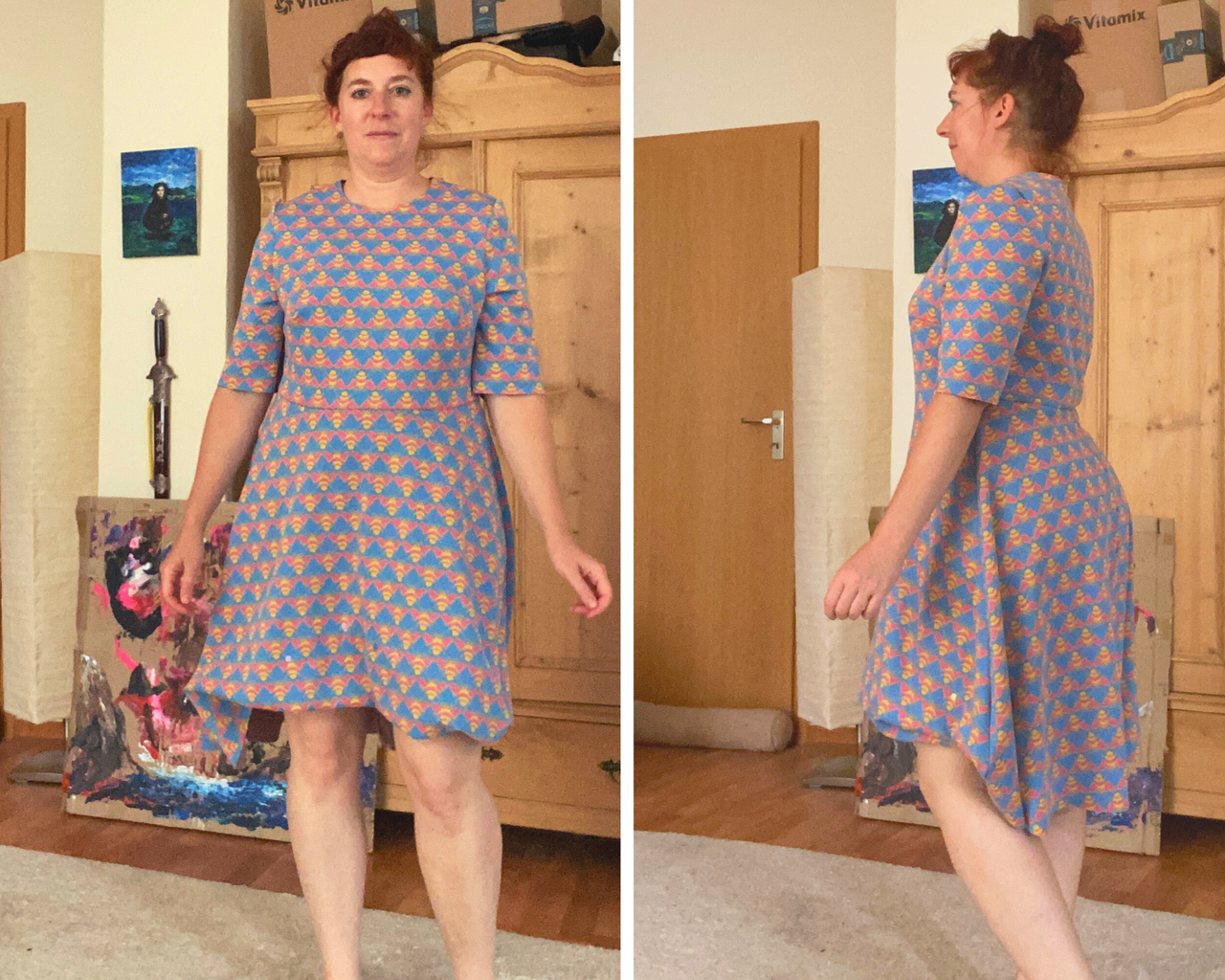 Here is what I came up with:
The colors are crazy and fun on themselves, but my complexion is far to pale for the colors to look good on me (this I cannot change)
The dress pattern from Tailornova does not fit as well, as I first thought. The bust darts are a tad to low and the bodice a bit wide. I measured myself again and I strangely lost 4 cm on my bust and perhaps 2 on my waist according to my book of wisdom (where I keep my measurements). No idea if I made a mistake while measuring myself … for example I am always unsure with the waist measurement as I have no defined waist. It happens easily that I measure a bit higher or lower which would lead to a range of 3 cm more or less waist width. But for the bust I have no explanation.
I had pinned the dress at knee length and I think this was the wrong choice for this dress.
After this in depth and scientific evaluation I simply finished the dress :-DDDD I sewed a band around the neckline, finished the sleeves and hemmed the skirt at its full length. After this I searched my wardrobe for a belt to give the waist a bit more definition and took some new photos.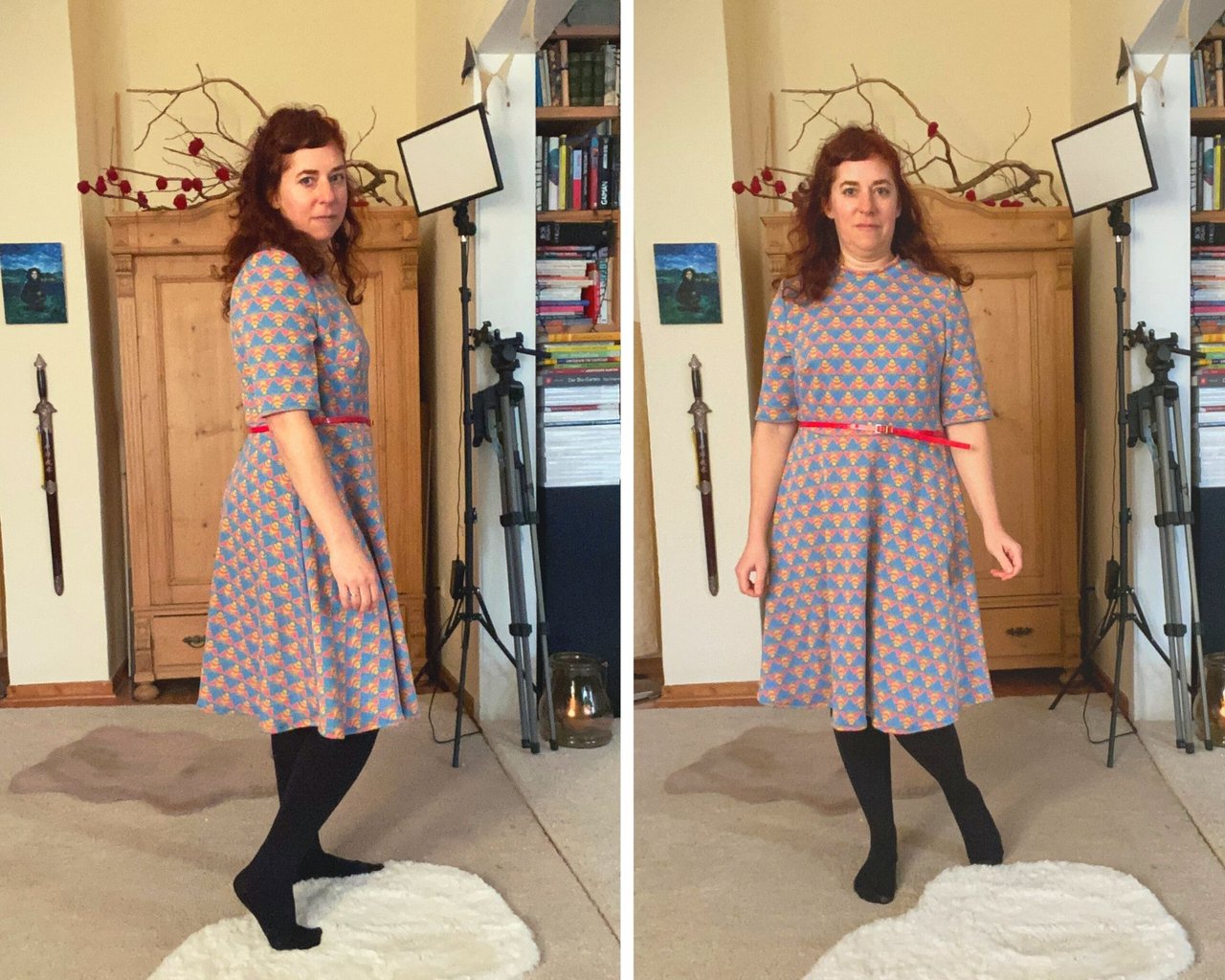 And I am ok with this. The dress is still not as funny as I thought it would be, but it is wearable. Perhaps I should invest into a small black or blue belt, but I even like it with the read one. I am glad I gave this dress a second chance and I even learned something in the process: how much the length of the skirt influences the whole look, that light colors are perhaps not the best for me and that I still should work on "this one perfect dress pattern" as the Tailornova one fits not as good as I believed it to (or perhaps I need to check my measurements more often and more attentive… this is the other possibility:-D)
Any thoughts on your side? Do you think the dress is wearable or do you have some hints how to perfect the pattern/fit? I would love to hear your ideas <3
Thank you @crosheille for iniciating and @muscara and @marblely for hosting the #needleworkmonday. If you want to see more beautiful projects with yarn, fabric and most of all needles, follow @needleworkmonday on hive blog. Or even better grab your needles and keyboard and join the #needleworkmonday community. You can read more comments on this post on my hive blog.