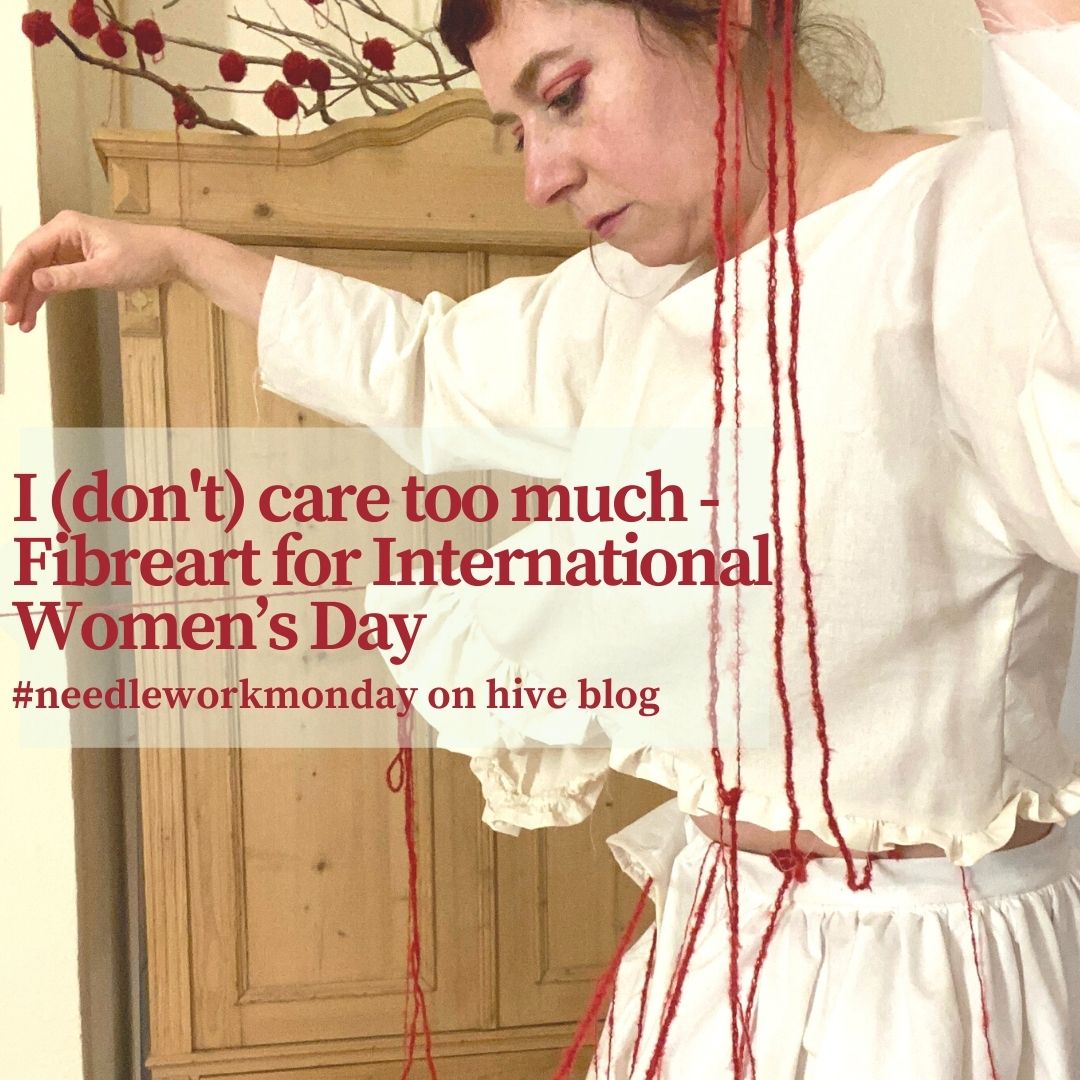 For this years international women's day during a worldwide pandemic I have chosen not to celebrate the successes of the collaborate effort of women which came before me, I have chosen to point out one part of (several) still existing injustices in women's life: unpaid care work.
I found this important to point out – this is no scientific hypothesis only my subjective opinion – that I notice a kind of backlash which shifts more responsibility on women's shoulders, but a responsibility without positive acknowledgement. Care work is heavily resting on women during this time of pandemic. So, I tried to create two garments which make this injustice and its costs for women visible.
The blouse: Tear me down or fly alone
This blouse represents the imbalance in opinions shown towards woman: too thin or too fat, too clever, or too stupid, too emotional, or too cold, too motherly, too businesslike – everything is up to critical evaluation. Everyone sports an opinion about behaviour and looks. And these opinions are tearing on me. They pull me in one direction and someday I may stumble (if I not unclothe myself from societies – or better sexism's preconceptions about womanhood)
But there is also internal/ internalised imbalance. The too much of feeling and caring. The fear of letting loved ones down, the wish to please everybody, to give everyone a happy live, ease their sadness or hurt. The fear of being unjust or impolite, to be inattentive or even neglect others needs.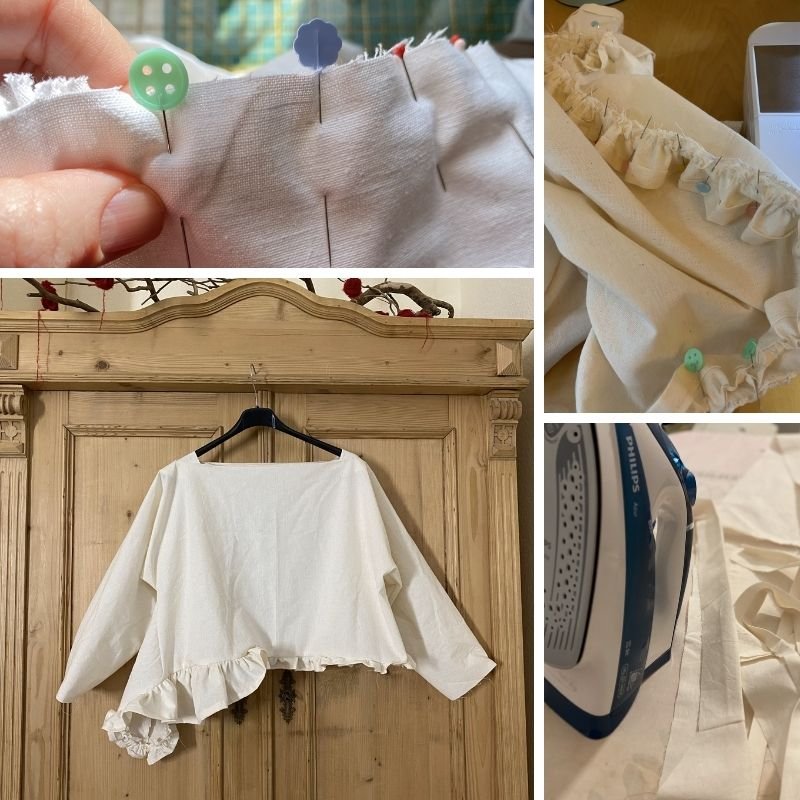 And on the other side the will to fight for my opinion, fight too much, too harsh without the desire to negotiate for winning. Presenting facts as if they are self explanatory, as if … This is the light side of imbalance. Nobody is there to hold me (down). This is the cold side, no (false) love keeping me warm.
The skirt: I don't care/too much/holes
There are big chunks of myself missing. I gave my heart away, part of my thigh and a bit of my soul.

This is the skirt with holes, the embodiment of "care work". Unpaid (emotional) labour which is biting chunks out of women's life's and body's all over the world. During pandemic times this became even more obvious as the centre of people's life is suddenly more private, and governments pushes responsibility towards the family and so ultimately on the woman/mother. Nothing bad with the family being your centre of life… if you have chosen it. Not so nice: a society which on the one hand implicitly expect of women to care for their elderly parents, to care for their children, to hold contact to friends, to be the social glue, the support system and on the other hand devalue exactly this kind of work. And this devaluation is not always easy to spot. It may be easy to notice that jobs done mostly by women, like preschool teacher, geriatric nurses, nurses in general, shop assistants and and and are payed less as a whole (not to speak of the gender pay gap). Less easy to spot is that many aspects of care work never register as work at all. In many relationships it is still deemed "normal", kind of laws of nature "normal" that the female part goes shopping, cooks, educates or if the male part wants to help, the woman has to coordinate his help… and so she again is ultimately responsible for everybody's wellbeing.
What I did – the creative and crafty process
For the blouse I have chosen a plain pattern, something which had the feel of a blank canvas for me: the Fibremood Suri Top. This is a top which consist only of a front and back part, no inserted sleeves at all. I made a very short version of this top and inserted a big irregular gusset beneath the right armpit to give the top an "imbalanced" (see explanation above) width and drape. To enhance this imbalance, I afterwards sewed on a ruffle at the hem. This ruffle has varying length; the longest part I arranged at the side-wedge, the shortest exactly at the opposite side.
The skirt I made with a pattern of Simone Rocha. I loved her idea of a garment which is both hiding and revealing at the same time. Which has it "reveals" at random places and so for me creates fewer erotic images but speaks more of hurtful exposure? For this reason I decided to leave the "holes" wide open. These "holes" are made by long stripes of fabric which have a gathered part (the bottom one) and a wider non gathered (the upper one). After gathering the "hole" is bind with self-made bias tape. To be honest, this was fiddly for me 😀
For the fabric I have chosen a light beige cotton which reminds me of a medieval cilice (Büßergewand… robe of repentance I would translate). A fabric which in my eye's hints to an underlying sin, but also represents the already purified sinner. A fabric which is bland and does not mirror the wearers personality.


The red crochet chains are like blood traces, which speak of the emotional and physical draining of women. Traces which visualize the social connection women hold up in our society… traces of strain, crime, and sex.
Thank you @crosheille for iniciating and @muscara and @marblely for hosting the #needleworkmonday. If you want to see more beautiful projects with yarn, fabric and most of all needles, follow @needleworkmonday on hive blog. Or even better grab your needles and keyboard and join the #needleworkmonday community. You can read more comments on this post on my hive blog.