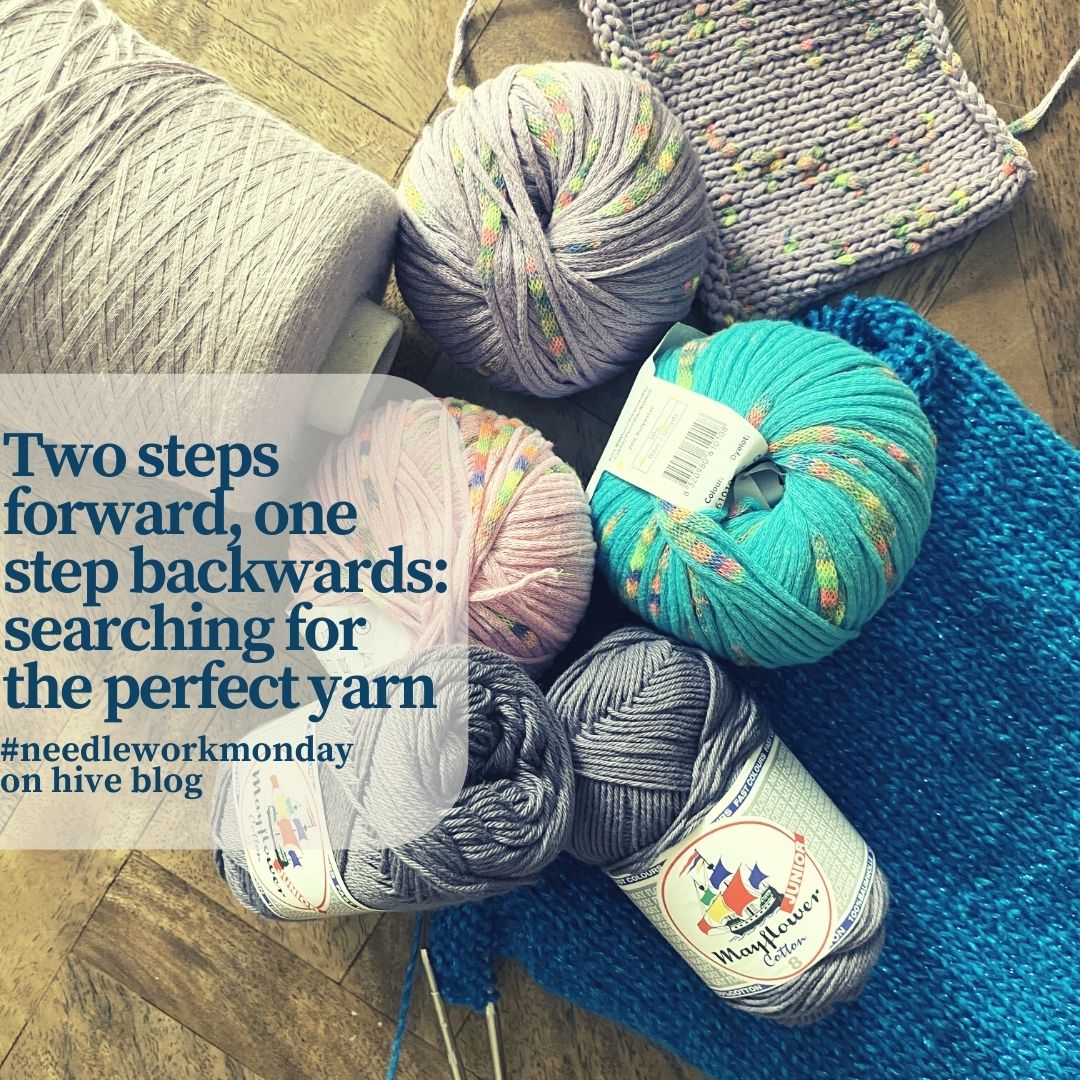 Searching for the perfect yarn
I shortly pondered if I should change the proverb into "two steps backwards and one step forward", because I got near to nothing done this week (on the crafting side). You remember I was so excited about the hexagon crochet pattern I saw on Instagram and about my own design of the "standard" cardigan pattern?
After you all chimed in that it is not a good idea to continue the hexagon cardigan with a yarn I find too thick and impractical, I was well-behaved and stopped working on it (but to be honest, I still haven't unravelled it). Instead of crocheting, I stash dived. I found three yarns in my boxes which were full or partly cotton (the hexagon cardigan should be made from a cotton mix) and are all in lovely shades of mauve/pastel lilac/lavender/ heather… I have no idea how these colors are really named in English :-DDD But I love all of them.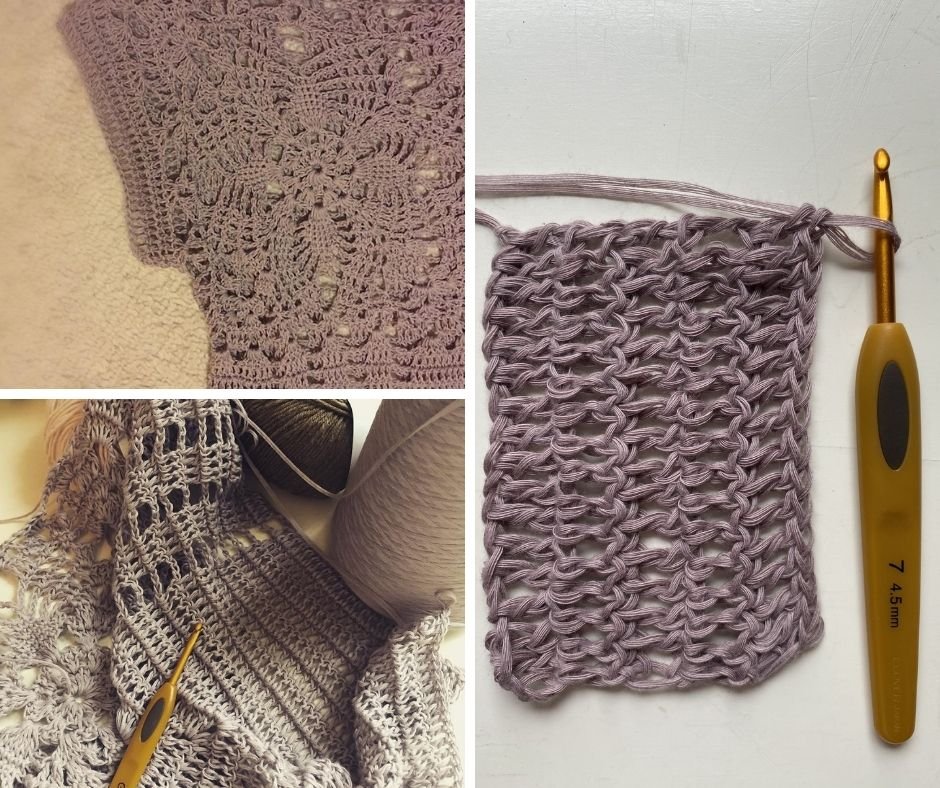 Sadly, nothing worked. The first yarn I used is pure cotton and very soft, I bought it many years ago for a very small price as it has a strange problem: you cannot knit it or it will be distorted (the shop told me it is wound wrongly onto the cone, therefore the problem in knitting). The yarn is an industrial yarn as you can see as it is on a cone not a skein or ball and is not twisted. I already made a crochet shirt with the yarn for my mother and it is absolutely lovely, but even held double it is much too thin for the cardigan…

The next yarn was also planned for a gift for my mother but in the end, I used a different yarn for her. Now I am left with enough balls of this lilac cotton to knit a cardigan. The yarn is much stiffer and thicker cotton than the first one I showed you and it is in a darker shade of this undefined lilac hue. With this yarn I had a similar problem: held single it was too thin, held double on the other hand produce a super stiff fabric. No way will this every be a soft and drapey cardigan. (yarn is in the middle of the three samples)
The last try was a yarn which I fell in love with some years ago and which I was able to hunt down on eBay at an absolutely bargain price. Unfortunately, I could only buy small quantities of three colors, instead of the large quantity in one color I would need for the hexagon cardigan. Besides I love this yarn a lot in stockinette and am not sure if the tiny speckles of color are as nicely visible in crochet… Above you can see a crochet sample in pink of this speckled yarn and the next photo shows the same yarn (together with the two crochet samples) in lilac but knitted.
Do you also think this yarn looks nicer in knitting than crochet, or is it only me?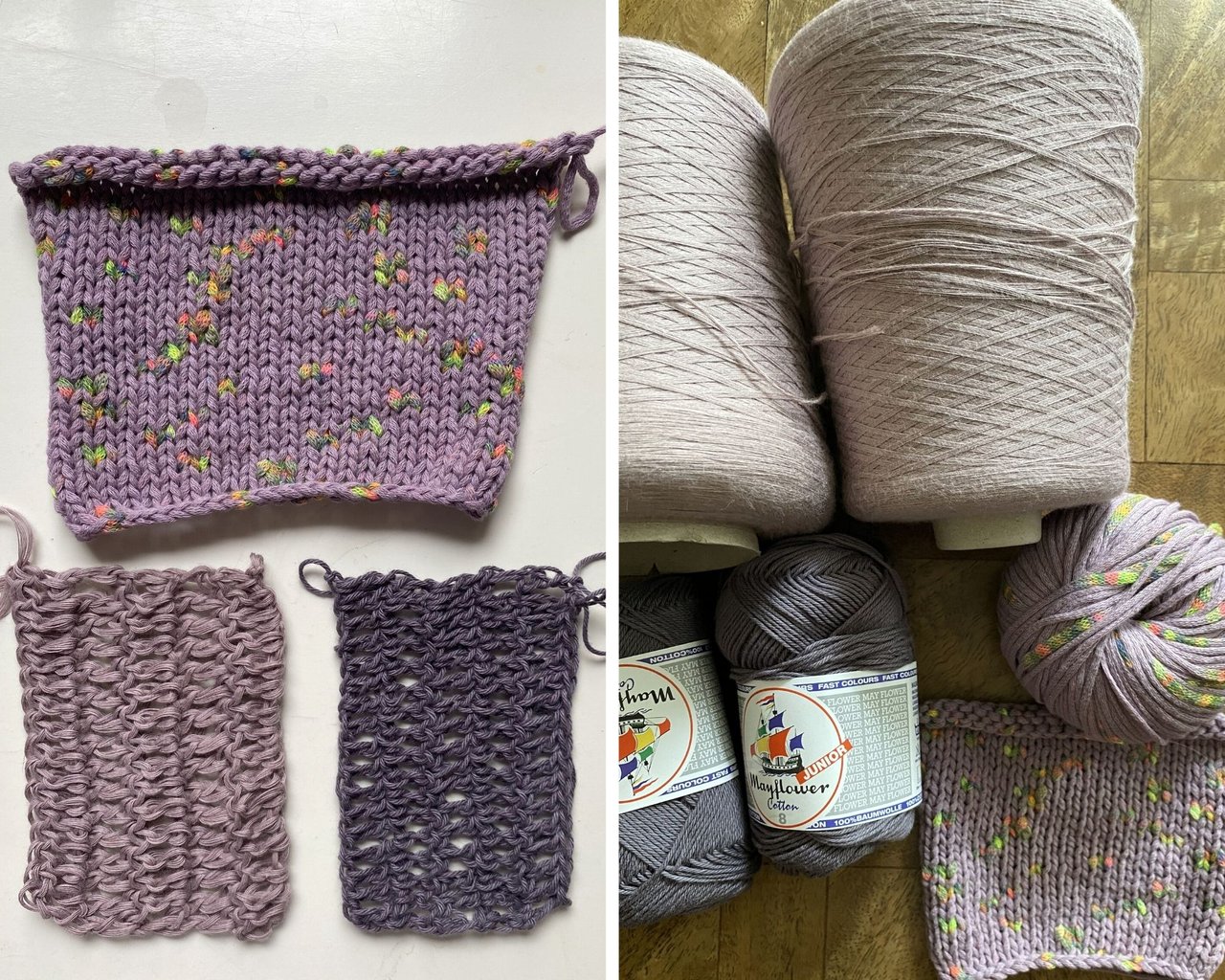 And here my yarn hunt stops. Sorry, no big surprise at the end or a funny joke to tell. But the story for the hexagon cardigan is not over, only delayed. Just to give you something to smile about: here is a photo of me my husband made while I pondered the yarn choices… I really was deep in thought. And I had to laugh so hard about this photo, because I looked – ahem – not too bright.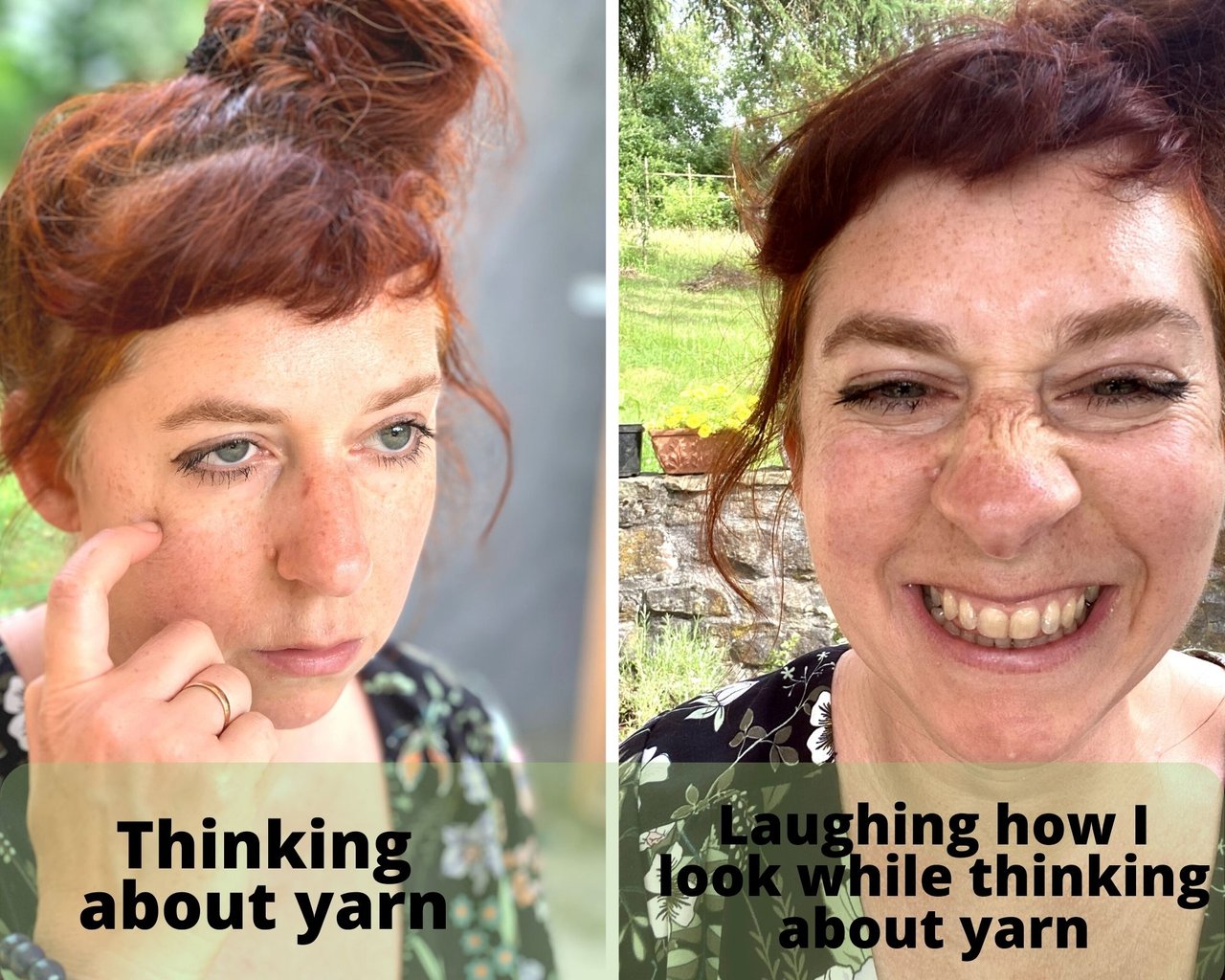 Buuuuuut….. I started on my own knitted cardigan pattern: Yeahhh 😊
You know the pattern I want to write for myself to have a "model" for future cardigans to which I always can go back to and which will fit me. I already casted on the backside and proceeded short before the armhole decreases. And to keep the tension high, I will tell you next time how I calculated all the specifics for the size and which amazing and helpful website I found for designing a tailored cardigan in every size and even for different yarn weights.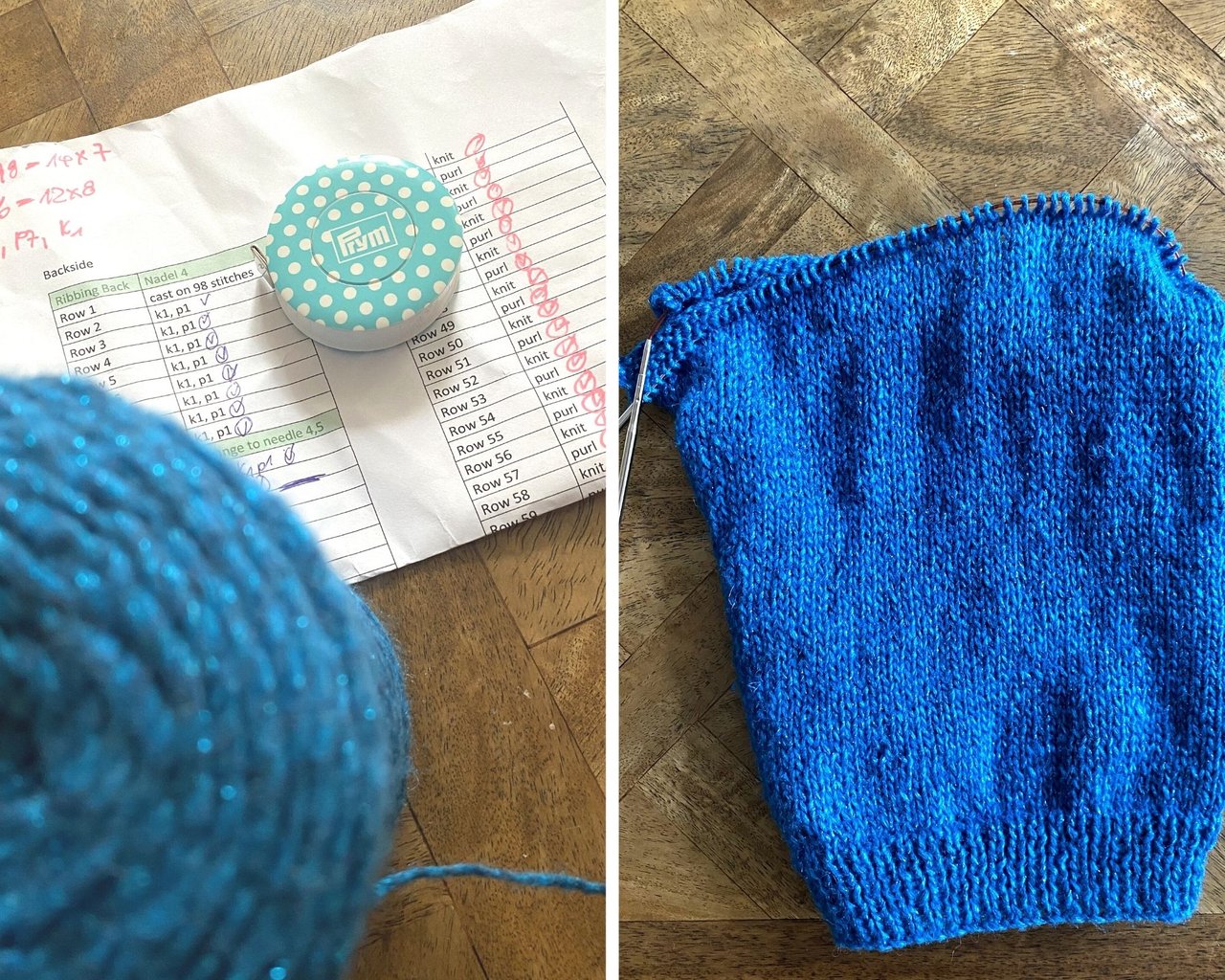 I hope you are all well and have less strange weather then I (last week brutal heat, this week constant rain which floods our garden).
---
Thank you @crosheille for initiating and @marblely for hosting the #needleworkmonday and the community builder team @lauramica, @romeskie and @kattycrochet I am so glad to be part of.
If you want to see more beautiful projects with yarn, fabric and most of all needles, follow @needleworkmonday on hive blog. Or even better grab your needles and keyboard and join the #needleworkmonday community. You can read more comments on this post on my hive blog. 
Read more about my art und upcoming exhibitions on neumannsalva or buy some of my digital artworks on NFT showroom.