Beware: overly long post how I recreated a bought sweater with puff sleeves, entwined with literature allusions and bouts of hubris.
Have you ever felt afraid that a fashion trend may end? For some years you were confident to wear a low rise jean which suited your body type and made shopping for trousers a breeze and then … suddenly there are mom jeans, vintage jeans, skinny jeans and all with the gruesome high rise, high waist, natural waist. Honestly??? My natural waist sits directly beneath my ribcage and in no way does it look flattering on me to wear trousers so high up (I know, I am not making friends with my dislike of high rise trousers). But ok, I have accepted that I must learn to sew trousers myself to get a pair which fits me without a huge gap at the backside or a waistband which I can comfortably pull up to my chin… Today I am back in the low rise jeans dimension, so to speak. But my low rise jeans are now puff-sleeve sweaters. Sweaters with unusual sleeve shapes are back in fashion. Sleeves which are pleated or gathered at the cap, bishop, balloon or lantern sleeves – wide dramatic sleeves in general have a revival and I am happy. And afraid this style will be as fast outdated as it got hyped. And than I will sit on my one million puff sleeve sweaters I announced to sew this year.
So, I was prudential and only sew three of them… in the last week :-DDD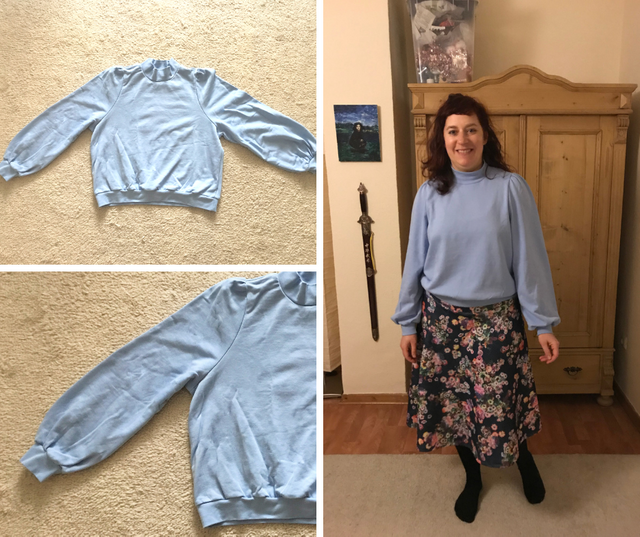 The model sweater

Last week I presented you my realistic plan of sewing projects for the year 2020 and I mentioned a wonderful sweater from Monki I got as a Christmas present. This sweater has several features I love to wear and so it became my patient zero model (sorry, I am currently reading a zombie/steampunk/detective novel).
The Monki sweater has the perfect length for me – not cropped, but not long, something in between – in numbers it is 50 cm from neckline to hem. The sleeves are also something in between as the armhole is so deep that the lines on the front and back of the sweaters body appear to be raglan lines, but no, the sweater has set in sleeves. The neckline is a mixture between a turtleneck and a stand-up collar (sorry, I could not find the right term for this kind of collar/neckline). And finally, the sleeves: they are not only gathered at the sleeve cap, but also at the cuff. The fit of this sweater is very relaxed with a width of approximately 108 cm at the bust and waist.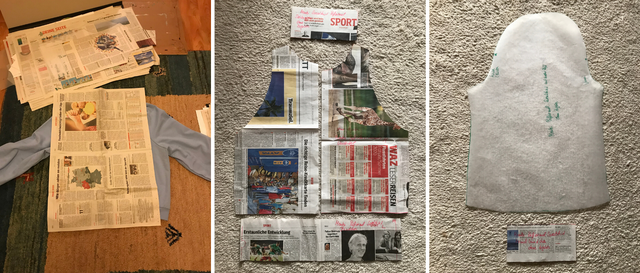 How I cloned my Monki model (sweater)

This would have been a much more fascinating post if I could clone sweaters… I can envision myself bend over a set of petri dishes with a single fibre in my pipette feeding it into a nutrient solution, but no, I did it the old way.
First step was to trace the seams of my model sweater onto a sheet of old newspaper which I lay upon the sweater. This worked so so creating very wobbly seam lines which needed attention before I could turn them into a sewing pattern. So, I browsed through my stash of already cut out and tested sweater patterns with set in sleeves to square both patterns and create a mixture of them. This was easy for back, front, neckband, cuffs and hem band, but the sleeves with the gathers posed a problem.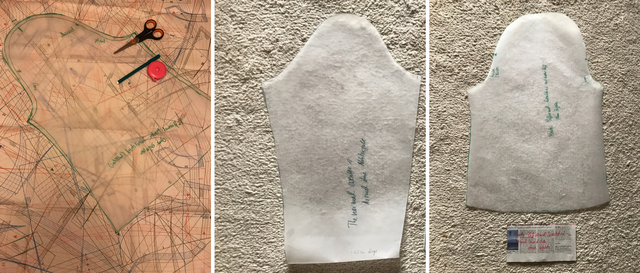 But I am soooooooooooo clever (hello hubris). First step was to trace the half sleeves with newspaper as I did before with the front and back. I roughly drew a sleeve template from this tracing which looked very weird as the width of the gathers was not mapped in this first sleeve pattern. To fix this I went back to the tested sleeve pattern and created a mixture between my very wide and shapeless sleeve sketch (based on the traces) and the tested sleeve pattern. Now I had a sleeve which was recognizable as a sleeve 😀 But the puff was still missing. I researched and watched a video about puff sleeve construction in fast forward to attentively learn fumble this new technique. I used the following video which explains how to spread the sleeve cap to get room for the gathers. To create the gathers at the cuff I also spread the whole sleeve in width.
And tada the pattern for my puff sleeve sweater was ready.

The sewing and adjusting

Sewing this was relatively easy, I only needed to trust my own calculations … (FEAR!!!!) My standard approach is to use scrap fabric.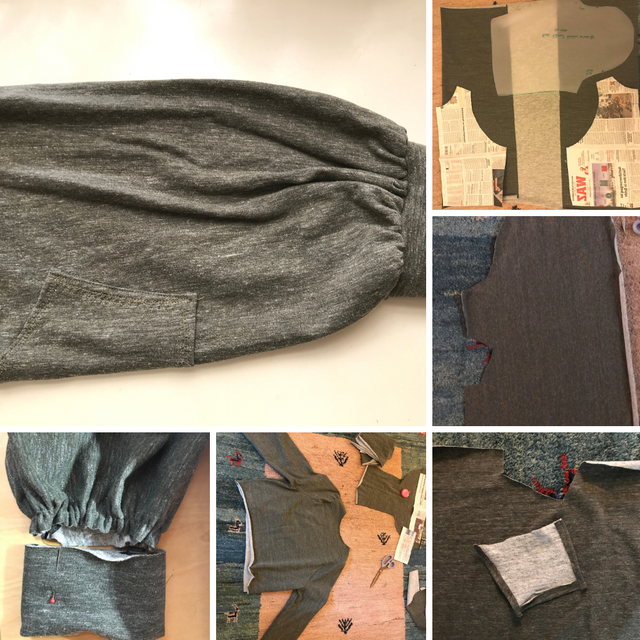 And here I mean scrap scarp… not my usual fabric I find in the bargain box of the fabric store, but scraps which are leftover from different projects. Luckily, I had made (ahem planned) my husband some handsewn Christmas gifts and there was this grey-green sweatshirt fabric which had the perfect drape for my puff sleeve sweater. Mostly I can squeeze a sweater for myself out of small amount of fabric (I guess 1,20 x 1,40 m, or even less) but the puff sleeves are so big and wide, I had a problem which you can see on the photos: on both sleeves a small rectangle of fabric was missing and there was no other way to arrange the pattern on the fabric. But I intensely needed to try my puff sleeve sweater in exactly this moment so I inserted patches into the sleeves :-DDD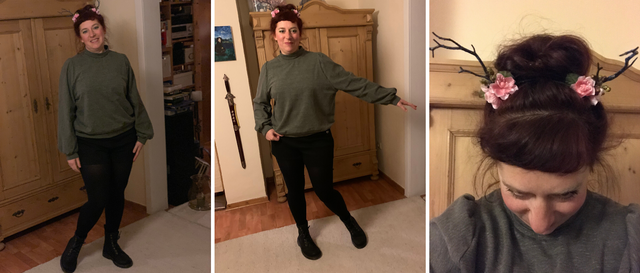 As you can see on the photos where I wear a hairband with antlers, I already wore the sweater: these photos are taken short before we were left to dinner with friends. The patches are not highly visible, and I convinced myself they look like artwork…
I am so in love with this pattern that I already made two more of these sweaters. I adjusted the width of the bust as I found it a bit too wide on me and now, I am really satisfied and hope these puff sleeves will be on trend for a very long time.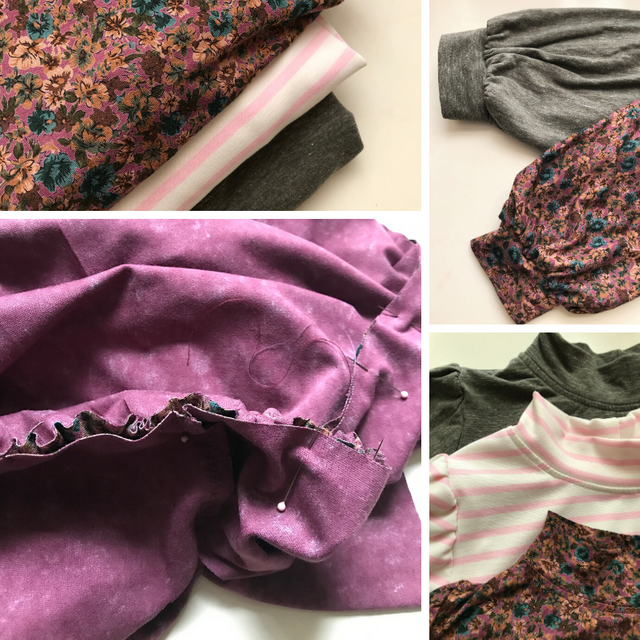 Are there some clothes styles you love so hard that you could wear them constantly? And did you turn them already into sewing/knitting/crochet patterns? I would love to hear of them ??
Thank you @crosheille for iniciating and @muscara, @shanibeer, @marblely for hosting the #needleworkmonday. If you want to see more beautiful projects with yarn, fabric and most of all needles, follow @needleworkmonday on steemit. Or even better grab your needles and keyboard and join the #needleworkmonday community. You can read more comments on this post on my steemit blog.