'No good deed goes unpunished' Goerdi once said to a Romulan officer. And he was so right. For three years now you, dear needlworkmondyers, have been reading my posts, commenting, and liking, supporting my antics and being your altogether wonderful self. But now the time of revelation has come, and I will use my superior power of telepathy and overlocking to invade and conquer the planet you call @needlworkmonday. No hook will stay untouched, no fabric unsewn, no yarn unused. Because here I am Simone of the Tal'Shiar.
---
For all the non-Star Trek fans between my readers Romulans are the big bad boys during many of the uncounted Star Trek serials and films. They origin from a meanwhile destroyed planet which led to a lot of enmity, hate and very pointy shoulders. Their uniforms are a mix between David Bowies famous costumes and a stylist gone crazy on shoulder pads. And I accidentally recreated one of them. But do not fear, I will abstain from the invading thing 😀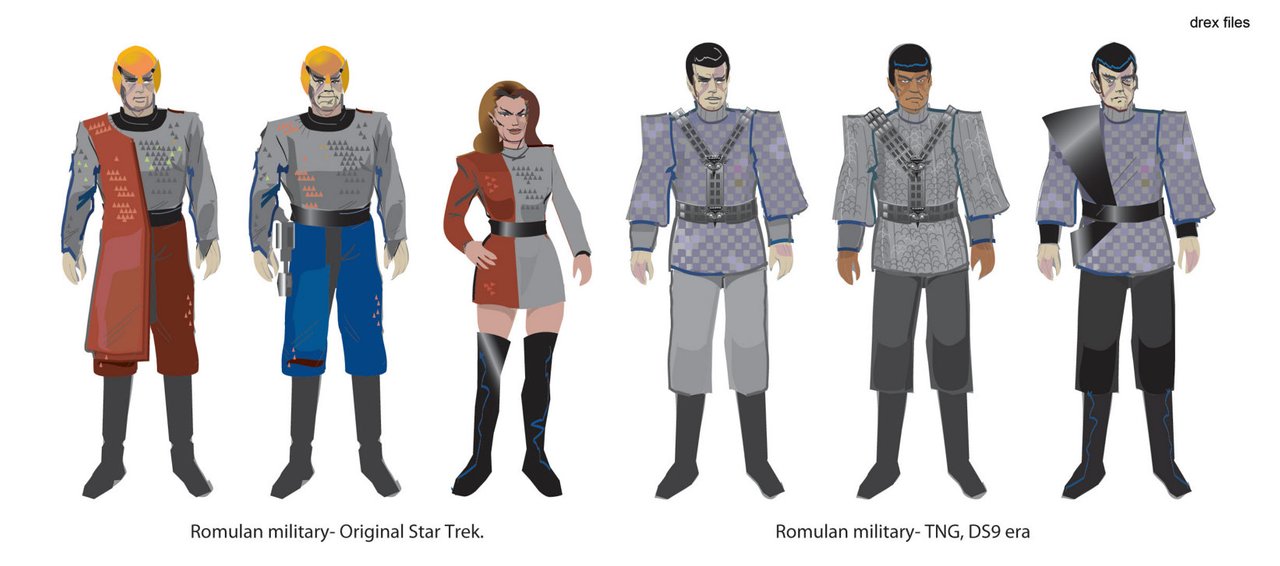 sketch is from https://www.ex-astris-scientia.org/inconsistencies/romulan_evolution.htm

For over a year now broad shoulders are a thing again in fashion but other than in the eighties the designers do not only use pads to create a square and powerful shoulder-line, no they use the fabric of the garment itself: some insert ruffle-like fabric at the armhole, some use intensely gathered sleeves and others enhance the shoulders by folding the sleeve-cap in new and creative ways. The latter I did try out. And dare I say, I was victorious :-DDD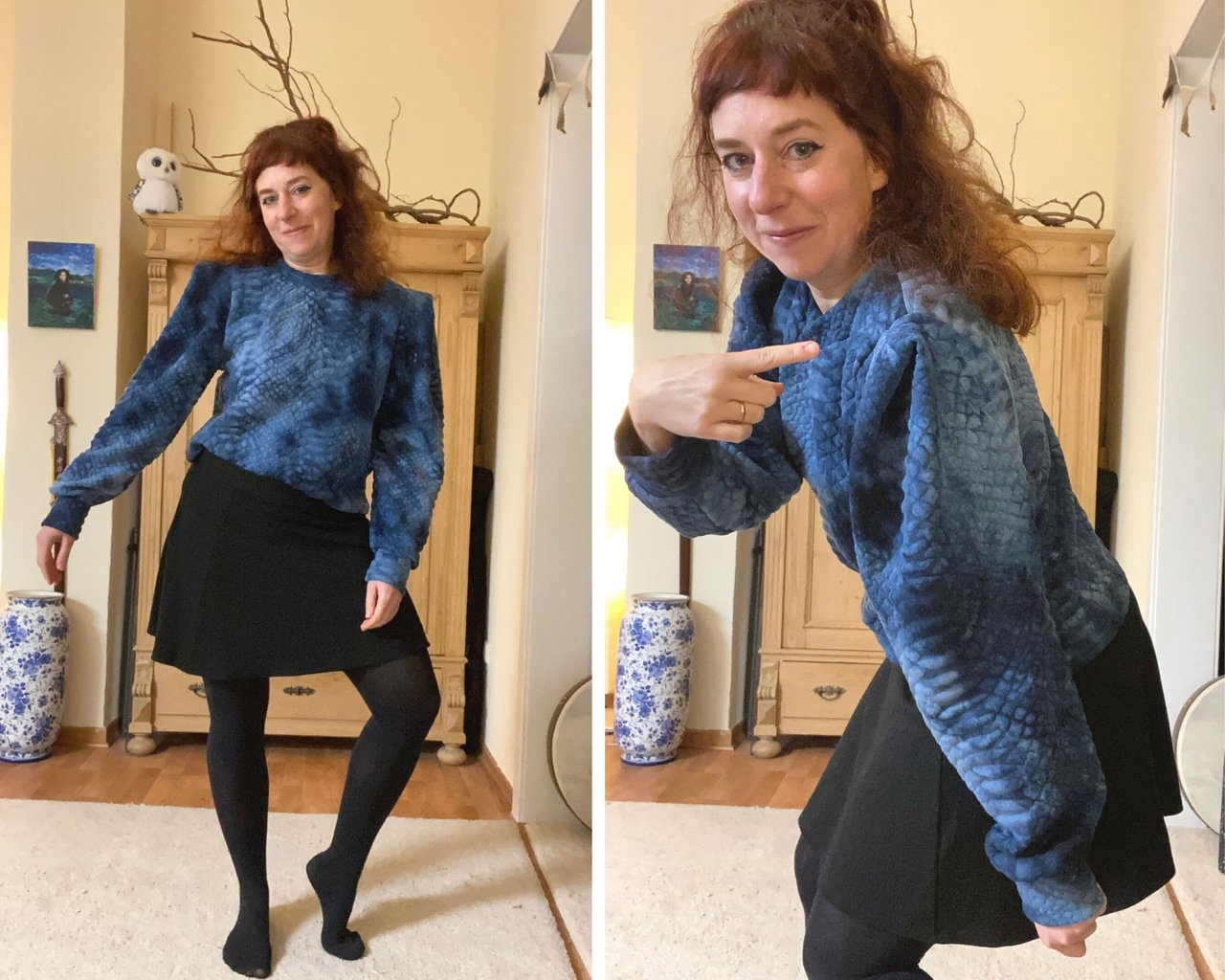 The pattern I used is from the latest Fibremood magazine which is again full of patterns which I would describe at fashion forward. The shirt pattern is named "Clemence" and I eyed this pattern since the magazine came out. I looked at the different versions which popped up on Instagram, I read a nice blog post about the shirt and over the last weeks my need to sew this shirt rose astronomically.
But because of a lot of headaches and more important things to do (like ahem work) I only yesterday found the time to start and – beware – to finish. What a fast make.
I already knew which fabric I wanted to use as I have dreamed about the shirt during headaches phases a lot: a blue tie-dye fabric which has a kind of quilted surface and a lot of stretch. As always, the fabric was a precut bargain fabric but in contrary to coaxing a whole dress out of 1,40 m making only a sweater was so relaxing (no pattern Tetris necessary).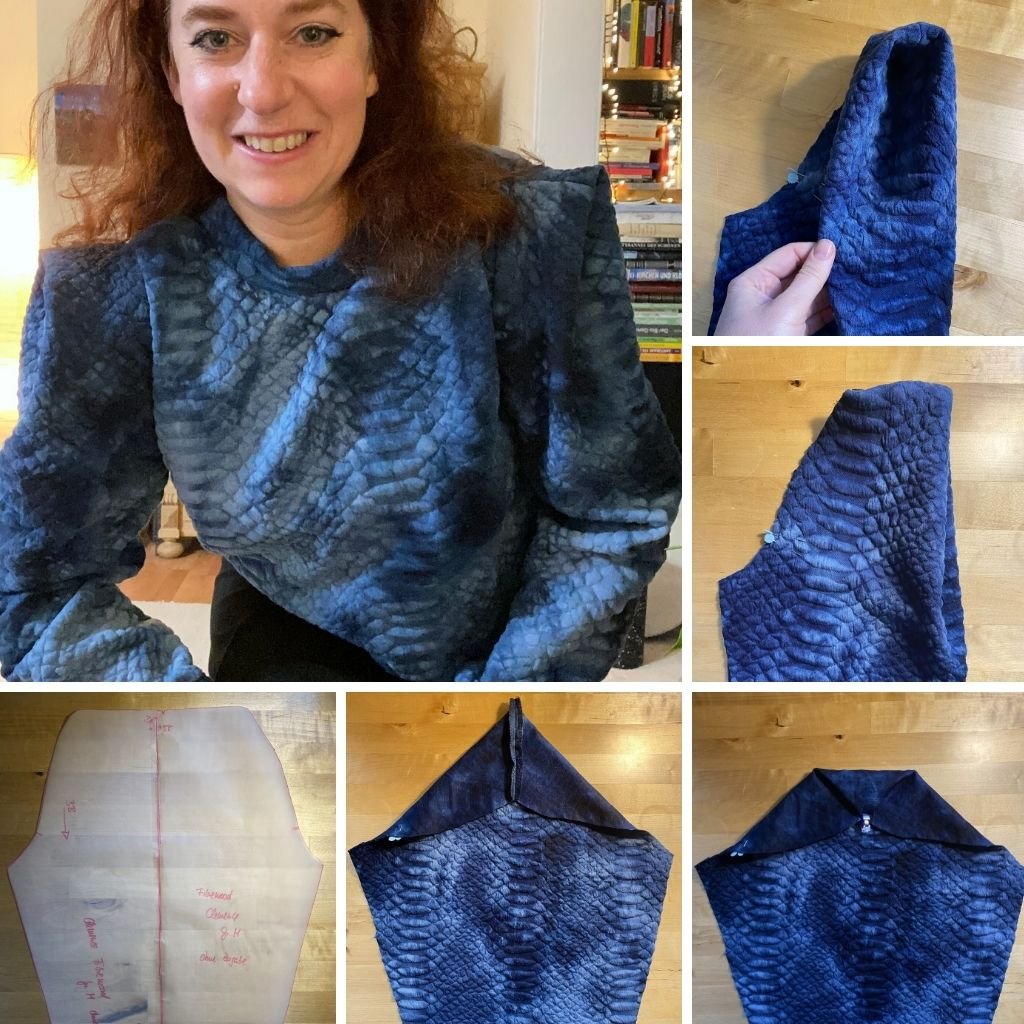 The pattern is built like a standard sweatshirt only the sleeves are unusual. But so so clever and simple to make. If you look at the pattern you can see that the whole sleeve is very wide, and the cap looks as if it is cut away; the curve of the cap is flattened into a straight line. This straight cap is at first folded in half and sewed together and folded open afterwards. Now you have created a kind of triangular shape. This part is again folded onto the sleeve and sewed. Now you have created the squared shoulder-form. That's all… so easy.
---
The only two things which got me thinking for some minutes were the sleeve cuffs and at the beginning which size to choose. The rest was completely unexciting (which I love) sweater sewing.
Back to the sleeve cuffs: the sleeves themselves are very wide and I had problems to stretch the cuffs wide enough to sew them on the sleeves. To overcome this problem, I gathered the sleeves at the exact width of the cuffs and only after this sewed the duffs on. Worked very nicely. I hope I remember this if I come across this problem again.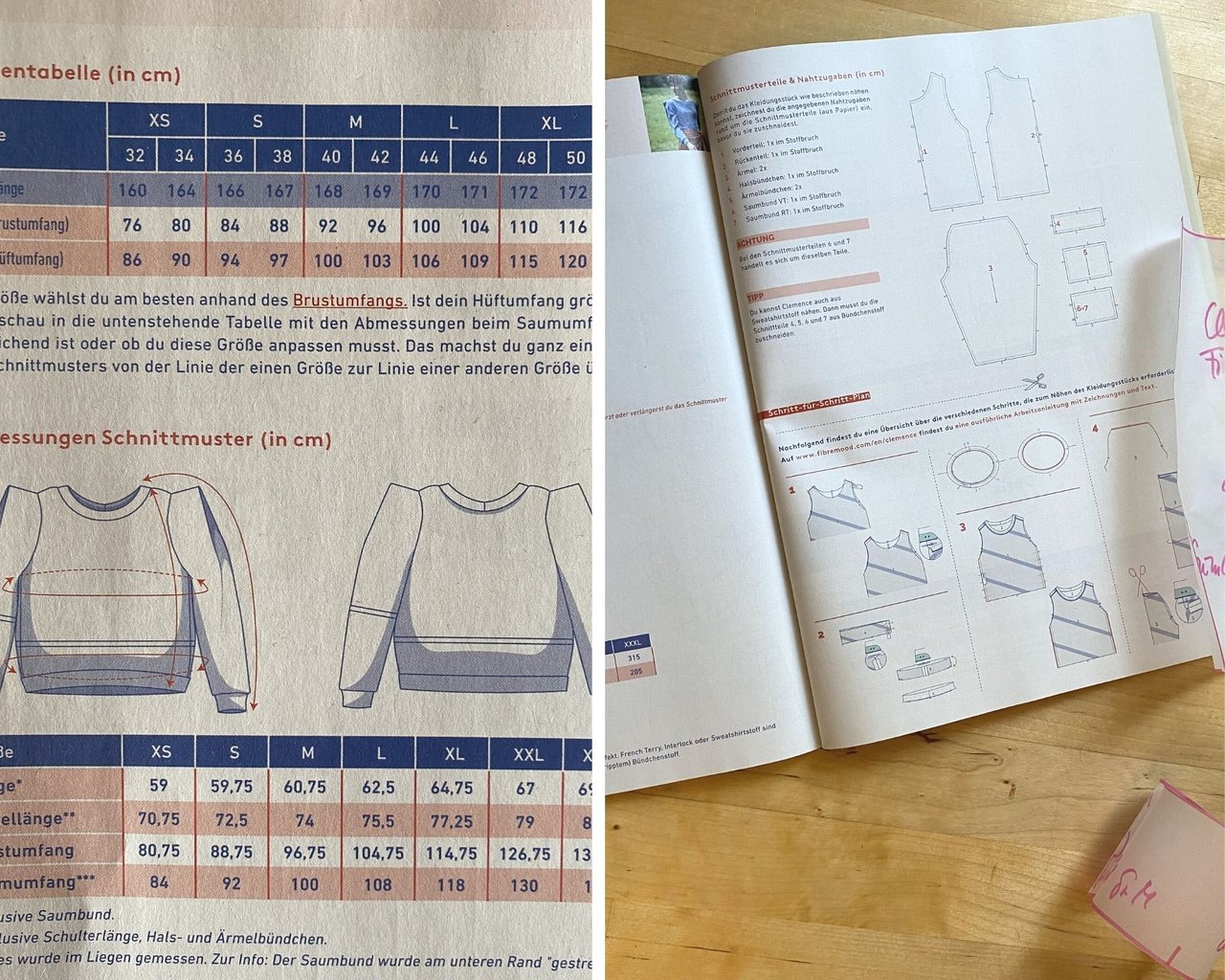 The second tiny problem was deciding which size to use. The Fibremood magazine has a for me very important feature: it tells you the measurements their sizes are based on and the measurements of the finished garment is also always provided. Normally this makes the process of fitting much easier… In the case of the Clemence shirt though I fell into the size 40 bustwise (92 cm), but the garment had only 96,75 cm at the bust which seemed not very comfortable for a sweatshirt (in my eyes… I like wide and comfy clothes). On the other hand, I already knew from my extensive dress sewing journey that most dresses are too wide at the shoulders for me. Combined with the exaggerated shoulder fold I thought it would be better to risk a sweater that is too tight at the bust than ending with a humongous sweater at the shoulders. So, I went with size 40. And for once the sewing luck was with me.
I might even say that the sweater could have been even smaller at the body… Perhaps I was too generous with the seam allowance or the stretch of the fabric was bigger than I anticipated. Either way, I finished my Saturday with a in my eyes lovely-crazy sweater which I already wore the same evening to an art gallery visit. (Just for you to laugh: it was much too cold inside the gallery and I never put off my jacket 😂🤣.)
---
Thank you @crosheille for initiating and @marblely for hosting the #needleworkmonday and the community builder team @lauramica, @romeskie and @kattycrochet I am so glad to be part of.
If you want to see more beautiful projects with yarn, fabric and most of all needles, follow @needleworkmonday on hive blog. Or even better grab your needles and keyboard and join the #needleworkmonday community. You can read more comments on this post on my hive blog.
Read more about my art und upcoming exhibitions on neumannsalva or buy some of my digital artworks on NFT showroom.
Last but not least: if my post coaxed a smile on your face you could support me with cocain coffee on Ko-fi