Word of warning: this is a post about me sometimes having pretty negative thoughts while working creatively. If you need something lighter today, please skip this post.
---
There is a lot of darkness inside of me. You read my (hopefully) funny text, see me laugh during our #needleworkmonday video chats, but this is only the surface. When I am alone with my thoughts, they can get really dark. I still miss my father who died two years ago, I still can hardly drive into the neighbor town were my friend lived who also died not long ago. I fear for the health of my loved ones, I often am overwhelmed by all the things I did not do, I did not manage, I failed in.
I fight to be grateful as my mind naturally tends to search for the fly in the ointment. But sometimes I lose this fight. And I wanted to share these feelings with you, because I want to be honest, to be relatable, perhaps even touch someone out there who is also feeling like this and while reading this post is less alone in this muddy see of sadness (and yes… in my case perhaps also self pity).
Today I finally wanted to present you a finished pattern for one of my two knitted cardigans; "wanted" as in I am not doing it because the patterns are not ready to publish. One of the effects of my bad mood is me getting restless while creating. Suddenly everything seems equally important and unimportant. No longer can I prioritize my work and as all my work is organized by myself, this is pretty bad. Let me give you an example how this looks for me.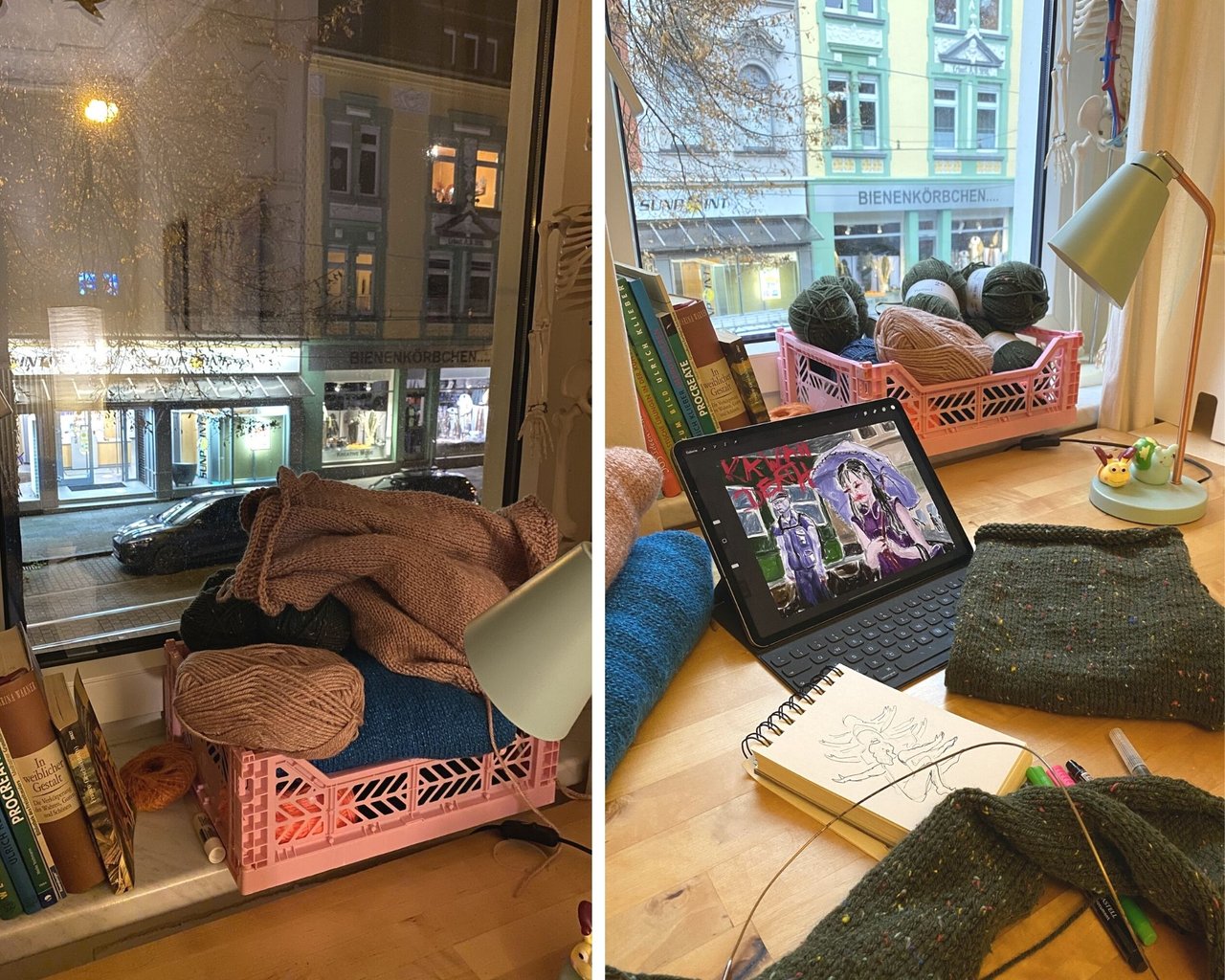 I wake up and already have the deadline for an art project in mind, mentally going through some ideas I sketched days before. I start with a bit of sport, have breakfast and by then I am no longer sure which art project I should work on. I phone with my mother to check in on her and instantly feel guilty for not doing more for her as she now lives alone and does not have anybody around her to socialize. After the call I am even more scattered having sad visions of my mother getting sick… and with this my concentration is gone. But as I want to be productive, I change to knitting or sewing which needs less brain power than doing art (for me). I start to knit and then another thought rises to the surface of my mind: I should not knit I should work on publishing the knitting pattern. I immediately put the knitting away and sit down to format and design the pattern only to notice that I do not have photos of the finished cardigan because I never sewed in the yarn-ends.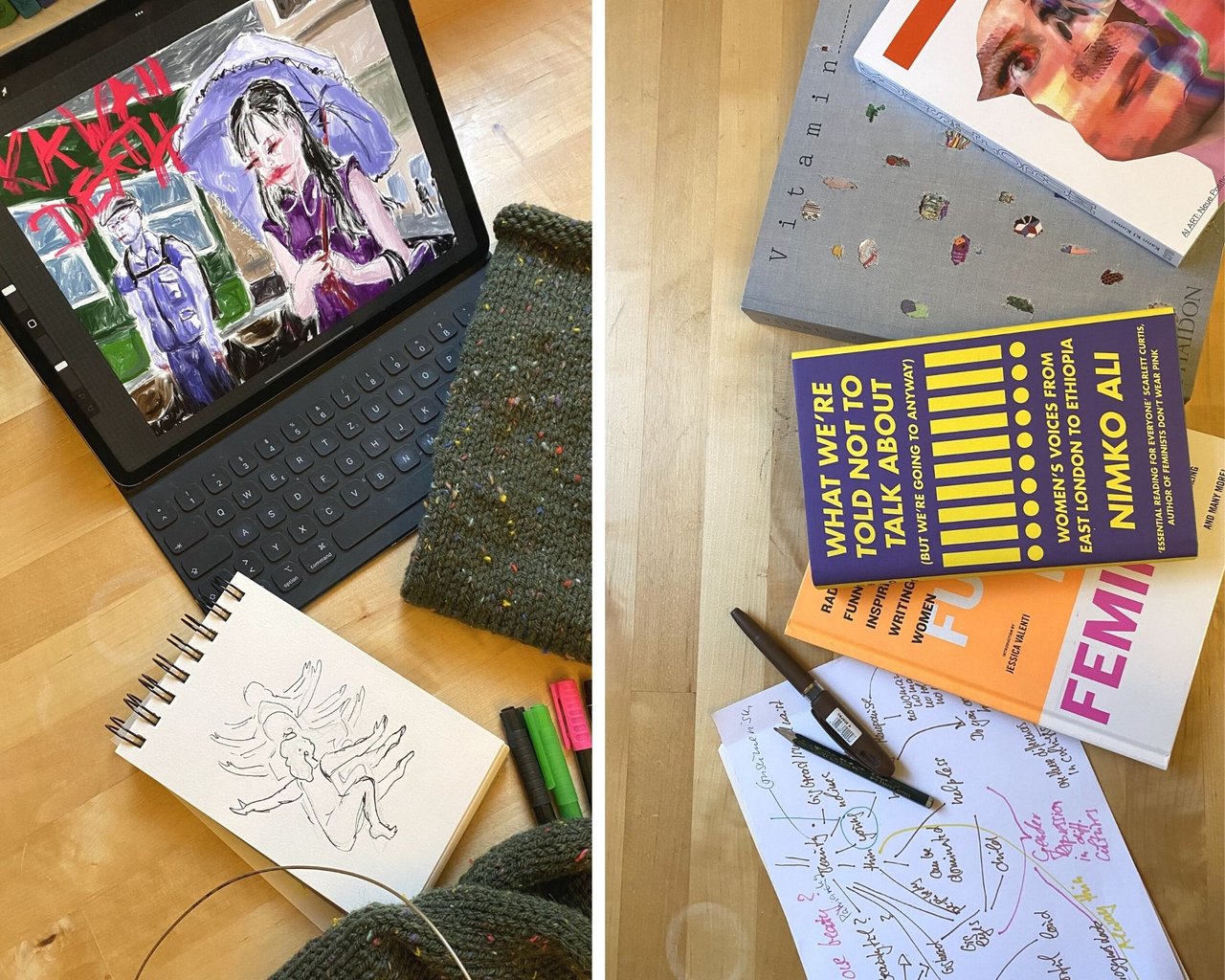 starting on a sketch, editing a finished digital painting, starting to knit, researching… chaos
With this thought my working on the pattern layout is disrupted and I quit meanwhile feeling worse and worse. Then at the latest I am fully immersed in a cycle of blaming myself of being lazy and unproductive while getting even less productive because of feeling ashamed.
Next step is me, asking myself if there is any worth in anything I do (you can guess the answer I give to myself) and the day is done (metaphorically).
Sometimes I imagine my (critical) mind like a bloodhound who is primed to find the tiniest mistake I make, the tiniest possibility of something bad to happen. A hound who sniffs out only failure never success. A hound who tears down everything with cold and analytical rage and then leaves with everything shredded to pieces.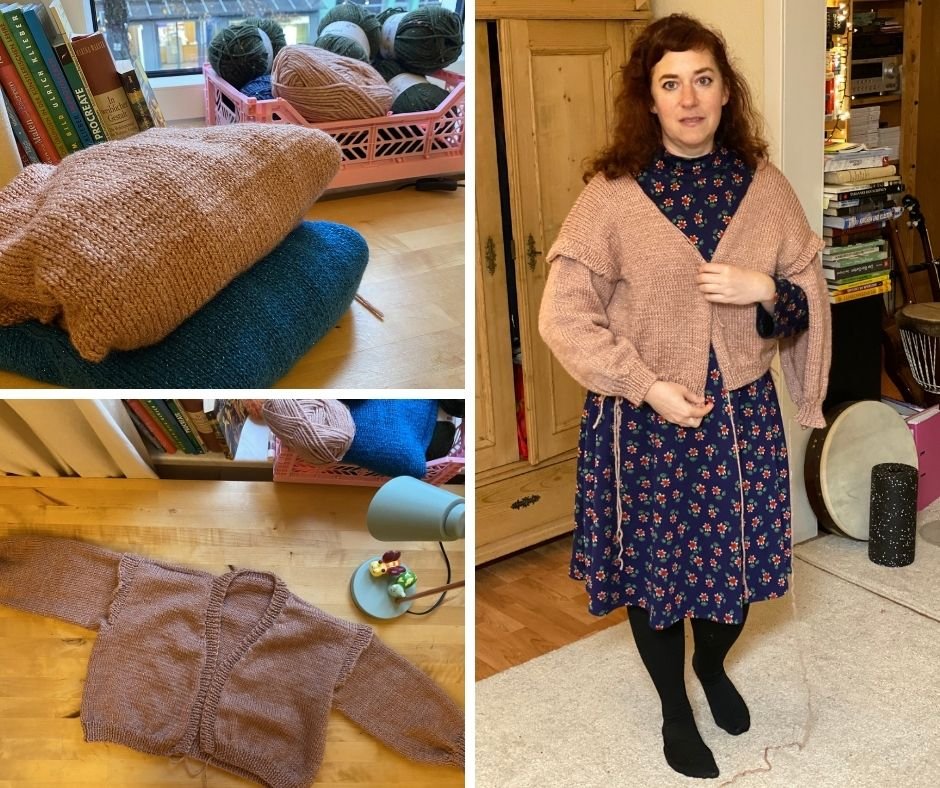 cardigan with yarn-ends not sewn in and still no layouted pattern
I am writing this because it is Monday and my patterns are still not ready, yarn ends not sewn in. I am fairly sure I have done a lot this week, but right now my mind says "no, you have done nothing". If I start to argue and list up what I have made my mind counters "this is done badly, your work has no worth, there is no need for your artworks or sweaters, your writing and thoughts".
I am like this for as long as I can remember. I always pick up the knitting, the artwork, the writing and go on. But it is always a fight with my own darkness.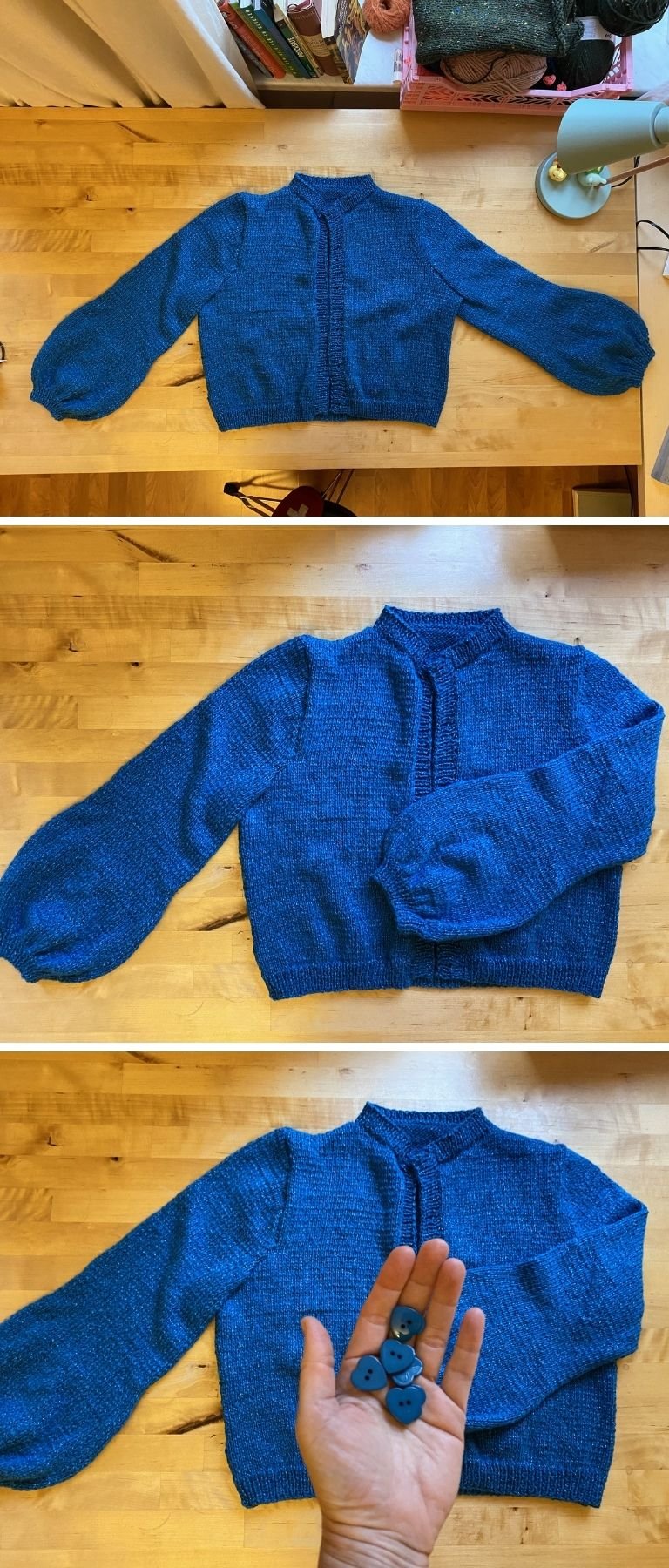 buttons are not sewn on and the pattern layout and technical editing are still missing
---
Do you have such feelings and thoughts? How does your negative thoughts look like and how do you break the spell and go on without drowning? I know this is not my "standard" needlework post, but I felt like sharing this darker things not to scare you away, but to be open about weaknesses to get even closer to you.
Hope you are all well 💗
---
Thank you @crosheille for initiating and @marblely for hosting the #needleworkmonday and the community builder team @lauramica, @romeskie and @kattycrochet I am so glad to be part of.
If you want to see more beautiful projects with yarn, fabric and most of all needles, follow @needleworkmonday on hive blog. Or even better grab your needles and keyboard and join the #needleworkmonday community. You can read more comments on this post on my hive blog. 
Read more about my art und upcoming exhibitions on neumannsalva or buy some of my digital artworks on NFT showroom.
Last but not least: if my post coaxed a smile on your face you could support me with cocain coffee on Ko-fi