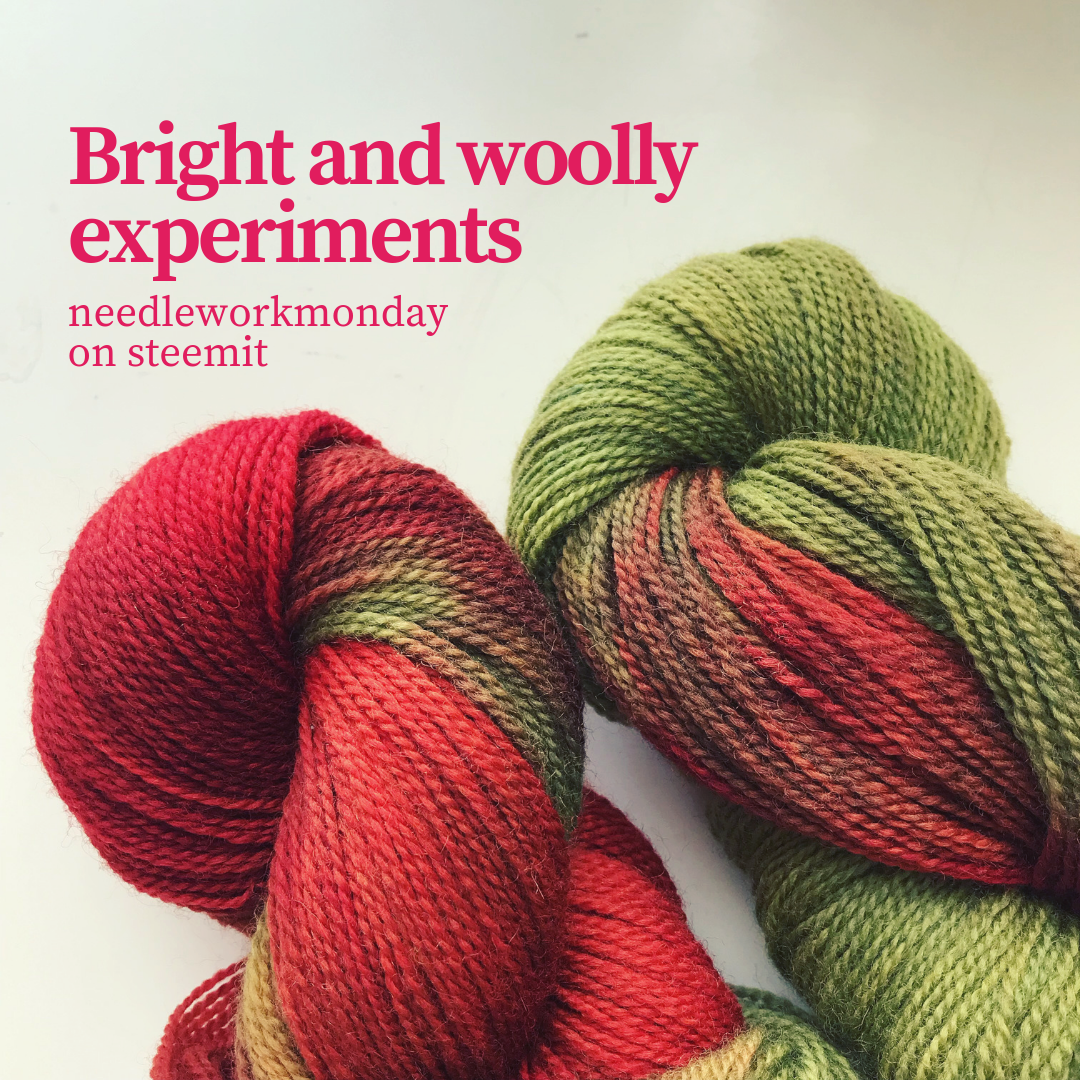 I needed a dye injection, colour, wool and experimentations. So, I dived into my stash and found some skeins of an organic wool I purchased at eBay which are a tad scratchy (read: fells like luffa sponge on the skin). These skeins are form a liquidation of a German wool brand and I bought the skeins exactly for experimenting. Sadly, they are not undyed but yellow. The colors I could produce with dyeing are therefore a bit limited.
A brief digression:
If there is somebody out there who wants to sponsor my greedy creative self, feel free!!! I would love to dye white superwash treated wool. I long to create those beautiful and unique yarn in mauve or pink or petrol with neon speckles. And precisely the speckles are not possible with pure and untreated wool (like I used). The superwash treatment is the decisive element for creating speckles and naturally dry color pigments. Superwash yarn has a different fibre structure – the scales of superwash treated yarn are much smoother and react different to the dye pigments. On untreated organic wool like mine dots of pigments get soak in and create bigger areas of colour, whereas on superwash wool the pigment does not dissolve, but create powdery speckles.
Back to the begging – white superwash wool is much more expensive than my eBay purchase 😀
(Naturally I did not write this so that you really sponsor my wool – yes pleaseeeee sponsor me – but to explain how speckled yarn is made :-D)

What I did
The first step is to untwist the skeins and to secure them with a long cord, so that I can handle the dyed skeins later effortlessly.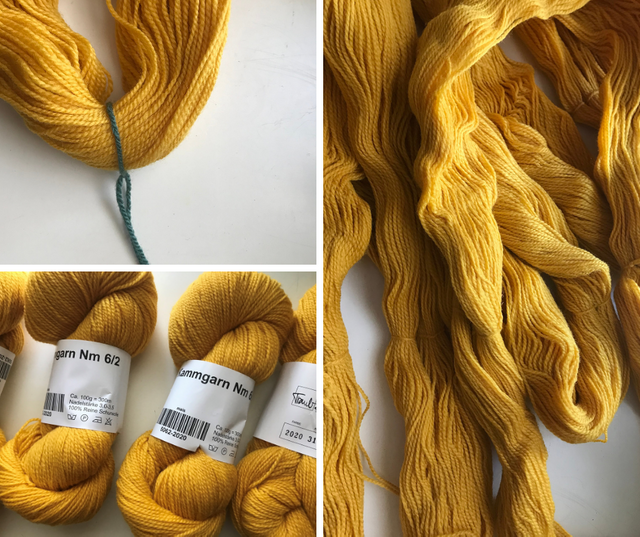 The second step is to give the wool a good swim in vinegar-soap solution. As I am dyeing an animal protein the yarn needs acid (and water) for the fibres to open and later to set the dye. Not the best smelling but the cheapest solution is vinegar essence. The first soak is ¼ cup vinegar per skein of wool diluted in some litres of water and a sprinkle of liquid soap. I let the wool rest inside this bath for several hours.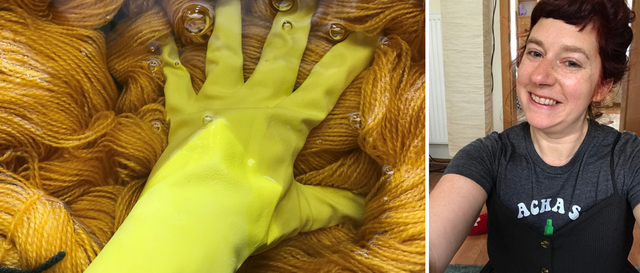 In the meanwhile, I prepare the dyeing area. As I use food colouring which consist of very big and heavy pigments which do not dust or fly I seldom use a respirator masking. But beware if you use real store-bought acid dye pigments for wool you absolutely need the mask or you can develop respiratory problems. Another advantage of the food colouring is it is not poisonous and you can pour excess dye solution into the sink.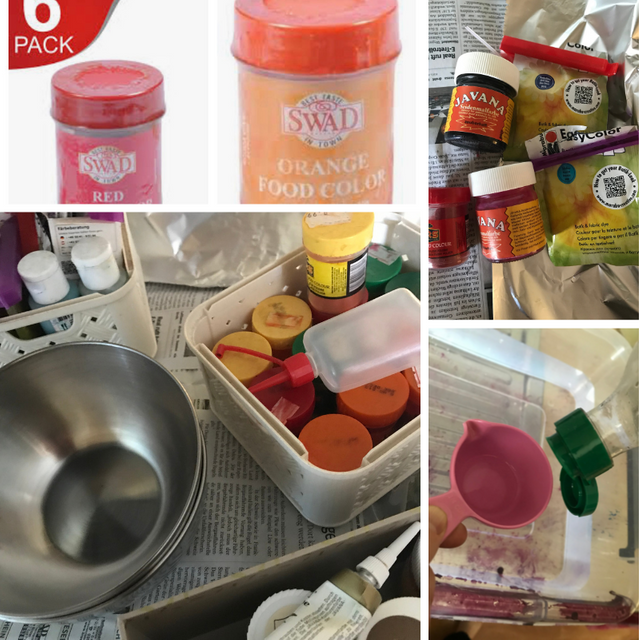 Protective gloves are necessary for every kind of dye besides you also want to dye your hands… permanently. As I use the kitchen for my wool baking dyeing, I generously cover all surfaces with old newspapers, because food colouring also dyes your kitchen counter… believe me, I tried it ?
I fetch the pigments and all other tools like bowls, brushes, a pipette and paper towels. These tools are strictly for dyeing yarn and are not used for anything else. As you can see on the photos I used red and blue dye. The red colour is food colouring from an Indian brand which is crazy cheap. Sadly they have no blue hues (the have yellow, orange, green and red). But I was fearless and tried old silk paint in blue which I got a as a donation. As the acid dyes need heat to set, I also preheated the oven (microwave would be easier, but I don't own one).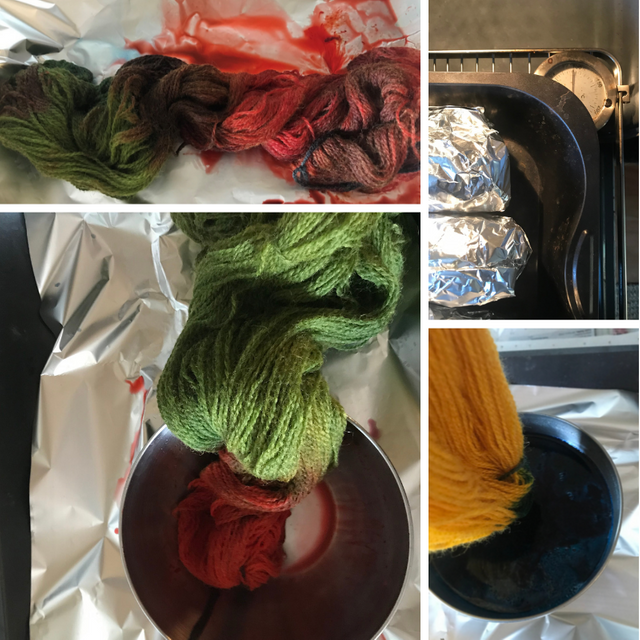 Step three – the actual dyeing
I mixed the pigments with more acid and water and for the two toned yarn I dipped one end of the yarn into the blue and the other into the red and let them soak. Afterwards I wrapped this yarn in aluminium foil, so that it will stay wet during the baking process…. Yes, I will bake this yarn ;-D
The next two skeins I splashed with the blue dye solution but omitted some parts which I then sprinkled with red. Afterward I also wrapped them securely. The last skein I dyed completely with different blue silk paint.
Now the wrapped wool migrated for an hour into the preheated oven. The temperature should not rise above 100 degrees Celsius.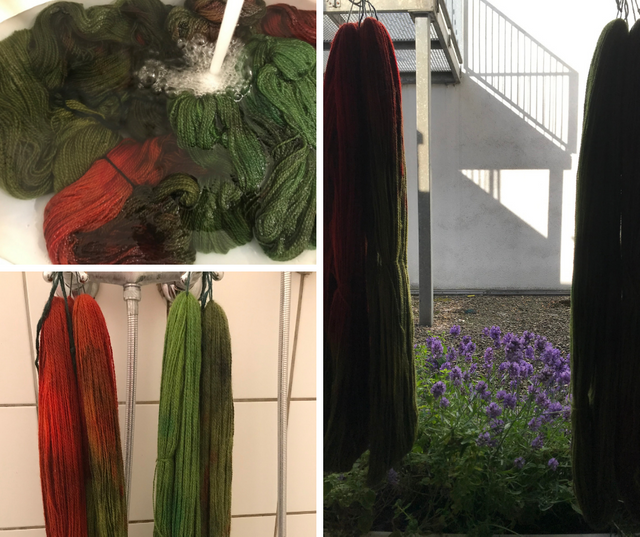 Now the wool is dyed – yeahhhh. But no, we are not finished yet. The last step is to let the wool cool down and then to rinse the excess dye out. This last step may need some time, because pure wool is prone to felting: no wrangling, no scrubbing and luke warm water. We rinse as long as there is dye washing out. If the water stays clear the wool is ready to be dried. I hang my wool into the shower to let it drop for a day (the shower was already "vintage" when we moved into this flat – so no fear of stains)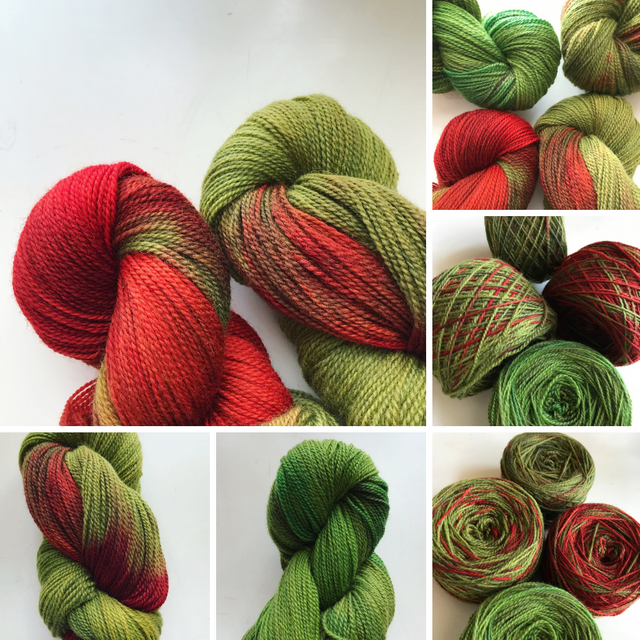 Now the pure pleasure: the fresh dyed wool is ready to be re-twisted into a photogenic skein.Afterwards it must be wound into a cake or ball so that you can knit or crochet with it.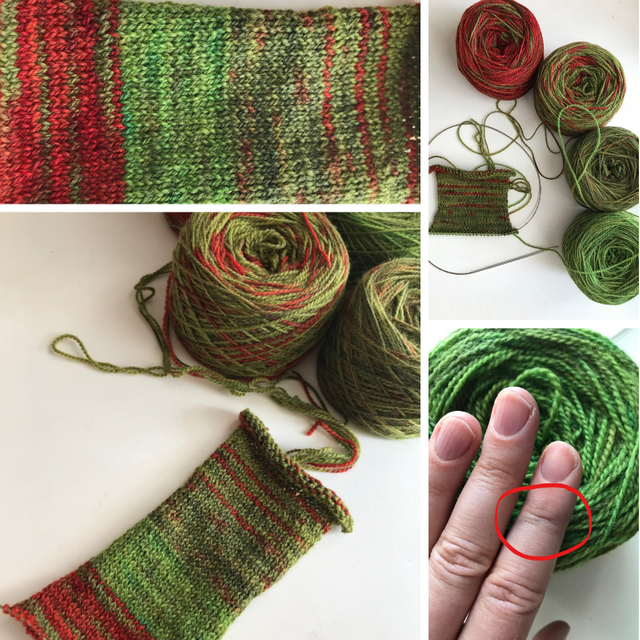 On my photos you can see how all four skeins knit up in stockinette. I am already pondering garments I want to make with it. But – sigh – I encountered one problem, the pure green skein rubs off ???????? I guess the old silk paint does not set. I am completely unsure what to do: Unwind the yarn into a skein and dye it again? Or try to wash it for longer or should I knit it first and wash it afterwards (because getting the yarn from cake to skein again is no joy)????
I have dyed this wool already for a different project – the dragon breath cardigan – and have not encountered such problems… I am open for advice ??

Thank you @crosheille for iniciating and @muscara, @shanibeer, @marblely for hosting the #needleworkmonday. If you want to see more beautiful projects with yarn, fabric and most of all needles, follow @needleworkmonday on steemit. Or even better grab your needles and keyboard and join the #needleworkmonday community. You can read more comments on this post on my steemit blog.