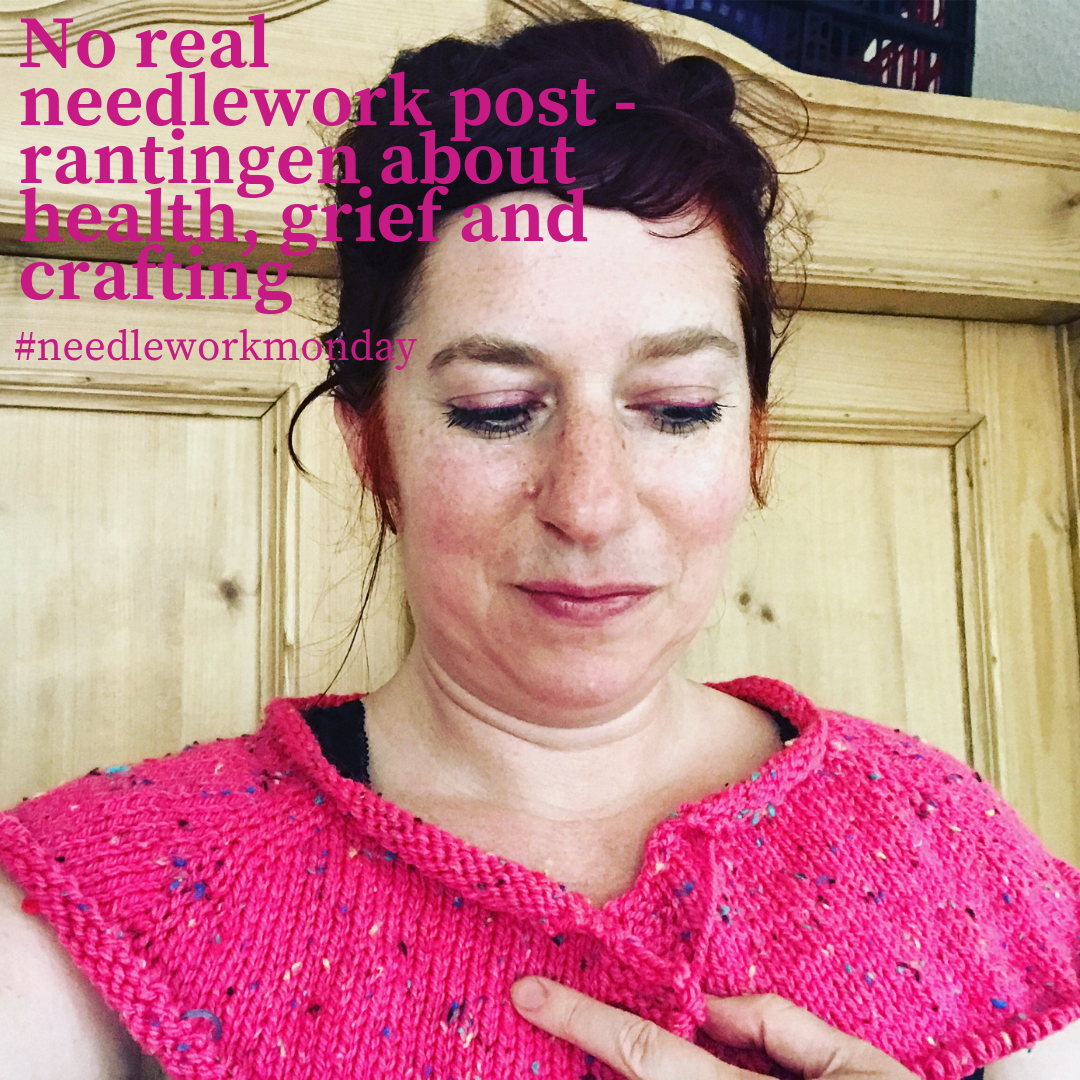 This post rant is an excuse/explanation why I am not writing concise or funny today and for sometimes commenting belated or much too short (so many great needlework post… I so want to engage much more). And for evoking the appearance in my Frankencoinster post that I am tough because I can crochet with migraines, which I can't (I only crochet or knit in the beginning stage of migraine). I feel like explaining it a bit:
You see me smiling and posing my newest knitting, crochet or sewing project. Yesterday you saw me dancing … But the reality right now is neither funny nor productive. I made the dance film last weekend because on Sunday I had a rare day completely without headache. I used it, I used I in a way for which I had to pay the next day. I am still glad I made the film (mostly because I loooove the paper installation from Silvia Müller and Knut Lenkewitz), but the physical cost were high.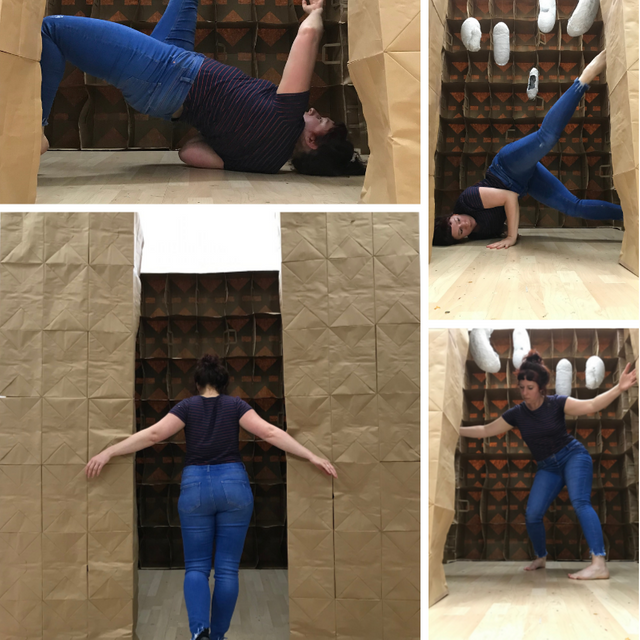 You see me smiling and posing my newest knitting, crochet or sewing project…. But I am often are very sad. Some weeks ago, one of my oldest friends died and I still miss her very much. I can hardly bear it to think of her. The rest of the day I am mostly sitting at the hospital or helping my mother, and if time is left I have migraines (or so it feels). Not so funny.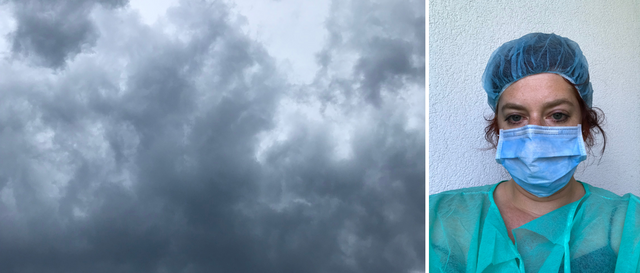 I for example went on Thursday with my husband to a city festival. Sun was up. Houses were picturesque, and I made nice photos. Not visible on the photos is, that I had headaches and we had to go home without sitting down or eating anything. You also cannot see my bad conscience for depriving my husband of a bit of fun on a free day (he is super lovely and sympathetic … Its only my angst, that I disappoint others by not being fit).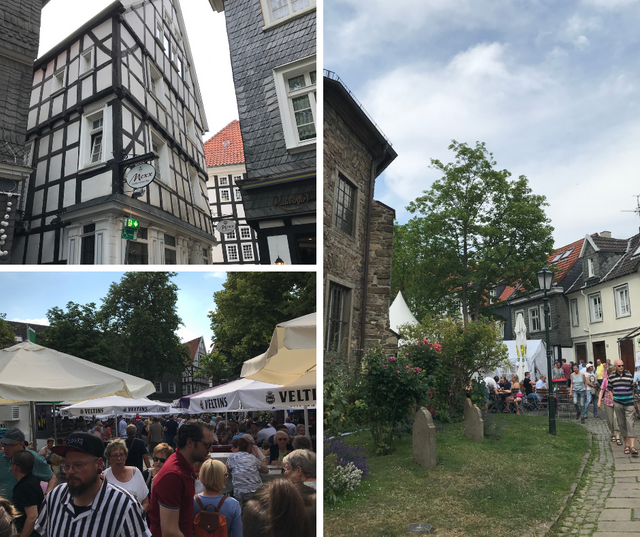 Back home I try to avoid taking pain medication (yeahhh, frightened for taking too often pain medication) and so I sit at the open window, knit or crochet something simple and hope the headaches will subside. Which they seldom do. But in this way a Frankencoinster comes into being (and many of my easy top-down stockinette cardigans)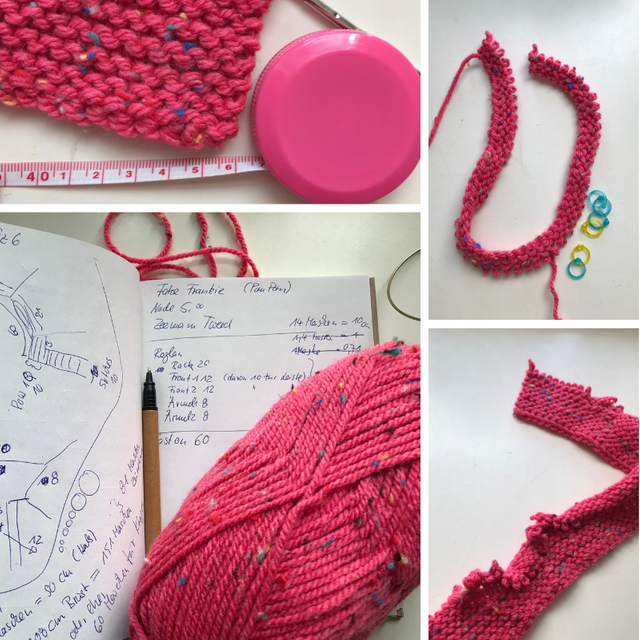 I am writing this not to claim your pity, but to again show how deceiving appearances, photos and social media can be. I write this so that you don't feel alone if you are grieving, hurting or simply have a row of bad days.
I am also writing this, so that you don't feel bad if you were too groggily to crochet one row or too unfocused to sew a seam or too sad to knit.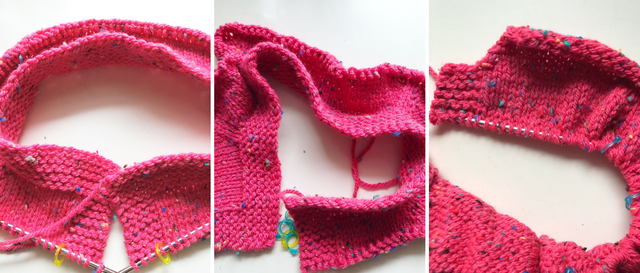 Just because its Monday: here is my newest knitting project. A top-down cardigan in thick tweed wool in a for me amazing and cheery colour. I try to emulate the Frankie pattern from Pompom mag, which I cannot buy around here. I started the cardigan several times (as you can see on the photos above), but every time the neckline was not to my liking. The originally pattern shows an open front and I guess this also affects the neckline. I however want a cardigan which will close at the fronts and so my neckline was too small and too stiff.
This fourth attempted will hopefully become a whole cardigan :-DD
But I will write more about this cardigan in the next weeks.

Sending everyone love and hugs who needs them right now….
Thank you @crosheille for iniciating and @muscara, @shanibeer, @marblely for hosting the #needleworkmonday. If you want to see more beautiful projects with yarn, fabric and most of all needles, follow @needleworkmonday on steemit. Or even better grab your needles and keyboard and join the #needleworkmonday community. You can read more comments on this post on my steemit blog.