After finishing the Karlene blouse I am in a crafting slump: I jump uninspired from one knitting project to the next, only knitting a few stitches, I decided on a new summer dress to sew but stopped mid tracing only to start a different sewing project (copying an existing dress, did not work out, looks like sh**). Now I am at crossroads, should I show you some projects I finished weeks ago but never let you know, or should I show you the jumbled mess of unfinished projects?
Knowing me the answer is clear: mess it is :-DDD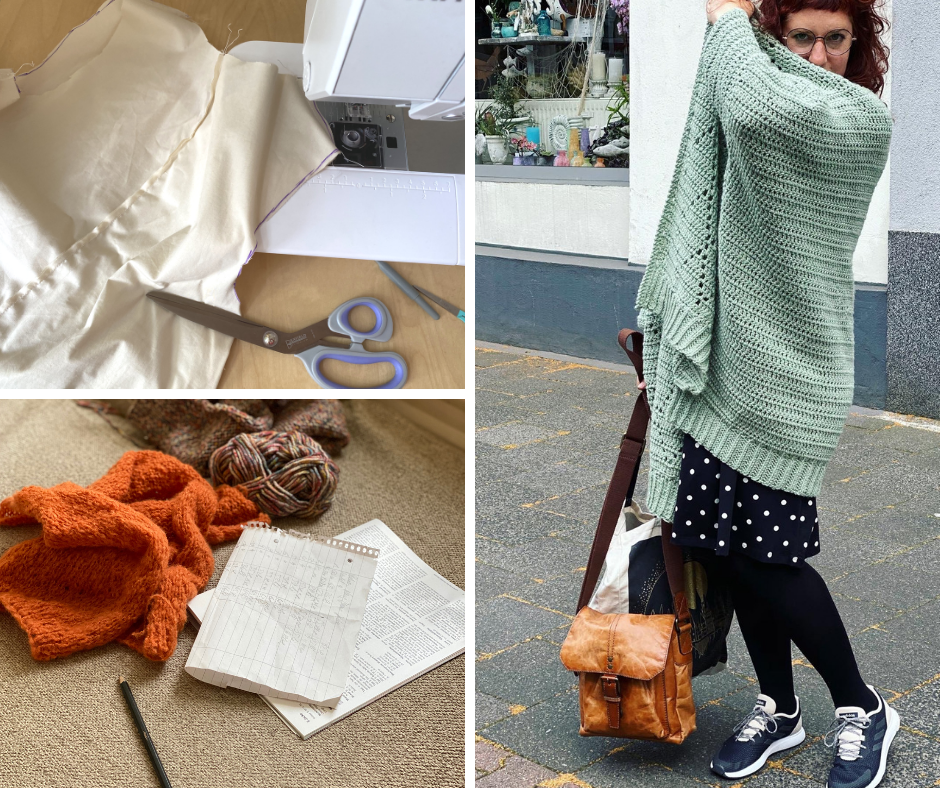 Let's start with the sewing. Some weeks ago, I lamented about the extreme hot weather and while sweating profoundly decided I need an airy new summer dress. Exactly at the right moment the new summer edition of fibremood was published (hey there! Fibremood, I am again promoting you; don't you want to pay me? PEAAAAASEEEE? :-DDD) and the right dress instantly found: Colette. (Writing down gives me goose bumps, I fear women's names in sewing are my real nemesis, not woven fabric)
Colette is a long and wide dress with spaghetti straps, a fake buttonband and french seams, made of – ahhhh yes… WOVEN FABRIC. All designer elements I have never tried out before, so I decided to persuade Silvi (who also has never done this) into sewing the dress together with me… I thought it would be much more fun if two people despair over a pattern. Maybe I am not a good friend…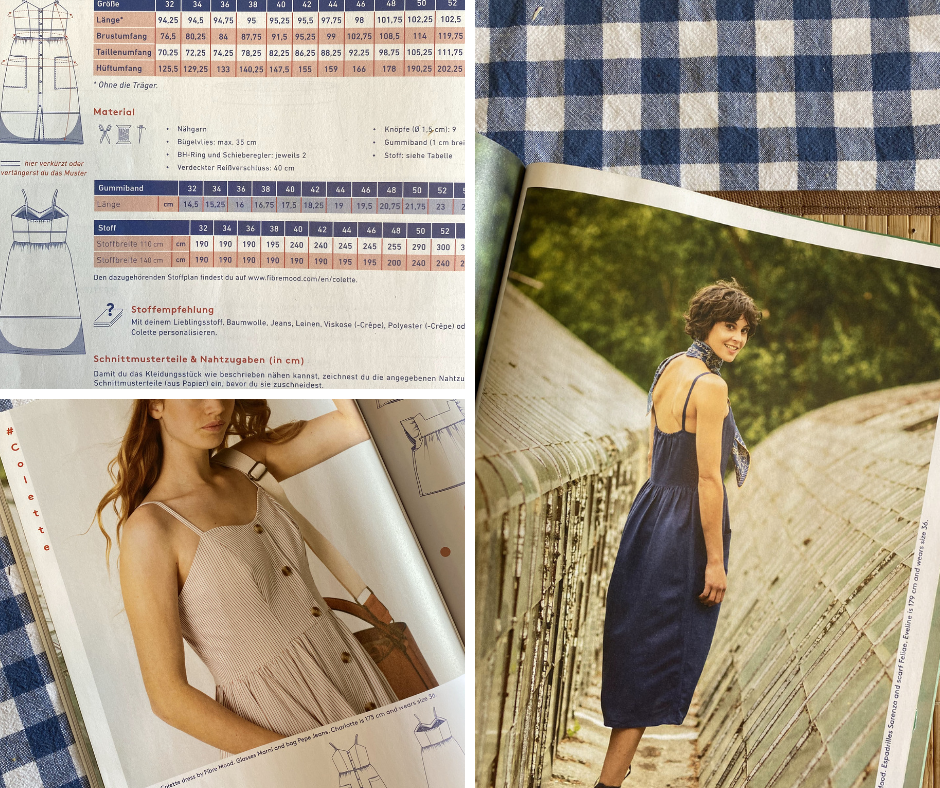 The first step into the sewing journey is the nicest one in my view; visiting the fabric store.
We prepared with sunscreen, water and cool packs (remember, weeks ago, hot weather) to walk appr. 200 m to the fabric shop. Here we donned the obligatory face mask and dived into the wonderland of pattern and color. Only to emerge more than an hour later very annoyed and even sweatier. The shop seemed to be in silly season design-wise. Most fabrics had such strange patterns and colors that they provoked migraines by looking at them. But even more annoying was the fact that all fabrics we found acceptable were see through.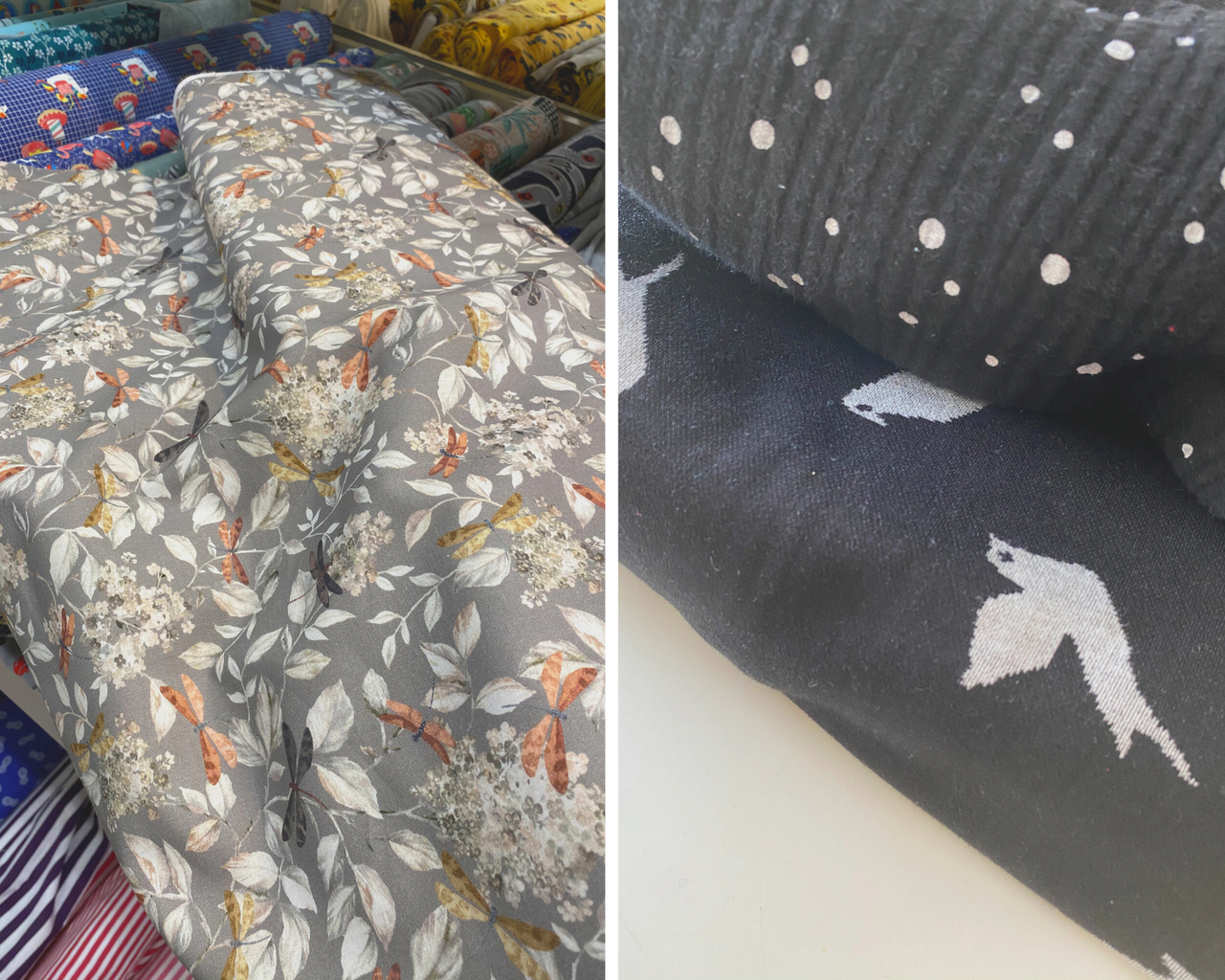 Last resort was a muslin in dark colors and with dots. Not very cheery or arty, more a practical solution. Silvi was the lucky finder and opted for a moss green, I took the lovely black :-DDD.
Unsatisfied with this fabric found I searched a bit more and I imagined, I could copy the dress I love wearing (a kind of skater dress in a sturdy jersey, you can see it on a later photo). Steeled with this excuse, I bought some more fabric, in… lovely black. But this time a jersey fabric :-DD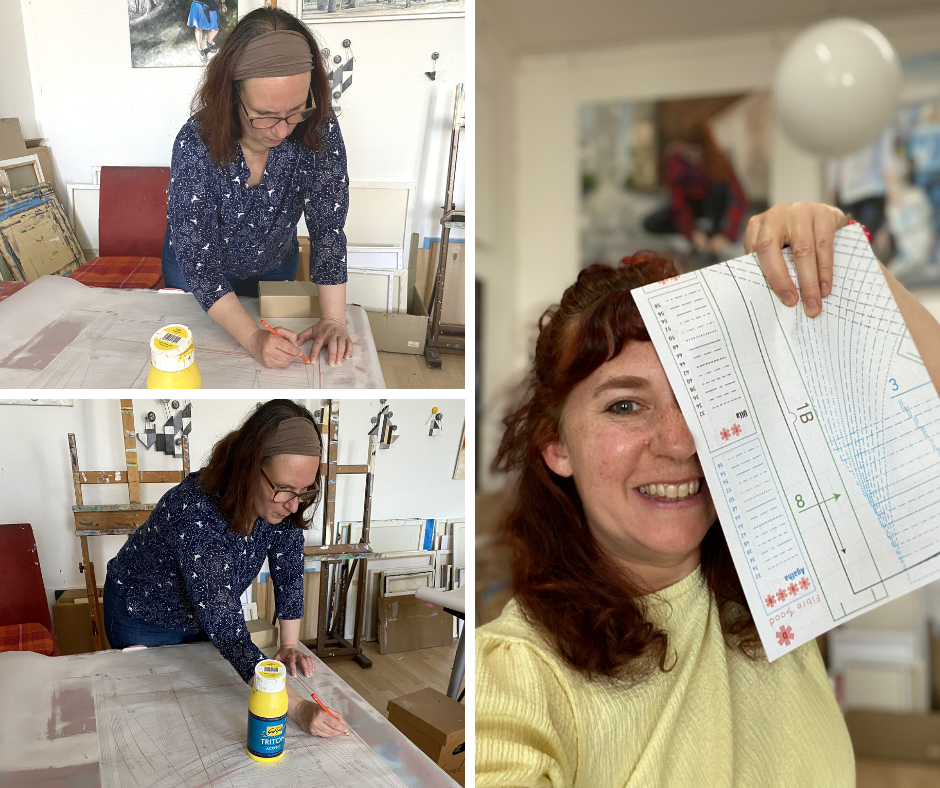 Back at Silvis studio we started to trace the pattern only to realize that the sizes are not corresponding with our measurements (as always). We both opted for the bigger size, because you know, making something big smaller is definitely easier than the other way around.
Because of the weather or general injustice, my head was pounding, and I only took photos while Silvi worked on the dress pattern. Mine is still only ¾ traced and waits in a dark folder beneath my sofa until I finally decide to finish it.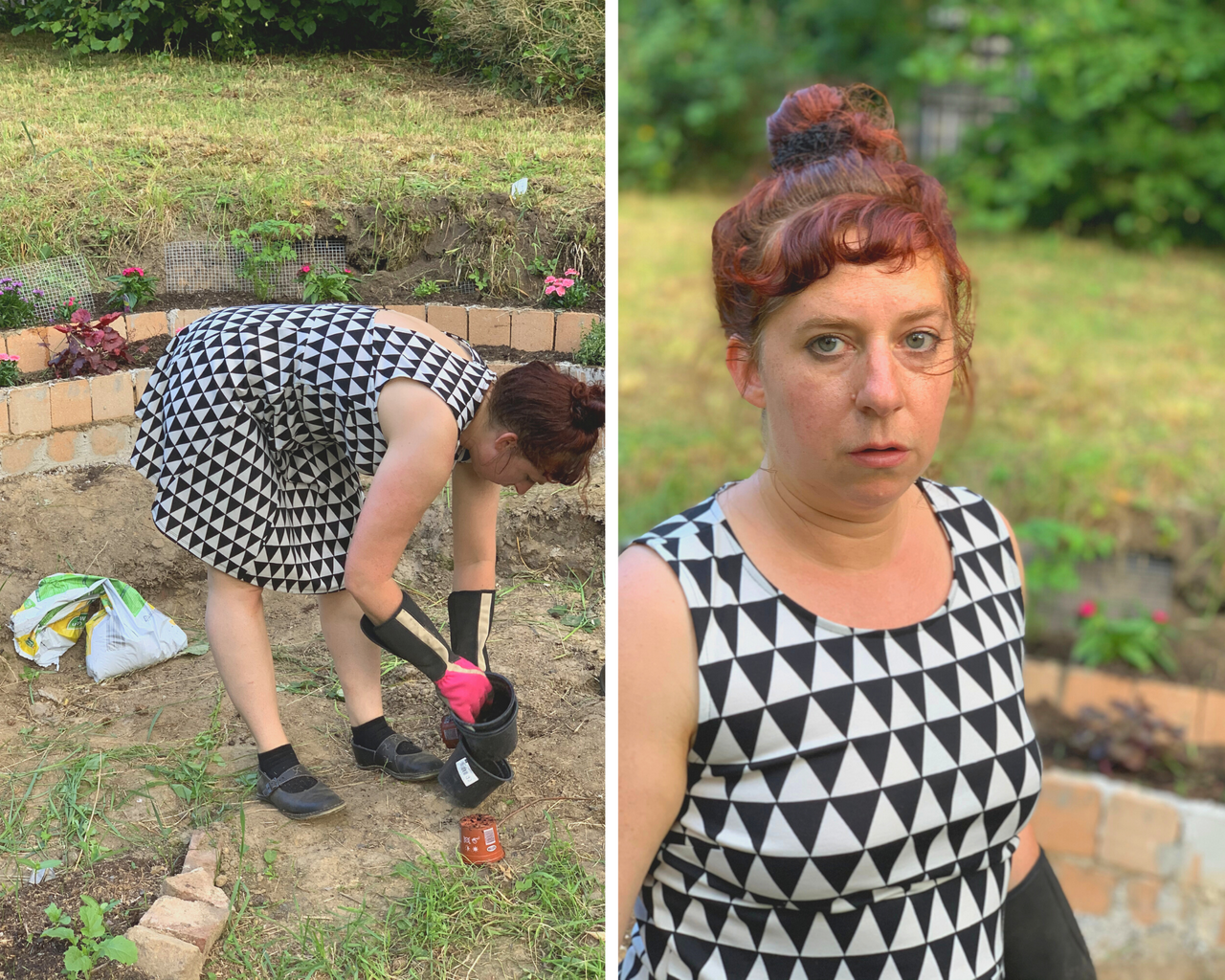 But instead I started a new project (believe me I cringe inwardly while writing this!!!) the copy-cat dress. Should be easy I thought. I have made several dresses with stretch fabric. Stretch fabric is my friend. Easy. EASY!!!!! I took the still sweaty dress from wearing it in the garden (it is already next day, headache was better – info is just for your orientation) fetched some transparent paper and tried to copy the seams. Still (half) clever I also fetched an existing dress pattern I already had made once and compared it with the thing I had sketched. I added the bust darts from the bought pattern and adjusted the armholes a bit, as I remember them to be on the smaller side. Next clever move was to cut this self drafted pattern not from the new jersey fabric but make it out of discarded old men's shirts.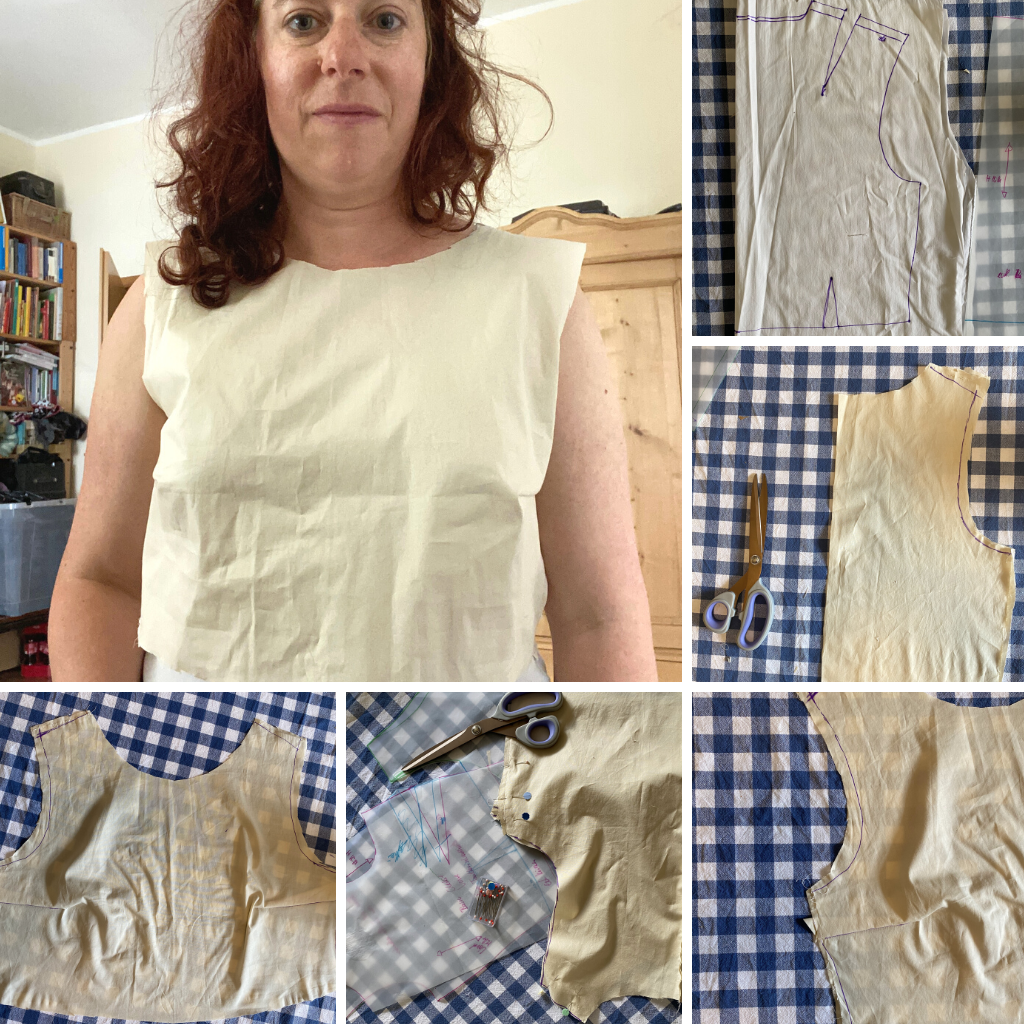 Shall I say more? It does not fit. Shoulders are to wide, the back-neckline gaping (not on the photo), the bust darts too low, the waist too wide. Hurray what a success. And I look so lovely on this photo ???. But I am persistent. I pulled the beast over my head and tried to incorporate all my adjustments. Sadly, I only afterwards thought about it, that they will add up, meaning: By manipulating the armhole height and the bust darts in one go, the latter now sat beneath my armpits. And as I made the waist, the back and the shoulders smaller, I looked as if I should turn green and explode out of this second version of the dress'es body (Hulk allusion, you know) I effaced myself from taking another photo although this could have been my great breakthrough as a comedian….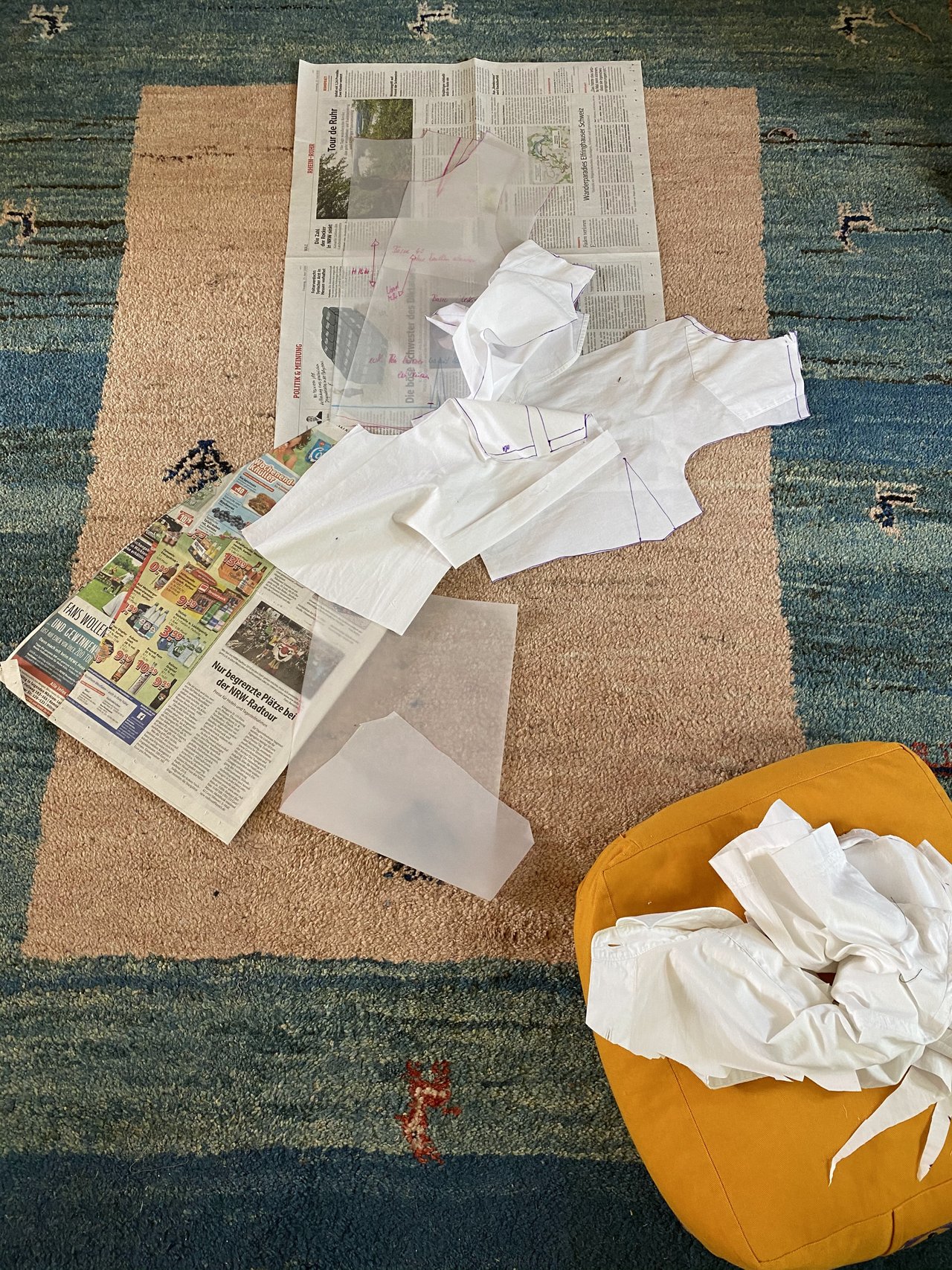 But, dear needleworkers, persistence. I made a third version. From a new shirt. And with a new pattern. But, as I told you at the beginning the force slump is strong in this one, the cut-out parts are strewn over the carpet of my study and I still have no idea if this will fit in any way.
I wish you all wonderful summer (or other) holidays (or workdays)…:-DDD I will be back in roughly 3 weeks.
Love you all.
Thank you @crosheille for iniciating and @muscara, @shanibeer, @marblely for hosting the #needleworkmonday. If you want to see more beautiful projects with yarn, fabric and most of all needles, follow @needleworkmonday on hive blog. Or even better grab your needles and keyboard and join the #needleworkmonday community. You can read more comments on this post on my hive blog. 
If this is not enough, you can find my post on Handmade on Tuesday and read even more about knitting and sewing, but beware most posts are in German.