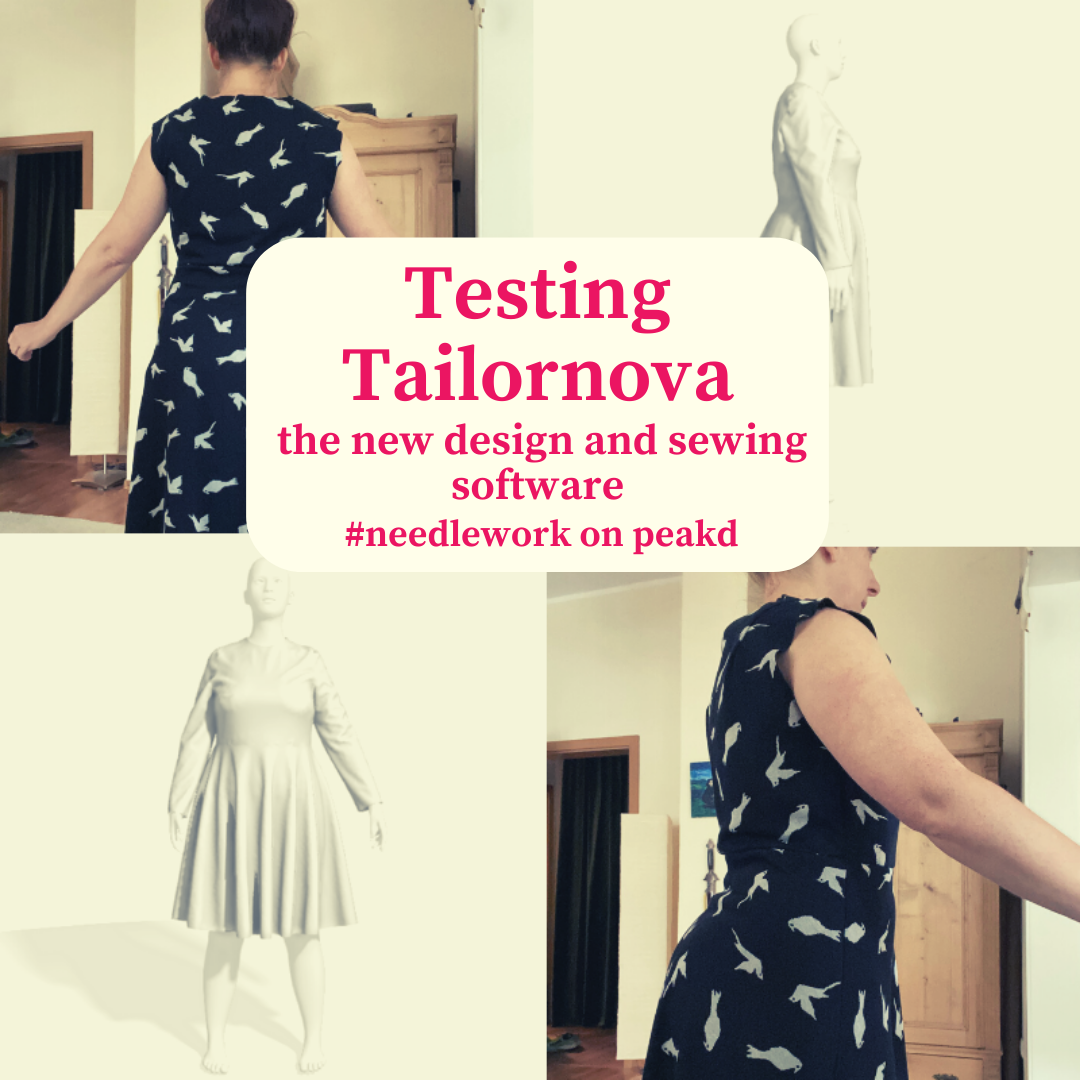 I am back, and I am excited*, may there be a solution to my fitting issues? Yesterday @shanibeer wrote a wonderful post about the new online software tailornova, which lets you design your own clothes and print them at home as a ready to sew pattern with seam allowance included. You can use standard sizing or your own measurements…

My own measurements!!!! Everybody who has sewn, crocheted or knitted a wonderful garment only to later notice that it does not fit understands my excitement: no more ill fitting sewing patterns which assume that I am automatically busty if I need a bigger size or that assume that I am 1,70 whereas I am only 1,63 m. Pattern that cater for a flat buttock and belly not my very curvy front and back. I could go on, we are all so individual in our bodies that neither rtw clothes nor sewing pattern will fit all.
So, tailornova comes as a revolution (actually it is not as new as I thought, they sell individualised patterns for years under the name bootstrapfashion) because you can alter every pattern according to your own body measurements. Patient and considerate as I am (cough) I paid for the cheapest option which includes 5 downloads of your own patterns (15 $ and hop to @shanibeers post for a discount code). This paid option also allows you to create a 3D model with your measurements … oh yeah….
Did I already told you that I may have a small problem with liking how I look? And let me tell you (or better show) this 3 D model is not flattering :-DDDD
For all three models I used the same measurements but different settings for belly and buttocks. First model is setting a and very curvy, then you see setting b and curvy and alt last b and very curvy: not much difference in my eyes, only the belly of the first view is smaller. Do you see differences? Which one should I use?

After I recovered from the shock of this model (aka my body) I went straight to the dress section and tried to design this simple flared dress I always want to sew and never got perfected. I have chosen a knitted fabric with medium stretch (you can decide on the stretch in the menu "ease"), a half circle skirt which sits on the natural waist and a basic bust darts body with fitted set in sleeves. And this it what I got …. As @shanibeer wrote: the dress looks like a sack. Yes, I second this: a sack.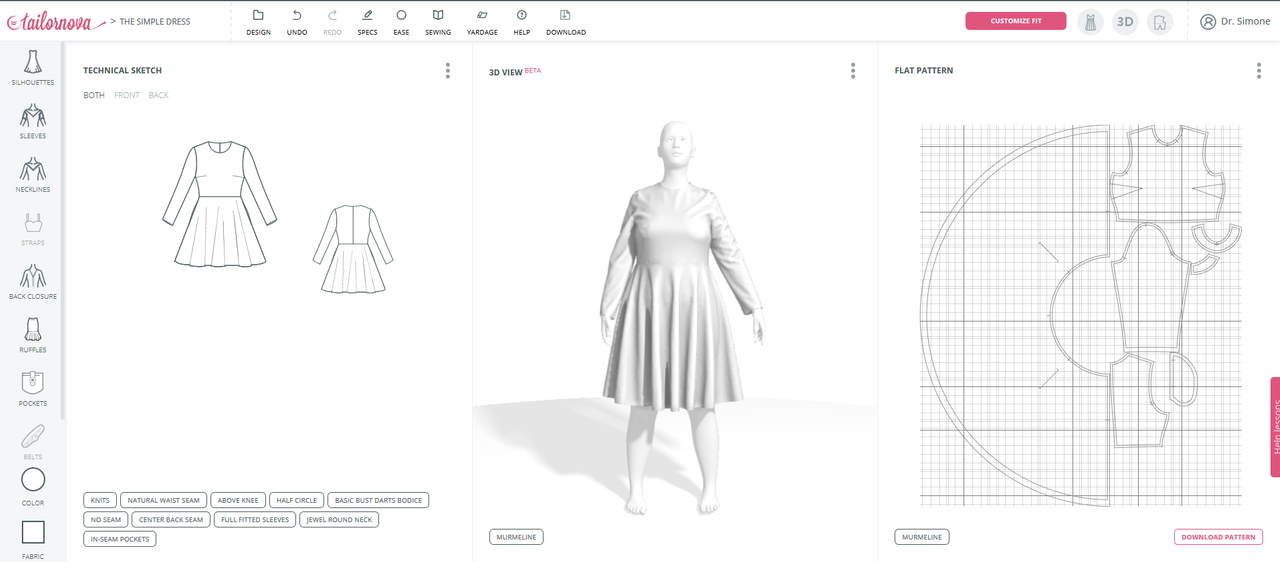 I wanted to understand why this model looks so strange in the dress, so I checked the measurements of the dress and compared them to my body measurements (you can find these dates under the menu "specs"). The waist of the dress is 84,5 cm and mine 85. The upper arm width at the sleeve is 33,8, my biceps 31 cm, the bust width of the dress will be 98,92 cm and my bust width is 96 cm. You can find much more measurements, but these are in my view enough to compare it to the model.
Accurately the dress looks fitted on the waist, this corresponds with the negative ease at the waist. The same goes for the sleeves which have positive ease according to the measurements. But the amount of ease (the sleeve is 2,8 cm wider than my arm) is not portrayed naturally. The sleeve on the model has so many folds and the armholes are so wide I would guess that it is more than 5 cm wider than the model's arm. On the photo beneath I am wearing the Eden dress which has a too wide waist and sleeves which have a bit of ease (appr. 3 cm) but are fitting in my eyes and you can compare it to the 3D model….

Both the model and I show a very similar dress, but I am totally indecisive if this model is a help for sewing. It kind of looks like me, but honestly not a better version… Now my first excitement is curbed, as I am unsure if I could trust tailornova to design a better fitting dress than I create through my own weird adjustmens.
Here is a sneak peak to my latest self drafted dress… bust too wide, hips too small and I shortended the bodice 4 times, honestly!!. Could I have avoided this with a tailornova pattern?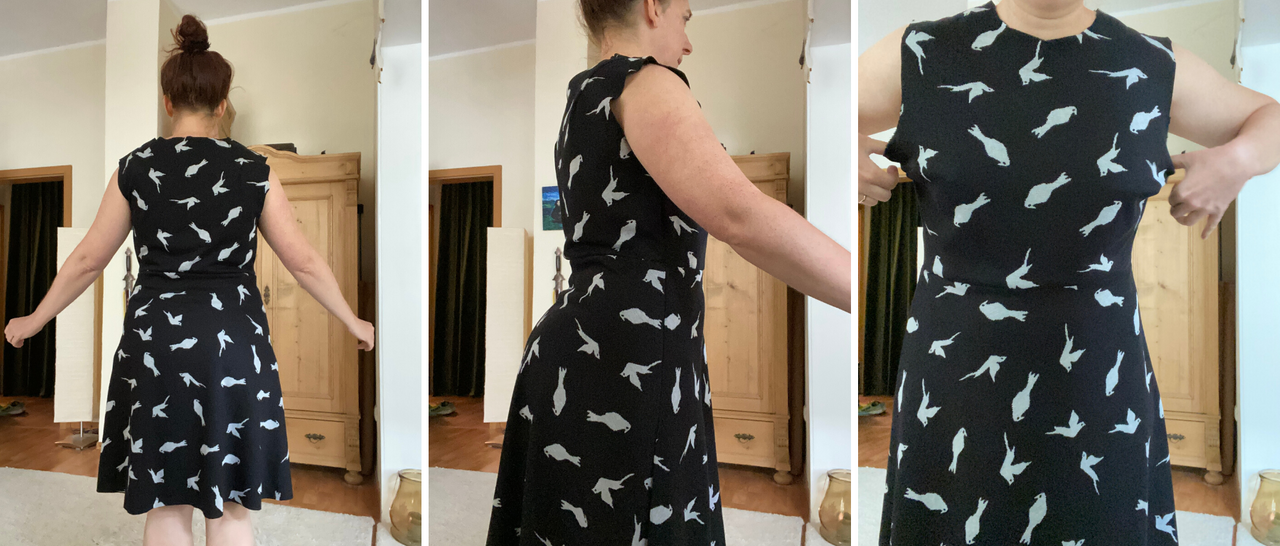 Until now I have not downloaded the tailornova dress pattern as I do not want to waste one of my payed for patterns and again receive a garment which does not fit. What is your opinion, should I download, or should I experiment more (perhaps re-taking my measurements?)???
Thank you @crosheille for iniciating and @muscara, @shanibeer, @marblely for hosting the #needleworkmonday. If you want to see more beautiful projects with yarn, fabric and most of all needles, follow @needleworkmonday on hive blog. Or even better grab your needles and keyboard and join the #needleworkmonday community. You can read more comments on this post on my hive blog. 
*Officially I am still in summer holidays, but this software makes me so hopeful about getting better fitting garments, I could not stop myself from writing. I hope you do not feel deceived (???)