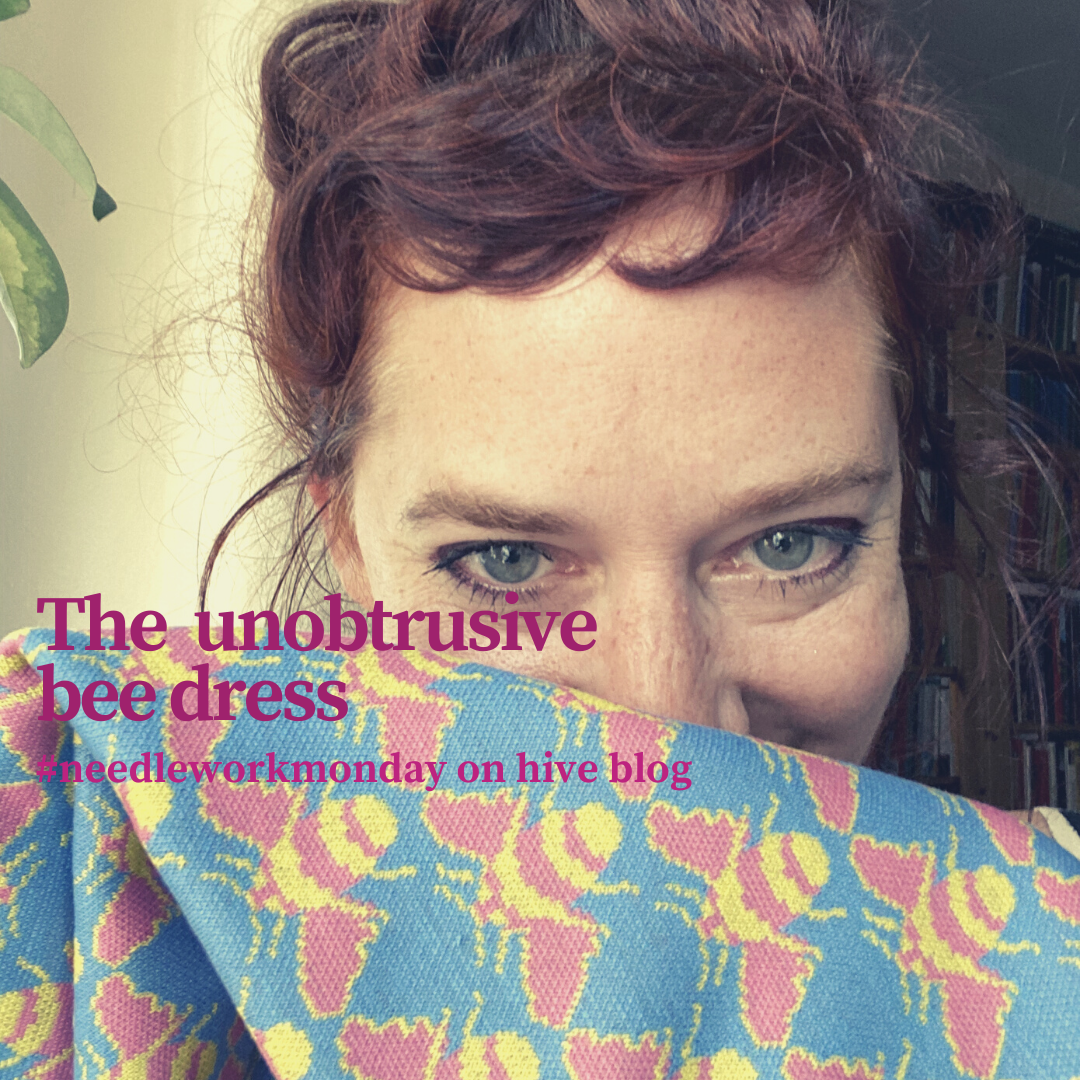 Holidays are over and the dire life of writing and posting has me back… or wait… I guess its not dire at all, as I love to write and even more to talk with you. So far all is more than well, but my sewing, that is another story…
I wanted to come back and tell you a wonderful story about my new coordinated wardrobe, filled with 12 harmonizing pieces of stylish garments. I even wanted to tell you that these garments are mostly made by me. Made with organic fabric in subtle colors, made to last and to serve for every occasion be it job or leisure time, warm or cold weather… I wanted to create a kind of superhero garment collection.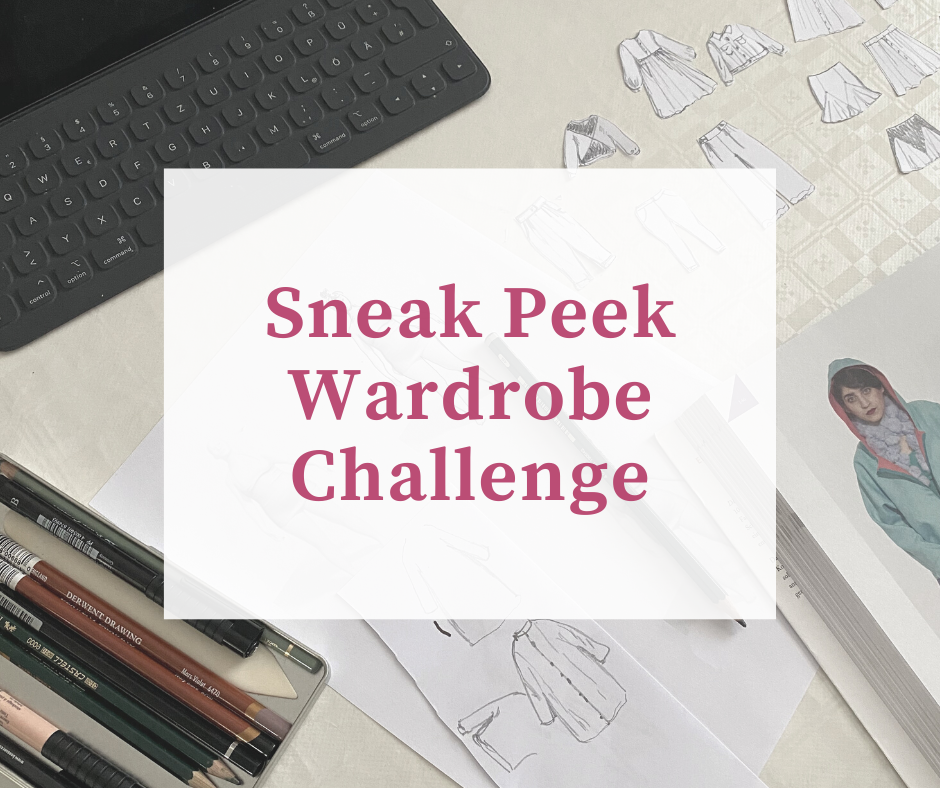 You noticed the word "wanted" didn't you? Because I never made these things. Instead I went into the fabric shop filled to the brim with good intentions and bought this: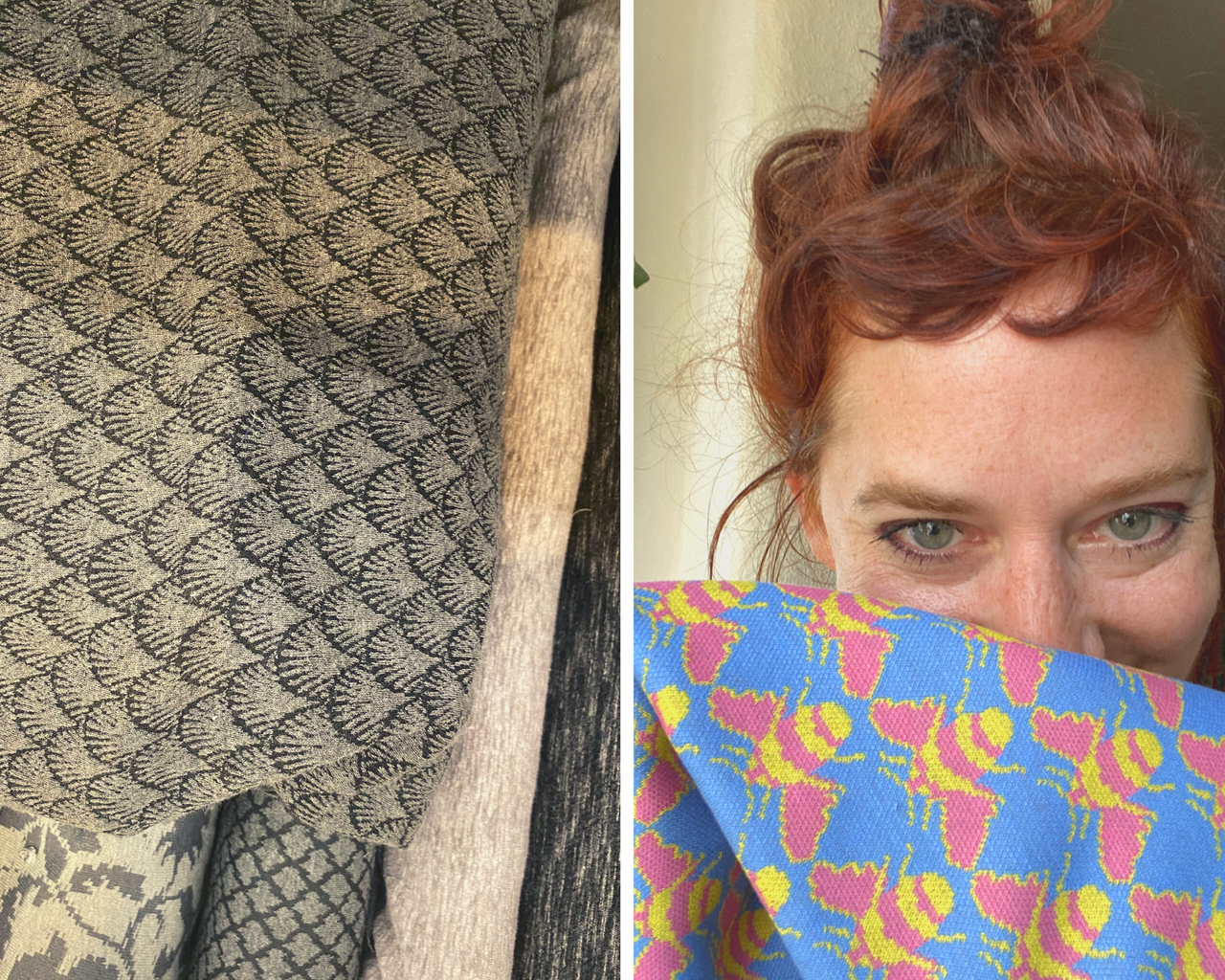 I assure you this is neither a wallpaper for a children's room, neither a misprint or a mistake with your screens colors. This is the fabrics I bought and yes it shows bees in pink, yellow and sky blue… In my eyes the foundation of every exquisite garment style. ???
Before I tell you what I made with this fabric accident treasure, I must confess another misbehavior: instead of finally trying to sew a pair of trousers (for example with Tailornova) I bought them. Shame on me. On a headache free day (you see I am preparing you to have pity on me) I went to the next bigger town, happy to finally be outside and without pain, so happy…. that I may have visited Primark which is the epitome of fast fashion. And this visit ended in me buying a pair of trousers which are perhaps not to everybody's liking and are also perhaps not the most flattering on me, but I loved them, and they fit.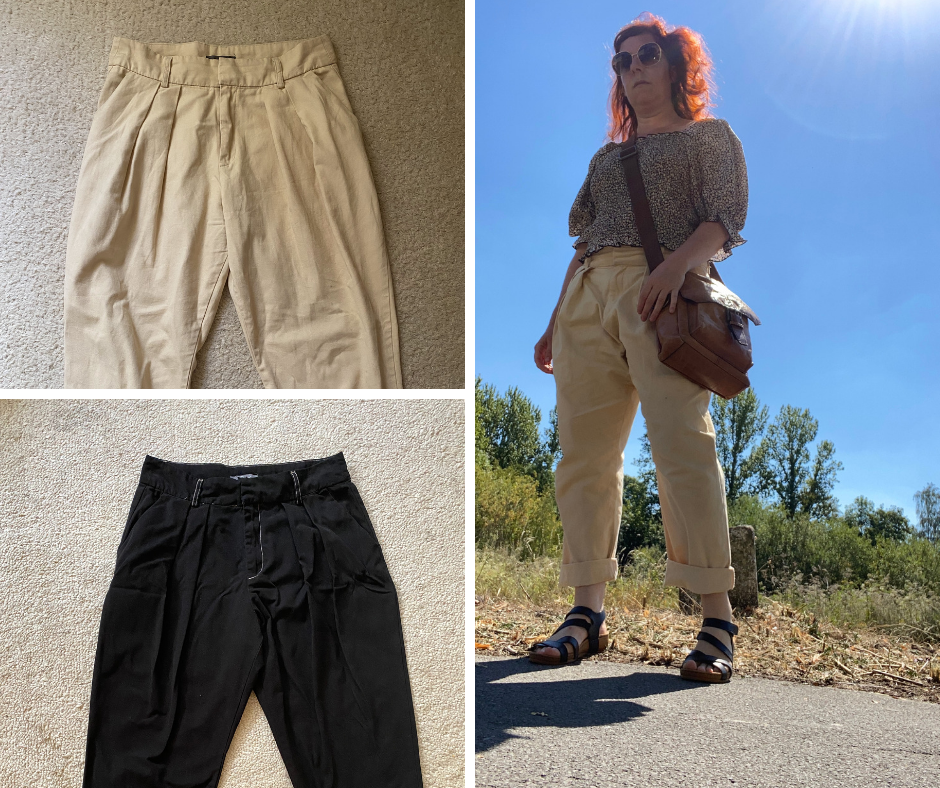 I am so into these trousers which remind me of a modernized eighties style like it is used in "Stranger Things", "I am not ok with this" or "Sex education" (now you also know what I have been watching), trousers which have a wide but tapered leg with two front pleads. The trousers sit unusually high for my liking but so far, I am ok with this (pun intended). I have worn them constantly – which led to a problem. I have experimented with nettle manure (Brennnesseljauche?) on my tomatoes and clever as I am, I have worn my new beige trousers during this process. So, I accidentally added some very stinky green adornments TO THIS NEW PAIR OF TROUSERS WHICH DID NOT WASH OUT (sorry, I was shouting at myself).
Sigh…. What other option did I have than buying another pair :-DDDD
Does not read good in my life cycle assessment. I guess it even reads worse as I not personally bought the trousers but convinced a friend to do it for me (to much headaches on my side). Now comes the interesting part which is no longer a shopping confession. I honestly plan a wardrobe challenge of which I will write in the next weeks. A challenge which will incorporate black trousers as a base garment. So, clever me, I dyed the nettle stained trousers black. Worked wonders on the green blotches:-D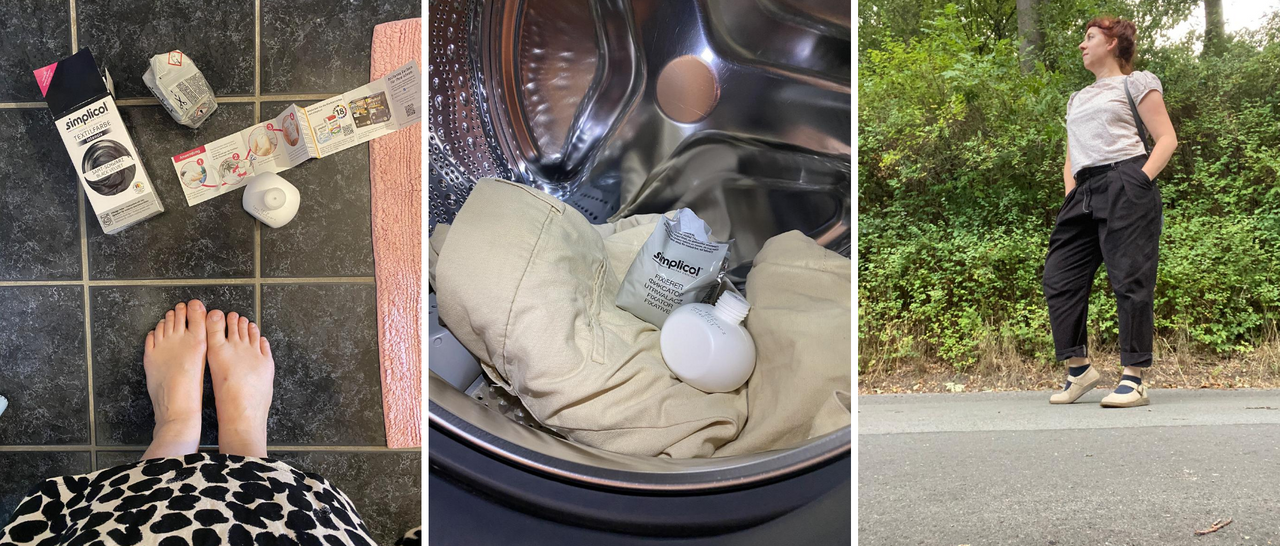 Before I write too much about my wardrobe/style challenge, I will change the topic back to my bee fabric. I made a dress, or better I prepared a dress as in cutting out the fabric. I used the now tried and trusted Tailornova dress pattern.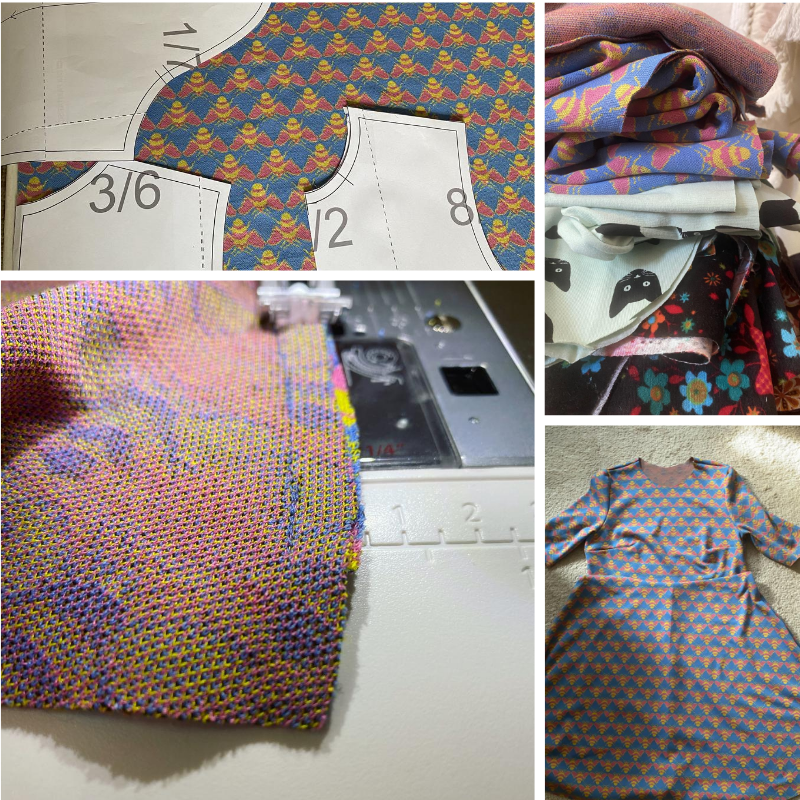 Again I managed to fumble a whole dress out of 1,40 x 1,40 m fabric. Also again ignoring pattern direction (who says bees cannot fly upside down) and run of thread. In my eyes it kind of worked out, but… I find it stuffy and boring. I would never have anticipated this possible, but the multicolored bee pattern looks boring on me. I already consulted some helpful friends how to remedy this.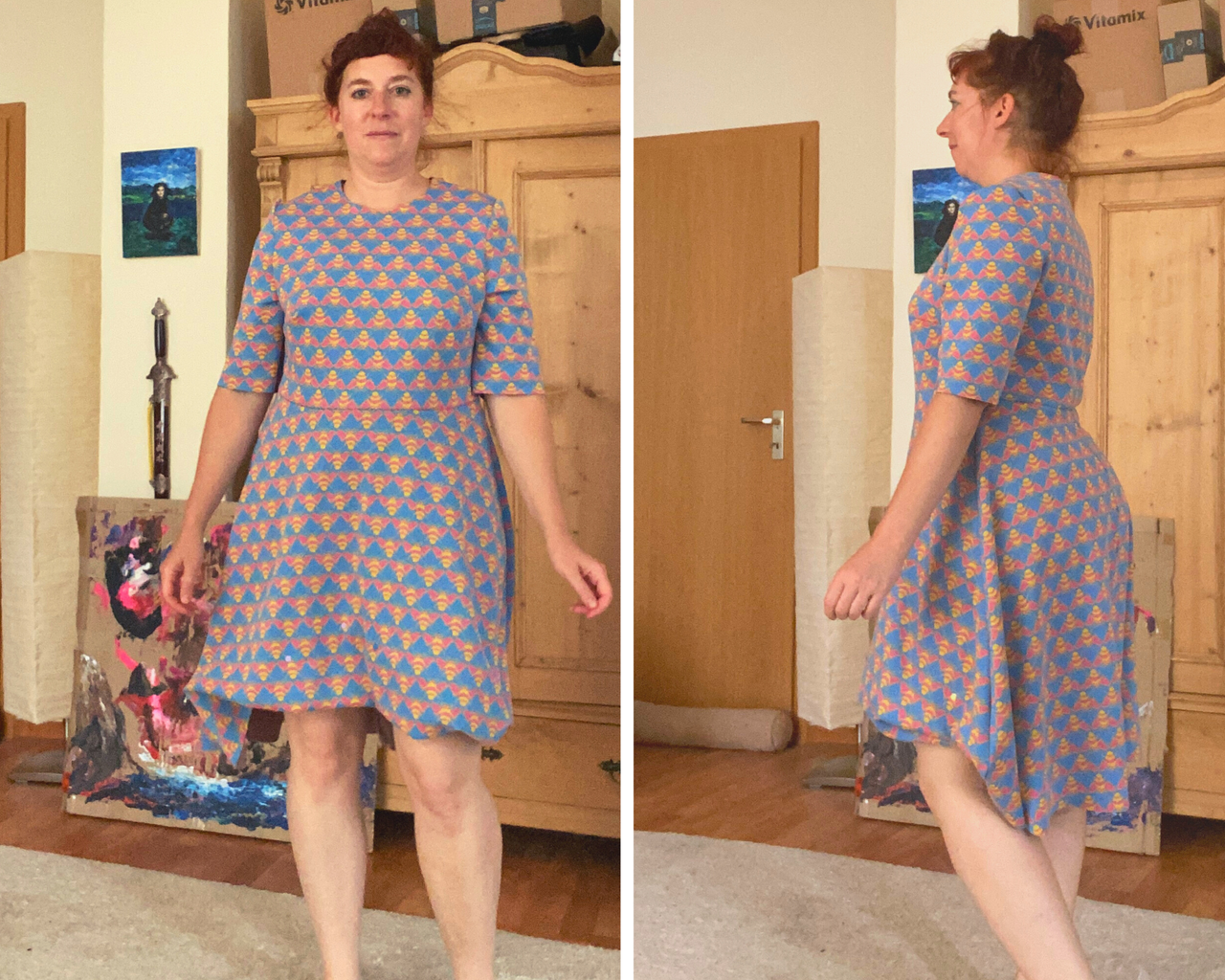 So far there are these suggestions (hold in mind that I have no fabric left and can use only the scraps which I will cut from the too long skirt):
A belt out of the scraps or a bold color
A Peter Pan collar in pink or blue
A ruffle on the sleeves
Sleeveless
A big fire which will burn my failure into oblivion…
What do you think? What shall I do?
Thank you @crosheille for iniciating and @muscara, @shanibeer, @marblely for hosting the #needleworkmonday. If you want to see more beautiful projects with yarn, fabric and most of all needles, follow @needleworkmonday on hive blog. Or even better grab your needles and keyboard and join the #needleworkmonday community. You can read more comments on this post on my hive blog.