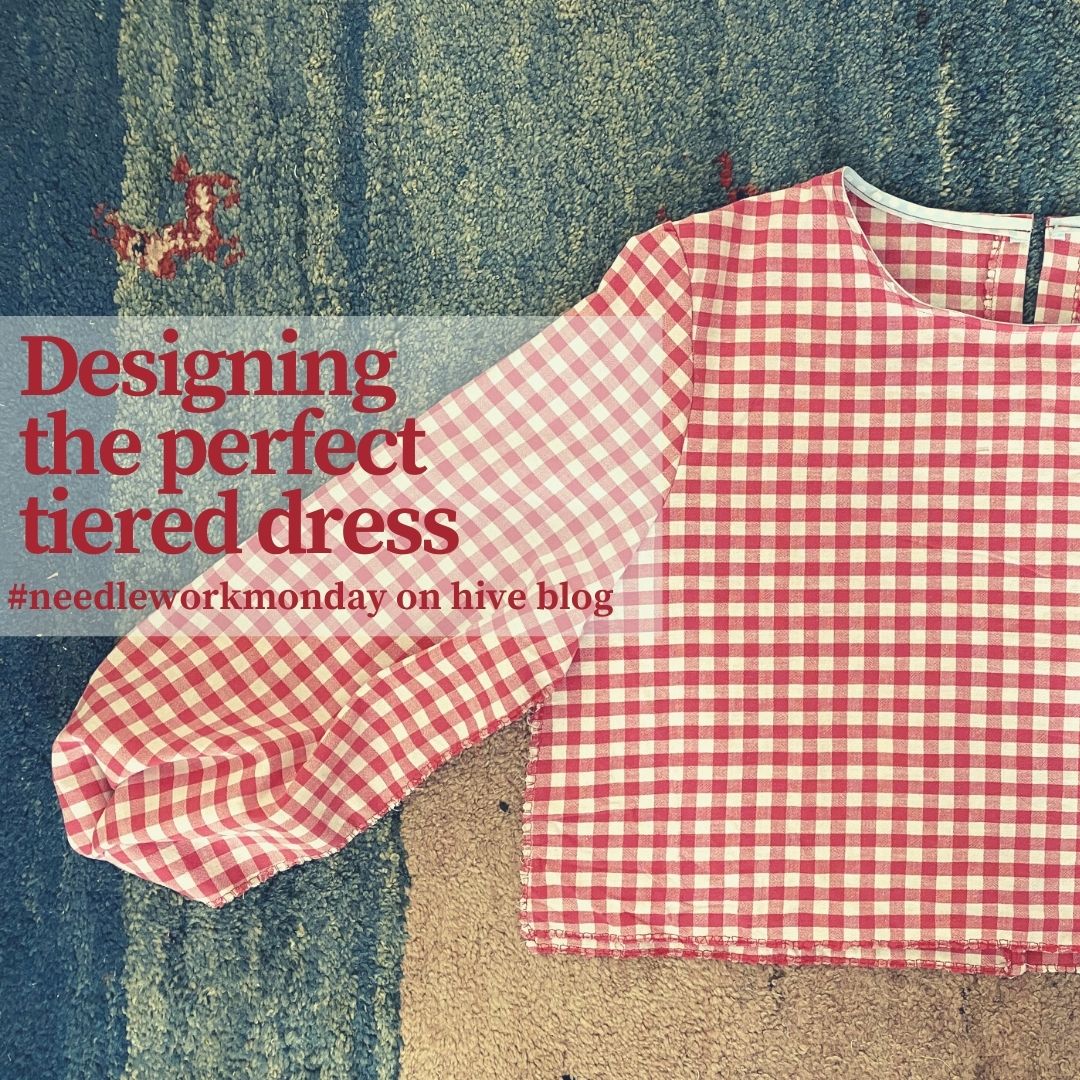 Last time I wrote about my newly made knitted cardigan and I opened up about my fears, that the weather will be soon too warm to wear it: guess what happened…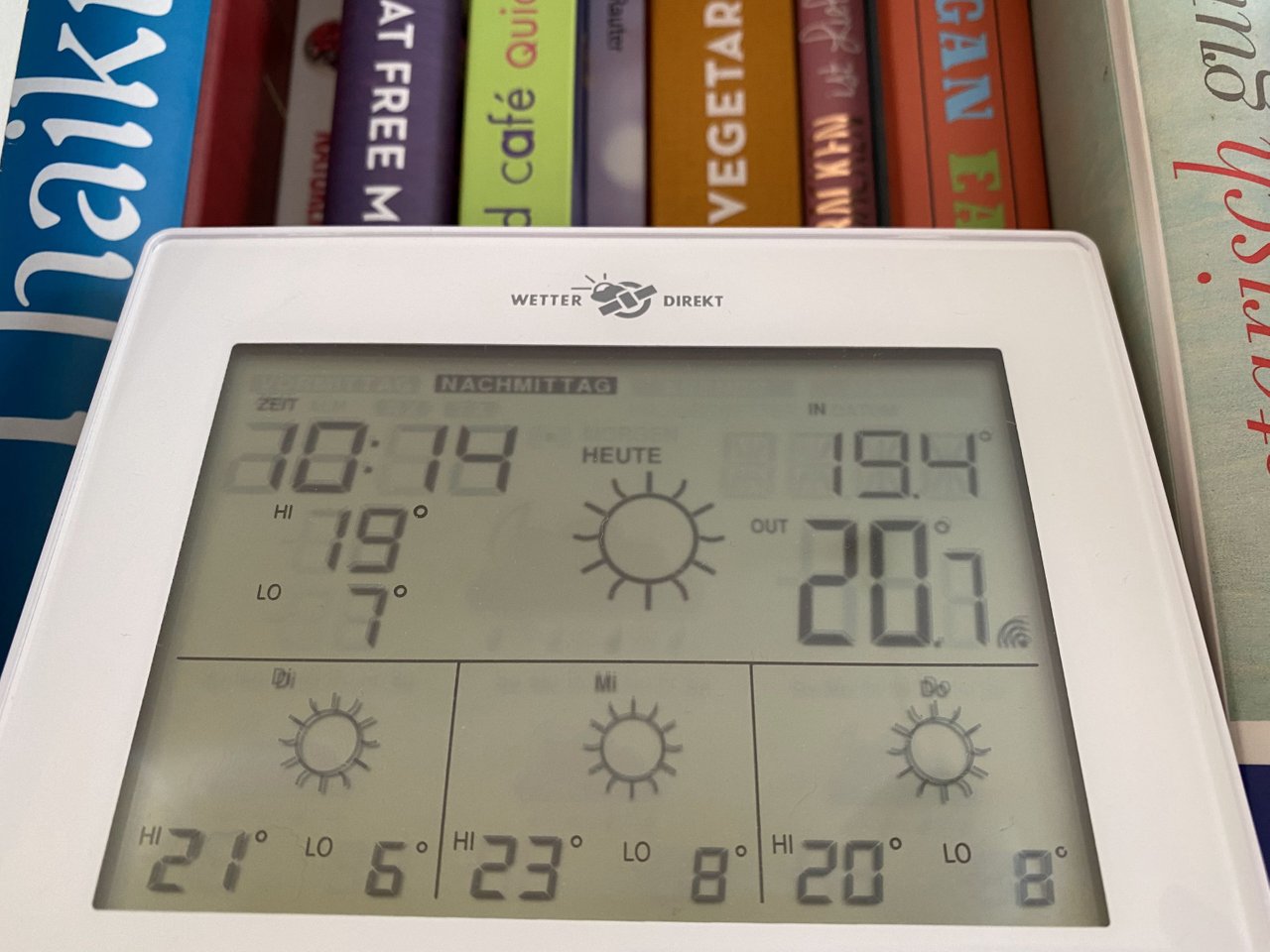 Yes, this is no mistake, our temperature went up from freezing in the night to 20 degrees. Kind of instant summer which lets me lust after a dress, again :-DDD I still want this easy to sew and easy to wear wide tiered dress. Somehow I see this kind of dress popping up a million times on my Instagram feed and everybody besides me seems to be able to sew a beautiful variation of this dress. While browsing through these colorful images I remembered that I also already made a similar dress many month ago, the Mira dress from Fibremood. This dress worked out lovely, but not 100 percent the way I envisioned the dress. A month ago I bought a tiered dress from H&M and this fits much better (in my eyes), so I started to copy it (I wrote about the process here), but never finished because there was no chance to buy fabric (because of Covid lockdown).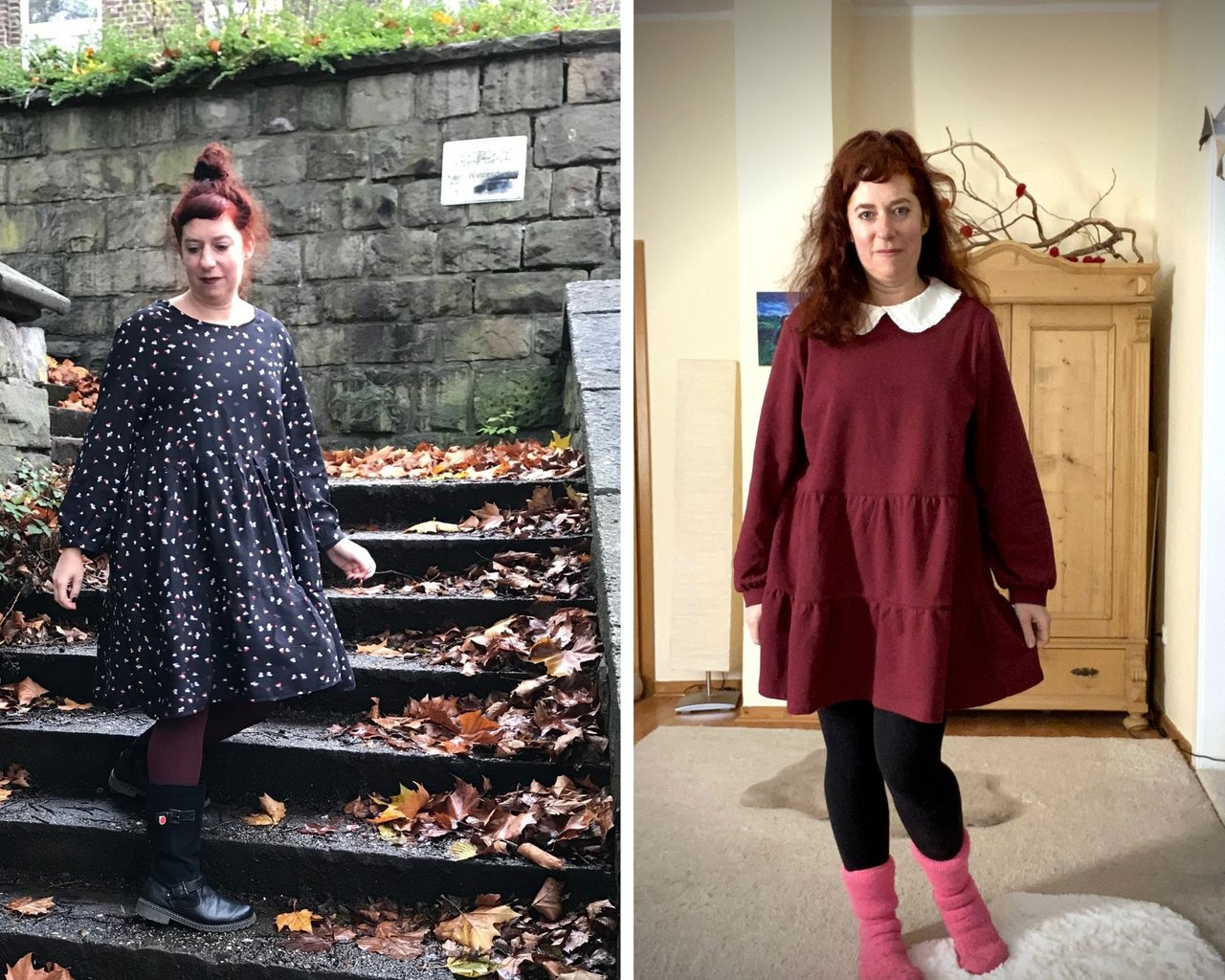 Still with me after this confusing intro? Yes, then read more on my second try to sew the perfect but uncomplicated dress 😀
The fabric

On the fabric buying front not much changed, the shops were open for short, but you only could buy with a beforehand made appointment and I never managed to do this. So, no new fabric for me. But luckily, I found some old bed sheets with holes in my wardrobe which I spontaneously converted from bed sheet into a dress-fabric instead of mending them. This also took away my fear that I would destroy some lovely new fabric with my unskilled pattern-making improvisation.
The idea (to cheat)

While ironing the sheets, I pondered which details I disliked on the Mira and which details are so lovely on the H&M dress and if it would be possible to change the Mira pattern I already had cut out.
So, this is what I came up with:
The Mira dress is a bit too short or too long on me… not sure what it is, but something with the hemline feels wrong while wearing.
The waist of the Mira dress is high up and, in my eyes, this gives the impression of a pregnancy dress.
The shoulders are too wide.
The tires of the skirt part are very full, too much fabric for summer in my eyes.
The dress has no collar (the huge collar is a detail I looooove on the H&M dress).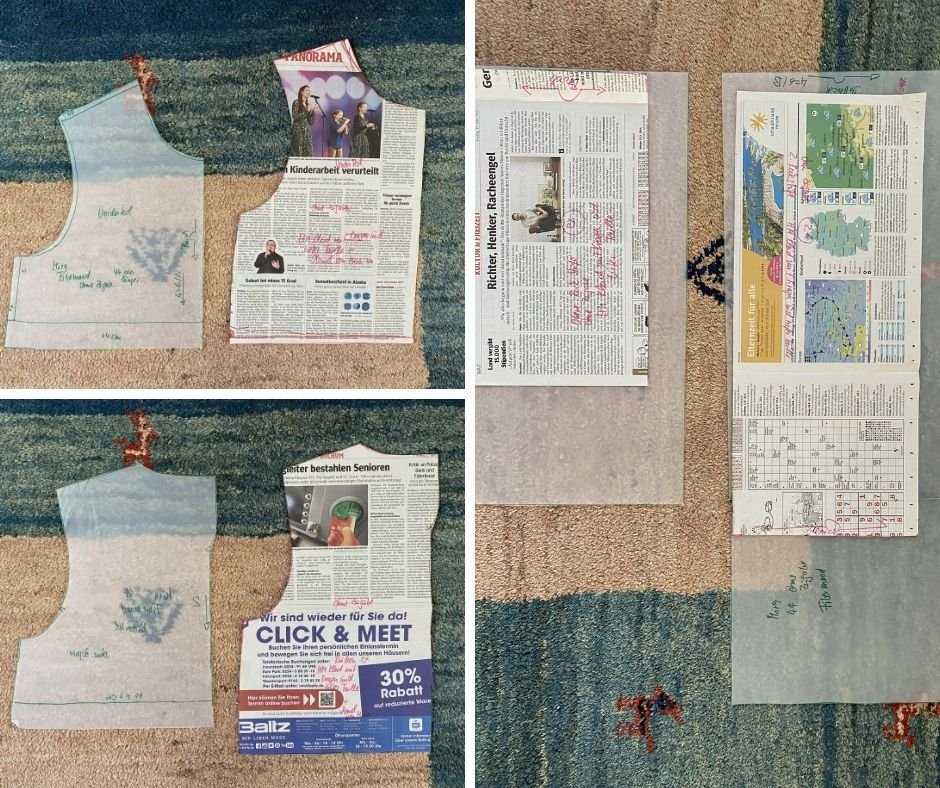 The designing

With these criteria in mind I took out the Mira patten and changed it… I elongated the body, so that the waist would sit under my natural waist, I draw the shoulder part smaller and the dress less full. The sleeves of the Mira dress have a nice width and are very similar to the H&M dress, so I simply copied them. And tada: now I have a dress pattern.

Only the collar…. The Mira dress and the H&M both close at the back with a single button and all collar patterns I could use (from blouses or dresses) open at the front. Besides the collar should have the same width of my new dresses neckline and so there is no way around to design it myself. What I did not do… 😀 Instead I sewed up a reversible collar with a ruffle and some straps to tie it together (I will write about this another time).
I would have loved it so much to show you some photos of me wearing a finished dress, but no… I am only half-way through the body's dress. Hopefully I can show you more next time .
Thank you @crosheille for iniciating and @muscara and @marblely for hosting the #needleworkmonday. If you want to see more beautiful projects with yarn, fabric and most of all needles, follow @needleworkmonday on hive blog. Or even better grab your needles and keyboard and join the #needleworkmonday community. You can read more comments on this post on my hive blog. 
Read more about my art und upcoming exhibitions on neumannsalva.