Remember how I whined about my impaired sense of choosing fitting colors in yarn and fabric to create a wearable handmade wardrobe? I cried about my lovely, knitted sweaters in bright colors and vivid patterns which fit with absolutely nothing else than black. I complained about a lot of dresses, tops, and skirts I made from bargain fabric which attracted my attention because it was so funny and -ahem- cheap. Rejoice, dear needleworkers, I think, I broke the spell. Yeahhh!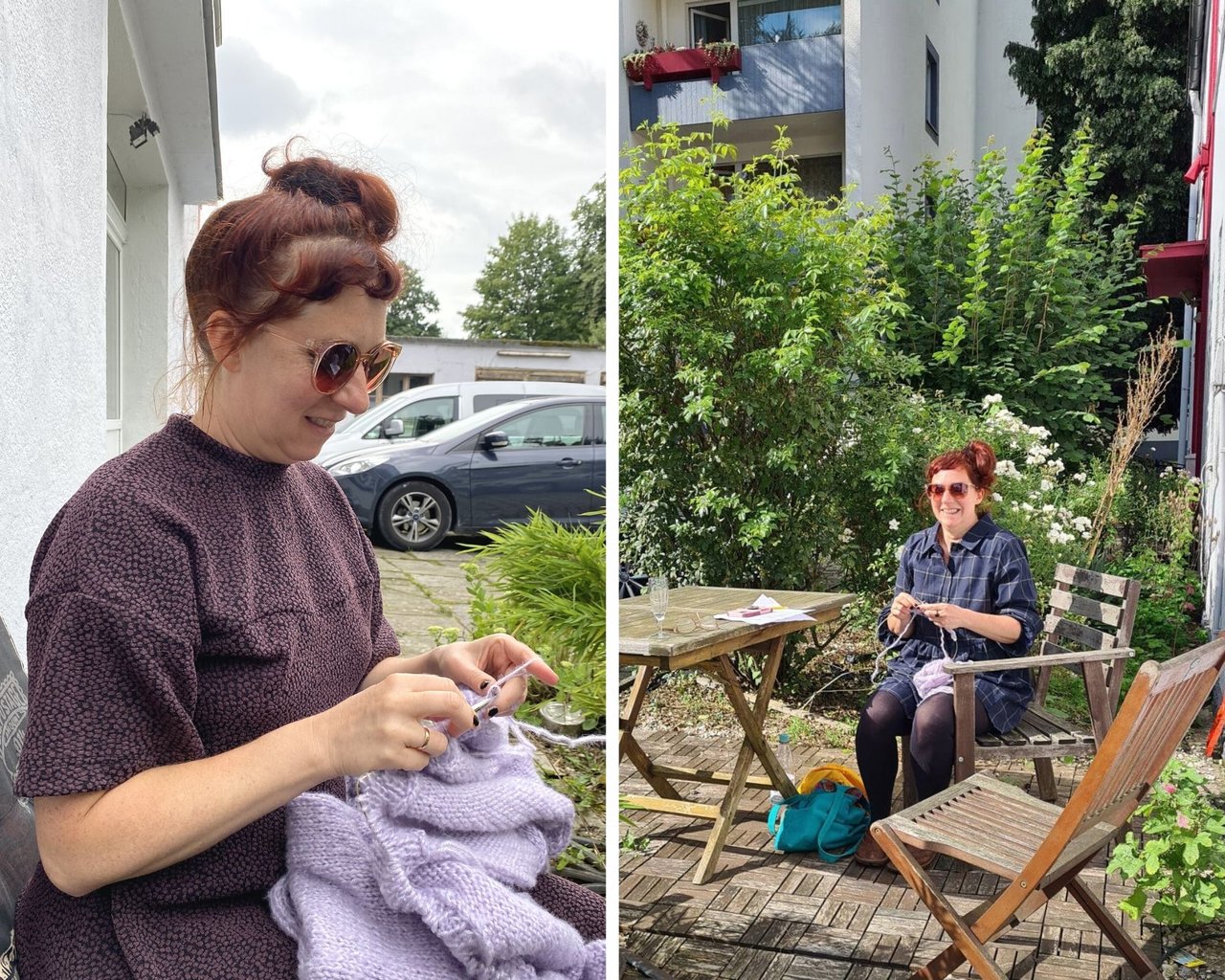 Our exhibition is still running, and I was forced in the last month to concentrate on only one knitting project, because I mostly knitted during the commute or the breaks at our exhibition. I tell myself it was this circumstance – me, highly focused on only one! (I know this is nearly unthinkable) project – which led to this super wearable cardigan in pastel lavender. I hear you whispering "Pastel lavender? This is not the most versatile color!" and I also thought this… before I knitted my new cardigan. I would have never guessed that it harmonizes with so many different colors. My absolute favorite right now is the combination of lavender and brown. But it also looks nice with other pastel colors or dark green or blue. I tried to take some photos of the cardigan together with some of my dresses or sweaters, but I fear the color of the cardigan is not always true on the photos. The best approximation is the photo of the cardigan and the dark brown dress in front of my wardrobe.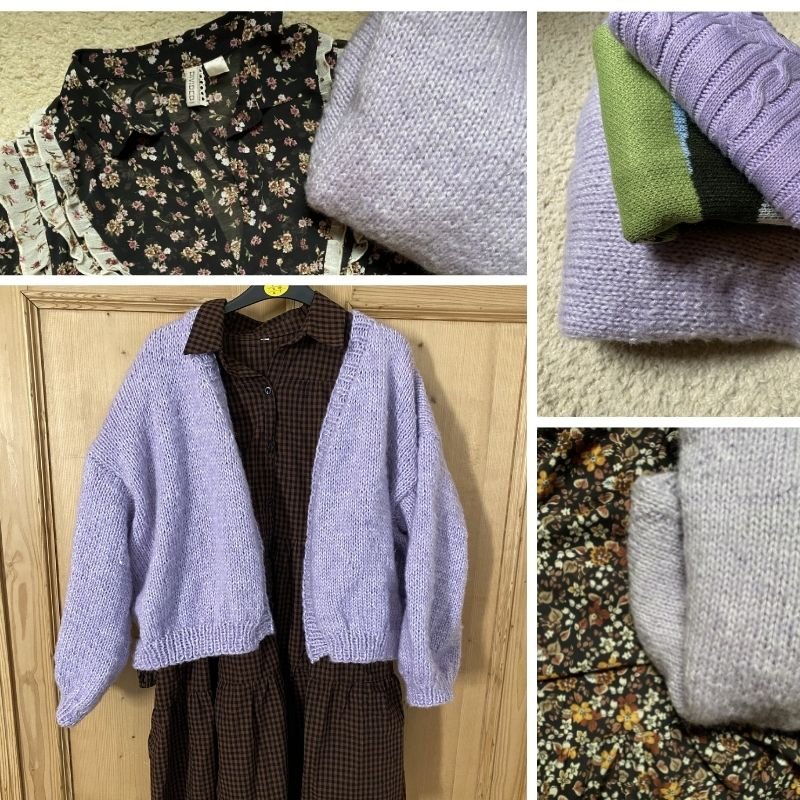 The making of this cardigan was astonishing fuss free. I only encountered two dangerous situation and for both I was to blame and not the cardigan 😀 The first drama evolved when I wanted to start with the second sleeve. The first sleeve was nearly finished but I was unsure how long I wanted it to be, so it lay on our sofa still not casted off. Now another day at the exhibition neared and I wanted to have enough "knitting material" with me, so I decided to start the second sleeve instead of taking the first nearly finished sleeve with me. But as I only have one pair of 6 mm knitting needles, I had to dislodge them from the first sleeves (they are interchangeable knitting needles) and fetch a new cable and my crochet hook for casting on stitches. I even thought to pack a pencil for my notes and tiny scissor just in case. And on I went to the tram… arriving at the exhibition I unpacked my knitting supplies at a break accompanied by lovely sunshine (which was a wonderful surprise as I seem to live in constant rain this year) only to discover that I packed everything besides the cable. The new cable I so cleverly fetched so that I could knit the second sleeve before finishing the first. Yes… the cable was at home. AHHHHH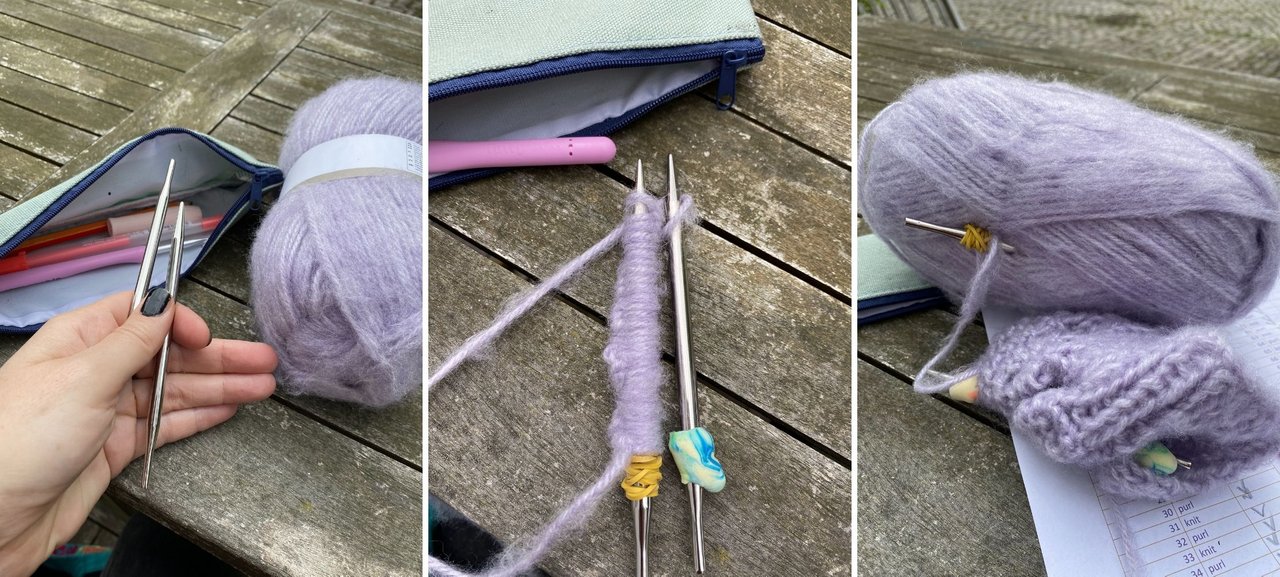 But what shall I say, Silvi and I are simply genius (dear reader, please excuse the hybris) as we improvised needles stoppers in best Mcgyver tradition out of one rubber band and one unused silicon ear plug. This was very elaborated diy :-DDD It looked a bit strange but was workable, I was able to accommodate all stitches for the ribbing (32) on the 10 cm long needles, no easy feat. Sadly these 32 stitches were all I could get on them so I had to stop knitting after the ribbing because the next step would have been to double the stitches.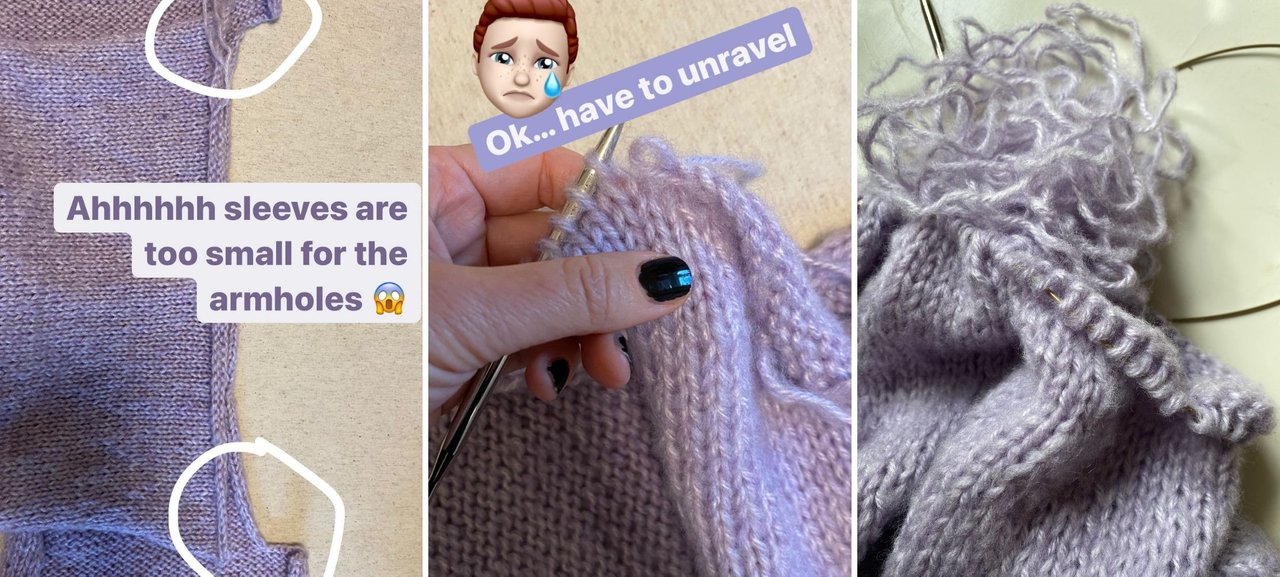 The second drama involved unraveling the last rows of the sleeves after I had casted them off. Sigh, I somehow miscalculated the with of the sleeves, because they were some centimeters too small to fit them into the armholes.
But after correcting this mistake all went smoothly (which is no wonder, because now the cardigan was finished :-DDD)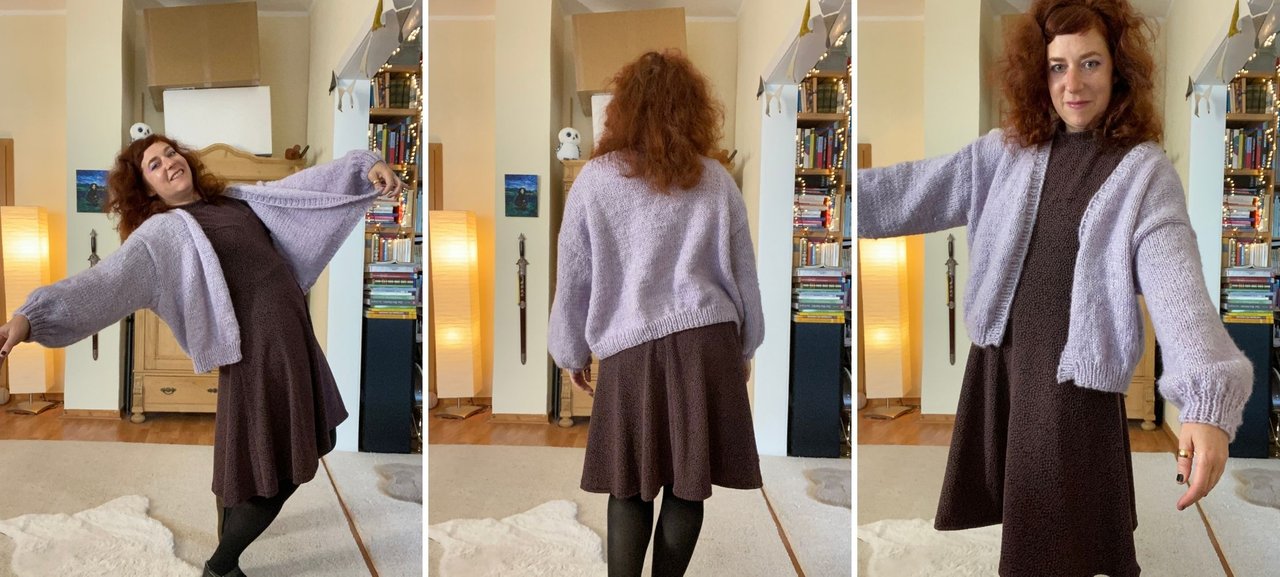 As you can see, I made a very oversized fluffy cloud of a sweater with wide sleeves and open fronts (oh and by the way the dress is also a new make, but I will write abot it another time). The sweater is knitted in pieces from the bottom up and is very beginner friendly as there are neither complicated knitting techniques nor intensive fitting needed. So far, I have worn it a lot and am again thinking about writing the pattern down and put it on Ravelry (for free… as I do not have time to grade, and test knit these new sizes right now).
What do you think, shall I write the pattern down? Will this help people or should I concentrate on my other knitting pattern, the blue cardigan with bell sleeves?
---
Thank you @crosheille for initiating and @marblely for hosting the #needleworkmonday and the community builder team @lauramica, @romeskie and @kattycrochet I am so glad to be part of.
If you want to see more beautiful projects with yarn, fabric and most of all needles, follow @needleworkmonday on hive blog. Or even better grab your needles and keyboard and join the #needleworkmonday community. You can read more comments on this post on my hive blog. 
Read more about my art und upcoming exhibitions on neumannsalva or buy some of my digital artworks on NFT showroom.