Hello dear @needleworkmonday friends (do we have a name for @Needlworkmonday participants, how do we call/address ourselves? NMW's? The needleworkers? Mondaywriters?) long time no written word from me and I directly start with this difficult question (only joking) and I am using even more brackets in writing than before.
I was absent because of some IRL problems, like a flood and a lot of working, but I missed you all so much, I took heart and pen (ok, only a metaphorical pen as I write on a tablet :-D) and wanted to give you a tiny update on my crafting project (yes there are some although time was short) and on my exhibition.
Let's start with the art
Two weeks ago, we (Silvia and me) finally were able to set up our exhibition which was delayed for more than a half year because of Covid. We only had some days to get everything done and believe me it was a bit hectic. Especially for me as one of my artworks is a huge collage which I had to be assembled on-site as it did not fit into our car. The collage consists of various paintings and objects which I wanted to attach to a huge canvas which was not as intuitive as I thought: printed artworks – no problem, I could glue them on, hand painted artworks – no glue allowed or I would destroy my own artworks, not clever, printed texts – glueable, cardboard cut outs – no glue and some connecting yarn and needles. I finished this monster artwork in two days, was very happy with the final object, went home, came back the next morning (the day before the vernissage) and half of the collage was now scattered on the floor…. Fun, fun, fun …
But after glueing and taping everything on again, the set-up worked smoothly, as did the whole vernissage. I may even say it worked wonderfully: we had a lot of visitors and the weather was superb (read: not the announced constant rain). And believe me the weather played an important role as we could only let in six visitors at once because of Covid restrictions. The rest of the visitors had to wait outside… so no rain was really helpful 😀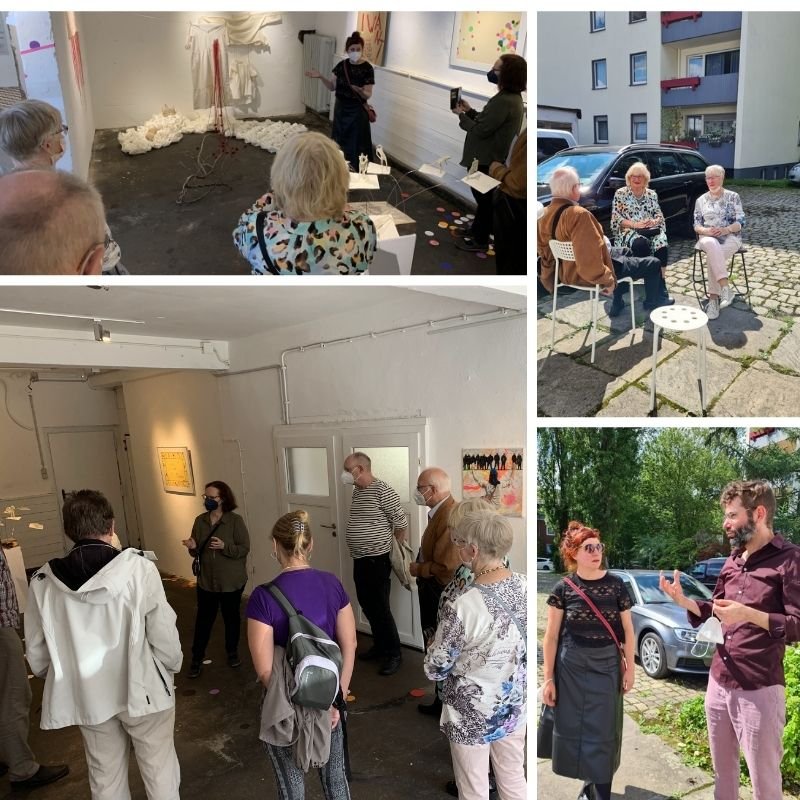 Now I will pretend you, my dear readers are our group of six visitors and give you a brief tour through the exhibition.The paintings near the entrance are from Silvia and show her analysis of the heated confrontations between police and protesters regarding Covid restrictions.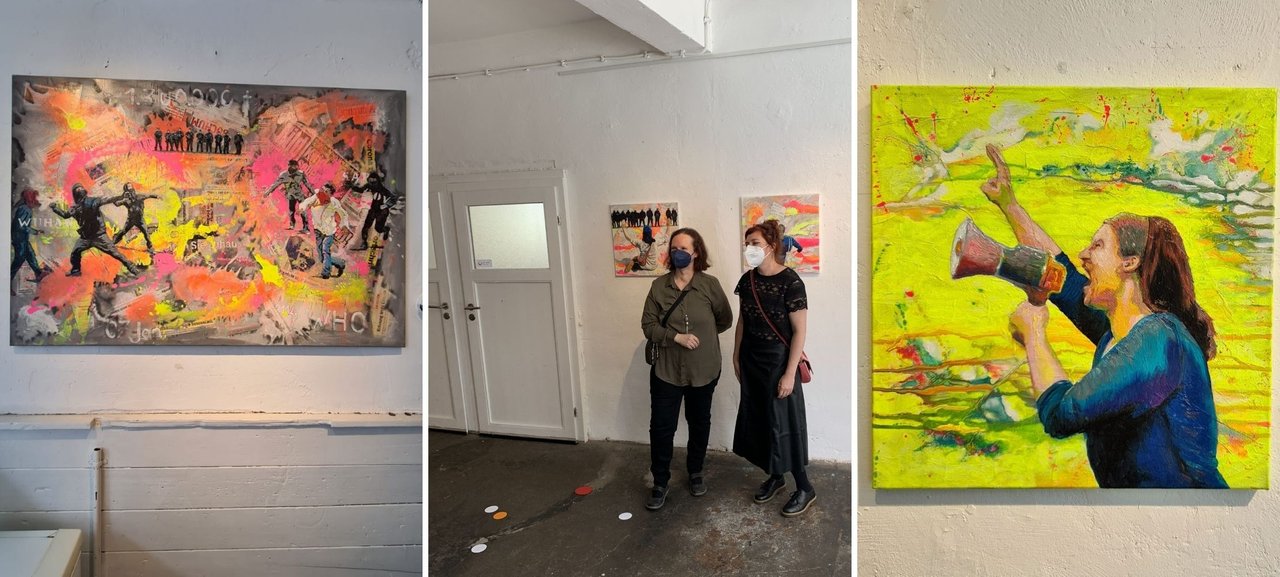 The next artwork is a sculpture from Silvia which shows the personified fear of Covid, a monster with fangs and claws. The sculpture is wearing a ring as an allusion to the pop culture mem of "one ring to rule them all"… jokingly we said everyone who kisses the ring will be spared of covid (of will infect himself immediately :-D)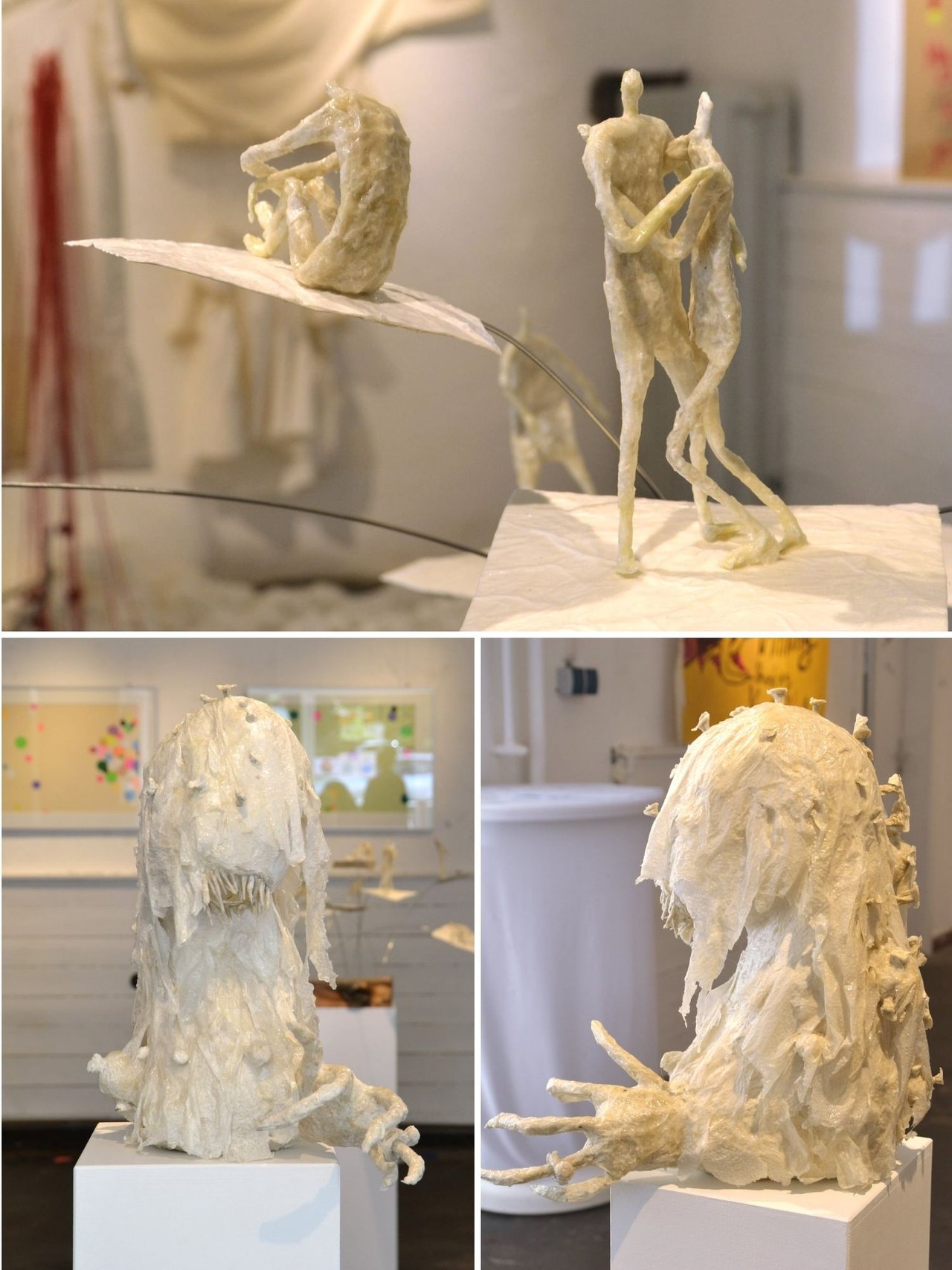 Now, dear reader, please look at the floor, where you can spot some funny colorful circles. They belong to three paintings from Silvia which visualize the spatial restrictions and their dissolution during the various stages of lockdowns. The dots in the paintings symbolize people and in the first one they are confined in their homes. The second one shows how gradually freedom is regained and people can visit shops or restaurants in smaller groups. And in the last painting all restrictions are gone, and everybody can move freely… even the dots are no longer held by the restrictions of the painting and move through the room.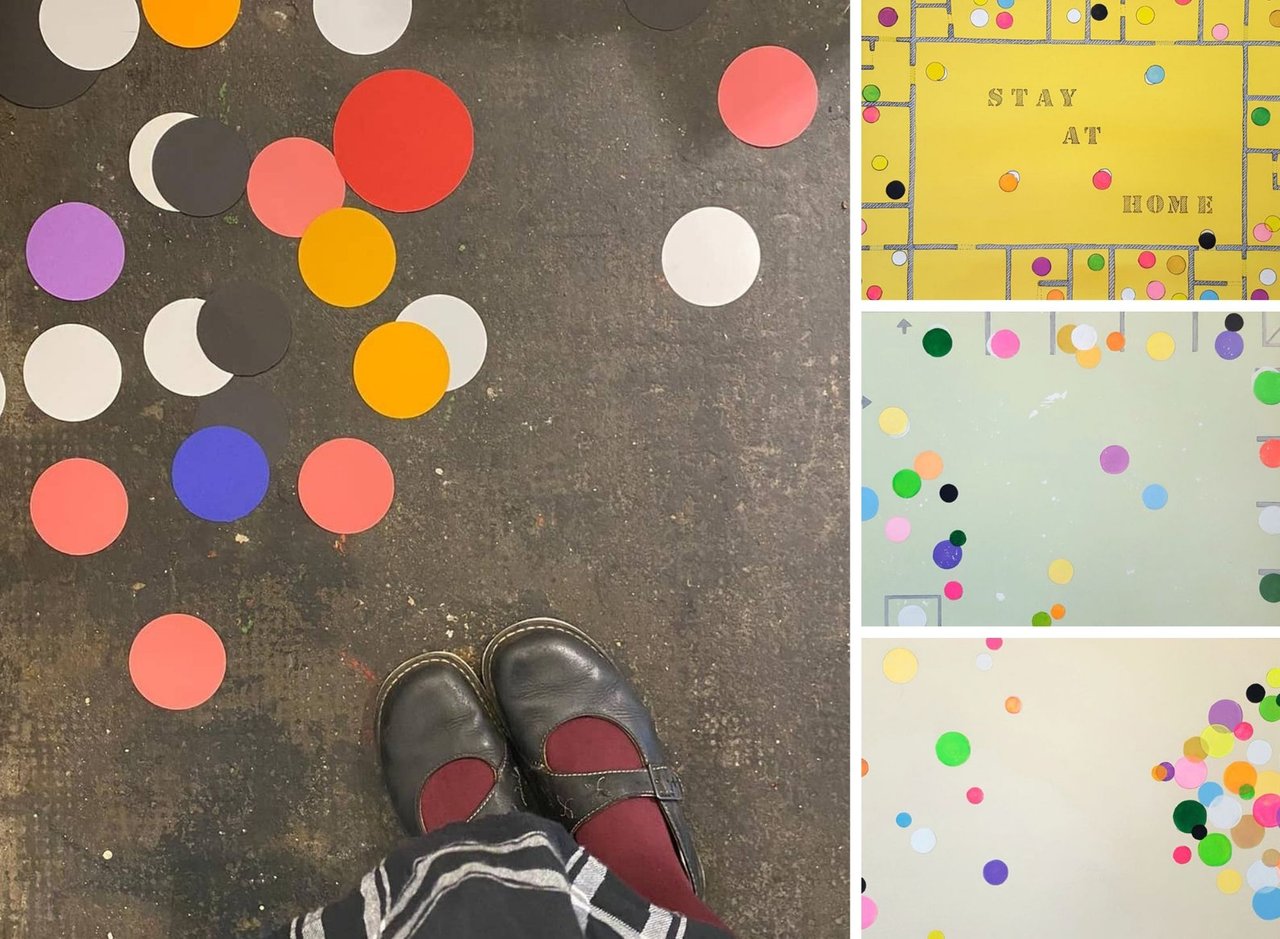 The next sculpture, also from Silvia, shows the fragile balance people experienced during the hard lockdown, where they had to stay at home. They occupy themselves with newfound hobbies like sport or dancing, some fall into depression others enjoy the quiet time. (You can see it on the photo together with the covid monster)
---
Turning around dear reader you will now meet my fibre art "the chapel of health". You saw parts of it during the last year and I already have written a lot about it. But this was the first time I could really set it up in a big enough room.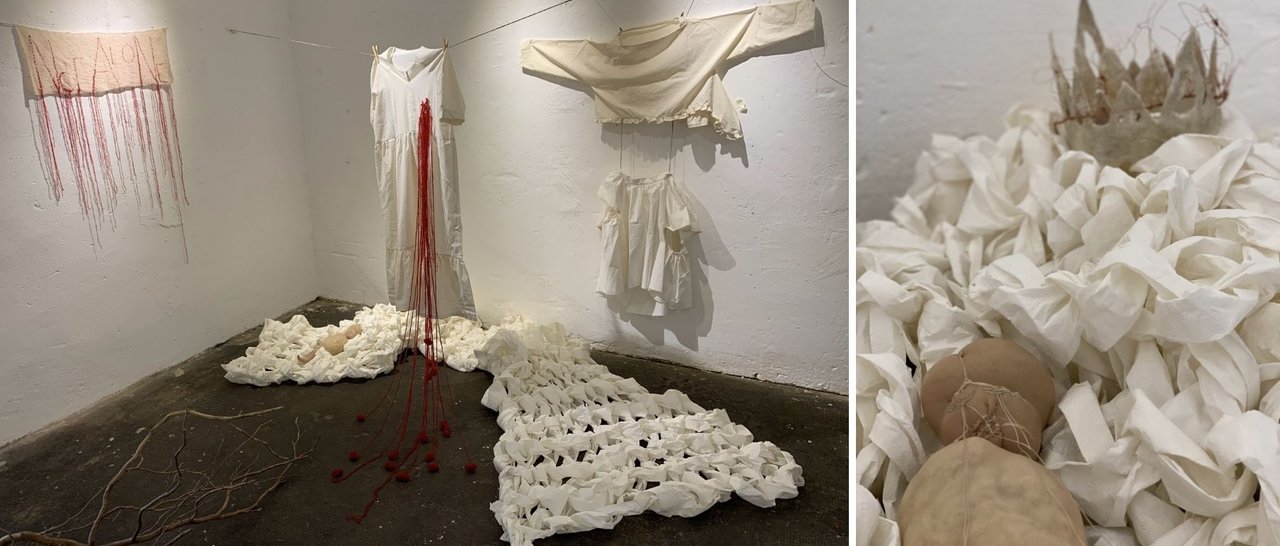 You already know that the main topic of my artwork is the imbalance between men and women which was even more obvious during the pandemic as women are still traditionally expected to do the most care work but also have paid jobs. During the lockdowns many women simultaneously had to care for the education of their children, work a job form home, care for the families needs without having a pause for themselves.
The red yarn on the dress could be interpreted as a bleeding heart which gives too much too freely. The skirt full of holes represents that women's skills, their love and caring are not only often taken for granted but also often for everybody to simply take without consent. And the imbalanced hem of the blouse shows how much different choices and forces pull at women's lives.
The set up of the whole ensemble not per chance has hints of christian iconography as women sometimes seemed to be the silent sacrifice we accepted during the pandemic.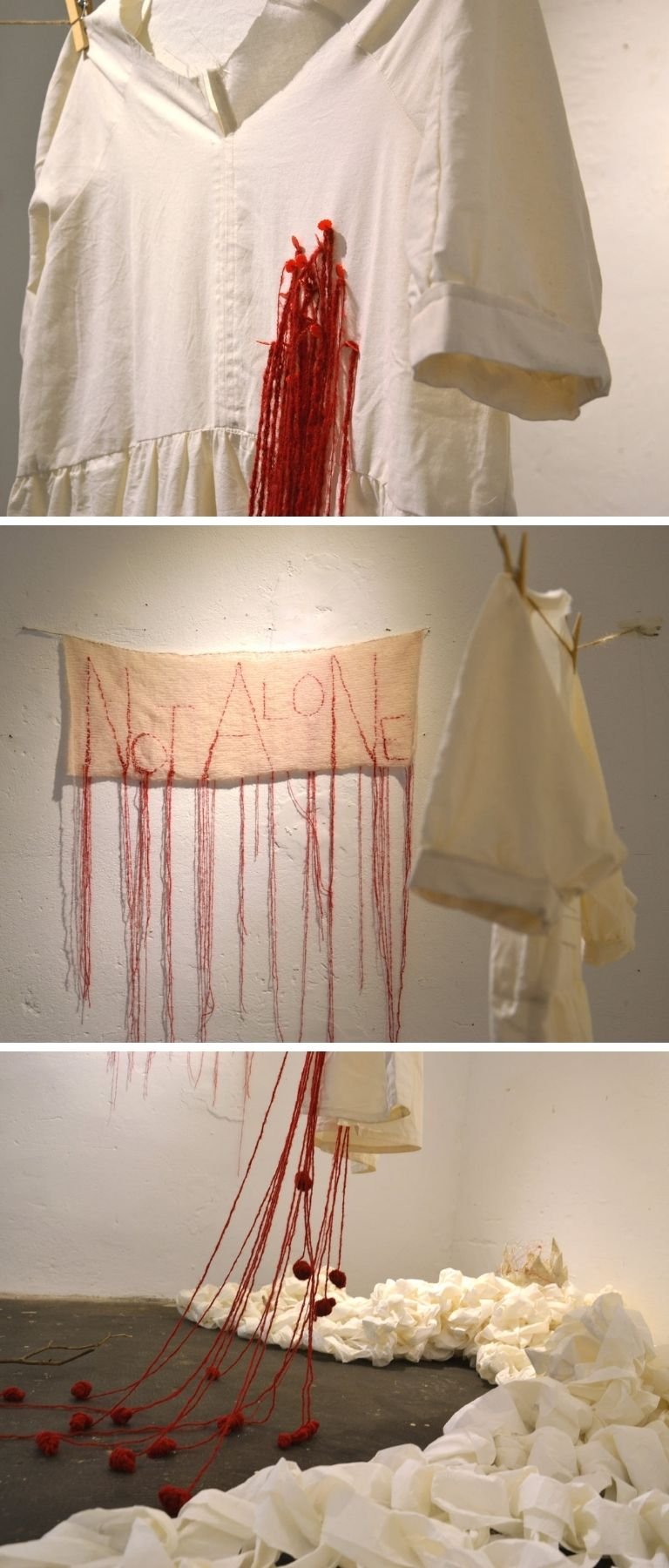 The wood and its small rolls of paintings are you my dear needleworkers, your hidden stories, and the connection we all had during times were IRL contact was forbidden. This I also broached in the knitted wall hanging which reads "not alone". I wanted to accentuate how important friendships can be which are made online, and which are often frowned upon by society as no real friendships. I wanted to make a symbol for our online community which has grown so much during the pandemic.
The last piece of my "chapel of health" I made with a twinkle in my eyes: a knitted monument to king (or queen) toilet paper :-DDD I am not sure if this was a world wide phenomenon that people started to hoard toilet paper, but in here it really was a thing: there were empty shelves, crying people who wanted to buy the last roll of paper, angry people who could not understand the shortage and devastated mothers who had to buy for a large family but couldn't. I knitted three cozy blankets out of the toilet paper which on the one hand show how important things of daily life can be and how absurd fears we can develop (as there was always enough paper, only the wild manner people where hoarding it created the shortage) and on the other side how control of tiny things (toilet paper) can comfort us and give us the illusion of safety.
---
The next room was also designed by me and holds the before mentioned collage "What if/HALIEN". You can see a lot of alien beings which I created after hearing people talk about their fear that the new vaccination could change the human genome. As I am intensely influenced by fantasy and science fiction literature I instantly knew, if anything changes, tentacles must be involved.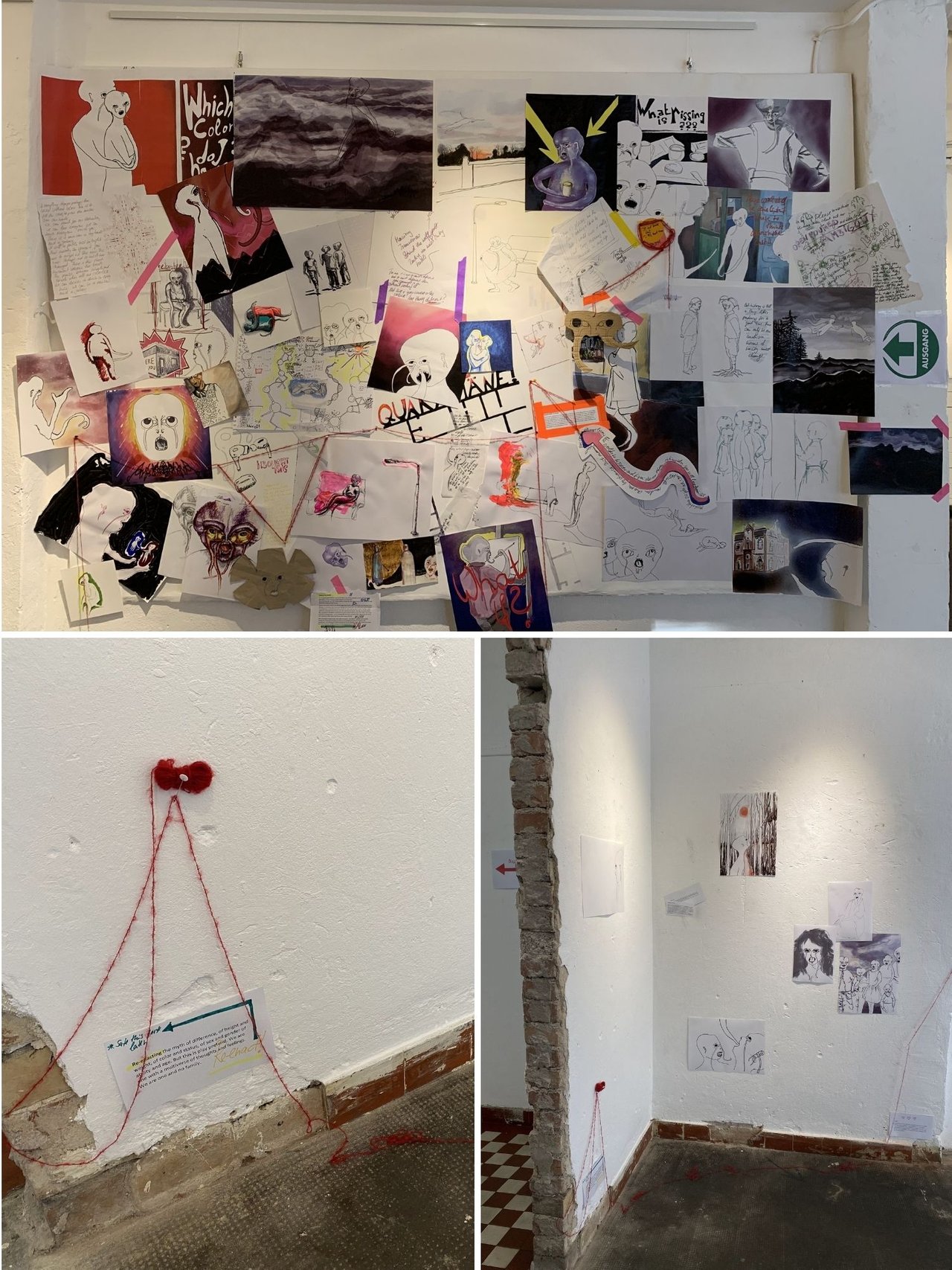 But besides the humorous approach I also wanted to show how unimportant appearances are: these HALIENS (I called them so because of alien, and inHALE/exHALE and "hale" like healthy) look strange and foreign but are completely nice and lovely inside doing the same things as humans do. I think I already wrote some blogpost about them.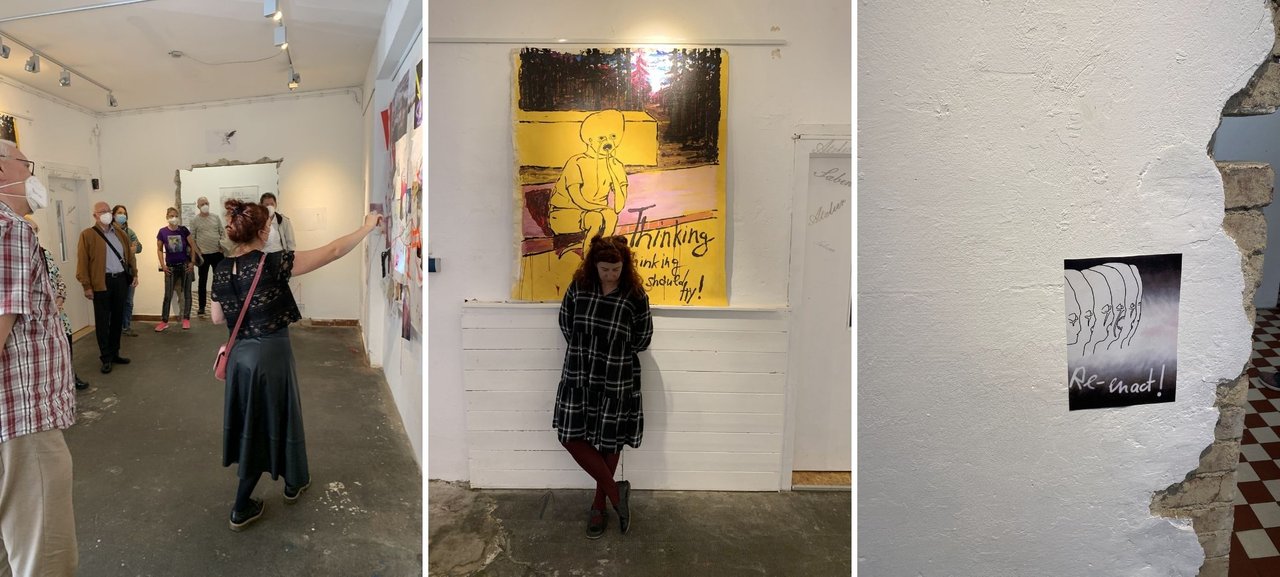 Besides I felt a bit like a mad scientist who assembles his findings about an alien culture. I had the weird idea of looking back on a long-gone high culture which is so highly developed we would call is more futuristic than ancient. I am not sure if you have ever heard from the author Erich von Däniken. He wrote some popular books back in the seventies where he presented his thesis that the Egyptian high culture was founded by aliens… I think I felt a bit like this, oscillating between times. By the way, having a changed time perception seemed to be a topic for several people during the lockdowns. For some people time suddenly felt like a slow-moving uniform thing, leaving no clues to identify the day and date but for others time simply vanished and felt like lost time, lost life.
---
The last room of our exhibition invites the visitor to **read **and to contemplate. Here Silvia has made sketches on transparent paper and added thoughts, poems, and emotions she collected from friends. The different layers of her paintings represent how some topical can rise to the surface, get visible only to sink back into unconsciousness moments later. The sketches showcase deep feelings about loneliness or anxiety but also mundane thoughts about the workspace at home, the famous home office, ideas about a changed future and hope of newfound creativity.

Wow… my dear readers, I really tried to write a short blog post, but clearly I grandiosely failed :-DDD Let me end with a photo Silvi took of us during a coffee break: you can see me knitting in the background a new cardigan 😀 I am so excited to write about a lot of new knitting and sewing projects in the next weeks. About some wonderful new sewing books I ordered, about my new scholarship I got (yeahhhh) which will involve sewing and a lot more <3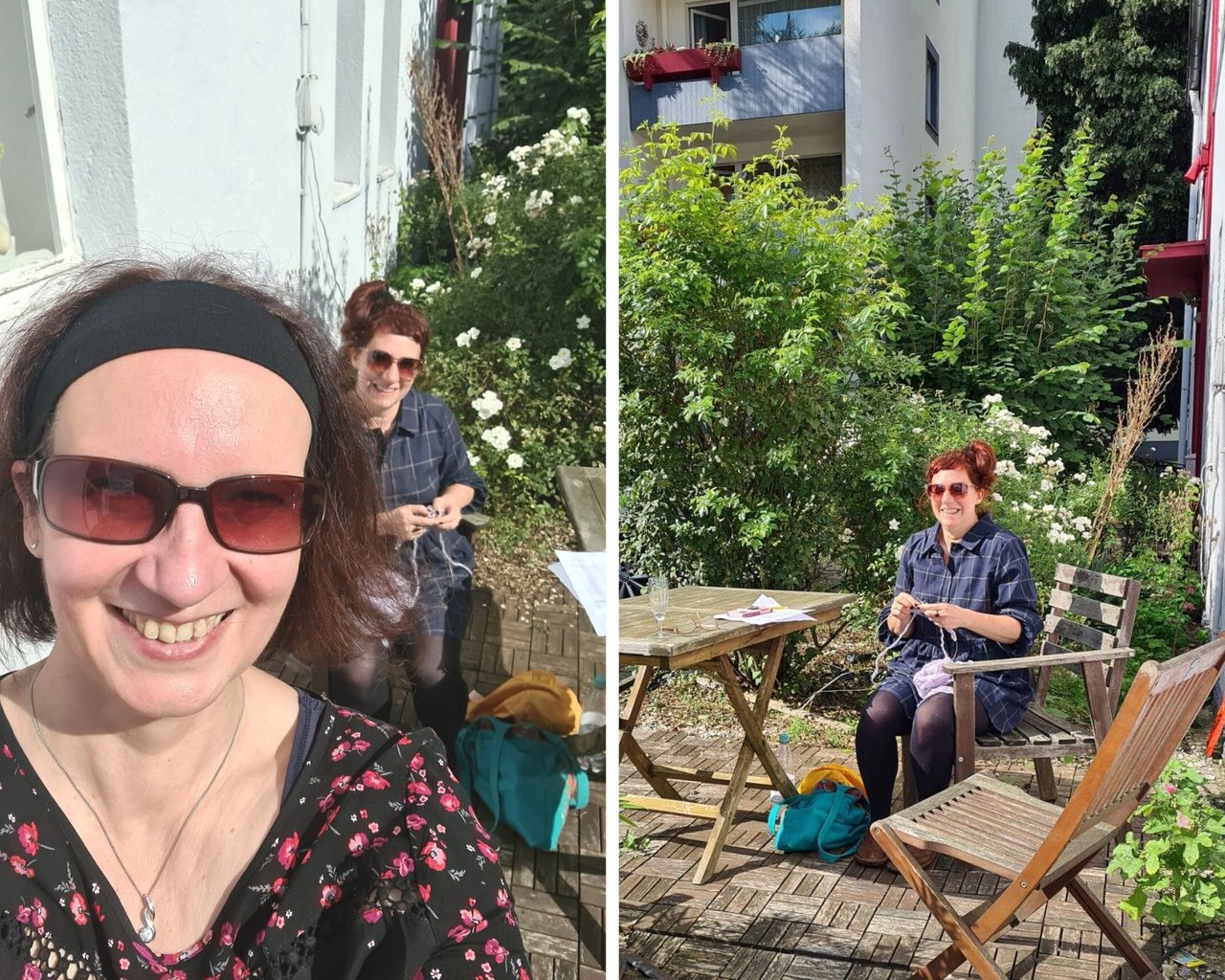 Sorry, for not answering and commenting the last weeks, I hope to be more present now but as our exhibition is still running, I may be a tad slow with everything.
Thank you @crosheille for initiating and @marblely for hosting the #needleworkmonday and the community builder team @lauramica, @romeskie and @kattycrochet I am so glad to be part of.
If you want to see more beautiful projects with yarn, fabric and most of all needles, follow @needleworkmonday on hive blog. Or even better grab your needles and keyboard and join the #needleworkmonday community. You can read more comments on this post on my hive blog. 
Read more about my art und upcoming exhibitions on neumannsalva or buy some of my digital artworks on NFT showroom.