Last Monday we shared a collective experience of secrecy and mystery: the amazing @needleworkmonday challenge "Tease Us!" But not every teasing is harmless… no sometimes the teasing turns deadly serious (no fear, this is only me joking). @marblely thought she could hear the soundtrack of twilight zone and I say yes , right you are. @fiberfrau wrote about someone who was taken hostage and I say, right you are. Others pondered spacesuits, thought about swarms of insects and and and. But I tell you dear #needleworkmonday community it is much much worse:
I made a doll…
---
While looking at my doll photo I have the thought that in this case it is good that I do not have children 🤣😱🤣
But let me explain what I really did. Perhaps you remember that I make art for a living and somehow the pandemic inspired me to create a new kind of being, the HALIEN. Beings which are a mix of alien and human, who perhaps are us in the future. Beings which look strange and maybe a bit frightening with their huge double eyes and big open mouth with sharp teeth. But in my imagination they are only alien on the outside, but inside they are kind and lovely and symbolise the weirdness we all (knowingly or unconsciously) carry in us. I painted them in everyday situation which through their presence transformed into something more: Landscapes become dreamlike, coffee a brewing made from starlight or cemeteries places of hope.






And as I love to expand my abilities I suddenly thought 'why not sew a HALIEN doll'. And with this my doll making journey started. I remembered @phoenixwren's lovely irish gods and goddesses and knew I need some kind of flesh coloured tricot fabric, some stuffing and good embroidery skills. I had nothing of this, especially on the embroidery side I am missing a lot (mostly patience). But this could not stop me. I planned to sew these doll with beige cotton fabric which I used for the woman's day skirt and blouse and then fill it with old newspapers. To not waste fabric I started with making paper models. I knew for the head I needed some kind of roundish pattern with a lot of darts.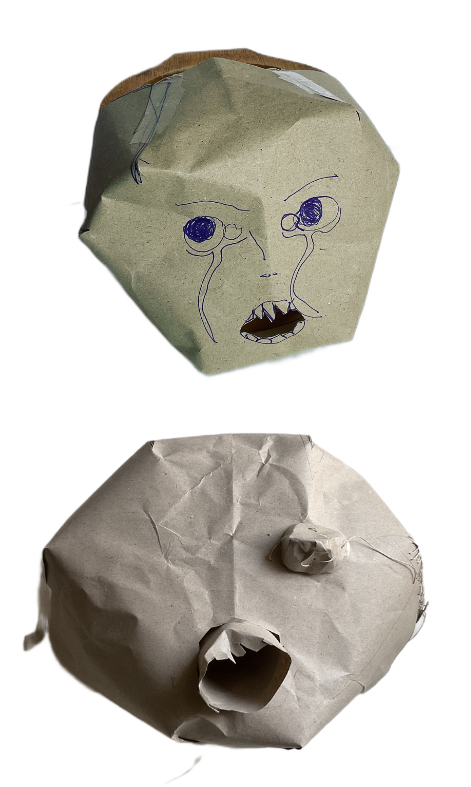 This first model was to my liking so I got a bit more daring and tried to give the second one a deep open mouth. And this also somehow worked. Taking confidence (others call this hubris) I fetched my fabric and started to cut and sew the fabric version. When I finished it I directly send my friend Silvia (you remember we worked together for an Exhibitionwhich finally will open in august) a photo of my fabric doll's head and … yes… she wrote back, that this object has a kind of dubious ambiguity (meaning: it looked like a sex doll's head).
After she wrote this, it was also for me very obvious and I couldn't unsee this. AHHHHHHHHHH I was so focused on the process of doll making and my HALIEN figure, I did not notice this. But I had to laugh.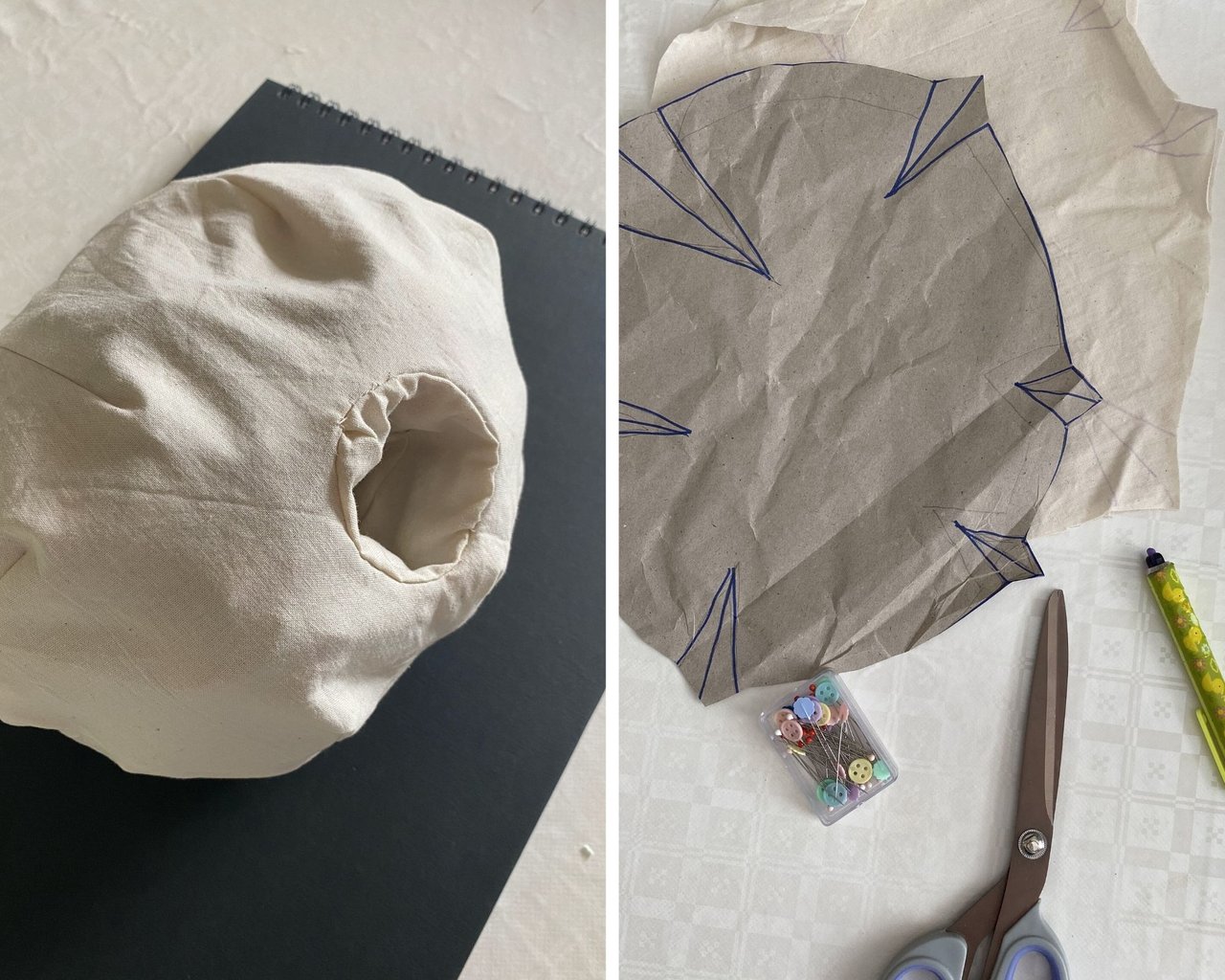 Next step was researching jersey fabric and doll stuffing, but sadly the jersey needed too long to be delivered (and as I lost a bit of confidence I also deemed it too expensive for my experiments). SO I tried thin tights. Yep… nearly the same as flesh coloured jersey (again me joking). I watched a video about doll making, asked my mother, who had made me several lovely dolls in my childhood (I think they are called Waldorf dolls), read a tutorial and then I started.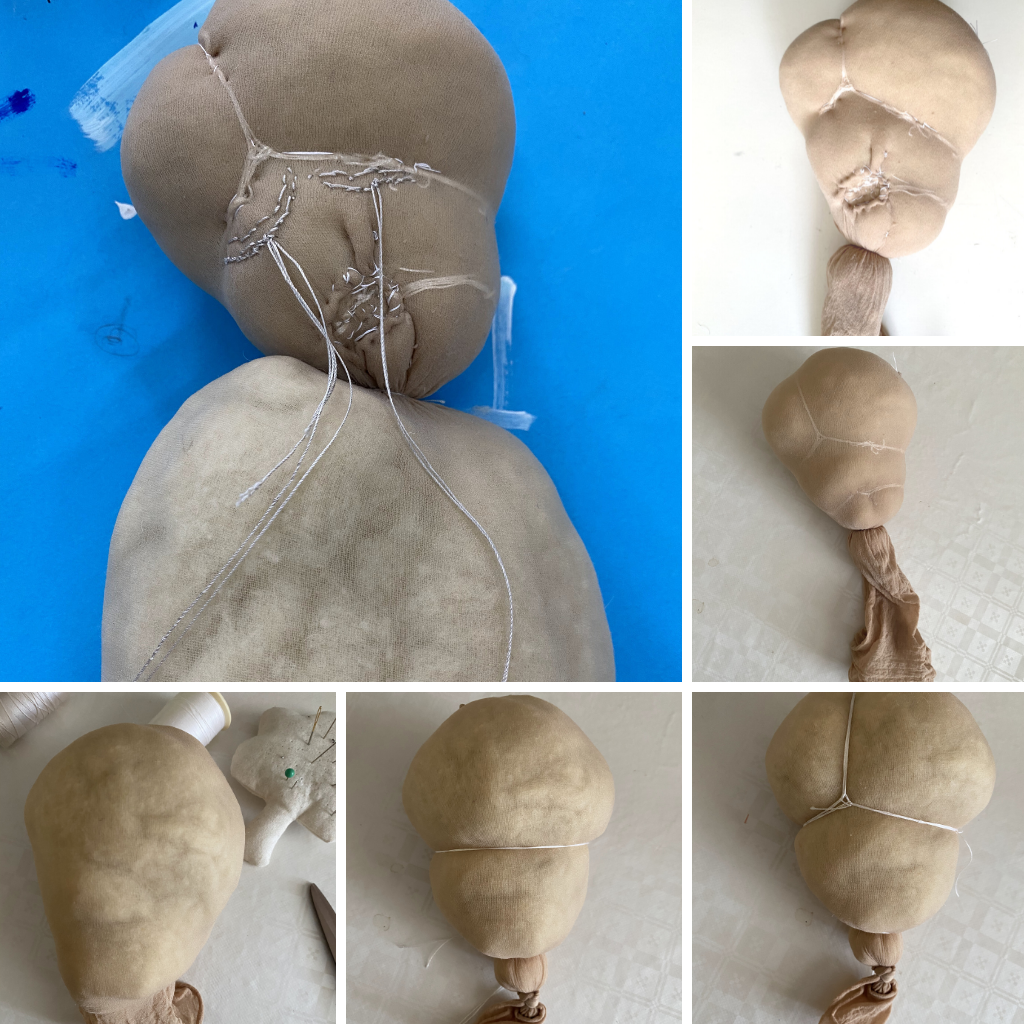 At first I cut a part of the tights, preformed the stuffing into a kind of pear shaped head and put it inside the tight. Now I used yarn to very tightly bind of the neck. Next binding was around the head to shape the deepening for the eyes. And I wound another thread around to shape the unusual Halien head which has some more bumps than a human one. These threads ares then sewn on and in this way fixated. The body is made the same way.
The face of the doll is embroidered and I used long strips of thread to mimick the tentacles the HALIEN have under their eyes. Instead of using embroidery to "paint" the facial features I used it to create a more sculptural resemblance of lips and an open mouth.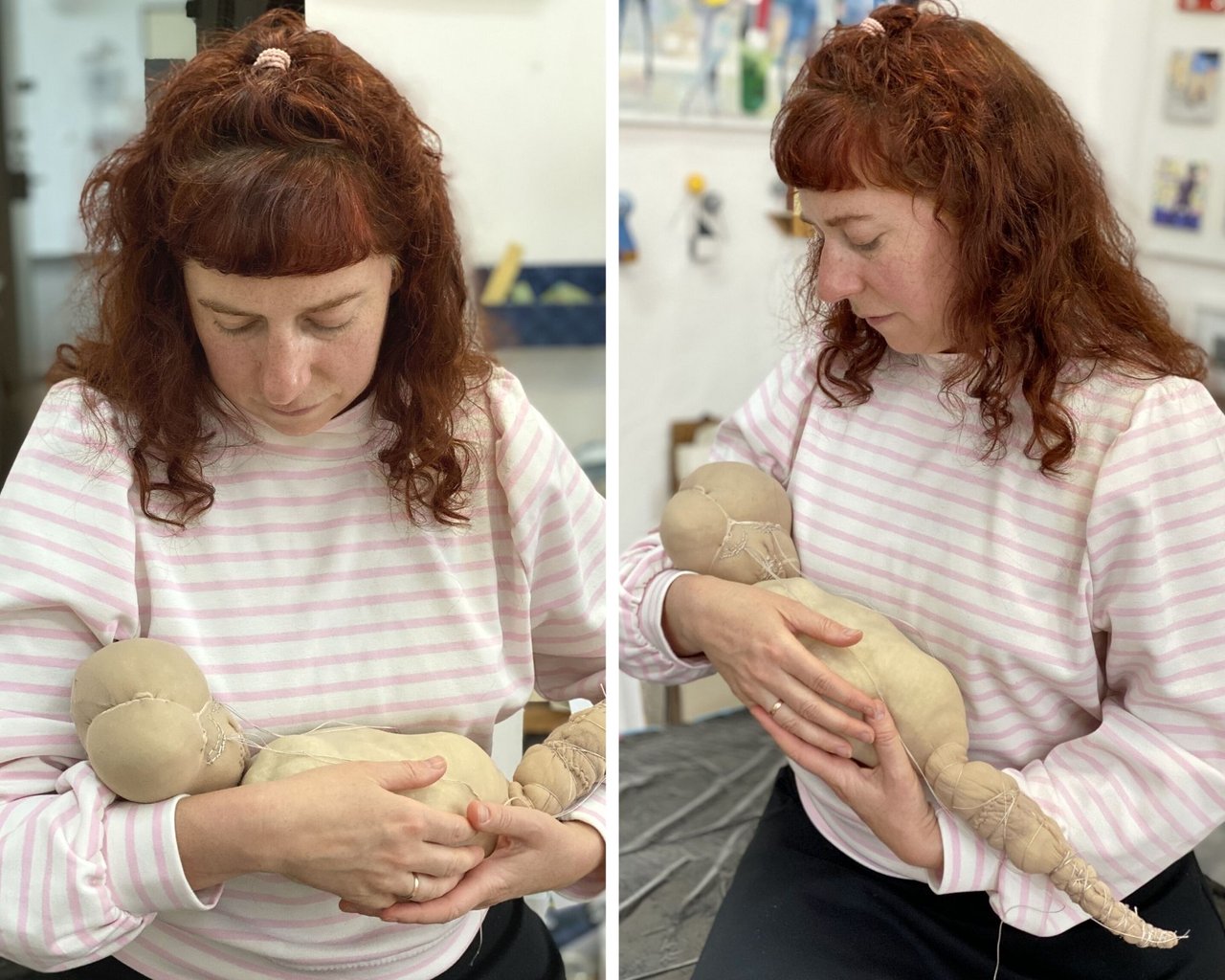 The light color of the doll and its longish shape could remind the observer of an ancient relict or paintings of swaddled babies whose movements are completely restricted by linen bands which are wrapped tightly around the body. In this way the doll stays ambiguous; unclear if it refers to an unknown future we can strangely observe now, or if it is a remnant of a lost culture no longer remembered.
---
Thank you @crosheille for initiating and @marblely for hosting the #needleworkmonday and the community builder team @lauramica, @romeskie and @kattycrochet I am so glad to be part of.
If you want to see more beautiful projects with yarn, fabric and most of all needles, follow @needleworkmonday on hive blog. Or even better grab your needles and keyboard and join the #needleworkmonday community. You can read more comments on this post on my hive blog. 
Read more about my art und upcoming exhibitions on neumannsalva or buy some of my digital artworks on NFT showroom.