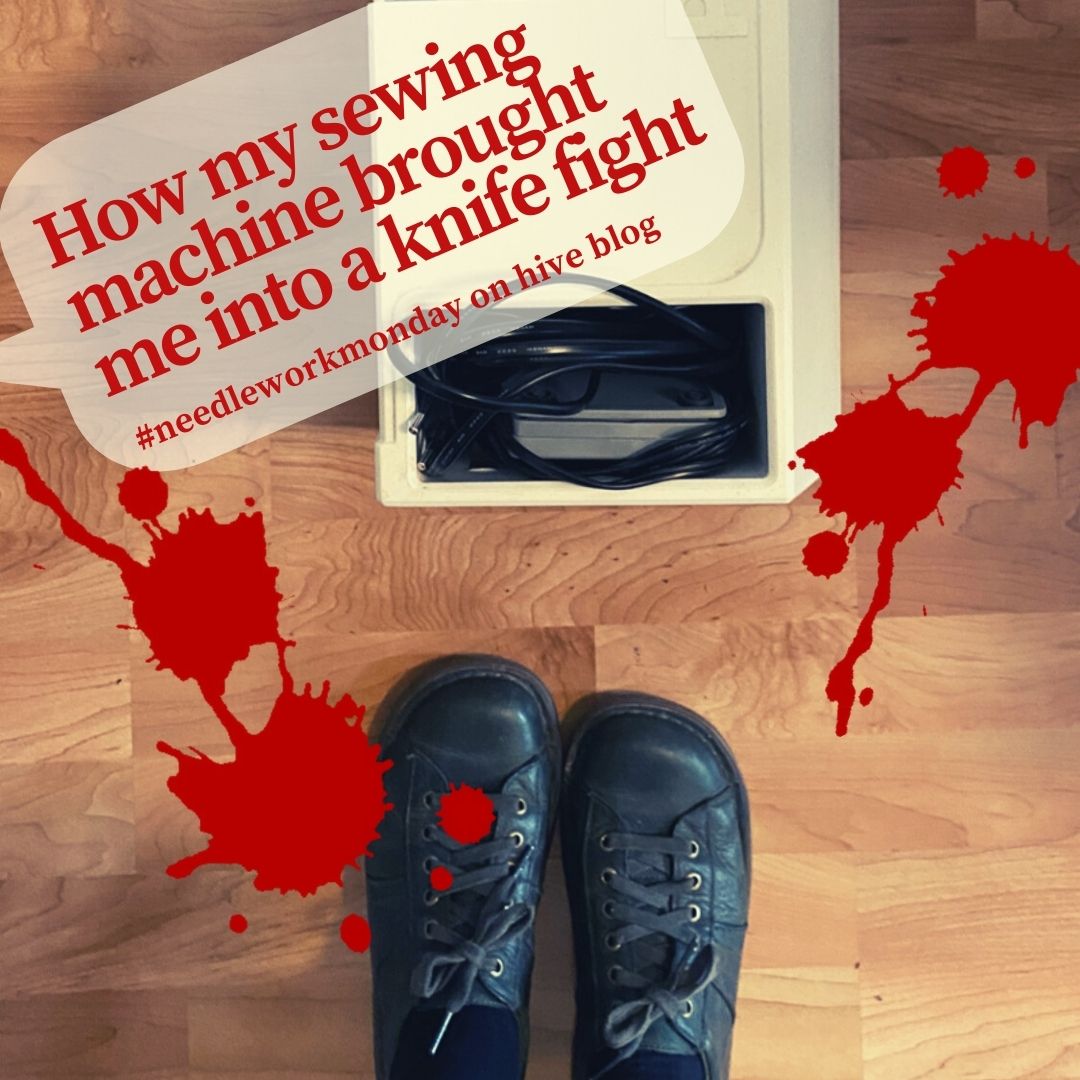 If you did not know how dangerous needlework could be then this shall be a warning (ok… I may exaggerate a tad but read on and decide for yourself. You will get a lengthy story about my sewing machine and a visit to the neighbour town).
---
But I must explain the context: Some years ago, I won a sewing machine in a competition and this was the starting point of my "sewing career". I slowly started to sew skirts and sweatshirts and eventually reached the point of no return sewing a buttonhole. And oh dear, my sewing machine could not do this. Besides with growing skills in sewing I noticed that my cherished prize had a lot of limitations and failings. The sewing machine could only sew very limited stitches and much more important it pulled the fabric frantically to the right. I always thought it was my fault that the seams wanted to be diagonally but after giving it to a repair shop, I learned, no, the machine was the culprit and as it was a cheap model there were no replacement parts for it (actually the shop could not open the machine without cracking the plastic hull – not a sustainable machine 😱).
At this time, I had less headaches and more money because of teaching so I decided to buy a new sewing machine. My space for sewing is small and I decided on a Pfaff Passport machine which is designed for journeying. The machine was/is my dream, super tiny and cute and able to do all the important things like buttonholes, overlock stitch and a slower speed. Yeah…. I still love it … since last Wednesday… when it broke. SCREAM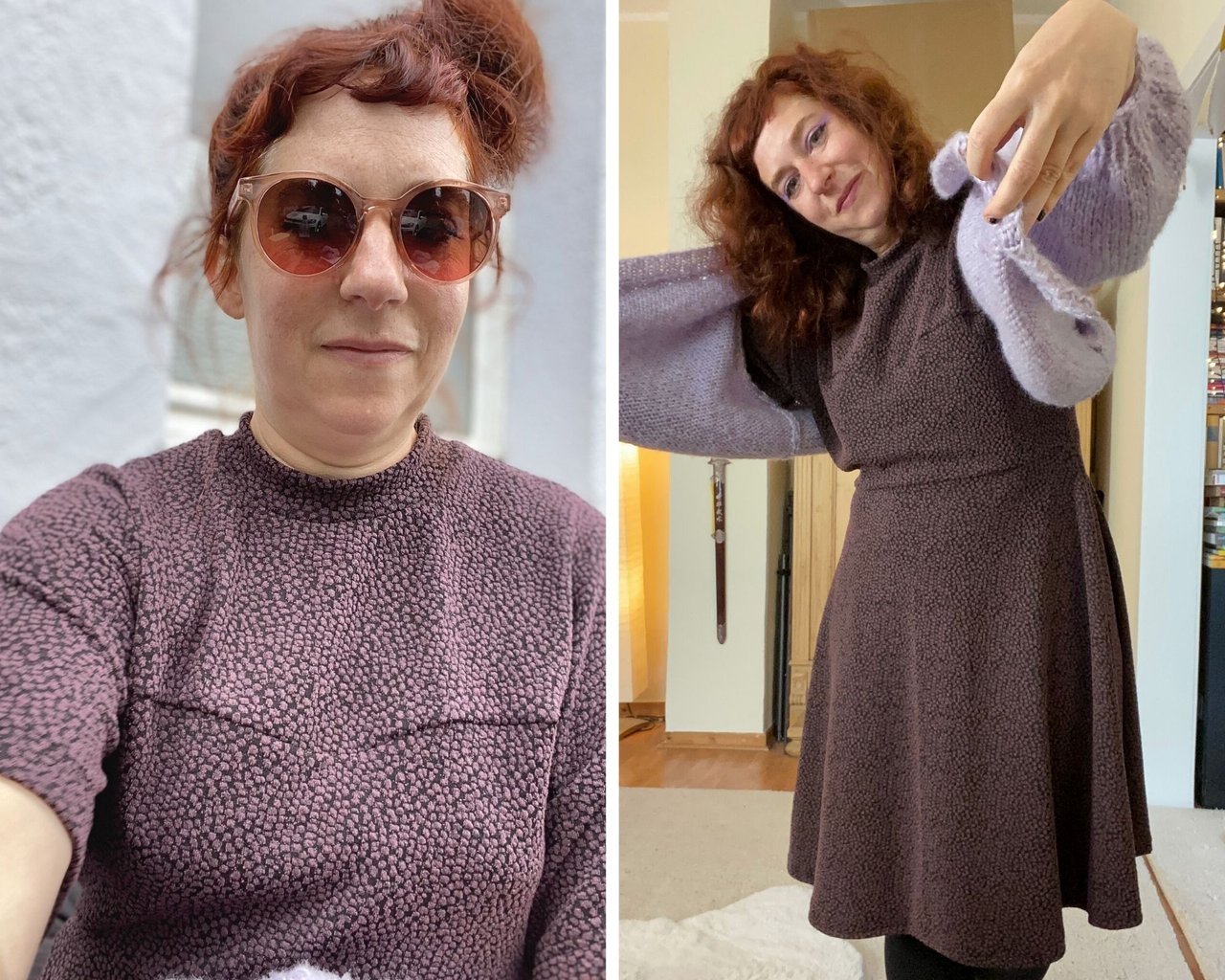 You remember the new dress I made and showed you last week together with my lavender cardigan? It is Eloisa, a jersey dress with a flared skirt and a unique construction for the bust darts (they are hidden in two curves) from named clothing. Since I made it, I am wearing it on repeat, so I decided to make it again. And during this sewing session my machine suddenly only made a straight stitch. No zig zag, no overlock, no sideways movement of the needle, only straight stitches.
At first, I hoped I could remedy the problem myself, I cleaned the machine, changed the needle, used a fabric without stretch, but no, problem persisted. So, I researched and google told me that there is a kind of magnetic device which pulls the needle to the side and that this could be broken.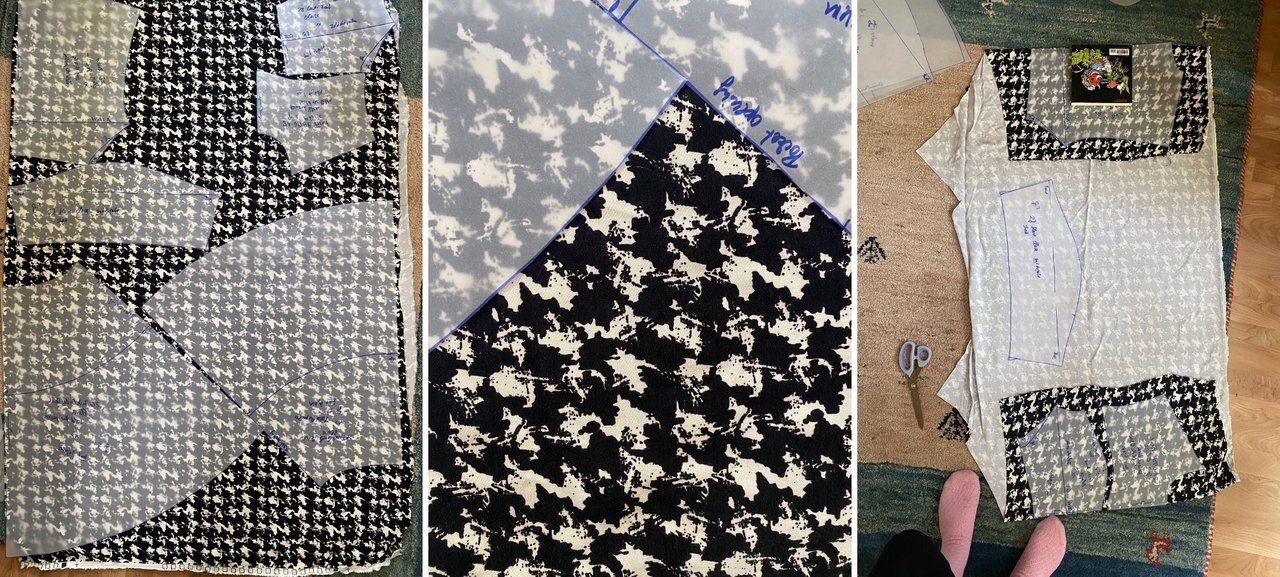 This is the dress I wanted to sew, a fabric I got as a gift and which is not really to my liking, but has a nice drape

I directly called the shop and after two more calls and finding someone who had enough knowledge of the machine's technique, I learned that their own workshop is closed because of summer holidays and as the machine is not very expensive all parts of it are made in china and right now there is a delivery shortage, and they will send the machine away aaaaaaaand!!!!!! I should expect several months of waiting time.
Months
Several months
Without sewing machine
I was devastated. And the best of all, the warranty for the sewing machine was expired for three months.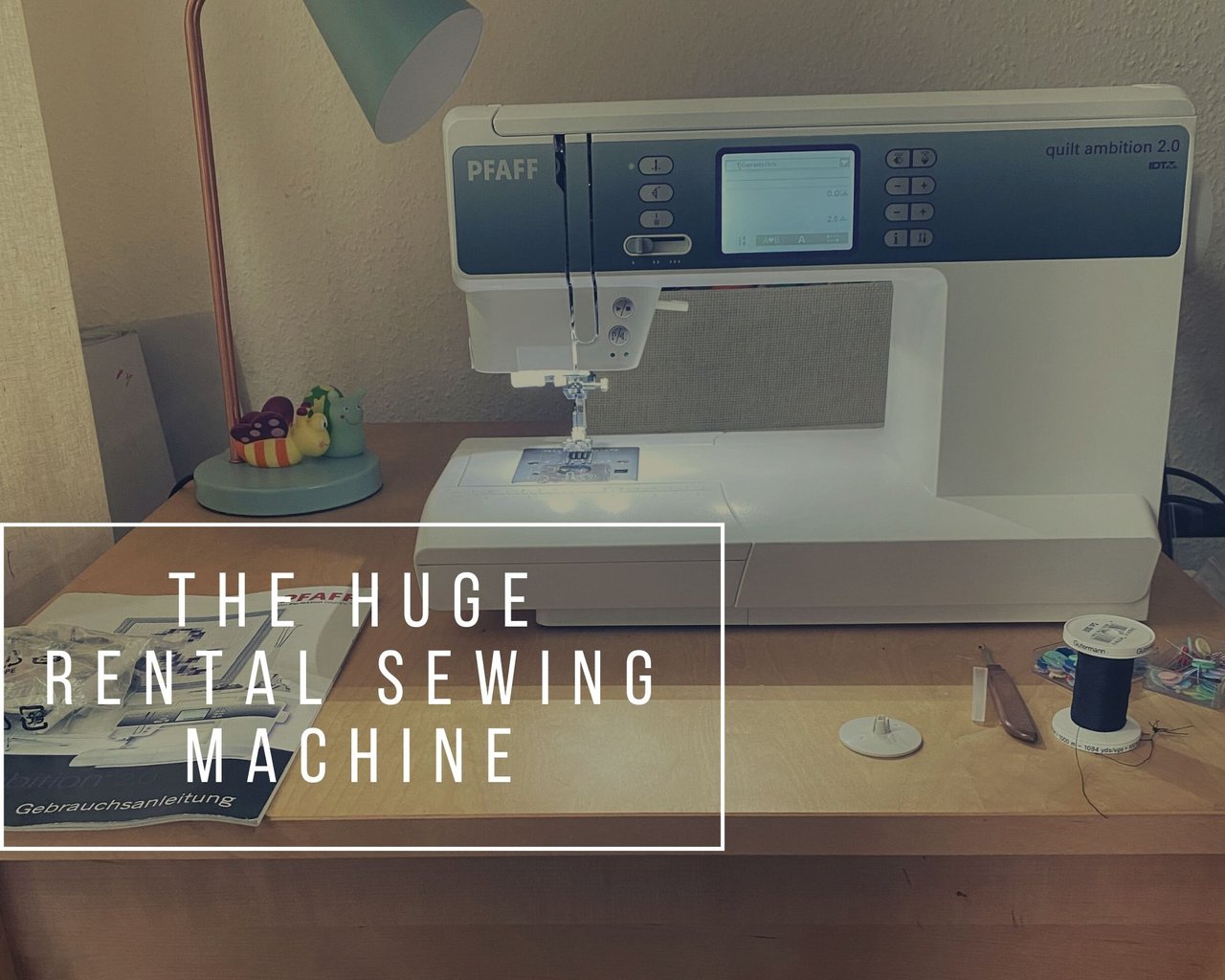 The next days were filled with dental clinic, exhibition, and a lot of headaches and only on Saturday we could visit the shop, which is in a neighbour town, a town famous for its public transport, the "Schwebebahn" (suspension railway).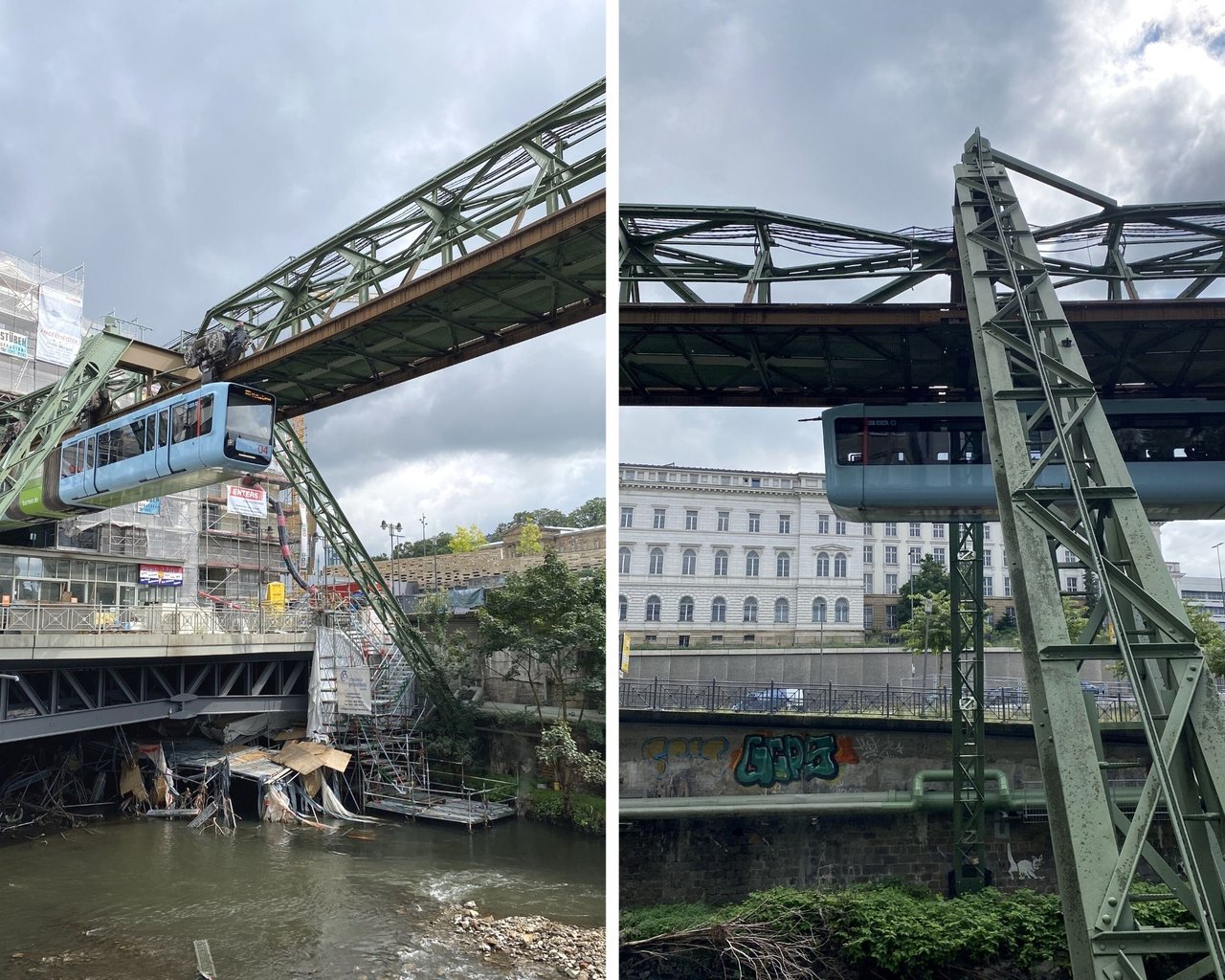 You can still see the destruction the flood of the last month brought

On we went. First stop the shop. And I will start with the bad things first: the shop assistant sadly had no clue of anything, and it is still unclear if I must pay for the repair, how much I must pay and if it is even possible to repair the machine or if the repairs are more expensive than the machine. The nice part, I got a rental machine. And what a beast – wow! It's a machine for quilting and it fills the whole width of my sewing table. I hope I can try it out this week. It's a much more expensive machine than my own, so I am curious if I will find it somehow better. For me that would mean it's quieter or that the stitches are more even or that it is able to lock seams at the beginning and the end. (If yes, I need a plan for a patron :-DDD)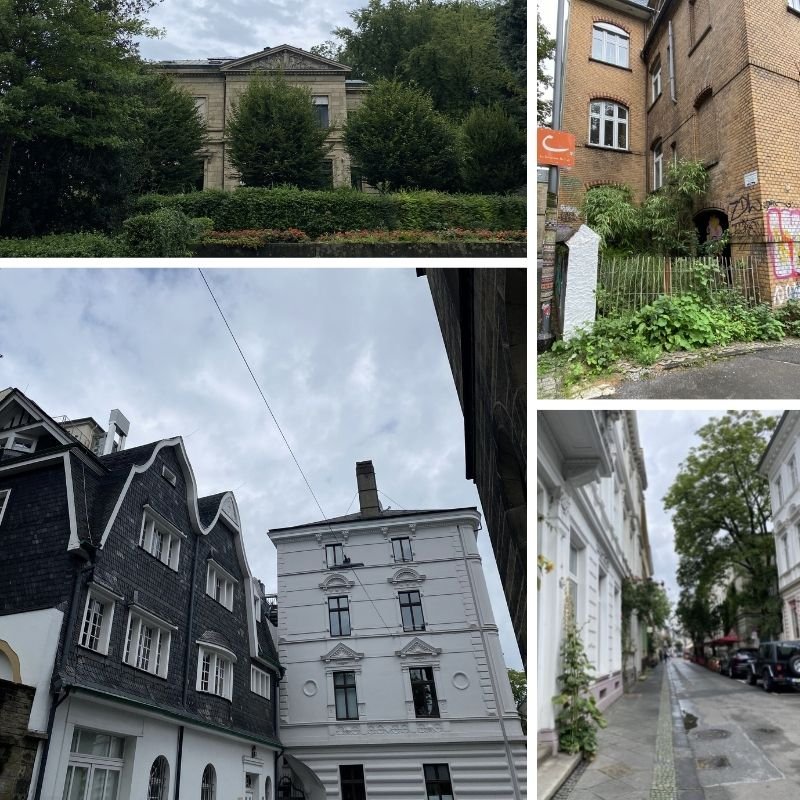 OK, sewing machine done, we went on a tiny sightseeing tour. Because of Covid I wasn't in Wuppertal for nearly a year and the town is in my eyes lovely. Many old houses from around the turn of the century mixed with the typical slate houses of this region, many bridges because the town is built between hills. If I had known I would write this post, I would have made more photos…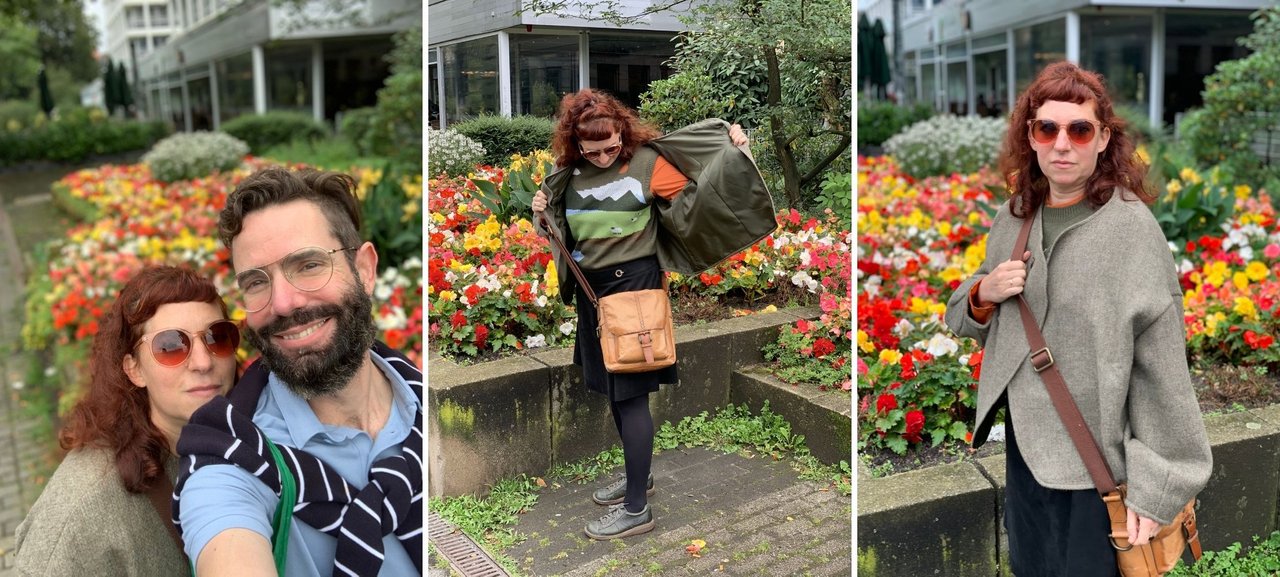 lovely flowers in a park and me looking headachy with my very oversized Burda Style jacket and a vest with sheep <3
But on to the criminal and terrifying part of this expedition. Because I again had headaches and wanted to rest, we sought out a café in the middle of the pedestrian only shopping zone. We got our coffee and than we got some hysterical cries. More cries, a lot of people running and Roman suddenly saw a man holding a weapon. OHNOOOO The area was locked down very fast by the police and we were sitting timidly at our café table watching emergency vehicles and police buses drive by and a lot of people jumping out of the way.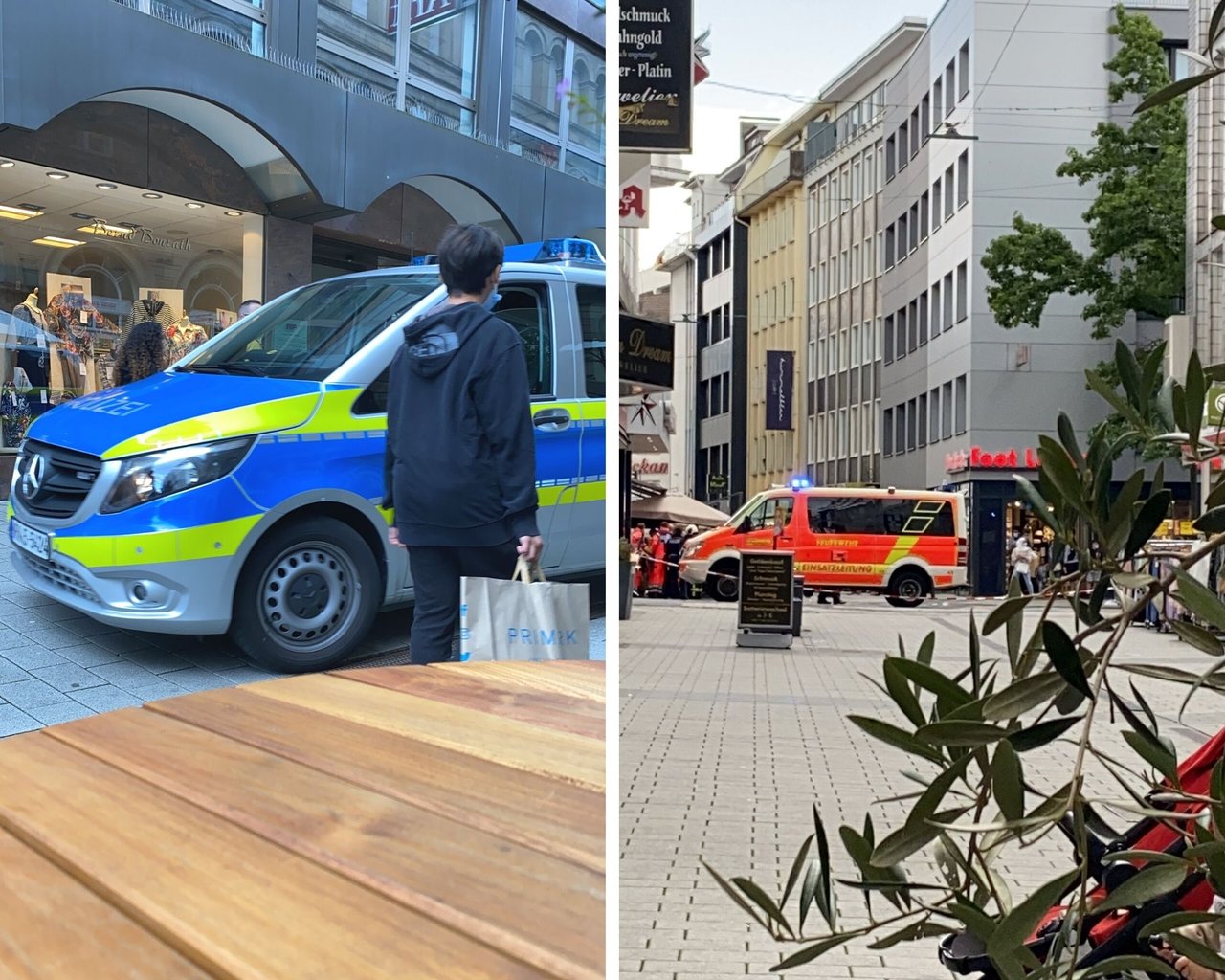 You can see how near the police drove by our cafe table 😱

Thankfully we only heard the cries but could not see what really happened (I am not a fan of blood and human tragedy). After we were able to leave the area, we learned that it was a knife fight between two men about personal disagreements, but they also attacked the wive and father of one of the combatants and bystanders who wanted to help were also hurt. Thankfully so far nobody died (it was in the news). This was an absolute first for me… I hope it will be a lot less eventful when I fetch my (repaired?) sewing machine.
---
Thank you @crosheille for initiating and @marblely for hosting the #needleworkmonday and the community builder team @lauramica, @romeskie and @kattycrochet I am so glad to be part of.
If you want to see more beautiful projects with yarn, fabric and most of all needles, follow @needleworkmonday on hive blog. Or even better grab your needles and keyboard and join the #needleworkmonday community. You can read more comments on this post on my hive blog. 
Read more about my art und upcoming exhibitions on neumannsalva or buy some of my digital artworks on NFT showroom.