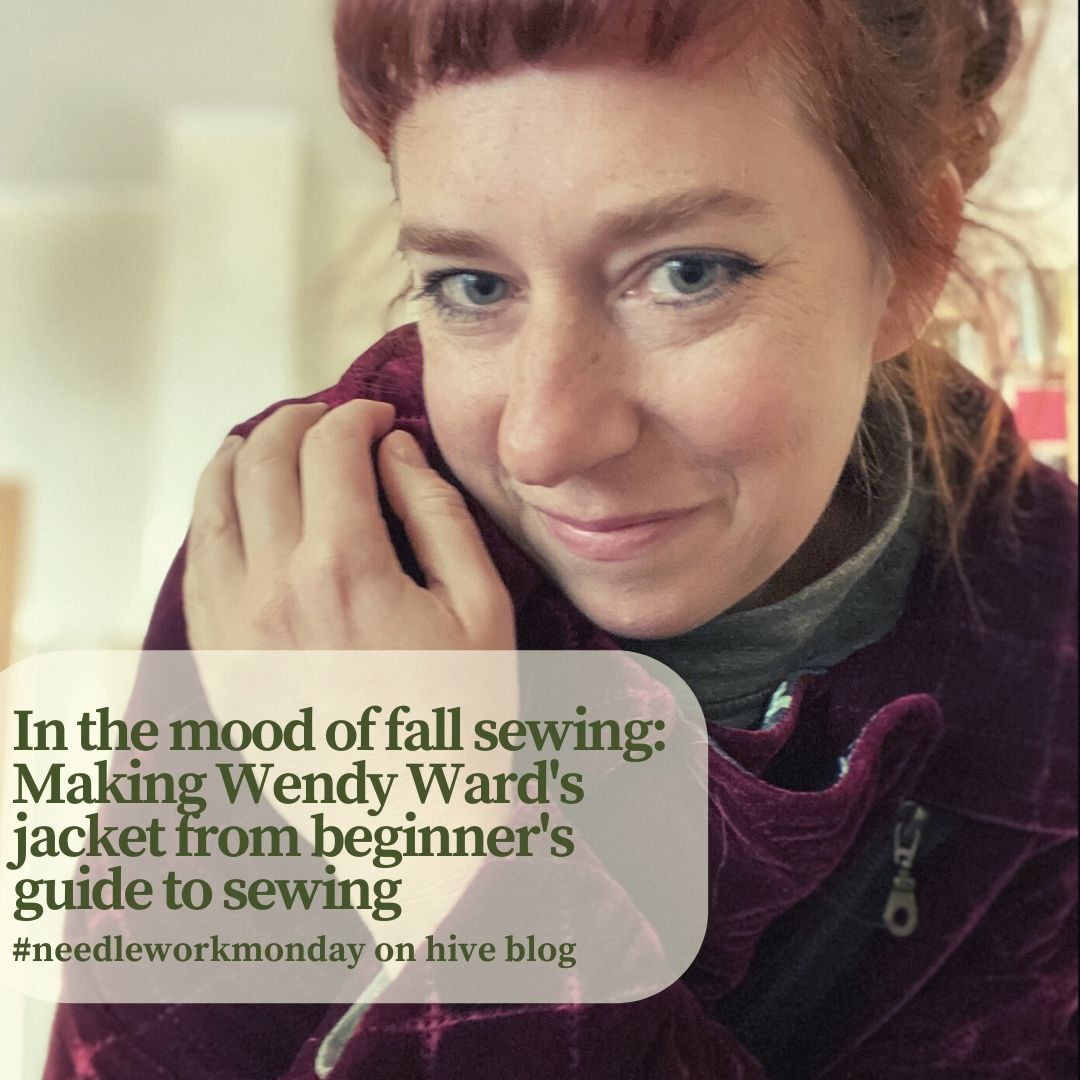 Making Wendy Ward's jacket from beginner's guide to sewing
I am not sure how many of you dear readers besides reading my hive blog also look at my Instagram feed especially at my stories. I think I qualify as avid maniacal photographer of my beloved hobbies like baking, gardening, or sewing. And if you follow me you could see, I already am amid creating a fall wardrobe. My plan is to use every (headache) free minute for sewing to
a) learn/get more skilled with zippers, buttonholes, collars etc.
b) experiment with crazy patterns like pattern magic from Tomoko Nakamichi
c) use up all the strange bargain fabric I have in my stash
d) satisfy my hunger for new clothes without shopping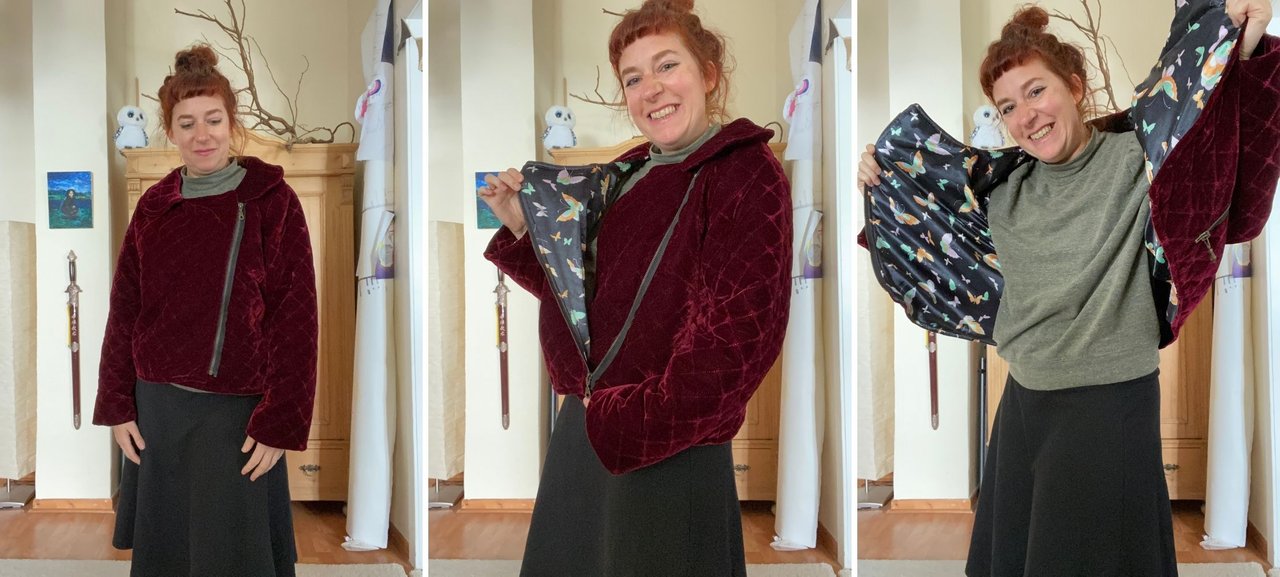 Today I will present you a jacket which in my eyes is the epitome of an autumnal garment: a jacket made from burgundy velvet. I started this jacket more than a year ago in the sewing group I attended. It is a pattern I found in the book Beginner's guide to dressmaking from Wendy Ward which @puellacreativea gifted me (huhuuuuuu are you well @puellacreativa, I miss you here). But sadly, before I could finish this jacket Covid hit, and all public sewing stopped. The jacket slept restlessly in my cupboard, but I could not bring myself to wake it up and complete it as it is a project with a lot of techniques I still do not master to my satisfaction: namely zipper, lining, pockets, and collar.

Last week we finally were able to meet and sew again: woo-hoo 🥳 And I nearly, very nearly finished the jacket (one seam on the inside which connects lining and outer fabric beneath the collar is missing).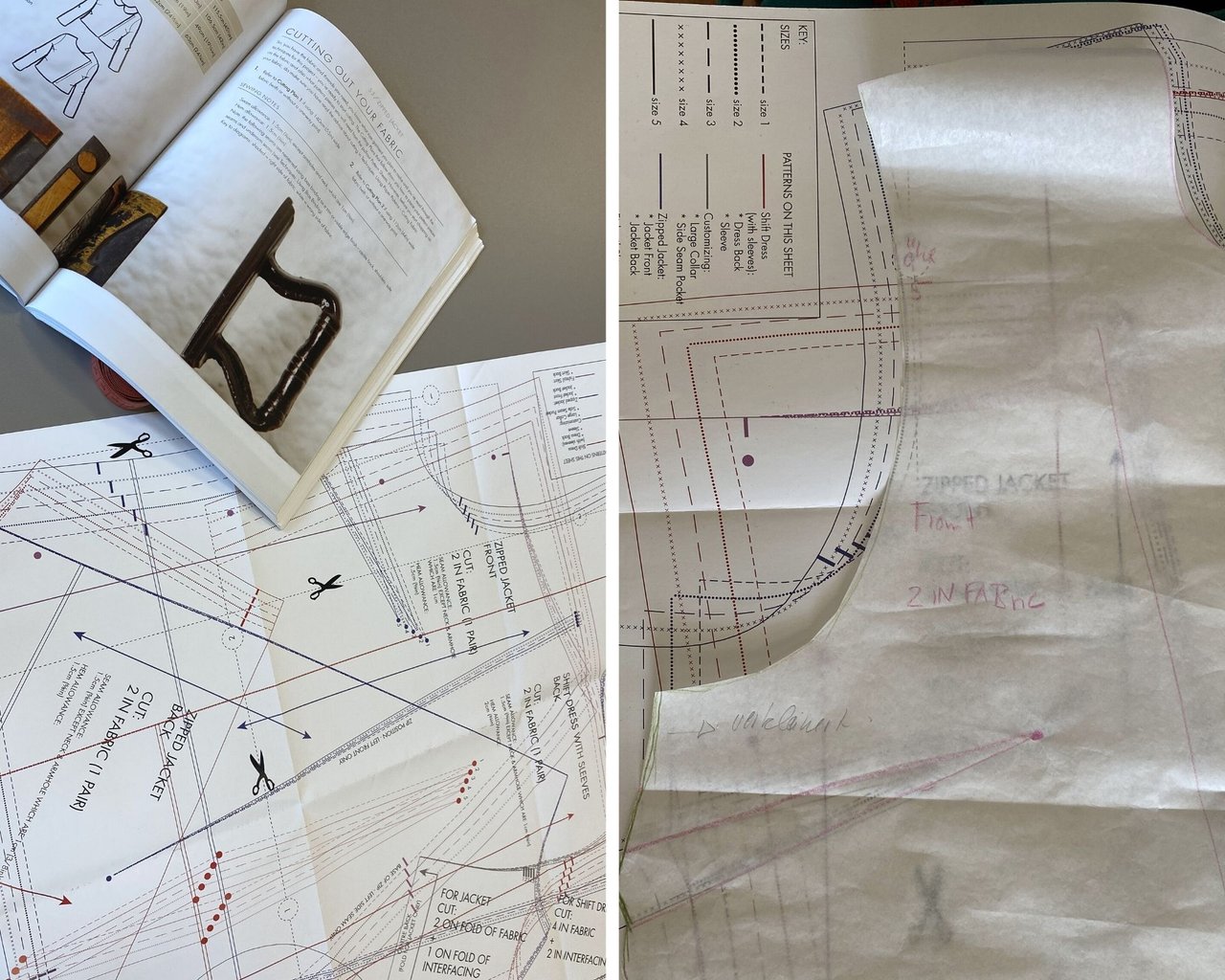 Because of the long period of sewing or better not sewing, I do have a lot of photos of the process, alas not all are helpful. But I will write down some hints (for myself or every reader who is similar ahem "skilled" like me :-DDD) First thing was I modified the size of the jacket. The shoulders are too wide and the bust dart approx. at the height of my belly button. I only noticed this after having set in the sleeves, so I simply sewed along the sleeves and sides of the jacket and took a away some centimetres … Thankfully I marked this mods on the sewing pattern, so that I could make the lining the same size. Now the pattern is a strange mix: hips are size 5, from the bust dart upwards it is size 3 in width, armhole height is size 5. The width of the shoulder iron the inside (where the collar sits) size 5 as I could not modify this on the sewed-up jacket and on the armhole side it is size 1… I guess if I ever make this jacket again, I should make a small bust adjustment, choose size 4 for the hips and sleeve width and length and for the rest size 3.
---
Second technique I learned is that I reinforced the padded velvet on all edges with fusible interfacing. I did this last year on command without any bit of understanding. But now I know why: the outer velvety fabric is soft and has a bit of stretch and the lining has not. Without the interfacing the outer fabric will stretch and get bigger and then no longer matches the unyielding lining. Ok, second lesson learned (in reality I forgot one edge and this one edge stretched a lot while I tried to sew on the lining and created ugly folds 😱)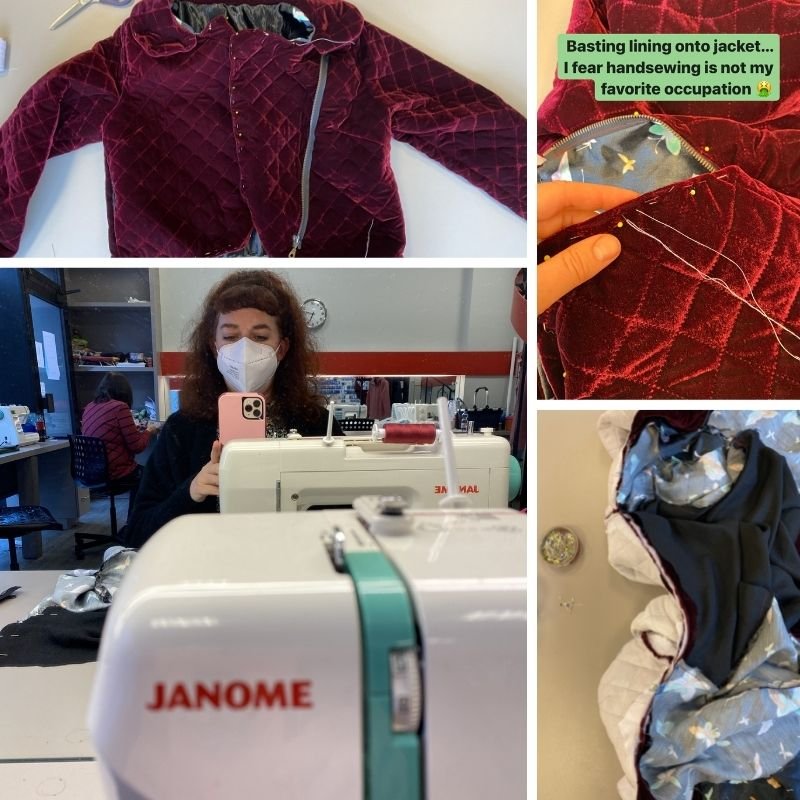 The third learning effect was attaching the lining. I fear I will have to do this several more times (alone) to really understand how it is done. I think I at first attached the lining to the collar (right sides matching). Next step was sewing the lining into the sleeves. And for this I had to wrap my head and the fabric several times around ….hm… I fear this does not make sense 😀 We pinned the lining of the sleeve at the outside of the jacket and then turned it somehow around and attached it. Argh! Why didn't I make photos?
The rest of the lining was at first hand basted (oh horror, hand sewing my nemesis) and pinned and then sewed with the machine. Wow. I fear I am not carved out for this neat kind of sewing style.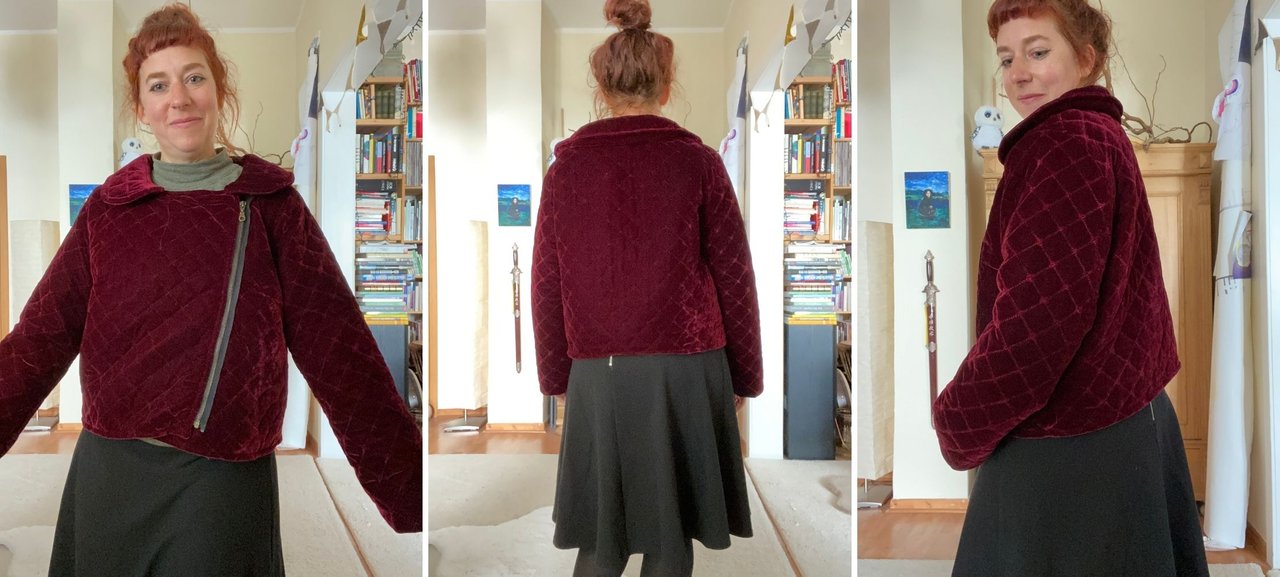 But although I worked over a year on this project, I think it is wearable. What do you think… is it too big? The collar not lying flat enough? Too plushy or kitchy? Sleeves too long (yeah… I know they are too long)? Looking forward to your praise opinion and naturally what you are planning to sew ♥️
PS: I will have a small blog holiday from 12.9.-26.9.
Thank you @crosheille for initiating and @marblely for hosting the #needleworkmonday and the community builder team @lauramica, @romeskie and @kattycrochet I am so glad to be part of.
If you want to see more beautiful projects with yarn, fabric and most of all needles, follow @needleworkmonday on hive blog. Or even better grab your needles and keyboard and join the #needleworkmonday community. You can read more comments on this post on my hive blog. 
Read more about my art und upcoming exhibitions on neumannsalva or buy some of my digital artworks on NFT showroom.