Things I wanted to write about this Monday:
How my curated closet is coming along
Which garments are missing in my curated closet
Why I sewed an Asuka Hamada dress only to instantly rip it apart
What I learned in my sewing course which started last Wednesday (again… after a Corona induced break)
What I am really writing about this Monday:
How much I love the @needleworkmonday community and especially @puellacreativa who send me a sewing book!!!!!
And I am in love with the book. If you did not read a post from @puellacreativa than (very fast) hop to her blog. She is an amazing creative sewist who already has a lot of experience in dress making. And after she read about my problems with woven fabric (still… my dear readers, woven fabric is still my nemesis, the end boss of the sewing game) she remembered a book which could be helpful for me. Thought and done, she packed a parcel and I already got the book (thank you, postal service, you made my weekend).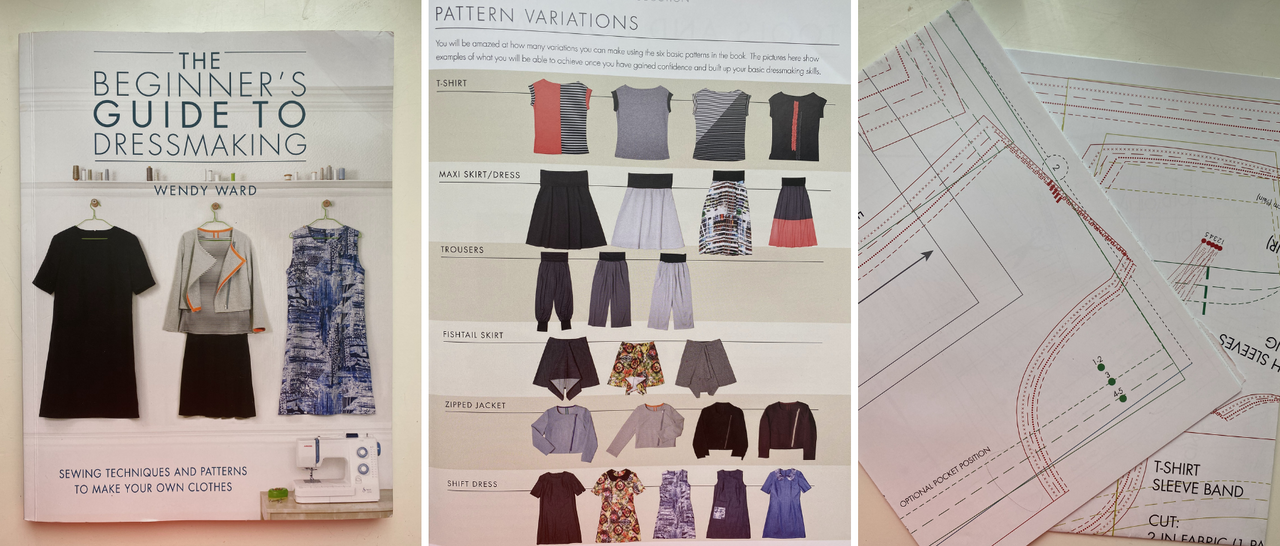 It's Wendy Ward's first book, which is aimed at the beginning sewist. And the preface of the book made it perfectly clear why I should work through this book:
"I am a believer of doing things right and I won't show you lots of cheats and shortcuts. To achieve good results there are not man shortcuts in sewing (…) Sewing is a craft and the process is as important as the end result."
I fear with the second topic I must fight a bit longer as I do nearly everything for the result and seldom for the appreciation of the process, be it sewing, knitting, painting or baking. Only in sports related things its perhaps 50/50 process and outcome for me.
But back to the book. Thankfully Wendy Ward starts with a nice mixture of projects for woven and stretch fabric. The projects successive become more complicated, starting with an easy stretchy shirt, covering a gathered skirt and wide pants and then leading to a jacket with an asymmetrical zipper.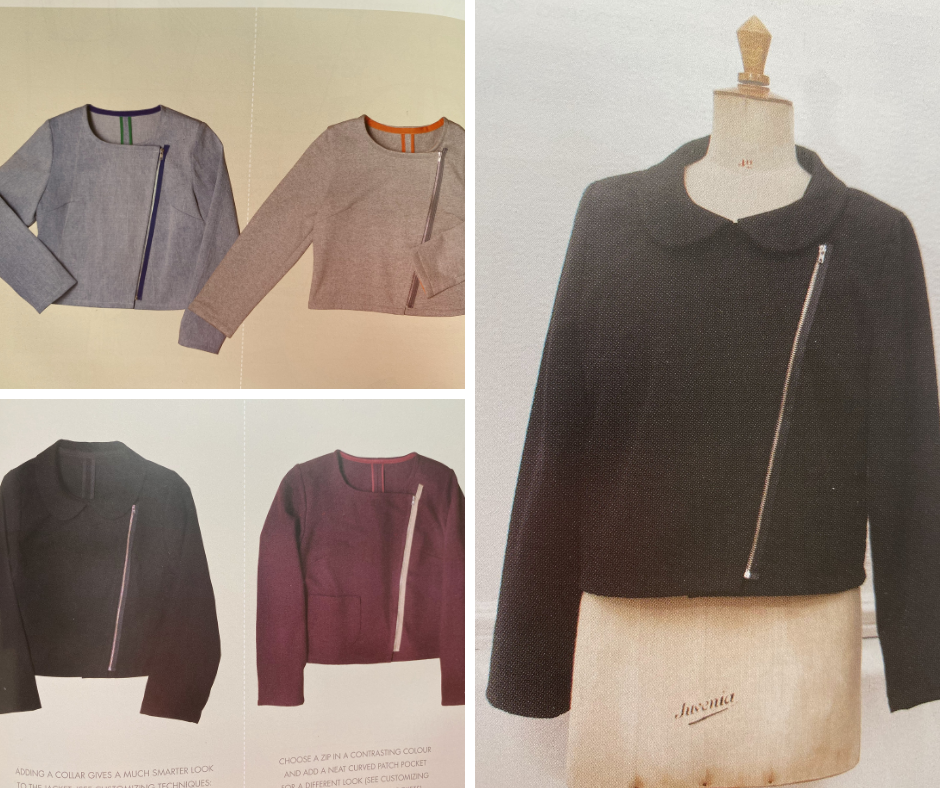 And how do I love this jacket. I know, I know…. I hear you complaining I should start at the beginning as there are so many techniques I never learned precisely (I am a bad case of fumbling my way through sewing). But I cannot resist. The jacket looks so beautiful and best of all, Wendy Ward offers modifications for the patterns and for the jacket there is a version with a Peter Pan collar. Sadly, the jacket with the collar is made of black fabric, so the collar is not visible very well. I nevertheless give you photo.
Now you understand: I badly need this jacket.
But even my hubris has limits and I will restrain myself and first try out a collar, without wasting expensive wool fabric for a whole jacket only to kill the collar.
I only once made a real collar, and this was for my coat project. This worked ok, but I completely forgot what I did :-DDD And as I love round collars on shirts and sweaters, I will start with a simple sweater (or shirt project – I am still indecisive) and add Wendy's a Peter Pan collar.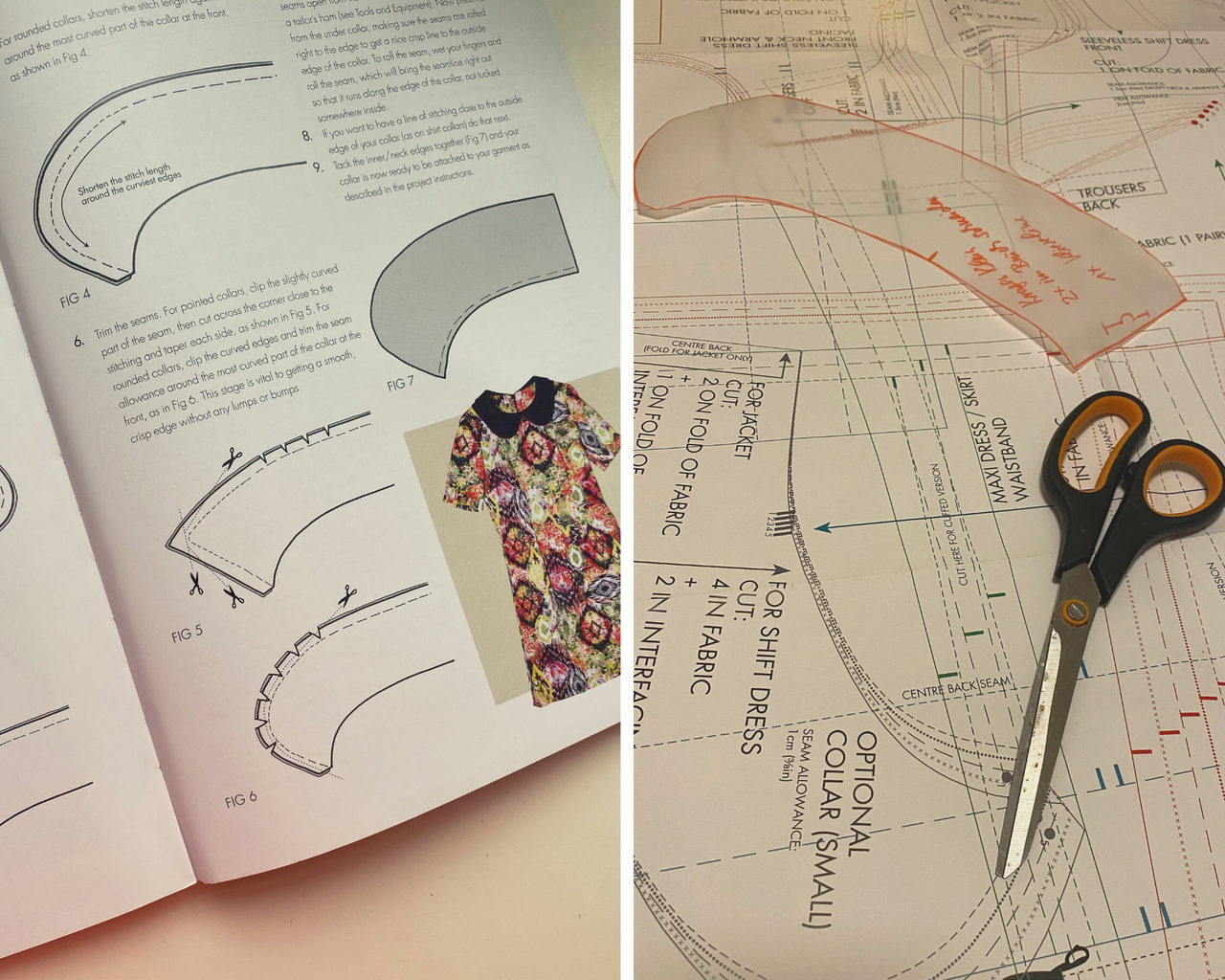 I already cutout a shirt front and back in light blue jersey as I wanted to replicate a puff sleeve shirt, I bought some time ago from C & A. But now as the collar got priority, I am unsure if I should sew the sleeves as planned (mid forearm length and puffy with an elasticated cuff) or if simpler sleeves would be a better companion for the Peter Pan collar.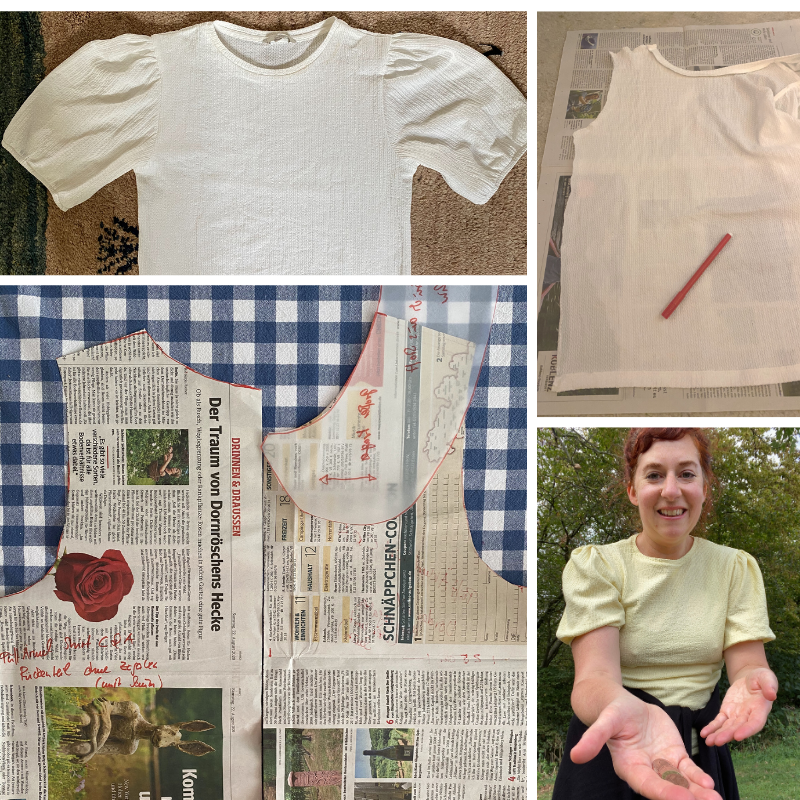 The white shirt was soiled with makeup, so could buy it for I think 4€ and I used it as a pattern template.
What do you think? Puff sleeves or straight sleeves?
If this works well, the jacket is next… I hope to find some lovely black fabric, so that I can incorporate it easily into my curated closet. And here I have the next decision to make, shall I make a "real" outerwear jacket from a heavy wool fabric or should I make kind of sweater jacket, which I can wear as a layer over a blouse or dress…?
So, I hope to hear from you.
And again: Thank you @puellacreativa ??? I love the book.
Thank you @crosheille for iniciating and @muscara, @shanibeer, @marblely for hosting the #needleworkmonday. If you want to see more beautiful projects with yarn, fabric and most of all needles, follow @needleworkmonday on hive blog. Or even better grab your needles and keyboard and join the #needleworkmonday community. You can read more comments on this post on my hive blog.